An Ultimate Two-Day Itinerary Ninh Binh Travel Guide
Located about 100km away from Hanoi, Ninh Binh was once ancient capital and now an attractive tourist destination for both locals and expats. Here is our suggested Ninh Binh travel guide with 2-day itinerary option.
Located about 100km away from Hanoi, Ninh Binh was once ancient capital and now an attractive tourist destination for both locals and expats. Here is our suggested Ninh Binh travel guide with 2-day itinerary option.
This Ninh Binh travel guide will cover the most highlights of Ninh Binh. You can find yourself inside the ancient Royal Capital of Vietnam, explore majestic limestone cliffs and mysterious yet inviting caves of Tam Coc or just simply ride a bike along rural roads past rice paddles.
1. Ninh Binh Travel Attractions
Bai Dinh Temple Spiritual and Cultural Complex
With nearly 50% population are Buddhism, there are a lot of pagodas across Vietnam and in Ninh Binh as well. Bai Dinh pagoda is known as the biggest Buddhist complex in Southeast Asia. Visiting there, you are offered with breathtaking views of the surrounding mountains as well as a plenty of activities and events to join.
If you are visiting this place on Lunar New Year, you are welcomed to join vibrant festival with variety of activities such as ritual processions, blessing ceremonies, folk games, dance performance, etc.
Also, with just a short walk from the pagoda, you can find yourself inside a forest called Ba Chua Thuong Ngan. You can enjoy hiking and exploring the nearby limestone grottoes.
Trang An Landscape Complex
Located near the Red River delta, the spectacular Trang An Landscape Complex is one of UNESCO World Heritage Site. This scenic area is famous for its diverse ecosystems, limestone and aquatic ecosystems and usually called The Ha Long Bay on land. This place is also included in our top 15 gorgeous Instagram spots in Vietnam.
Visiting this place, you will find yourself wondering between various and harmonious creatures, mountains, caves, water. This landscape is now home of 600 plants and 200 animals species, in which many species are named in Vietnam red books for protection and preservation.
There are plenty of activities for you to do at Trang An. If you are into culture, take your time to visit all 7 temples, pagodas and palaces there. The ancient structure and architecture from 11th century will sure amaze you. In case you want to explore the nature, its caves system will be an option for you to visit. Each cave tells different legends, come to learn. Especially, in 2017, the movie Kong: Skull island chose Trang An as their movie set. The film set is now still open to welcome both locals and expats.
Cuc Phuong National Park
Cuc Phuong National Park is the oldest and largest nature reserves in Vietnam where you shouldn't miss when travelling to Ninh Binh. This place is considered as playing an essential role for biodiversity. Being consecrated as forest reserve in 1960s, Cuc Phuong National Park's creation was 7,000 - 12,000 years ago and now home of thousand of amazing fauna and flora.
97 species of mammals, 300 species of birds, 36 reptilian species, 17 species of amphibians, 11 species of fish, 2,000 species of plants are living at Cuc Phuong National Park and hundred of them are endangered species. Plus, wandering between the forest, you can easily meet thousand years old tree.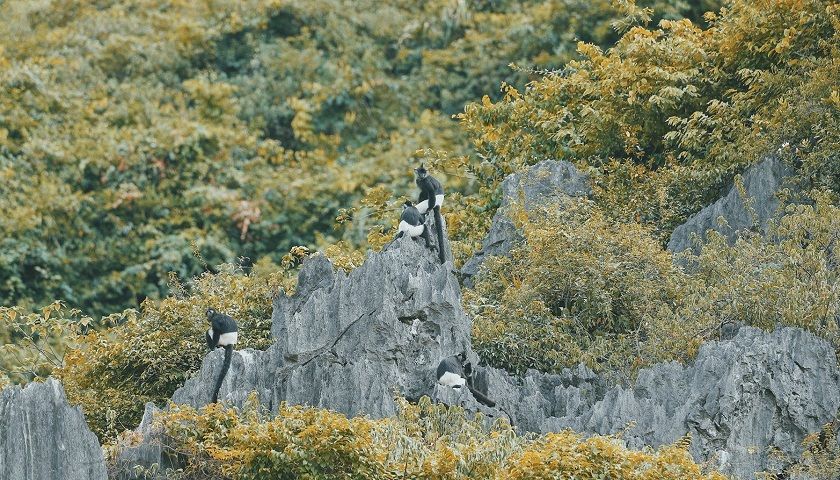 Don't worry about hunting for food or resting among the trees. Lodging and restaurant facilities are available at the entrance and inside. Also, paved roads and trails are available for you to hiking. Park rangers will provide guided tours for a fee.
Tam Coc - Bich Dong complex
Tam Coc - Bich Dong is a scenic complex including a system of stunning caves, charming waterways and Bich Dong ancient pagodas and grotto. There are two basic route to explore this place, one from the west side and starts from Tam Coc, the other one starts from Bich Dong.
Taking trip to Tam Coc, you will travel on boat and follow the stream of Ngo Dong river. In harvest seasons, you can easily see and catch the tranquil smell of the paddy fields along side the river. One more highlight to amaze: the rower of each boat will be rowing by their legs taking you through this beautiful landscape. After 5 minutes of rowing, you'll be soon see the three big caves which were formed thousand years ago.
In the other hand, if you want to travel on land. You can take the Bich Dong route. This route will lead you through Bich Dong pagoda which is built inside a mountain. Also, Xuyen Thuy grotto and Dong Tien complex are included in this route.
Hoa Lu Ancient Capital
When travelling to Ninh Binh, Hoa Lu Ancient Capital is a must-go tourist destination. This is once Vietnam's capital during 10th - 11th century. Hoa Lu was chose as capital city thanks to its natural limestone mountains which keeps the city well-hidden from any potential invaders. The Royal city is surrounded by mountains in 3 sides and facing the Hoang Long river. This is also hometown of Dinh Tien Hoang who defeated 12 warlords and united the kingdom in 968 A.D.
This royal city is capital of Vietnam in 2 dynasties: Dinh and Le until Ly Cong Uan, the first king of Ly dynasty, decided to choose Hanoi as capital city. Beside the palaces, there are temples to memorize kings of Dinh and Le dynasties. Also, if you join a guided tour, you can listen to many legends of princess Kim.
In the 3rd month of a Lunar Year, a festival will take over this place to honor Dinh and Le kings. There are plenty of activities such as contests, plays, games and fair.
Thung Nham Bird Park
Beside Cuc Phuong National Park, you can visit Thung Nham Bird Park for sightseeing, bird watching and even camping. This place is home of 46 species of birds, many of which are recorded in Vietnam red book as endangered species. Near the bird park, you can take some time to explore some magnificent caves such as Tien Ca cave (Little mermaid cave), Thuy cung cave (Poseidon's castle cave).
You can choose to visit Thung Nham Bird Park in daylight or stay for camping at night. The park offers luxury relaxing resort with restaurants and entertainment areas. Else, you can choose to camping at the camp site which is just 300m away from the resort.
Hang Mua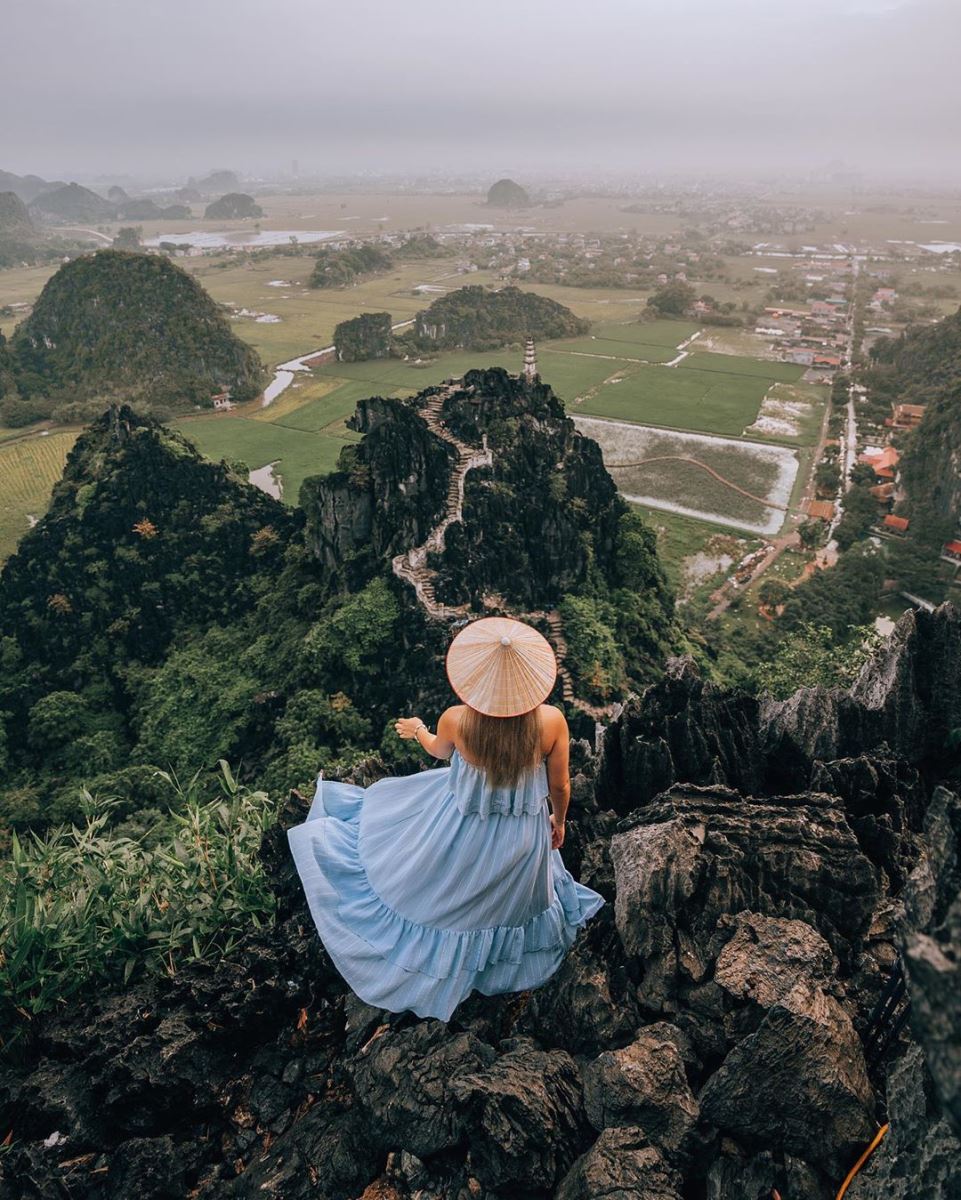 Hang Mua is recent attractive destination for those who seeking for breath-taking experience. This place is imitated of the Great Wall in China and also requires you to overcome hundreds of stone steps to reach the top. The exact number of stone steps you need to make is 486 steps. On the top of Hang Mua, you will have a magnificent panorama view of the valley and river to admire the peacefully imposing and stunning beauty of Ninh Binh.
Climbing on rocks and stones seems not to be an easy task but will be soon paid with a spectacular view. All the worries and tiredness will soon go with the wind. You are recommended to visit Hang Mua in May to Jul. This is best time to climb Hang Mua and see the view of paddy fields in their harvest seasons. Also, there are little rain and less sunlight so you will get less tired and safer to conquer the rocks.
Phat Diem Cathedral
Beside Buddhism, Catholic is the 2nd popular religion in Vietnam. When traveling to Ninh Binh, you will have chance to visit Phat Diem Cathedral, the one with a unique design and architecture. Being a perfect combination of Oriental architecture and Gothic design, Phat Diem Cathedral seems to be not a normal designed church you usually see.
This pagoda-type-roof church was built in 1892, bombed once in 1972 and then restored soon later. Visiting this church, you can easily find out some wooden statues. Those were made by Pho Gia, a famous Vietnamese artisan. One more special to notice, the ceilings were covered by paintings of angles in Vietnam style while the interior walls were decorated with Catholic iconography and Eastern symbols ike dragons, unicorns, phoenixes, etc.
---
Ninh Binh Travel Itinerary for 2 days
Ninh Binh is not a big province in Vietnam but it has various of attractions. A 2-day trip will cover the most with the blend of historical, religious attractions and natural sightseeing.
For Day 1, it takes you about 2 hours travelling from Hanoi to Ninh Binh. Then, you can the rest half day exploring Trang An and Bai Dinh complex. On Day 2, Tam Coc - Bich Dong complex with a massive cave system and the ancient Royal city of Hoa Lu are must go places. At night, you can choose to camp at Cuc Phuong National Park or Thung Nham Bird Park. On Day 3, you should spend your morning to travel Hang Mua or admire the unique architecture of Phat Diem Cathedral. In the afternoon, you can get on the bus to go back to Hanoi before dinner time.
If you are in shortage of time and only have 1 day to explore Ninh Binh, find out our detailed guide for a day tour from Hanoi.
---
Where to stay in Ninh Binh
If you choose to travel to Ninh Binh on a 2-day trip and not fancy staying at the camp site, below are some suggested hotels and resorts for you.
Go Ninh Binh Hostel
For a cheap and comfortable accommodation, you can choose to stay with Go Ninh Binh Hostel. This was once a old train station so you can find the architecture is quite unique. Located at the heart of the city, you can easily access to restaurants, stores and attractions. The hotel also offers common rooms, pool tables, board games, computers with internet access, kitchen, etc. The reception is opened 24/24 at your services.
Tam Coc West Lake Homestay
If you are looking for some places you can immerse yourself into nature, search no more with Tam Coc West Lake Homestay. Despite being small, this homestay offers everything you need for a comfortable stay. The room is not elegant or fancy but cozy and warm. It is well decorated and fully equipped with beds, extra duvets, tower and toiletries. The host is friendly and offers free transfer for you to the nearest bus station.
Tam Coc Bungalow
In Tam Coc complex, you can stay with Tam Coc Bungalow as a convenient accommodation. You can open your room's window to overlook the Tam Coc river or can enjoy riverside view when having meals at their on-site restaurants. This place comes with both dorm beds and private bungalow to welcome either backpackers or families/ groups.
Tam Coc Garden Resort
If you are travelling to Ninh Binh with higher budget, Tam Coc Garden is a choice for you. Opened in 2013, this luxury hotel offers you with stylish boutique accommodation. From Tam Coc Garden, you can easily get access to other attractions such as Bich Dong pagoda or Ngo Dong river. Beside beautifully decorated rooms and bungalows, the hotel is also filled with gardens and pool. On-site restaurant and bar are available to give you a fancy dining menu or a delicious cocktail at night.
Emeralda Ninh Binh Resort & Spa
Emeralda Ninh Binh Resort & Spa is the top luxury resort at Ninh Binh. Sitting on the edge of Van Long Nature reserve, this resort has 172 luxury rooms, 2 pools, a bar, luxury spa, fitness center, meeting rooms, kid club and a mini golf course. The resort prioritizes nature and being eco-friendly. Thus, you can find yourself surrounded by so much green. In case you want to try some local food, some nearby restaurants with signature goat meat hot pot are recommended.
---
Ultimate Ninh Binh travel tips
For the best travel experience to Ninh Binh, here are some ultimate tips for you:
Best time to travel to Ninh Binh: Ninh Binh is perfect for visit mostly all year. However, the peak time for Ninh Binh travel is after Tet holiday. April and May are suggested time as you can both enjoy "butterfly season" in Cuc Phuong National Park and "harvest season" in Tam Coc.
Raining is the worst weather to explore Ninh Binh. Make sure you check weather forecast before travelling to Ninh Binh.
Taxi scams are popular in Ninh Binh. Thus, you should contact a trustworthy travel agent to arrange your Ninh Binh trip at reasonable price or travelling around Ninh Binh with booking cabs service.