An Ultimate Hue Travel Guide for First-time Travelers
Finding a Hue travel guide for a good time in the former capital of Vietnam is not a challenge with help from the Internet. However, putting all this scattered  information together in one place can be time consuming. Here is your collective travel guide for Hue first-time travelers.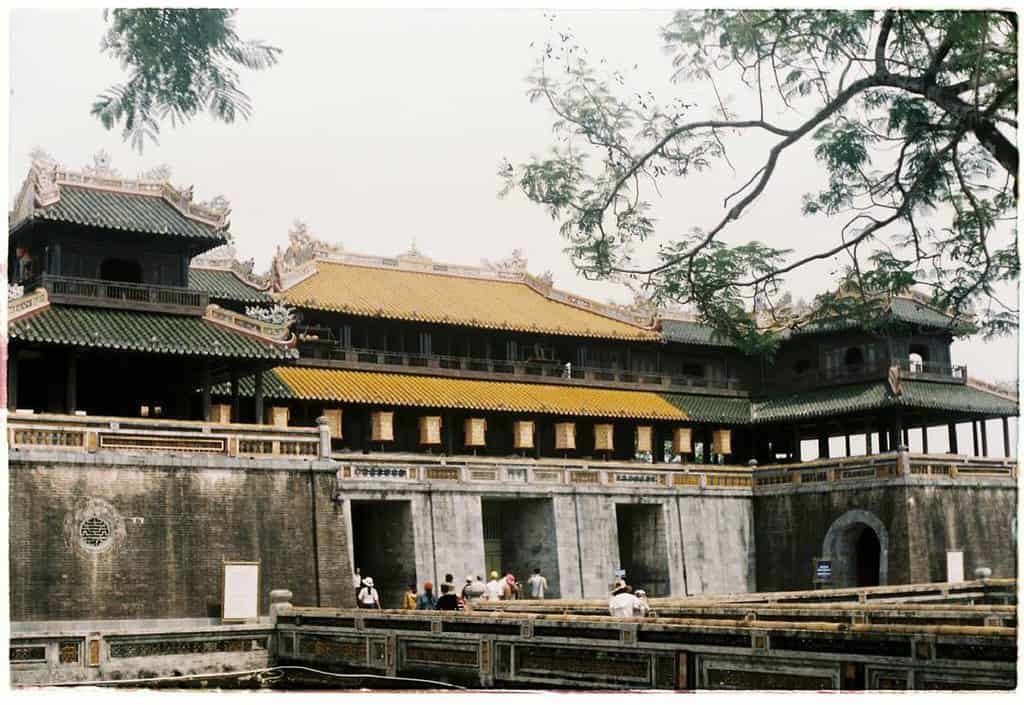 An overall image of Hue to first time travelers
Located along the lengthy narrow coastal region of Central Vietnam, Hue, the capital city of Thua Thien Hue Province, is one of the largest urban areas of Vietnam. Hue is known as a culturally rich city that is filled with interesting history, especially during the era between 1802 – 1945. This marked the ruling of the Nguyen monarchy, the last Vietnamese feudal dynasty.
Apart from its long-lasting history and tradition, Hue is famous for its dream-like landscape, coming large in part from the curving poetic Perfume River and a wide array of the world's recognized monuments scattered throughout this former capital.
Today, Hue is the "Festival City" of the country. The first Hue Festival was held in 2000 and takes place every two years. For those who love lying on the beach and enjoying sunlight, then consider visiting Hue at least once in your lifetime and indulge in its dream-like beachside and emerald waters.
When is the best time to travel to Hue?
Belonging to the Central part of Vietnam, Hue's weather is a blend of both Northern and Southern Vietnam atmospheric conditions. However, Hue is most famous for its identity as "the city of rainfalls".
The rainy season in Hue begins in May and lasts until November each year. This time also marks the season of floods and storms, which means you should prepare accordingly if you intend to travel to Hue around this time.
According to multiple travel experts, the best time to visit Hue is during the seasonal transition between spring and summer or fall and winter. For instance, April and May bring you temperate weather, which is great for any outdoor activities.
Every two years, the Hue Festival takes place at the end of April in order to promote and share the city's heritage with visitors. If your vacation to Hue falls into this time, congratulations, your time traveling here has double the excitement.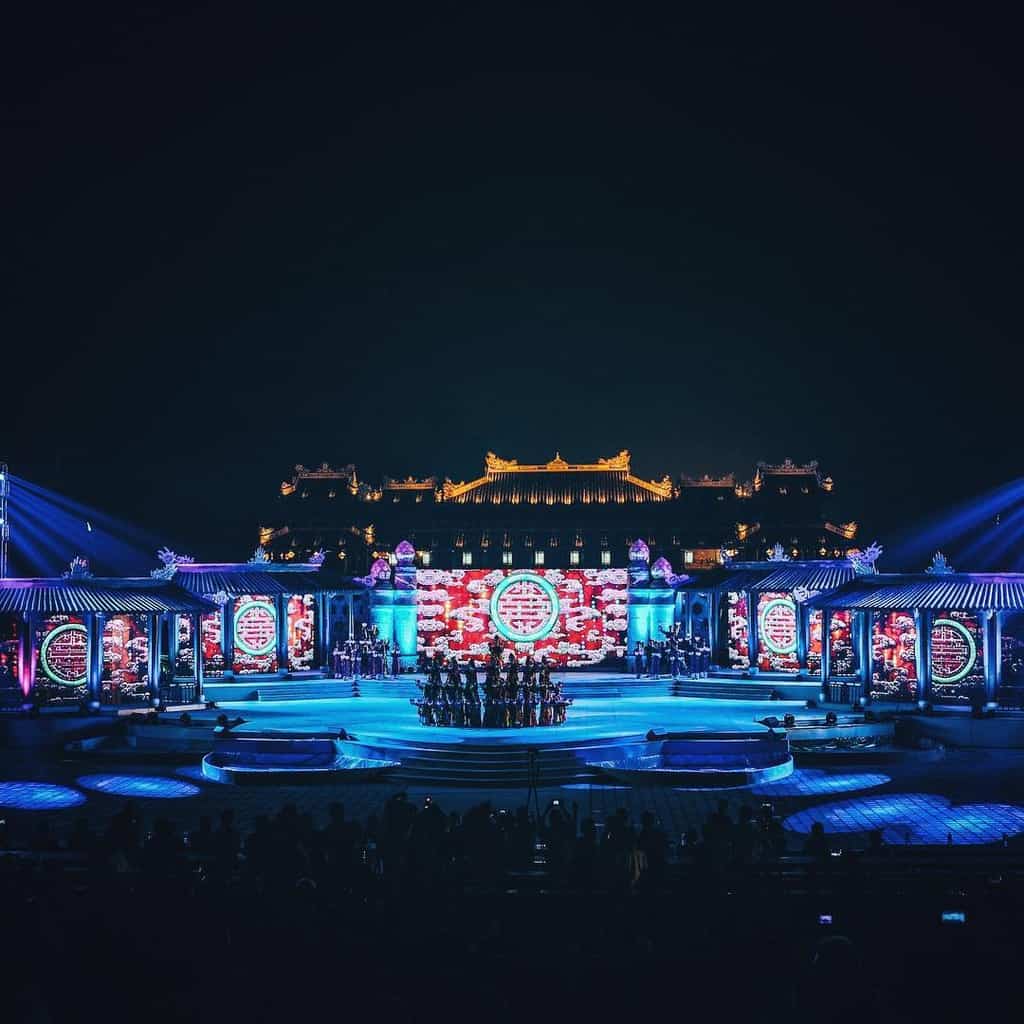 How to travel to Hue from Hanoi, Saigon or Danang?
Currently, you have three options to travel to Hue from the three largest cities in Vietnam: by plane, by train and by coach.
By Airplane
Phu Bai is an international airport in Hue. For those who don't want to spend too much time traveling between places, hopping on an airplane is the best option.
The domestic flight from Saigon to Hue is around an hour and 25 minutes, while from Hanoi it only takes about an hour and 10 minutes.
The lowest price for both departures starts at around 10 USD. However, keep in mind that Phu Bai Airport is about 15 kilometers away from Hue's city center. Hence, you will need a taxi to reach downtown, which can cost you up to 11 USD one way. Alternatively, contact your hotel or accommodation to see if there is a shuttle bus service provided.
By Train
Train ticket prices from Hanoi to Hue may begin at 13 USD and go up to 41 USD one way per passenger. The whole trip lasts roughly 14 hours. For trains from Saigon, it's going to cost you a little more, from 17 USD to 45 USD, and the duration is around 18 to 22 hours one way.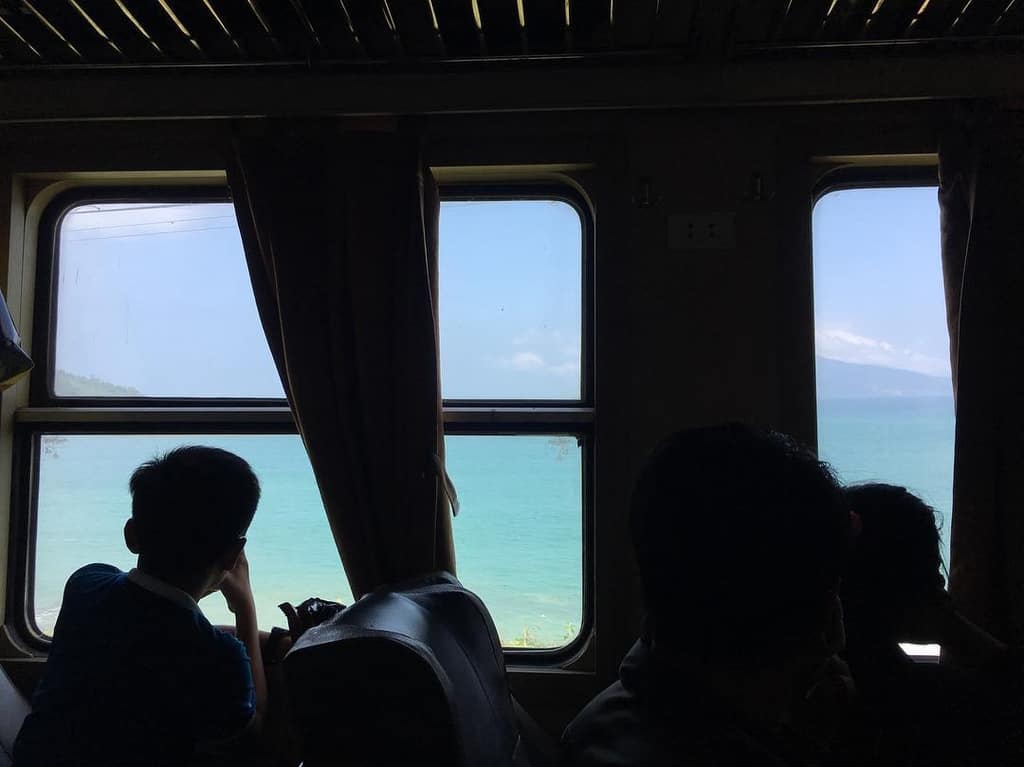 By coach
Hopping on a bus/coach is the cheapest alternative, even though the total amount of time you have to spend can be considered to be a "high price". Sleeping buses with various flexible schedules offering trips to Hue are almost everywhere in the country.
In Hanoi, some recommendations of mine would be Hoang Long, Camel Travel, or The Sinh Tourist. The ticket price varies around 11 USD to 15 USD, and the trip lasts for up to 16 hours.
In Saigon, you can choose to opt for Phuong Trang, Tam Minh Phuong, Hoang Long, or The Sinh Tourist. For the price, you may spend from 17 USD to 28 USD one way per passenger. However, due to a longer distance, taking a bus from Saigon to Hue by bus will take you nearly a day.
Last but not least, travel to Hue from Danang by bus is so easy. You can take The Sinh Tourist, HAV Limousine, or Huetourist, which are the most popular choices. The price for this trip is also cheaper at approximately 7 USD one way and it lasts for 2 to 3 hours.
There are multiple magnificent landscapes and attractions that most of you are likely to skip without knowing. If you're going to make the trip from Danang, might as well make it worth your while by enjoying everything you can along the way! Consider getting a guide for a day trip if departing from Danang or Hoian to Hue, as there are a lot of exciting things that only the locals know best.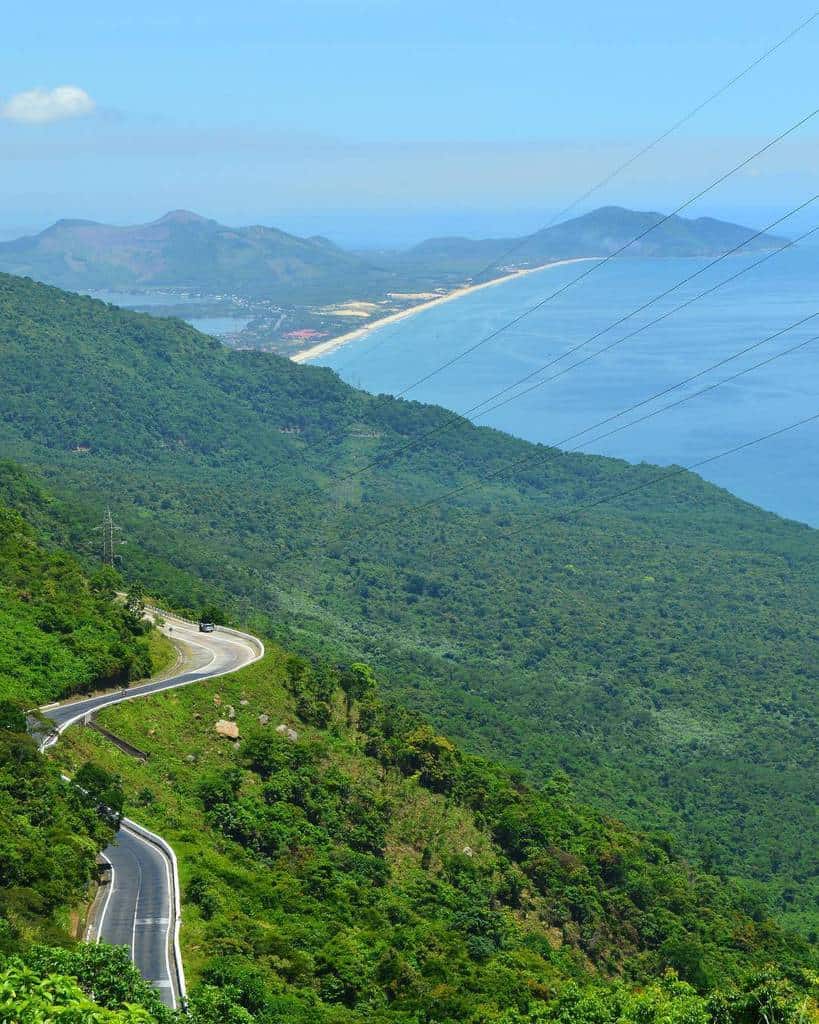 How to get around in Hue?
Within Hue, these are five methods of transportation we would recommend:
By Motorbike
First on the list is a motorbike/scooter, which is a perfect option for backpackers or adventurous souls. You can rent a scooter for around only 6.5 USD a day depending on if it's manual or automatic. If you don't have any local friends to drive you around or suggest where to rent one, then feel free to reach out to your hosts or hotel receptionist for the best price.
By Taxi
Taxi might be the first idea to pop up in our minds everywhere we travel. However, unreliable taxis can be a big problem for travelers who are new to a city. In Hue, Vietnam, the following taxi agencies are known to be reliable and fair, even for locals:
Dong Ba (Phone number: (+84) 234.3.84.84.84)
Mai Linh (Phone number: (+84) 234.3.89.89.89)
Phu Xuan (Phone number: (+84) 234.3.87.87.87)
Thanh Cong (Phone number: (+84) 234.3.57.57.57).
By Car
If you're traveling with a big family or group of friends, then parting your group into different cabs can be difficult to coordinate. Renting a private car with your own driver is something you might like to consider. A private car for a day trip may vary around 22 USD to 39 USD. Once again, contact your host or receptionist for an arrangement and assistance with booking.
By Bicycle
The romantic and leisurely Hue surely gives you the finest vibe if you choose to travel around on a bicycle and discover the best hidden gems in this ancient capital. Additionally, it's not pricey at all to rent a bike getting around. For just 1 or 1.5 USD, you will get to feel the tranquil and antique breath of Hue for the whole day.
By Cyclo
Brought over by the French, cyclos are now reliving their golden age in Vietnam's big cities, such as Saigon, Hanoi, and Hue. An hour on this fascinating transportation costs you around 2 USD. Additionally, cyclo drivers can also lead you to the most popular and desired spots for tourists, wherever that may be. One thing to keep in mind, negotiating for the best price before hopping on a cycle is crucial. Otherwise, you won't have a good time afterward dealing with the drivers regarding the price for your already completed trip.
The best things to do in Hue
When considering the best things to do in Hue, keep in mind that there are two main areas we're going to discuss: the city center and the city outskirts.
Hue city center
Let's take a look at these stunning photos of Hue Citadel, what is the first thing that comes across your mind? Pictured as the most iconic building complex in Hue, the Hue Citadel should be at the top of your list of things to do in Hue. The citadel served royalty for 143 years as the capital of the Nguyen dynasty – the last monarch dynasty. Also, fun fact, Hue Citadel is listed a UNESCO Cultural Heritage site. The whole site covers 520 hectares and is parted into three sections: the Imperial City, the Capital, and lastly the forbidden city. The Imperial City denotes the entire area within the outer walls, where regular citizens and servants of the king live. Within the inner walls is the Capital, or civic city, where government business and operations take place. And further within the capital is the forbidden city where the Kings and royal families spend their daily life.
The complete process of building the Hue Citadel was carried out by different generations of the Nguyen royal family. Each of the constructions still greatly shines with their remarkable architecture, colors, patterns and especially the stories behind each site.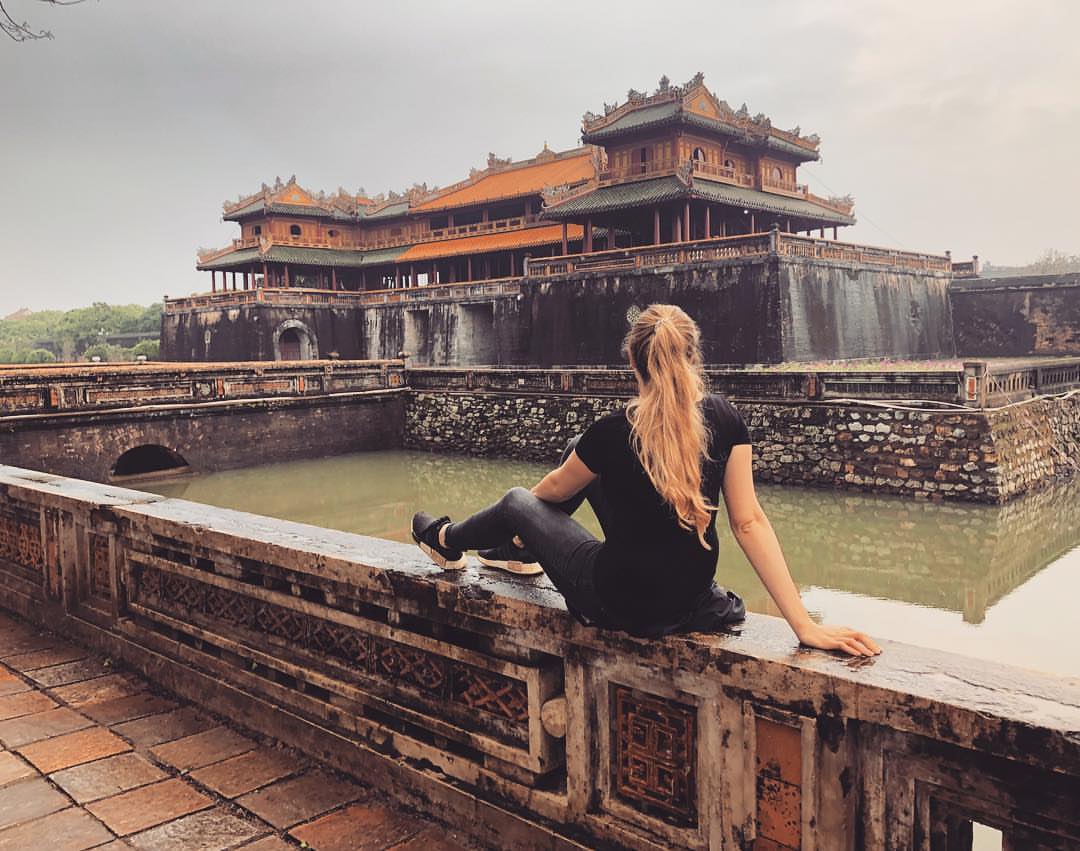 Hue Temple of Literature
The Temple of Literature once played a big role in educating the best scholars for the country, especially when located in such a culture-rich city like the capital of Hue.
At first, the Temple of Literature was built in Thang Long (former Hanoi) as an imperial academy under the rule of the Ly Dynasty.
When the Nguyen dynasty unified the whole of Vietnam, the Temple of Literature was then constructed in the current capital. The one in Hanoi was then used mainly for practicing the Confucian ideals.

Thien Mu Pagoda
Thien Mu Pagoda sits on a stunning location at the peak of Ha Khe Hill, on the west side of the Perfume River. For long, Thien Mu Pagoda has been seen as an iconic image of the dream-like Hue City.
Thien Mu Pagoda was constructed in 1601 under the reign of the first Nguyen Lord – Nguyen Hoang and remains to this day a significant Buddhist Temple.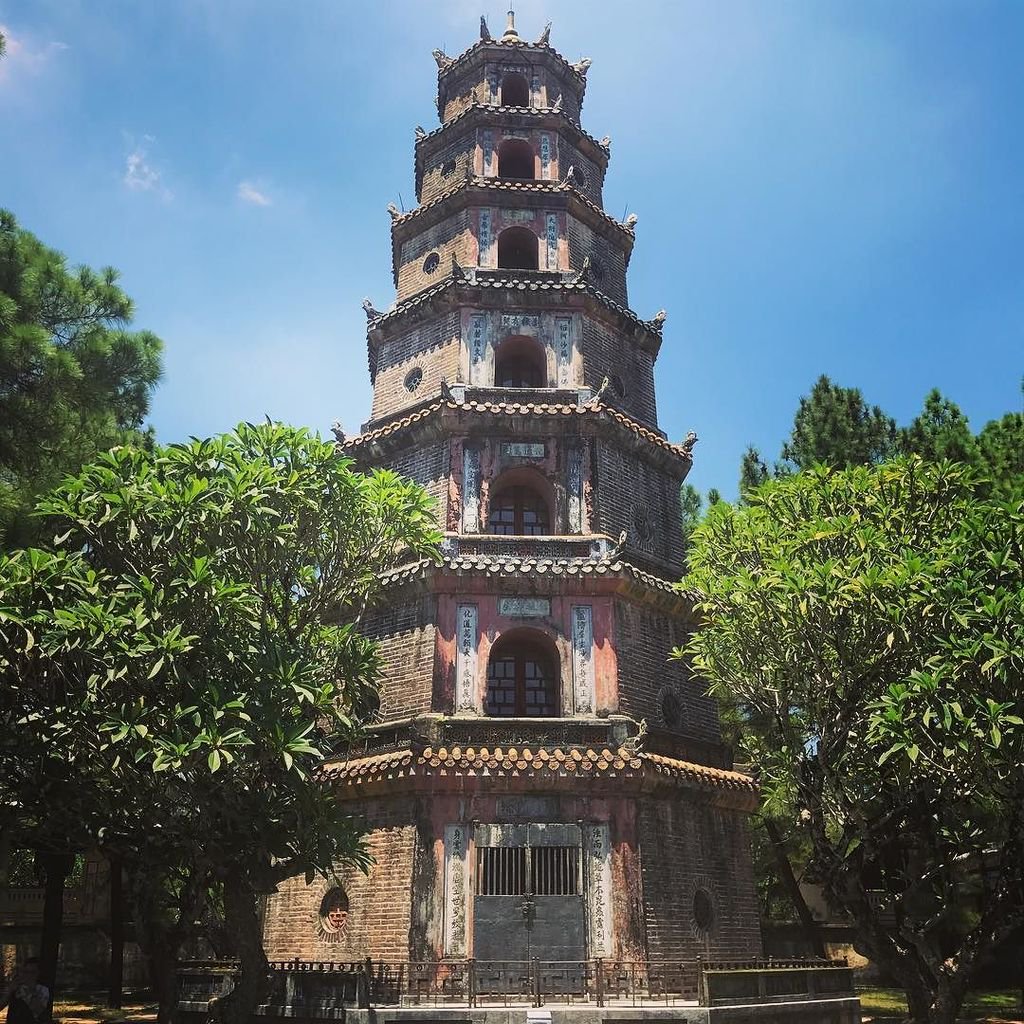 Perfume River
Enclosing the whole ancient capital of Hue in its arm before entering the East Sea is Perfume River. This is a tranquil and lengthy river sluggishly flowing throughout various famous landmarks of the city.
There are several ways to admire the beauty of the Perfume River: you can either watch the river flowing from Thien Mu Pagoda, laze around on a dragon boat along the river or enjoy the traditional beats of Hue folk singing performance at night, among others.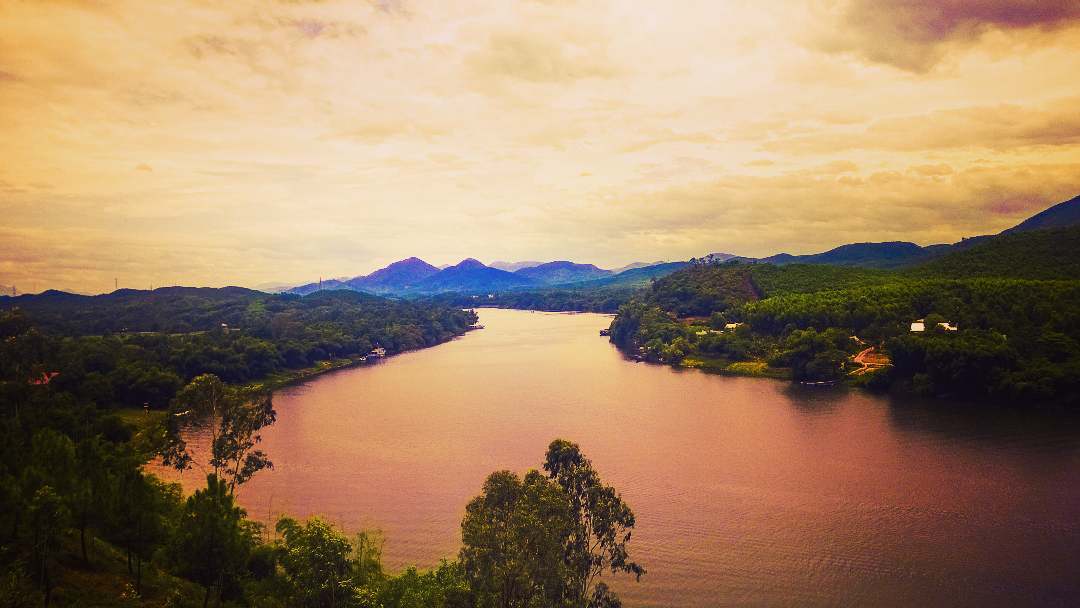 Dong Ba Market
Dong Ba is a remarkable central market in not only Hue but also Central Vietnam.
You can find almost everything here, from daily household items to commodities, especially Hue exotic specialties, such as dried lotus, Phu Cam conical hats (Non La) or artistic jewelry pieces from Ke Mon Village and a lot more.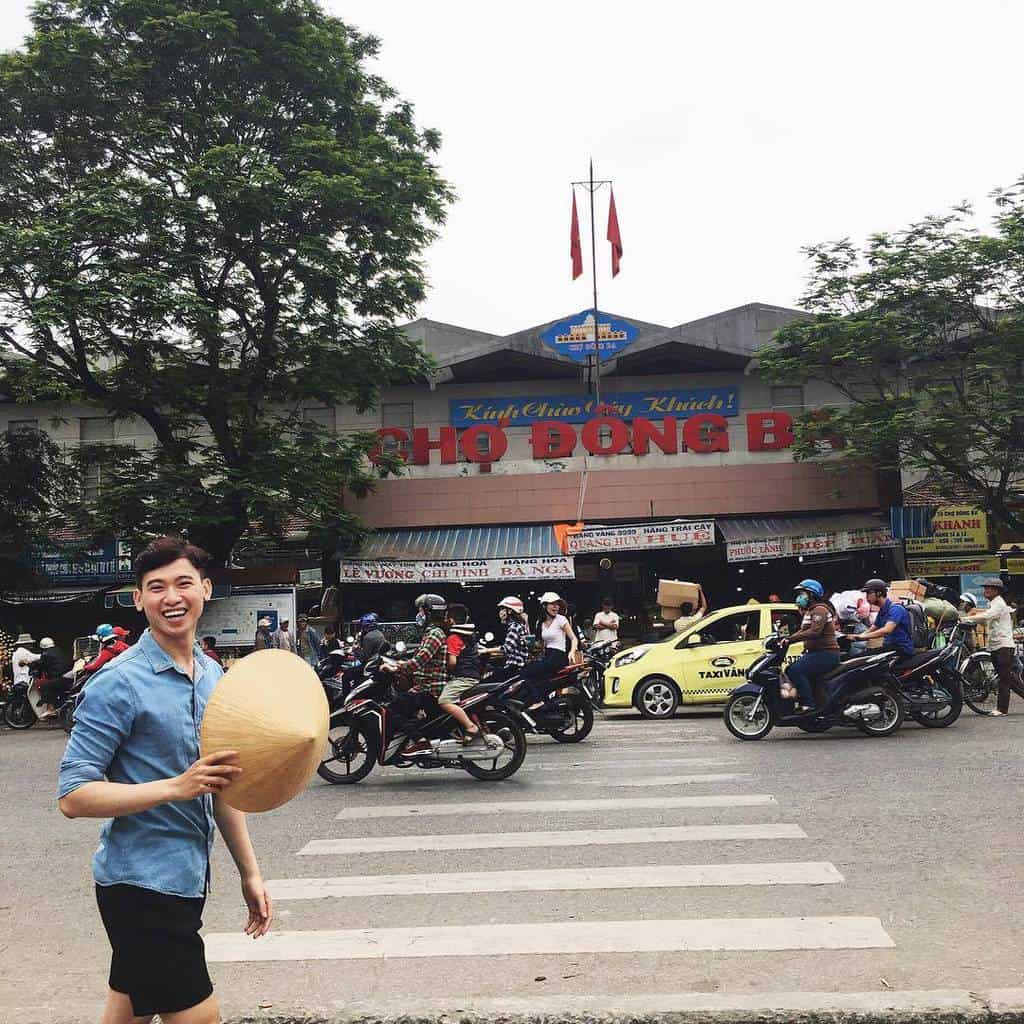 Hue Complex of Mausoleums
The runner-up after Hue Citadel for the most recognized attractions in Hue must be the mausoleum complex.
Here lies a system of mausoleums built by the Nguyen Emperors, including seven chambers for seven rulers out of 13 generations in total.
Each of the mausoleum sites are decorated with magnificent architecture, Fengshui ideals, and Vietnamese culture.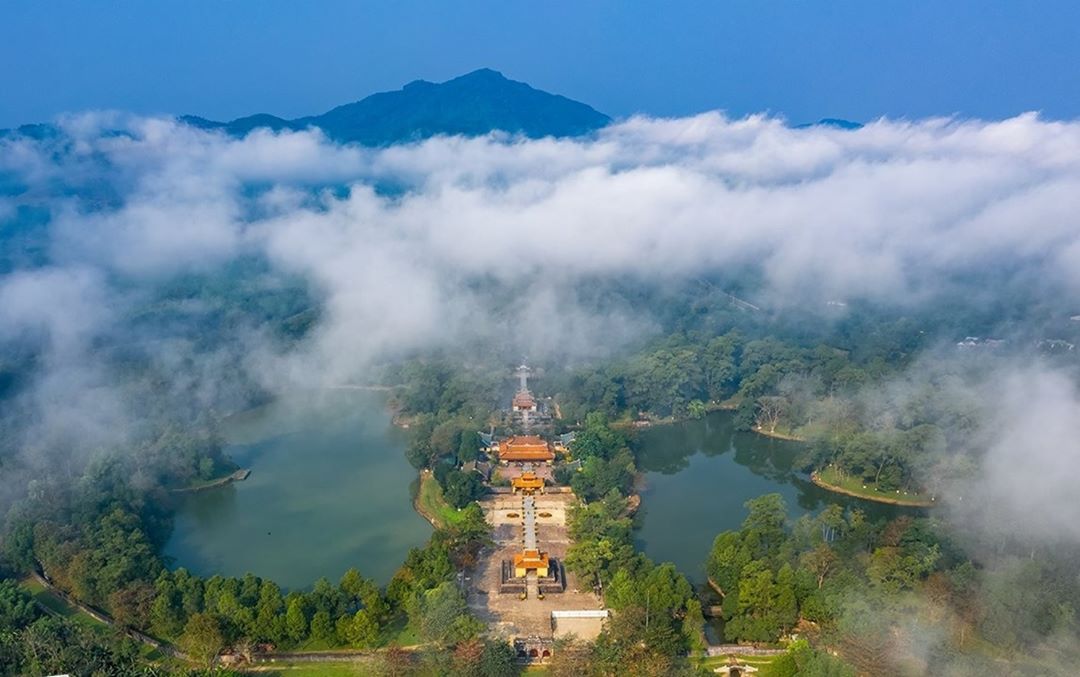 Hue suburban area
Lang Co Bay
If you're looking for a sense of absolute peace combined with a good breeze from the ocean, then there's no better place than Lang Co Bay.
The sea brings you to its emerald waters with a curving coastline skirting the foot of Hai Van Pass. It wouldn't be difficult to list Lang Co among the best bays in the world.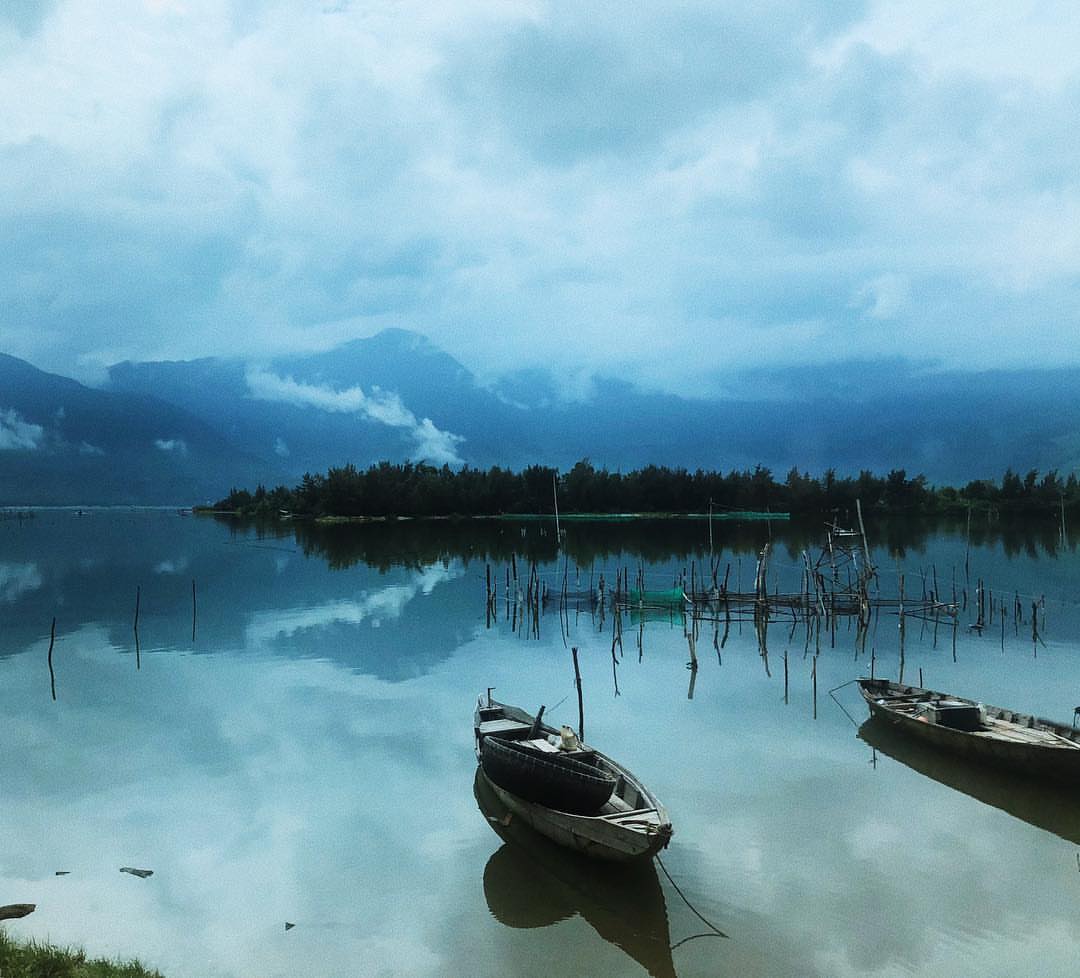 Bach Ma National Park
Danang City and Thua Thien – Hue Provinces are parted by a natural border, Bach Ma Range.
This is home to the incredible Bach Ma National Park, a mystic site that always attracts huge attention from the adventure gurus.
One of the most enormous rest stops in the Park is Vong Hai Dai (Sea Watch Tower) placed on the peak of Bach Ma Mountain.
This spot allows you to admire a charming vista or the entire Lang Co Bay, Truoi Lake and the dream-like natural landscapes down below.
Further steps into the core of Bach Ma Forest lead you to Ngu Ho, a grandstream vertically down-pouring into five different gigantic lakes, and Do Quyen Waterfall, home to a wide variety of colorful flowers blossoming each March.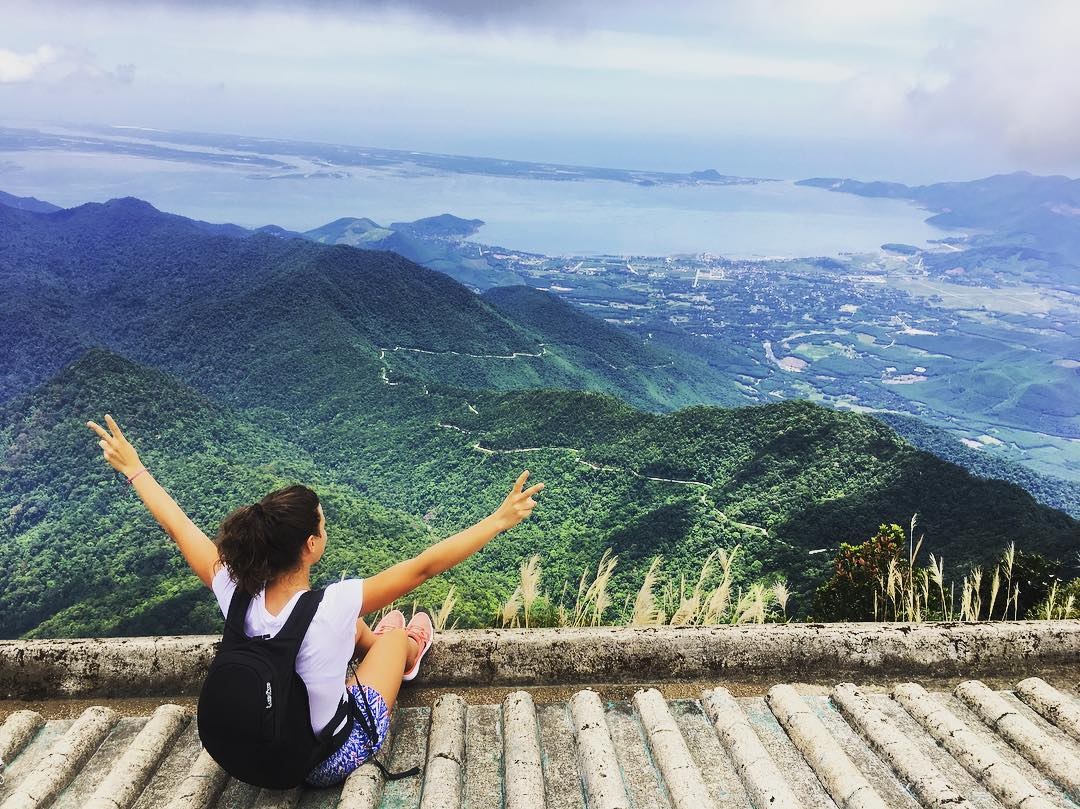 Tam Giang Lagoon
Last but not least, Tam Giang Lagoon – a smaller section of the whole large Tam Giang – Cau Hai, is the grandest lagoon system across Southeast Asia.
This enormous lagoon blends in so well with the peaceful Thai Duong Ha fishing village, which will make you fall in love at first sight.
Days in the lives of these native fishermen are known to be busy, exciting but extremely serene after sunset. Each morning, the boats flock to the farther sea corners for an abundant batch of fish.
When the sun sets, the utmost relaxing vibe returns with a lovely glamorous scene when the Sun is reflecting itself on the surface of the sea.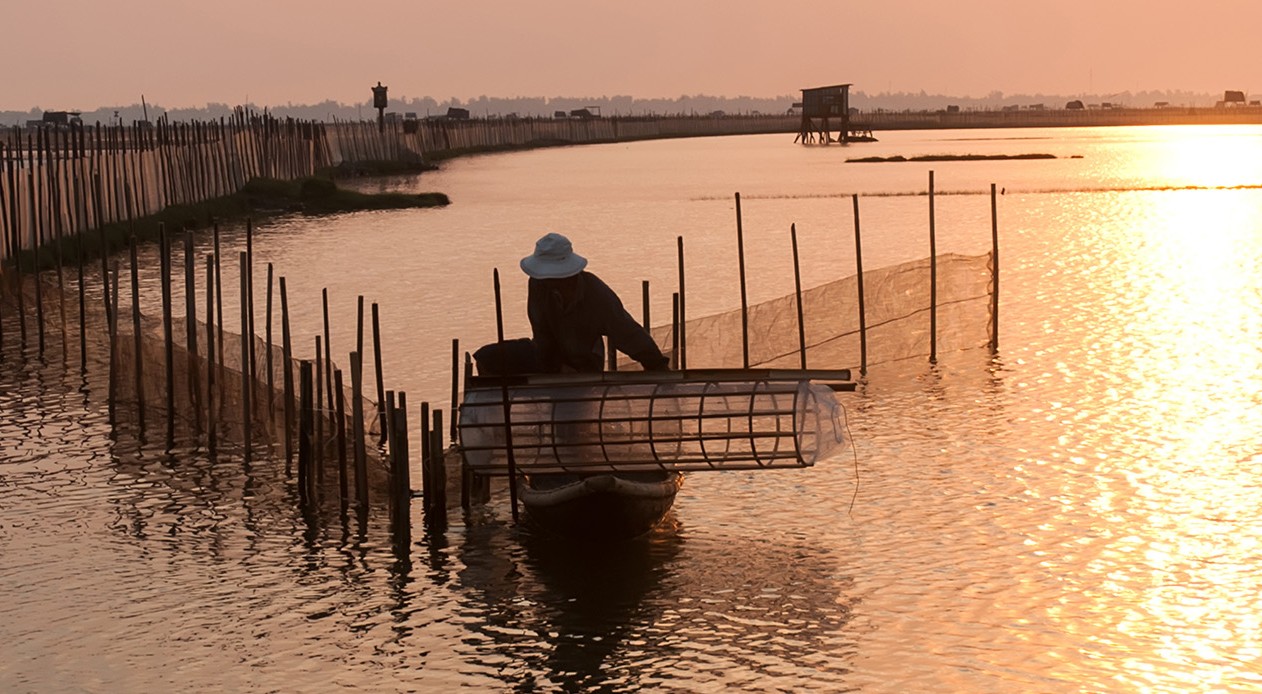 What to eat in Huế?
You won't have to worry about finding what to eat in Hue with this comprehensive Hue travel guide. Here I listed down three of the best Hue authentic dishes for Hue travel first-timers.
Bun Bo Hue – Hue Spicy Beef Noodle Soup
Needless to say, Bun Bo Hue is a must-try when you come to Hue. This has become such a representative dish for this former capital, just like Pho in Hanoi and Com Tam (Broken Rice) in Saigon help form the identity for these two cities.
The Hue version of Bun Bo Hue should come with thinly sliced rice noodles, pork legs, pork balls, fresh veggies, and mouthwatering broth.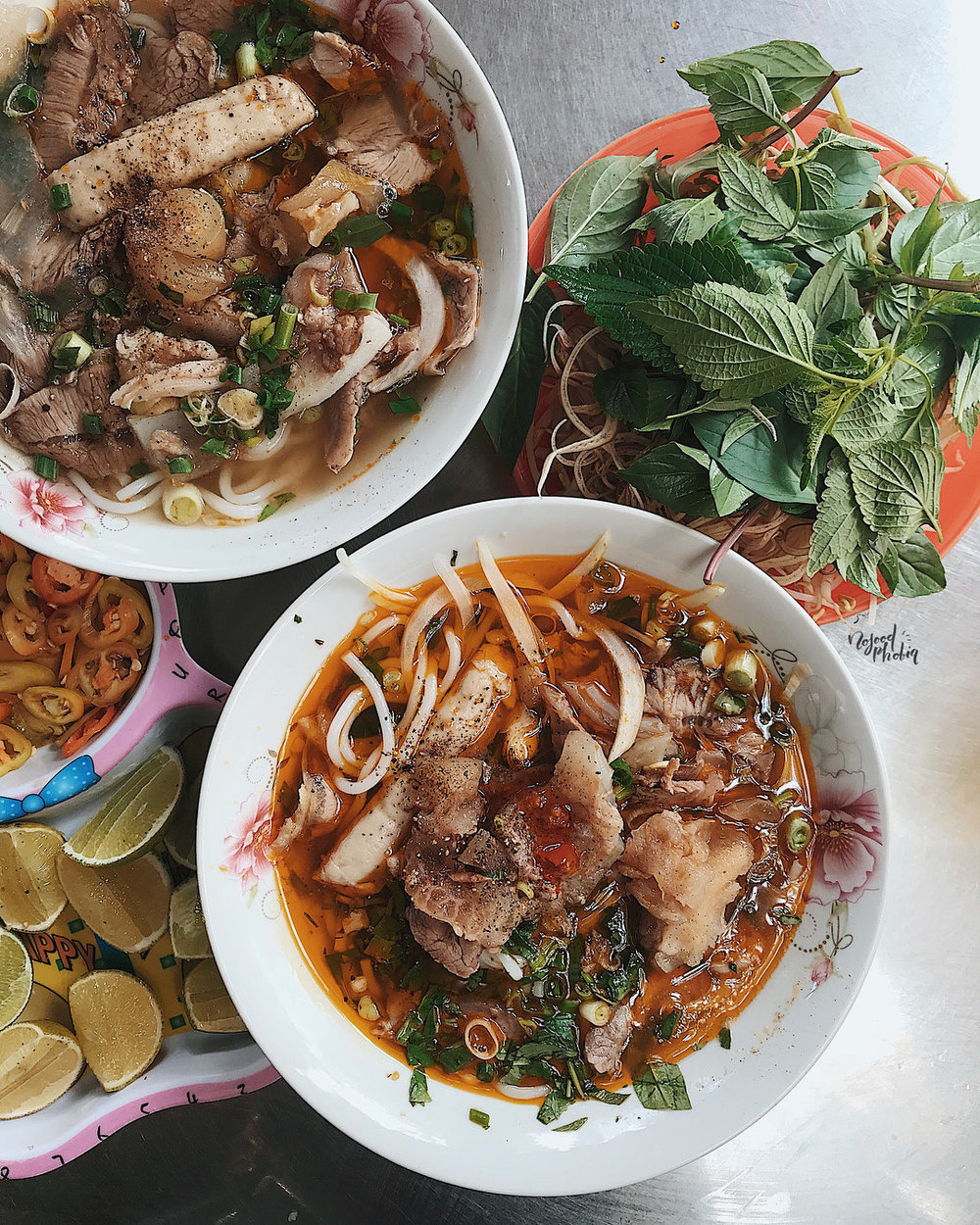 Com Hen – Baby Clam with Rice
The second most famous dish to eat in Hue is Com Hen, baby clam rice. This is an ordinary food that can be found in almost every corner throughout the city.
Hue baby clams release a sweet and tender taste, which cannot go without a handful add-in of flavors when stir-fried and served with a portion of Vietnamese rice.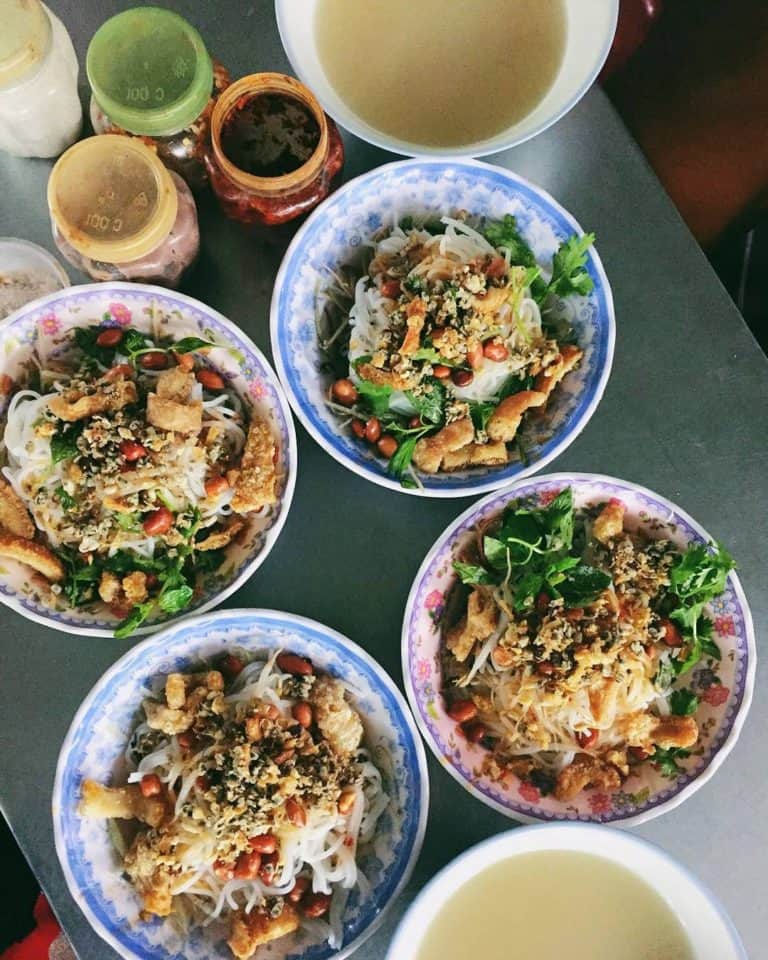 Banh Canh Nam Pho – Nam Pho Tapioca Noodle Soup
Though tapioca noodle soup is not a rare food to find in Vietnam, villagers in Nam Pho have taken this food to a whole new level with their distinctive gastronomy.
Nam Pho tapioca noodle soup is thickened and vibrant in colors after long cooked with cashew nuts. On the top, the whole bowl is covered with a generous amount of crab meat and shrimps.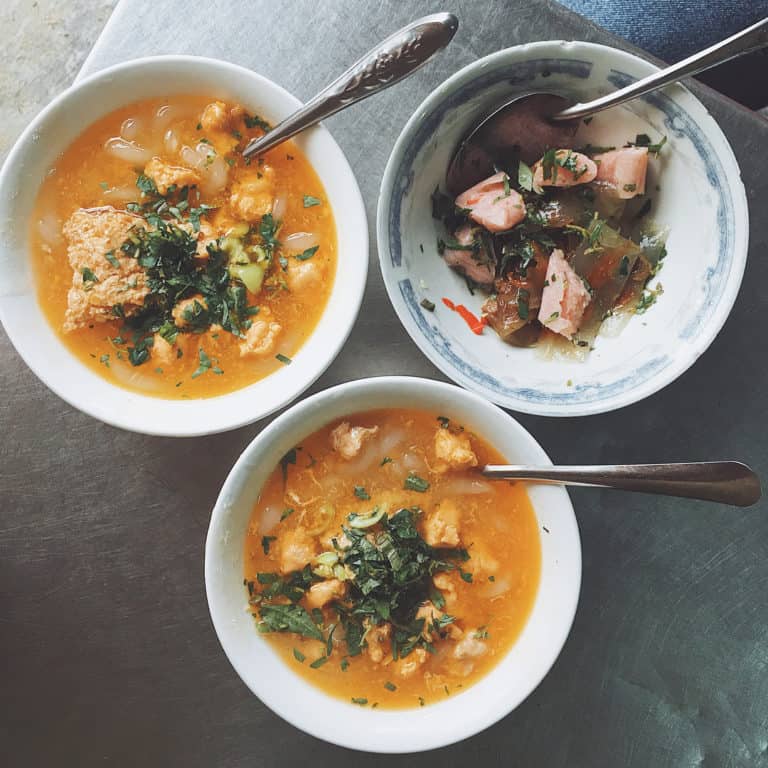 Where to stay in Huế?
The best hotels you can find in Hue gather along three main streets: Nguyen Hue, Le Loi, and especially Hung Vuong.
If you're not on a budget and you're aiming to enjoy your trip to the fullest, then feel free to pick any accommodation you like along the street of Le Loi, right along the bank of the Perfume River.
Otherwise, a look around some lodges near the Hue Walking Street or Trang Tien Bridge gives you some more fine options too.
Some 4-star hotels offer loveable views of the Perfume River and Trang Tien Bridges, though the price for a room like that can go up to 345 USD or 431 USD per night.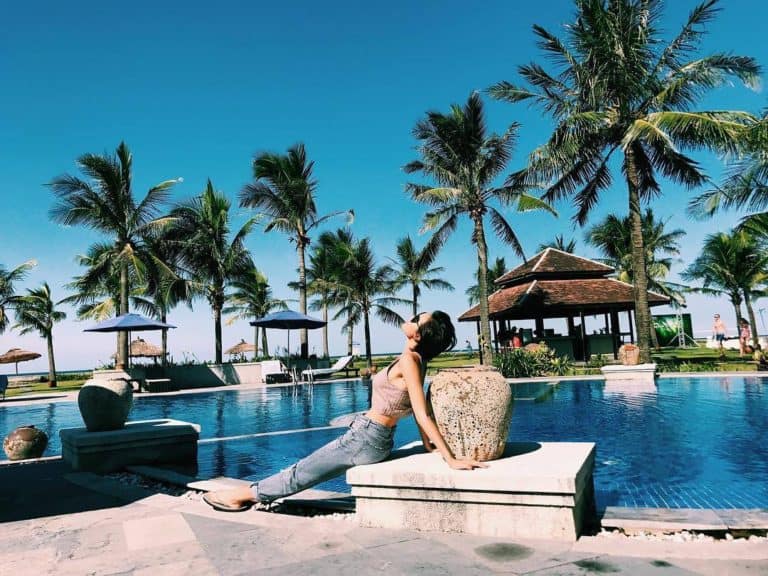 In case you are seeking more reasonable options, or if you're simply looking to find a good bed to spend the night, then turn your attention to Hung Vuong streets. Here rounds up a wide variety of 2 to 3-star hotels and guest houses, which vary from around 10 USD to 22 USD a night. As economical as it seems, these accommodations are located not too far from the city center. Within only 15 minutes walking or 5 minutes on a scooter, you can reach Trang Tien Bridge and explore the area around there before coming back for a night of beauty sleep.
There's no need for first-timers to fear traveling to Hue. With this comprehensive Hue travel guide, all you need to do now is find a local companion and enjoy the peaceful vibe to the fullest.