An amazing day trip to Nami Island
Without a doubt, there is more to South Korea than just the bustling city of Seoul. For instance, there is the stunning county of Gapyeong which has attractions that are not too far away from the capital, namely: the charming oasis of Nami Island, the cultural village of Petite France, the magical expanse of The Morning Calm Garden and the picturesque tracks of the Gapyeong Rail Bike.
Day Tours Nami Island From Seoul
Click to explore
Nami Island, or Namiseom Island, is a half-moon-shaped isle near Seoul. If you have heard or seen the famous Korean drama "Winter Sonata", you'll already be familiar with this romantic destination. Truly magical and unique, Nami Island even declared its cultural independence from the Republic of Korea and called itself the Naminara Republic. One of the most special characteristics about this beautiful island is that it showcases a different, yet equally amazing, scenic experience each season, making it the perfect day trip from Seoul, any time of the year. Here is Inspitrip's one amazing day trip to Nami Island
History of the island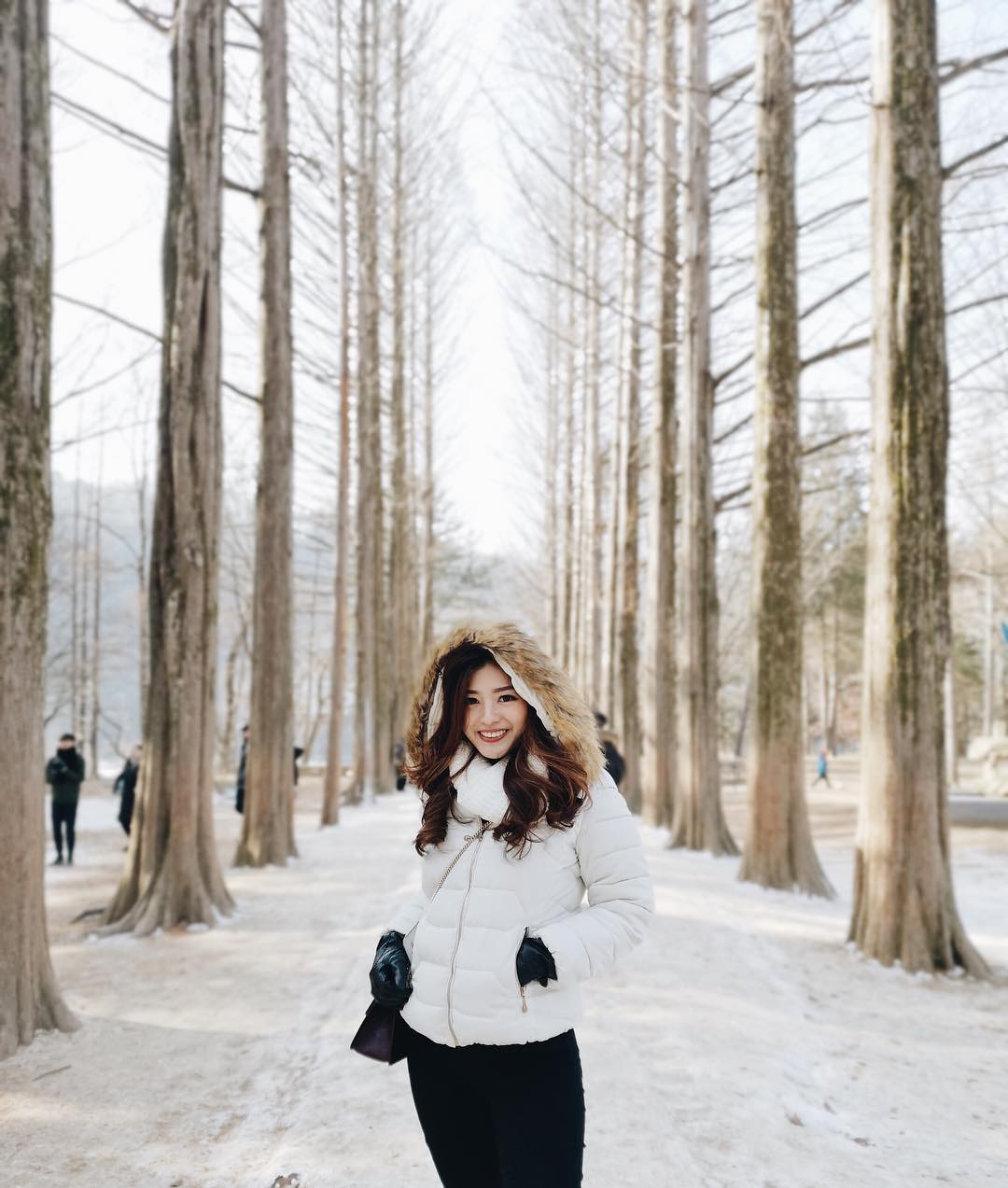 Before it became most famous as a Winter Sonata filming location. Nami island is best known as the final resting place of General Nami, a controversial historical figure in the Joseon Dynasty. He rose to fame in the mid-1400s when he led a victorious campaign to crush a massive rebellion. At age 25, he was honored by King Sejo, who gave him a top position in the government, but when King Sejo died, his successor falsely accused him of being a traitor, which led to his and his family's execution. It wasn't until almost 400 years later when he was exonerated. Nami Island was formed as a result of the construction of Cheongpyeong Dam. It is a half-moon-shaped isle, and on it is the grave of General Nami.
Nami Island and Vivaldi Ski Park Tour from Seoul
Book now!
About Nami Island
Nami Island is 63 km away from Seoul in the direction of Chuncheon and is famous for its beautiful tree-lined roads. The island is 30 minutes away from Chuncheon and an hour away from the suburbs of Seoul. Since it is not far from Seoul, many couples and families come to visit. A special feature of Nami Island is that there are no telephone poles. This is because all electric wires were built underground to keep the natural feeling of the landscape. The island is 553,560 square yards with chestnut trees and poplar trees throughout. The island also has a swimming pool and water-sports facilities for motorboats and water skiing, as well as a theme park with a merry-go-round, and roller skating rink. Lodging facilities such as resort villas and bungalows are available for visitors to stay on the island.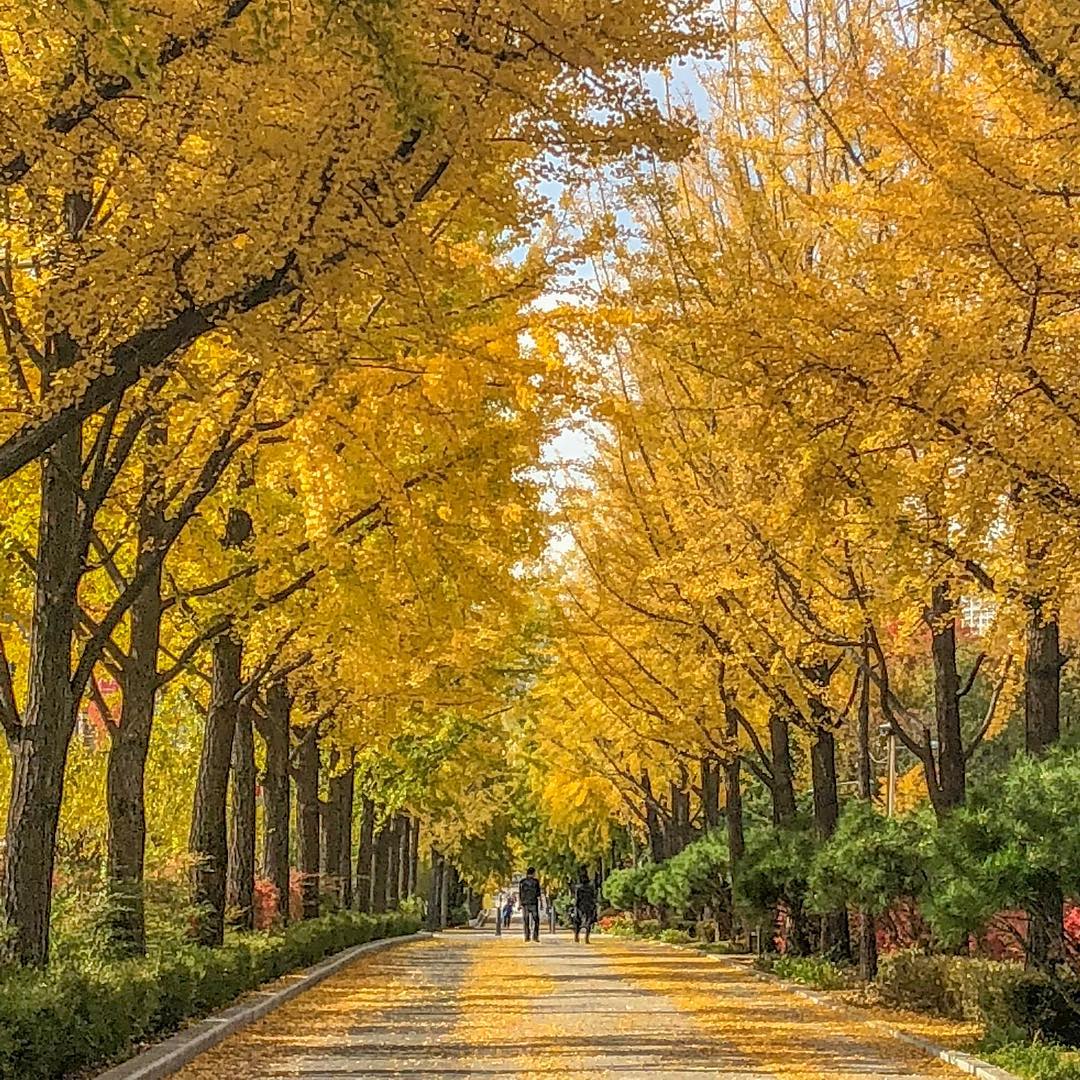 Although part of Chuncheon's territory, Nami Island is most easily accessible from a wharf in Gapyeong County, its main gateway and jump-off point. Nami Island covers an area of 430,000 square meters. This half-moon shaped island in the middle of the Han River was an almost barren patch of land with only a handful of chestnut trees. But when retired Bank of Korea governor Minn Byeong-do purchased the island in 1965, he reforested and transformed the island into the resort town that it is today. Over the past decades, it has hosted many events promoting art, culture, and environment-related causes. Because of its proximity to Seoul, Nami Island easily became a popular day tour destination.
How to Get to Nami Island from Seoul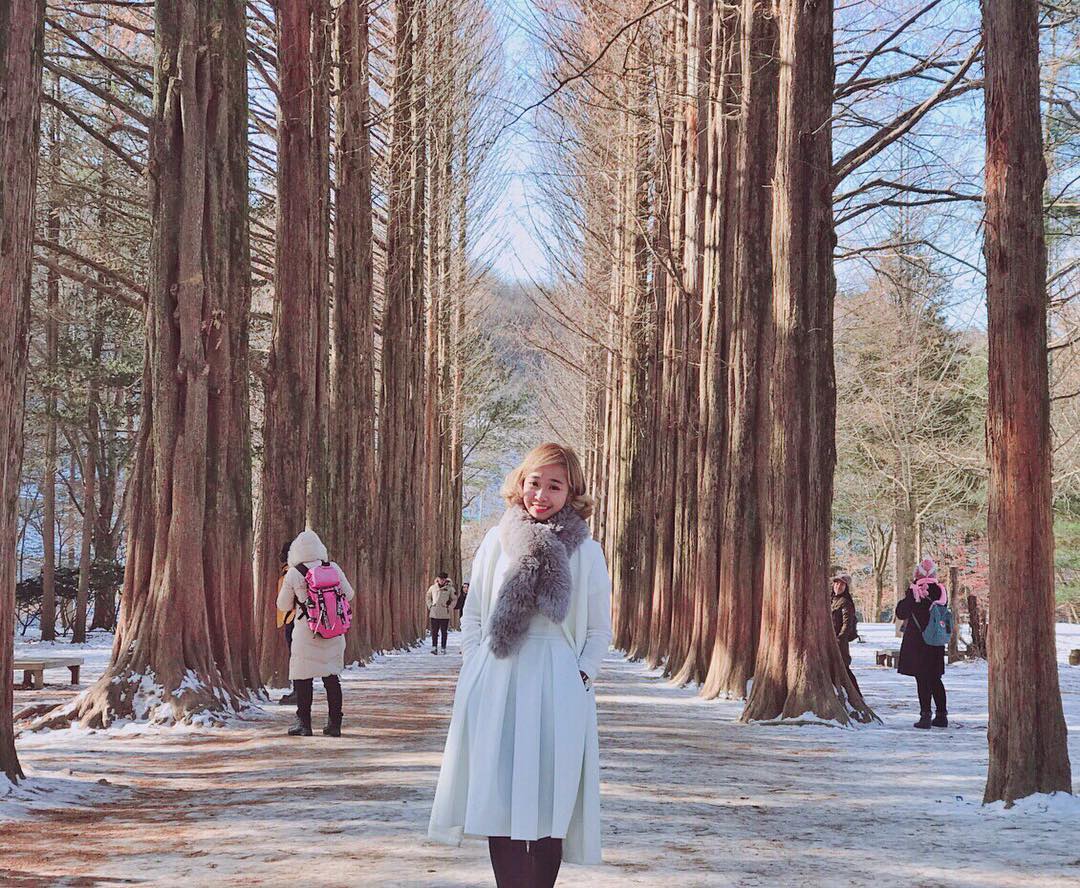 There are many ways to reach Nami Island, but these are the most popular options. You can travel by train to Gapyeong Station or you take a cab from the station to the ferry wharf. At the wharf, buy tickets to the island, which cost ₩13,000. The 13,000-won fee already covers both the entrance fee and round trip ferry fare. There used to be a discounted rate for foreigners, ₩8000 per person, but the rate increased in January 2018 to ₩13,000. Also, you can get to Nami Island by bus. You may catch the shuttle bus in Insadong (near the West Gate of Tapgol Park) or Sungnyemun Square Bus Stop in front of Namdaemun Market.
From Seoul: Nami Island 1-day Tour
Book now!
Stroll around the island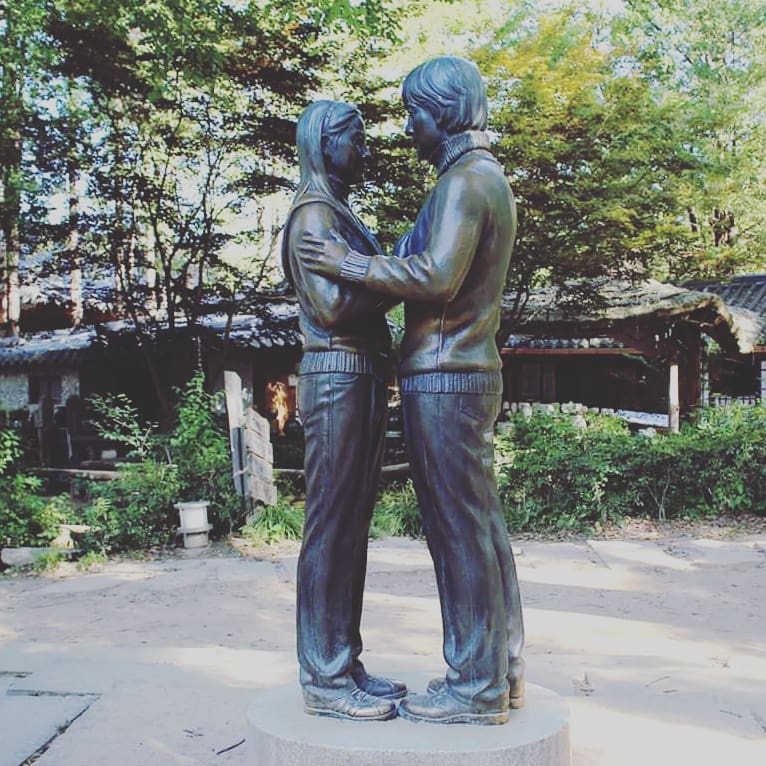 Nami Island is beautiful. Words can't really describe the beauty and serene nature of this island. You may wander around the island and found loads of awesome photo spots. Also, there is Gingko Tree Lane, this is one of the most beautiful spots on the island. The golden gingko leaves were amazing to see in person. Be on the lookout for wild squirrels with pointy ears and long tails in the area. It seems that the squirrels were not very afraid of humans. Or you can check out Maple Lane of True Love if you love red maple leaves. You can even visit the filming location of the movie "Winter Sonata", The most memorable one was the "Couple Snowmen", which Min-hyeong and Yoo-jin made together in the drama during their courting period.

Where to eat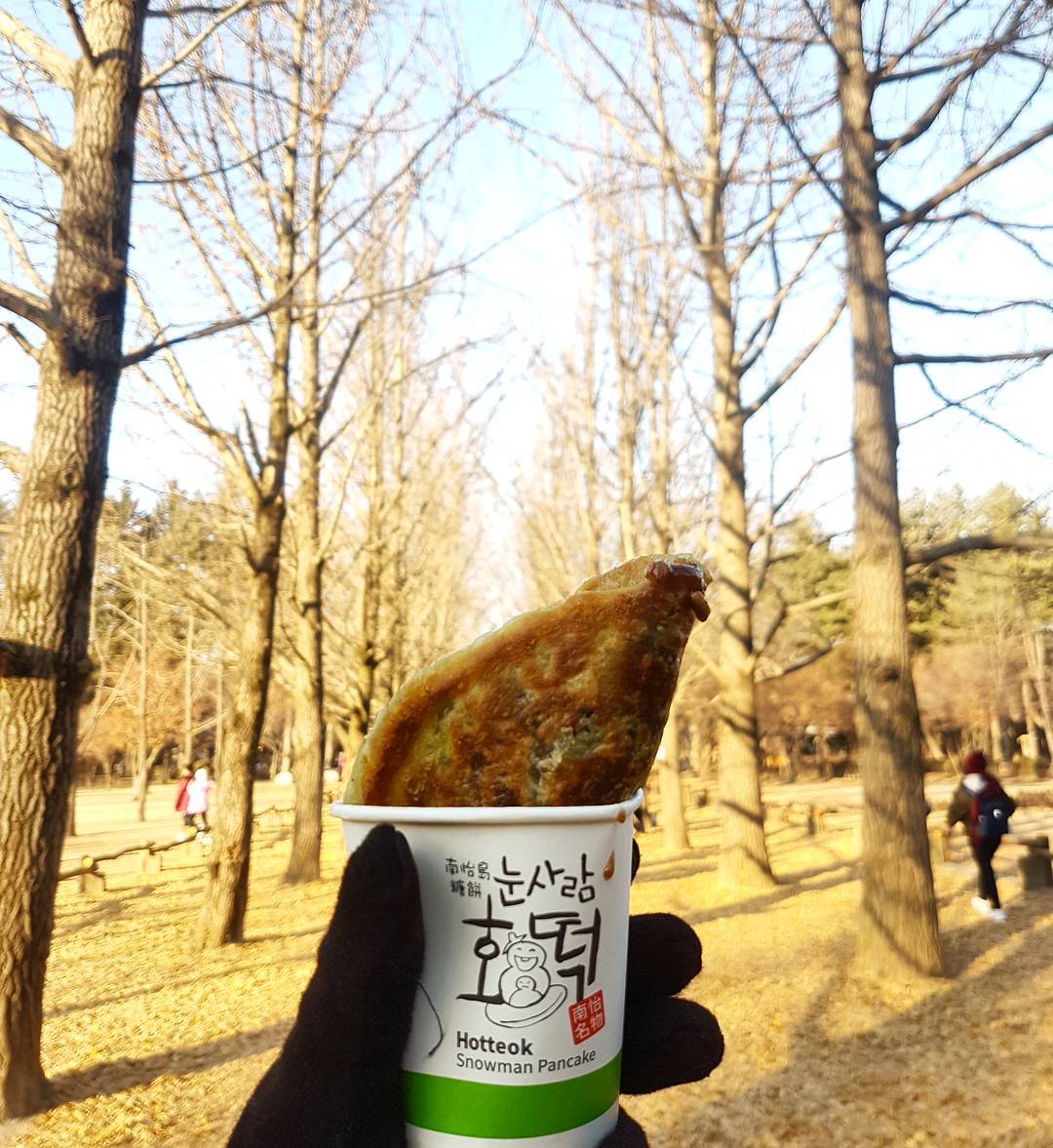 Being one of the most visited tourist hotspots near Seoul, Nami Island attracts large crowds of visitors looking for beautiful natural scenery. While it is famous for its amazing natural attractions, the island also offers fun foodie experiences. You can visit Dongmoon Restaurant which serves Asian fusion cuisine and it is the only halal-certified restaurant on the island which gives more choices for Muslim and vegan travelers. Or you can try 'Dosirak', a Korean-style lunch box at Yeonga Lunch Box, and one of the cheapest menus you can find on Nami Island. The best way to enjoy 'Dosirak' is to shake the lunchbox before you eat. Also, don't miss out on Nami Island's tasty sweet treats, Snowman Hotteok (Korean sweet pancake) and Mayak Oksusu (roasted corn). They are extremely popular, especially during the winter months.
Petite France
Petite France is located in Gapyeong Mountains and is perfect for a detour from Nami Island. Its European-esque structures and colorful yet quaint surroundings will momentarily make you forget you're still in South Korea. Every corner in this tiny adorable village is totally beautiful. Inspired by the well-loved book, "The Little Prince", the main 3 concepts of Petite France are 'Flowers, Stars, and The Little Prince.' As you step into the village, you will feel as if you are visiting the Mediterranean coast surrounded by colorful European structures. The scenery looks straight out from fairy tales during winter. The village also showcases vintage European trinkets such as century-old dolls and puppets, antiquities, and furniture.
Nami Island Tour: Petite France, Strawberry Picking
Book now!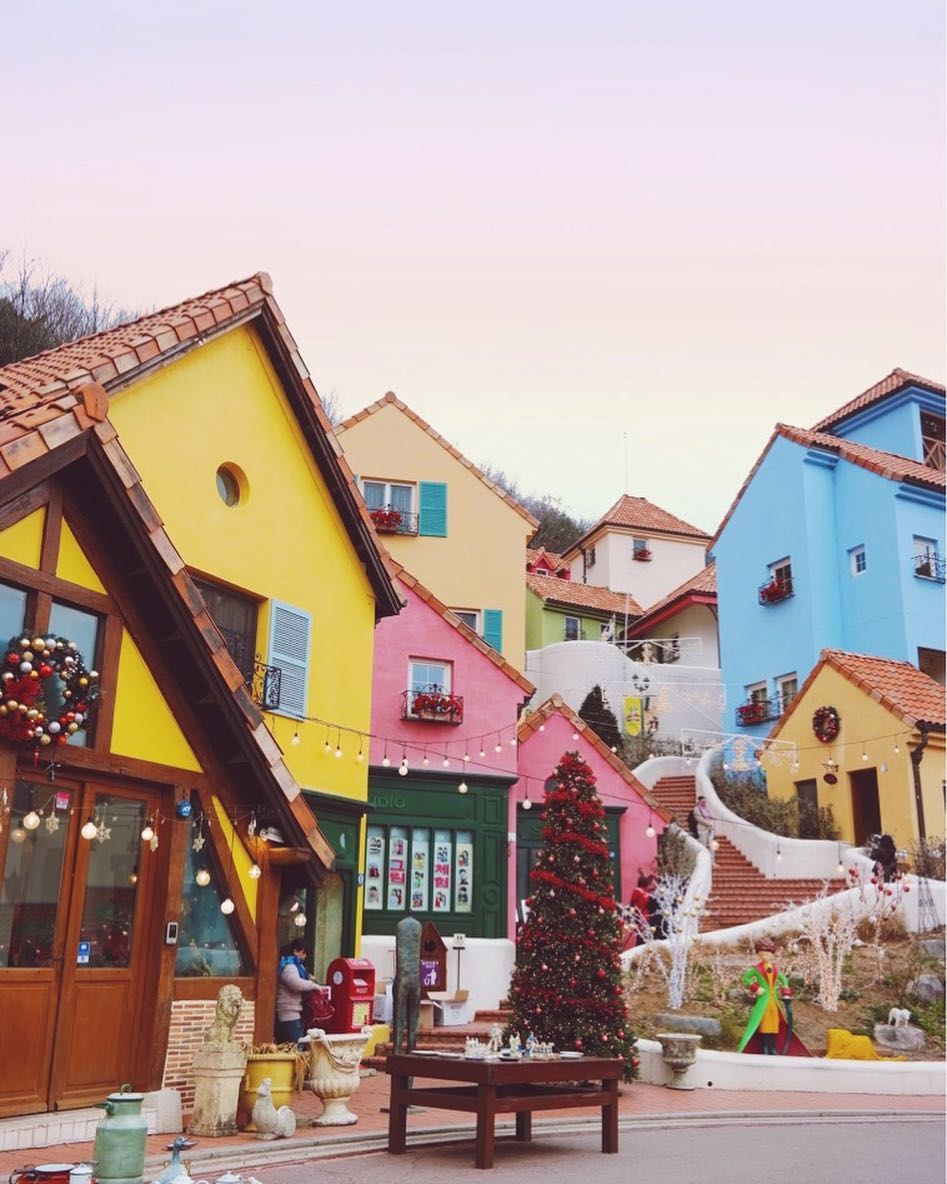 Stepping into Petite France, you will feel transported to another location and time period. There are several free performances such as the Orgel Demonstration, Guignol French Hand Puppet show, Marionette Czech String Puppet show, and accordion performances by street musicians. There are so many places you can explore: you can take photos at Bonjour Walkway, a short walk along a boardwalk where there are Le Petit Prince signs and photo spots. Wander around Petit Prince Street if you love the Le Petit Prince story, you'll enjoy the artwork on the street and buildings. Or you can visit Maison de Marie & Maison de Jean, which contains replicas on how the fictional people, Marie, and Jean lived in France. While Petite France is also the most touristy, it's definitely worth a visit as the colorful buildings' facade make a great backdrop for photo-taking opportunities.
Garden of Morning Calm
Garden of Morning Calm is a great place for everyone to slow down and admire the beautiful flowers and landscape within the oldest private garden in South Korea. The garden is open all year round, and there's a reason to visit every season as exhibits are seasonal. In Spring, Magnolia, Azalea, and Cherry Blossoms paint the garden pink. During Summer, the garden bursts into a myriad of colors when Roses, Iris, and Blue Hydrangea bloom. Autumn shows us how Chrysanthemums and Maples add a sense of warmth to the cooling the temperate with their red fiery petals and leaves. While in Winter, artificial lightings make the otherwise dormant snow-covered garden look like a magical winter wonderland.
HOT TOUR: Nami Island + Petite France + Garden of Morning Calm
Book now!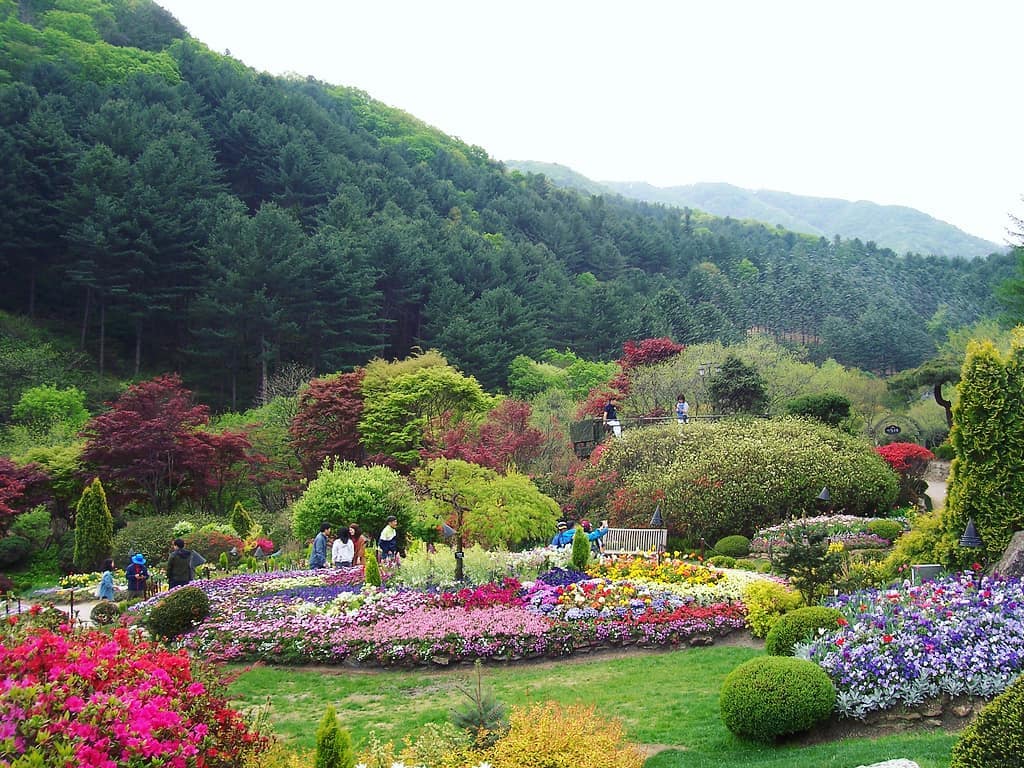 With 26 themed gardens within the entire compound, the Garden of Morning Calm is every photographers' dreamland. Many older folks can be seen brisk walking, while the younger generations whisk their cameras for selfies amongst the many colorful beds of flowers around Pond Garden and Sunken Garden, two of the best areas in the park. Unfortunately, you can't go into the pond in Pond Garden. It's such a pretty view around the lake. Plus, there is a tea shop next to the garden. You definitely shouldn't miss out on Cloud Bridge, you may walk along this bouncy suspension bridge. You can check out the Millennial Juniper, the 1,100 years old juniper tree. It's peaceful to walk through and has a lot of greenery.
Gapyeong Rail Park
Located just outside of Seoul in Gapyeong Rail Park is where you can ride a rail bike and take in the beautiful backdrops of Gapyeong. Reachable by subway, the rail park is a perfect outdoor activity! Gapyeong is most famous for Nami Island, but Gapyeong also boasts beautiful scenery, especially the view of the river. During your rail bike ride, you can enjoy the majestic river that runs through Gapyeong. In addition, you will rail bike on a 30-meter high bridge to cross the river and ride through a romantic tree tunnel.
Combination Tour:
Nami Island, Petite France & Gangchon Rail Bike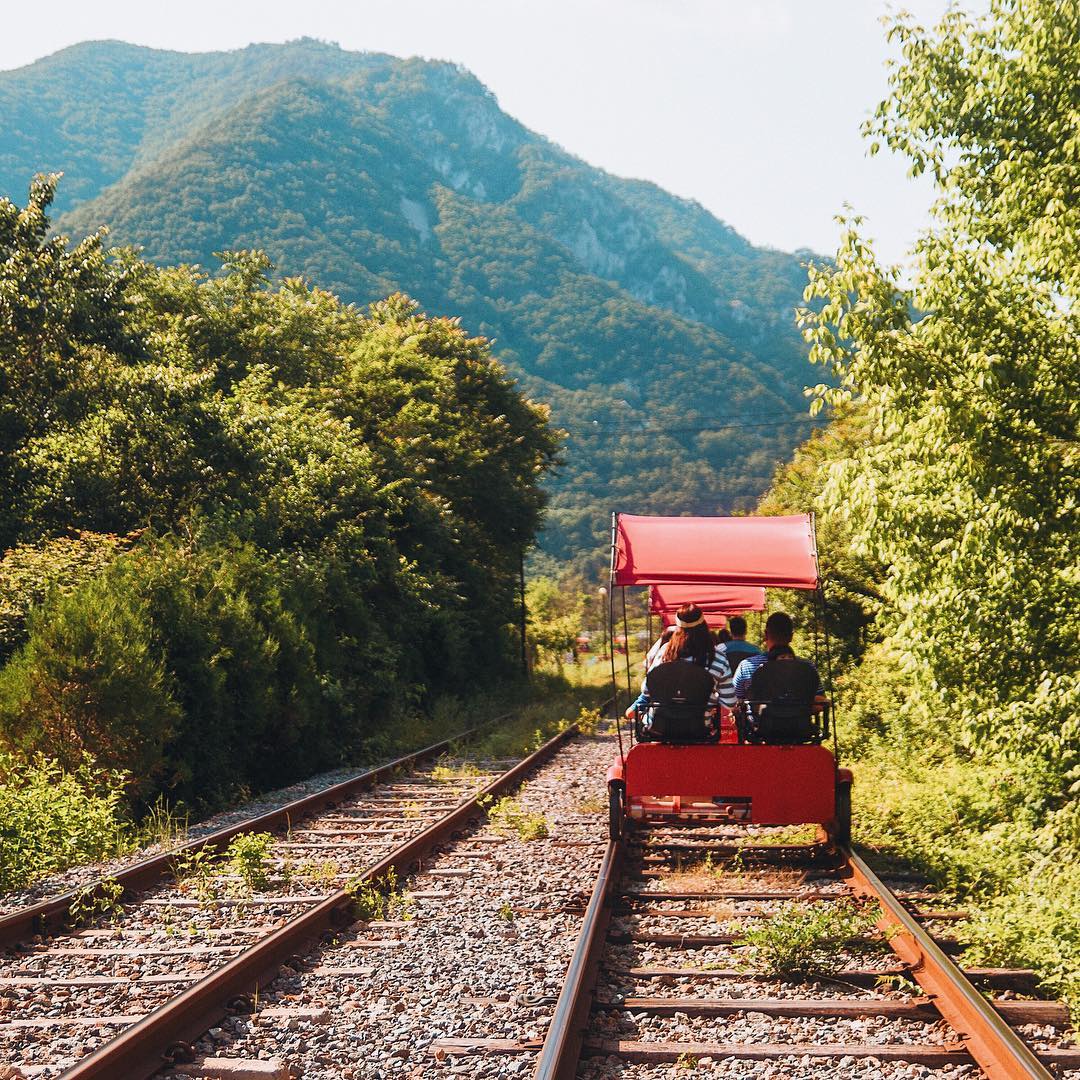 Gapyeong Rail Park is where you'll pedal in a rail cart that has groups of 2 or 4 people for an 8km (5 miles) out and back loop along a railroad track and check out the countryside views. The railbike tour departing from Gapyeong Rail Park passes through Gapyeongcheon Stream Iron Bridge, Bukhanggang Iron Bridge, and Zelkova Tree Tunnel before turning back to Gapyeong Rail Park. This route is featured in the Korean film "The Letter (1997)," and thus loved by both couples and photographers looking to capture some beautiful scenes along the old railroad track. Visitors can enjoy the beautiful river view while getting some light exercise with loved ones.
Cheongpyeong Lake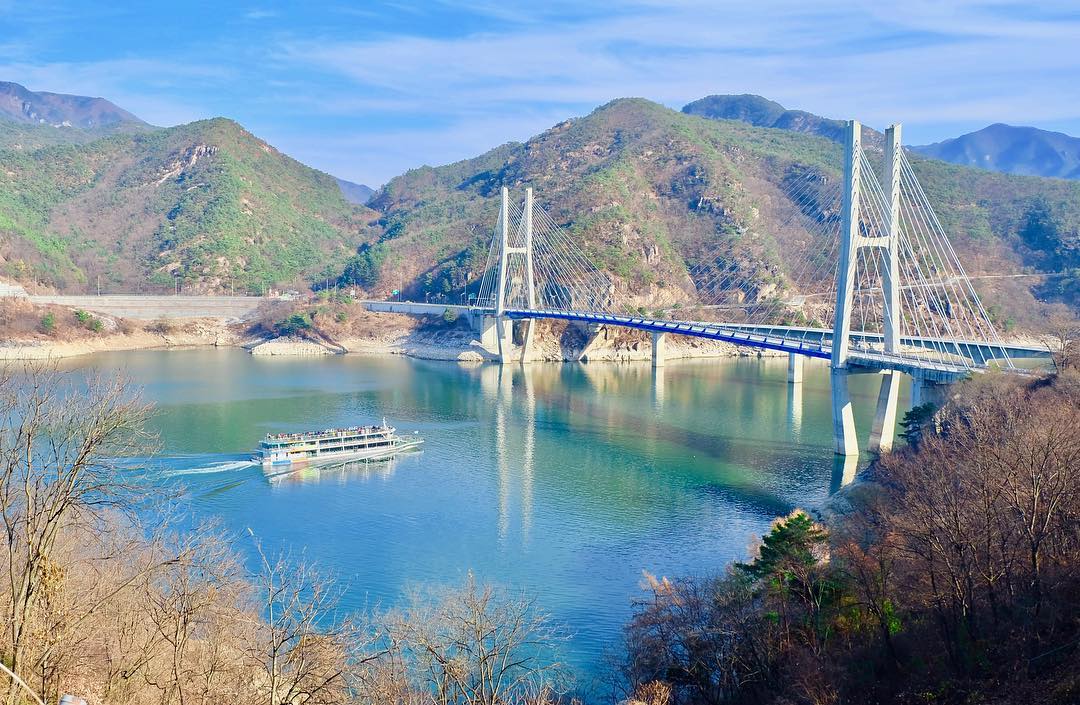 Cheongpyeong Lake is an artificial lake that formed with the construction of Cheongpyeong Dam in the Bukhangang River. Surrounding mountains and lake landscapes blend together harmoniously creating breathtaking views and is fast becoming a choice destination in Korea.  Near Cheongpyeong Lake there is an amusement park as well as numerous summer homes. On the nearby lake, one can enjoy water skiing and a host of other recreations. In addition, accommodation is also available making this destination a famous vacation spot all-year-round. Around Cheongpyeong Lake, there are a total of 30 boating areas for water skiing, motor boats, jet skis, banana boats, and various other water activities. All instrument rentals and lessons are also available.
Travel Tips
A one day trip to Nami Island should be enough for you to experience all the amazing things in the area.
The best time to visit Nami Island is during autumn, but if you want to witness cherry blossom season then spring is a considerable option too.
Nami Island is an independent island-nation that has its own flag and currency. All visitors must buy a Nami Island passport (ticket) and take the ferry to get inside the island as it is inaccessible by land transport.
There are no hotels on the island itself. The closest is Gapyeong, where the Nami Island ferry picks up passengers.
It's colder at Nami Island in winter. So make sure to put on several clothes and winter jackets. In spring or autumn, wear light jackets and trench coats to keep you warm. For summer, make sure to dress comfortable and if you're thinking of riding the zip line or the bike, don't wear short skirts.
It's always easier if you are going on a tour that covers these destinations. With so many options you can choose from, Inspitrip provided amazing tours that guaranteed to give you an unforgettable experience.