Alcazar Show: A Complete Guide To Thailand's Most Famous Transvestite Cabaret Show
Pattaya is Thailand's party heaven with blue sea, beaches, resorts, bars, and clubs. Besides that, visitors coming to Pattaya will also be fascinated by the world-class performances from those one-of-a-kind transvestite cabaret shows. The Alcazar show is one of the most anticipated shows where professional performers are dancing in stunning costumes and millions of Thai Baht are used to apply colorful, complicated light effects and modern stage technology into creating the most extraordinary art product for all of its audiences.
Follow us to know everything that makes the Alcazar Cabaret show become a top activity that travelers should not miss when visiting Pattaya and all you need to know before coming to watch this show.
A long history with incredible development
The Alcazar show has a history dating back to 1981 with about 100 performers and staffs who worked in a theater of only 350 seats. However, after almost 40 years of development, Alcazar Cabaret has become famous worldwide as the best transvestite cabaret show in Thailand.
Since 1990, a new modern theater with the capacity of 1200 seats has hosted all these impressive performances and welcomed thousands of both domestic and international guests every year.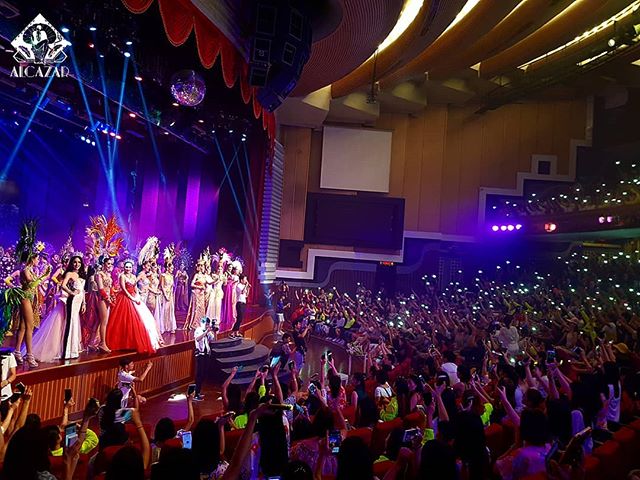 Traveling around the world with multicultural performances
The Alcazar show is a combination of dazzling clothing, superb acts, energetic performances which brings you dances from different countries around the world. Certainly, a fact that makes the show become unique is that all the beautiful female performers are actually ladyboys. Additionally, their colorful attire and lissom movements will definitely leave a strong impression on the audiences.
Throughout the cabaret show, there are 17 acts including ones showing dances and songs from Russia, China, Vietnam, Korea, Thailand, Persia, and India. Besides, the show has put lots of effort into these performances to deliver the outstanding cultural characteristics of these countries and create the most distinguished experience to the audiences.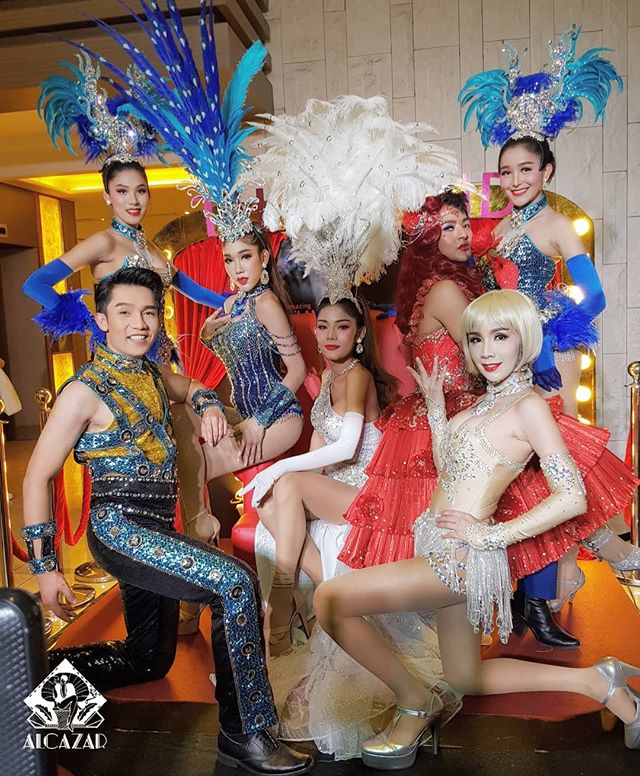 In 70 minutes, all of the following performances are covered:
1. The Wondrous World
2. Aqua Playa
3. Ba Jang
4. Four Legendary Regions of Siam Kingdom
5. Le Jazz Hot
6. Flowers of China
7. Melayu Dance
8. Hello Vietnam
9. Persian Dance
10. Lola Want Love
11. Dance With Me
12. Arirang Drums & Fans Dance
13. Oppa It's Just My Style (Korean Pop Dance)
14. Boogie Wonderland
15. One Man Woman
16. The World Is Not Enough
17. Fabulous Russia
Four Legendary Regions of Siam Kingdom
The Alcazar show not only integrates cultural performances from different countries in one single show but also promotes the authentic Thai culture to international tourists. In the show, "Four Legendary Regions of Siam Kingdom" is a fancy and graceful act which presents many Thai traditional beliefs.
Together with the traditional dance, the elegant performance reveals stories about ancient traditions such as Loy Krathong and mythological creatures. Moreover, it successfully brings on stage Kinnaree, which has the head, torso, and arms of a woman and the wings, tail, feet of a swan; and the Naga serpent, a half-human, half-snake being.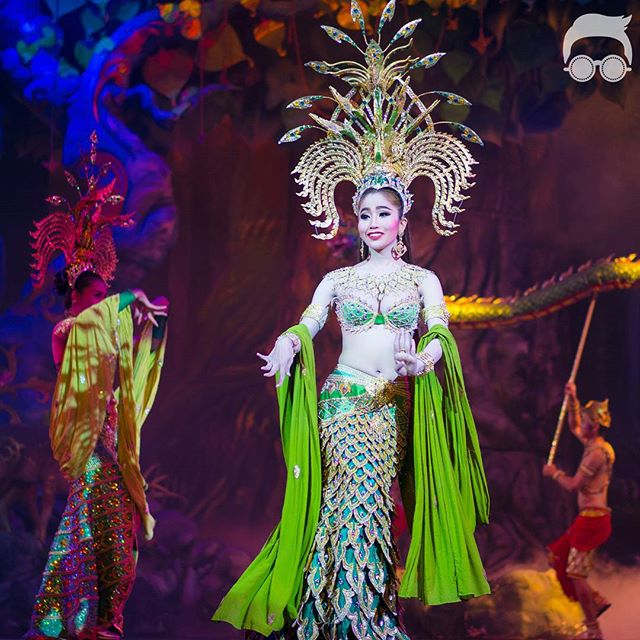 Fabulous Russia
Another remarkable act is Fabulous Russia. Pattaya has always been a well-known destination to Russian tourists, who became the inspiration for many entertaining activities created by holidaymakers in this city. Thus, the Alcazar show prepares a separate captivating performance devoted to the Russian theme.
In this act, beautiful ladyboys will do lip-sync and dance along with Russian songs. Furthermore, the backdrop of decorations in this act is based on the Vasilyevsky Cathedral in Moscow.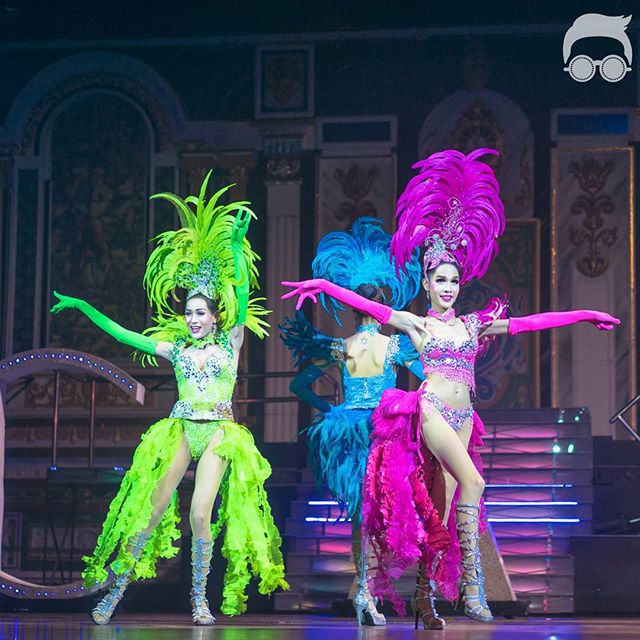 Flowers of China
"Flowers of China" is one of the most anticipated performances because of the extravagant dresses and well-prepared dance of all the actresses. This act shows the beauty of the women of the Tang dynasty -  the golden age of cosmopolitan culture in Ancient China. Moreover, the background music is played by traditional Chinese instruments to deliver the most authentic Chinese display to visitors.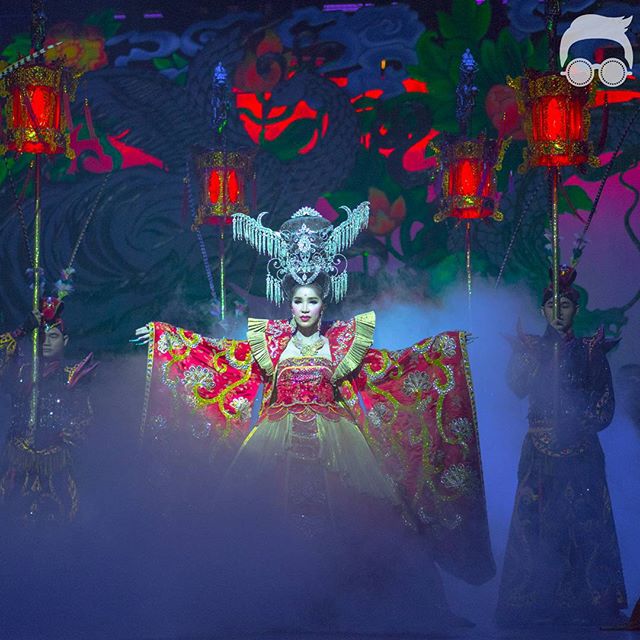 Taking photos with performers
After the show, you can meet up with all the beautiful dancers at the parking lot and take photos with them for only 40 Thai baht per photo. And of course, it is hard to believe that these gorgeous ladies were actually male from origin!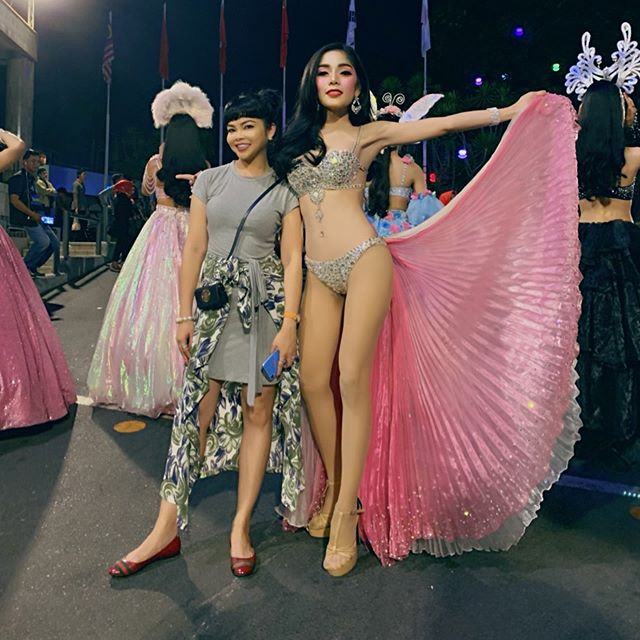 An entertaining show suitable for all ages
There are misunderstandings that Alcazar Caet contains performances that are not suitable for children. Nonetheless, the show is definitely family-friendly and does not include any erotic acts. This is why it does not have any age limit and children are welcomed to enjoy all these wonderful performances.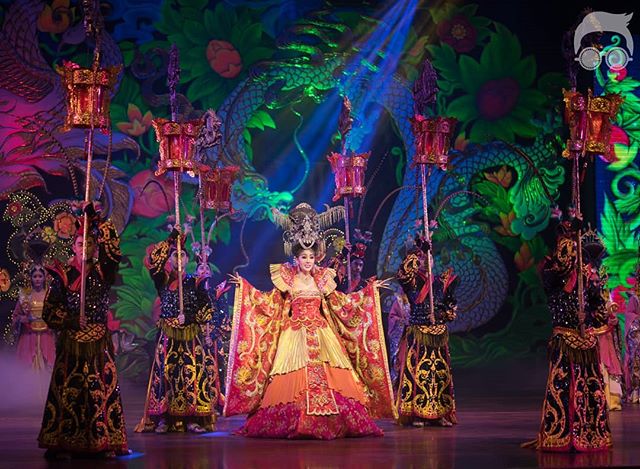 Alcazar Cabaret or the Tiffany show?
The most famous "competitor" of Alcazar Cabaet is the Tiffany show. Both shows are conducted in Pattaya and they both have charming ladyboys performing along with fantastic content. Furthermore, their duration is also not so different, 70 minutes for the Alcazar show and 75 minutes for the Tiffany show.
However, you will able to enjoy 17 performances in Alcazar Cabaret while there are only 13 acts in the Tiffany show. Because of their similarities, if you only want to watch one show only, choosing which one to go can be difficult. Therefore, the following differences can help you to make up your mind.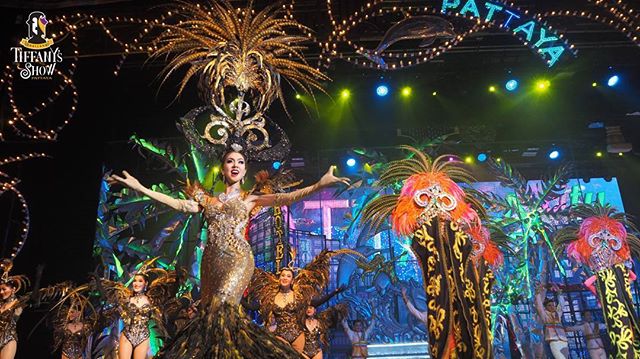 Ticket Price
For the Alcazar show, the ticket price is lower than the price of the Tiffany show's tickets, which is USD $24 for a standard ticket, USD $30 for a VIP ticket versus USD $27 for a standard ticket and USD $39 for a VIP ticket.
Performers
The Tiffany show has a long history of 40 years and it is also the origin of the famous Miss Tiffany's Universe beauty contest for transgender women. Therefore, some reviewers believe that Tiffany show has more beautiful actresses than Alcazar Cabaret does since some of these actresses were coming from the pageant.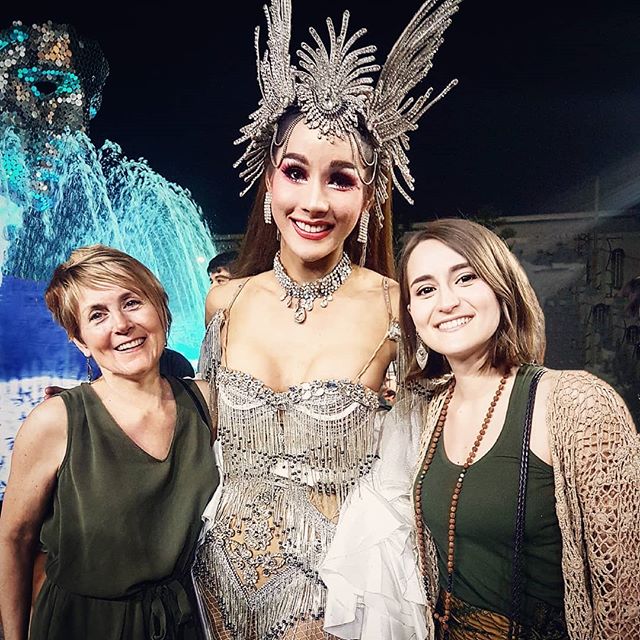 Content of the show
The Alcazar show gets a lot of positive critics for how the popular pop songs are performed. In addition, how Alcazar Cabaret creates a musical show with the combination of lip-syncing, dancing and acting to tell a story is also highly praised by viewers.
On the other hand, the Tiffany show does not focus on creating a clear storyline. In other words, it focuses more on making a strong impression through the props, captivating dance and stunning costumes.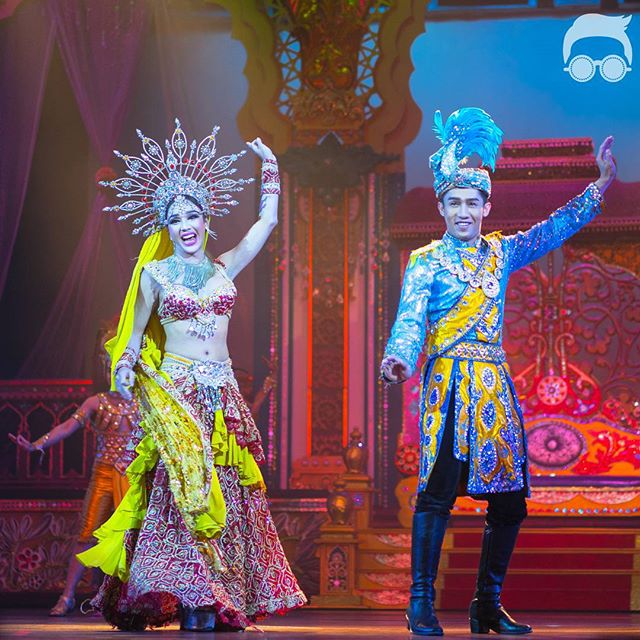 To sum up, if you are on a budget but still want to watch an entertaining show with a story being told, you can consider choosing the Alcazar show. Otherwise, the Tiffany show is a great pick if you prefer watching the actresses who are as beautiful as Miss Tiffany Universe's contestants, sophisticated performances and meticulously made costumes.
Buying tickets in advance to catch great deals
Via entrance ticket counter
If you want to avoid scams on the Internet, drop by the Alcazar theater's ticket counter to buy your ticket. However, this way is not highly recommended since you may not be able to book the date and time you prefer as the tickets are sold out really fast.
Moreover, the tickets sold on-site are more expensive than buying online which are 1000 TBH (~ USD $32.1) for VIP Seat, 800 TBH (~ USD $25.7) for Deluxe seat and 600 TBH (~ USD $19.27) for Standard seat at second floor.
Via online platforms
Secondly, you can also book online tickets via trusted platforms. By purchasing the tickets online, you can secure your seat with a reasonable price and save time from queueing at the ticket counter.
Inspitrip is now offering Entrance ticket to Alcazar Cabaret Show with the best price guaranteed. Book your ticket today to save up to 40% off!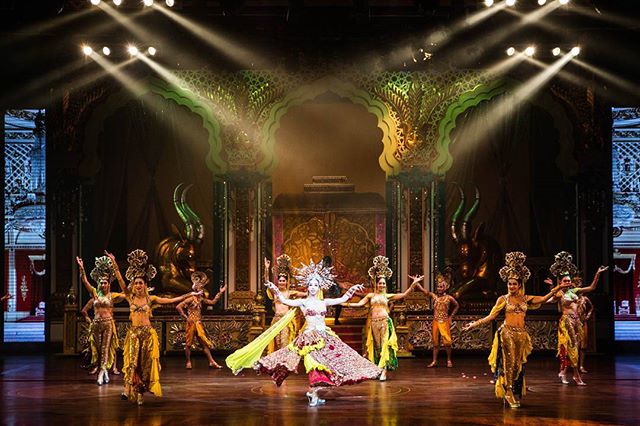 Alcazar Show schedule
The show is held daily at 17:00, 18:30, 20:00, and 21:30.
Since the seats at Alcazar show's theater are filled very fast, you should quickly arrange your schedule and buy the tickets in advance in order to ensure that you can choose your preferred time and date!
Ways to get to the Alcazar show's theater
The Alcazar Show's theater is located at 78/14 Pattaya 2nd Road (Pattaya City), very close to the Central Plaza Marina Pattaya shopping mall.
In Pattaya, there are different means of public transportation and more interestingly, some of those you cannot try in any other countries! From central Pattaya, you can get to the Alcazar show's theater via the circular route Beach road - Pattaya 2nd road using the following ways:
Traditional taxi or Grab taxi
You can show this to the drive "อัลคาซ่าร์ คาบาเร่ต์ พัทยาสายสอง" in order to make sure that he/she knows exactly where you want to go.
Motorcycle taxi
Motorcycle taxi is able to move faster in traffic so it will help you to get to your desired destination quickly and its fare is not as high as taxi fare. Hence, using a motorcycle taxi is very common in Thailand. However, motorcycle taxi drivers in Pattaya may charge you a higher fare than the official fare so don't forget to negotiate the fare before getting on the motorbike.
The official (2015) Thailand motorcycle taxi rates for your reference: 25 THB for the first 2 kilometers; from over 2 kilometers to 5 kilometers is an additional 5 THB/kilometer; after 5 kilometers up to 15 kilometers is an additional 10 THB/kilometer; after 15 kilometers is negotiable.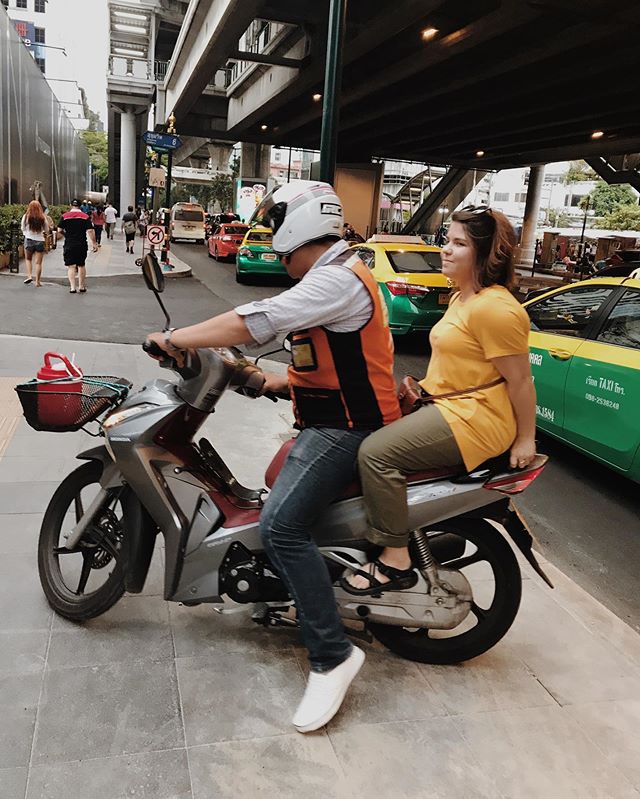 Baht bus (aka songthaew)
This is the most popular and convenient way of getting around downtown Pattaya. Additionally, Baht bus is Pattaya version of tuk-tuk, which is one of Thailand's unofficial symbols. This is a pickup truck with a canopy roof, 2 bench seats in the back and will cost you 10 THB (~USD $0.32) for each trip. However, you should pay the driver the exact amount of money since some of them may reluctant to give change.
Baht buses operate on specific routes so check this map of routes to find out the most popular routes and the correct boarding spots.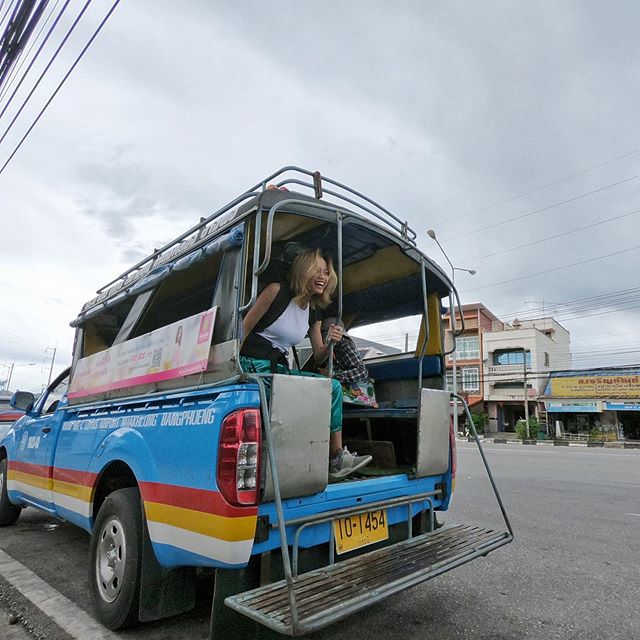 With our local insights, hope that you have all the information needed before buying tickets to the Alcazar show in Pattaya! Above all, the show promises to bring you the most unforgettable experience of outstanding performances and services.
If you are wondering what other exciting things to do in Thailand are, check out Inspitrip's articles written by local insiders to receive comprehensive guides to different activities and get ready to discover the Land of Smiles: