From the grandeur of Ha Long Bay to the wonder that is the Cu Chi Tunnels, two weeks in Vietnam gives you a real taster of what the country has to offer.At Inspitrip, we've mapped a 14-day itinerary for you. This itinerary focuses mostly on the North Vietnam as two weeks perhaps is not enough to cover the entire country. If you want to spend more time here, check our comprehensive guide on how to travel Vietnam in 30 days.If you are Vietnam  first time travellers, check our comprehensive Vietnam travel tips.Wondering about the best time of year to travel? Simply check our guide for handy tips and tricks to visit any time of year.
---
Day 1 - 2: Hanoi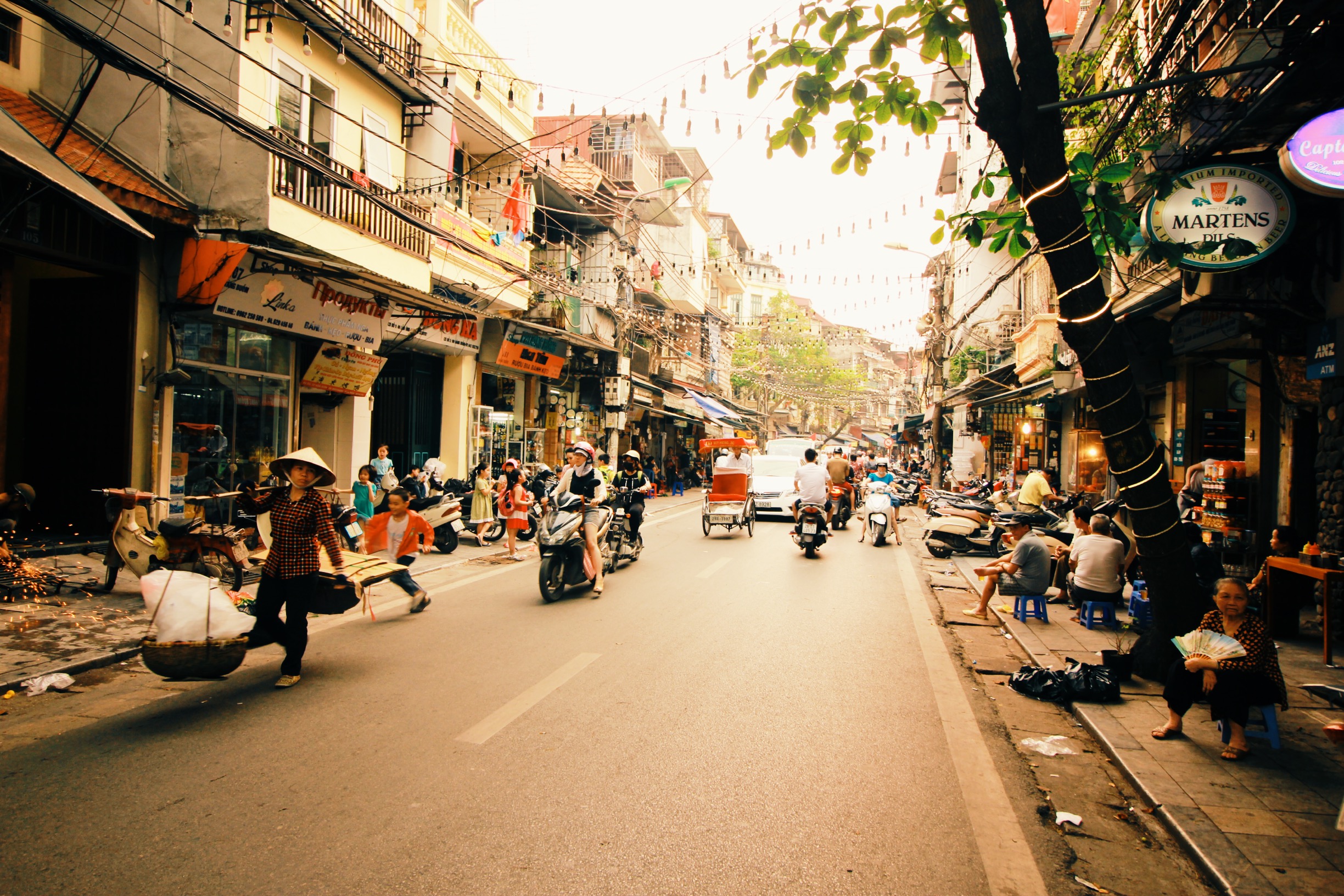 The capital of Vietnam, Hanoi is the political heart of the country, where all government offices are based. Hanoi is known for its French colonial architecture, delicious food and traditional Vietnamese lifestyle. If you are short on time, here is our guide to discover Hanoi within one day.
Old Quarter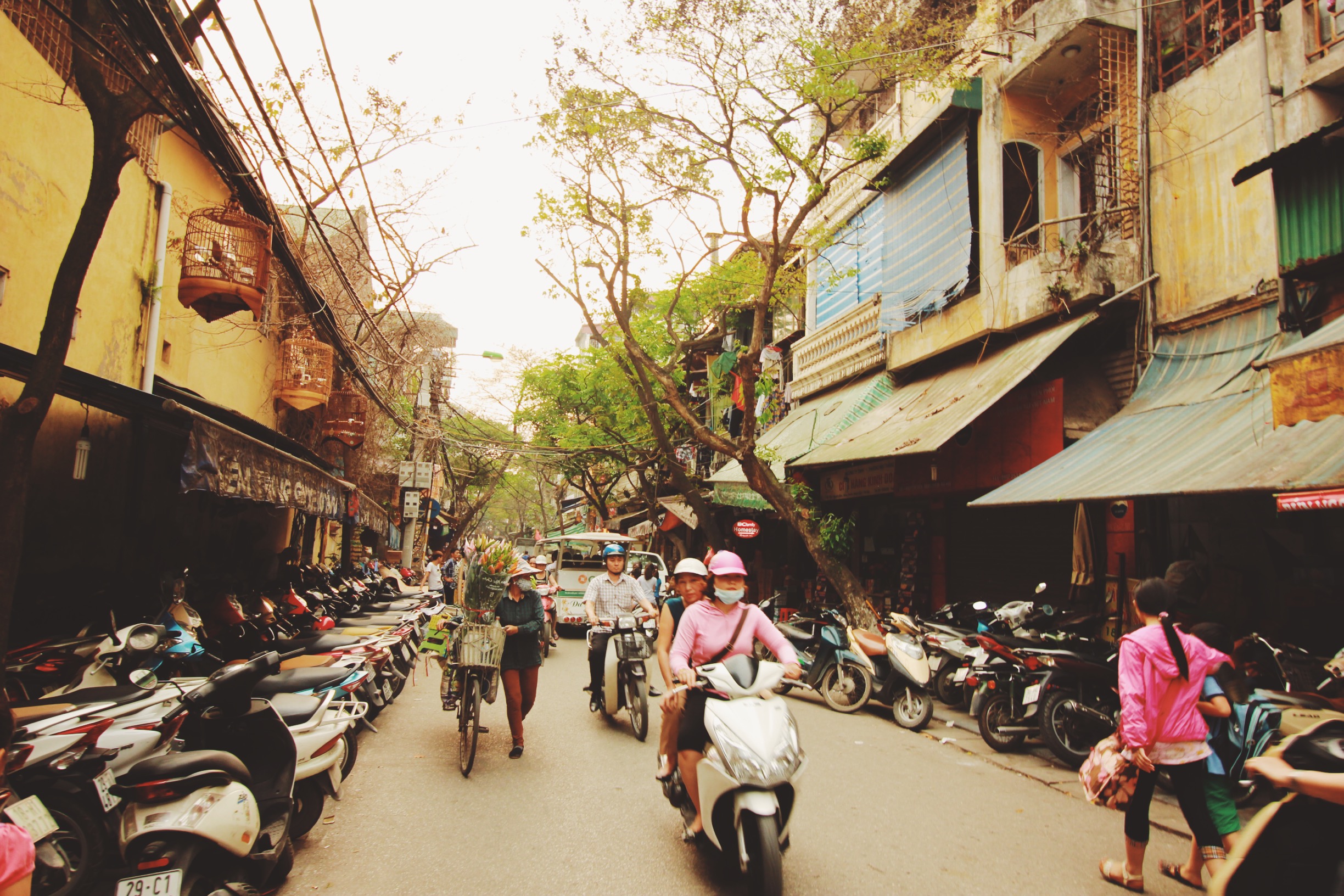 The Old Quarter is the city's centre, and is divided into 36 streets, each specialising in certain types of goods. For instance, if you walk onto "Hang Dao" (Silk Street), you will find the street packed with shops selling silk products and fabrics. You can easily spend an afternoon roaming The Old Quarter alone. One of the most interesting tours offered in Hanoi is to discover old quarter on cyclo (3 wheeled bicycle taxi). Each tour lasts between 1 to 2 hours, carrying customers through around different 50 streets and attractions. These include the 36 streets inside the Old Quarter, Sword lake, Literature Temple and St. Joseph's Cathedral Church to name but a few.
Food Culture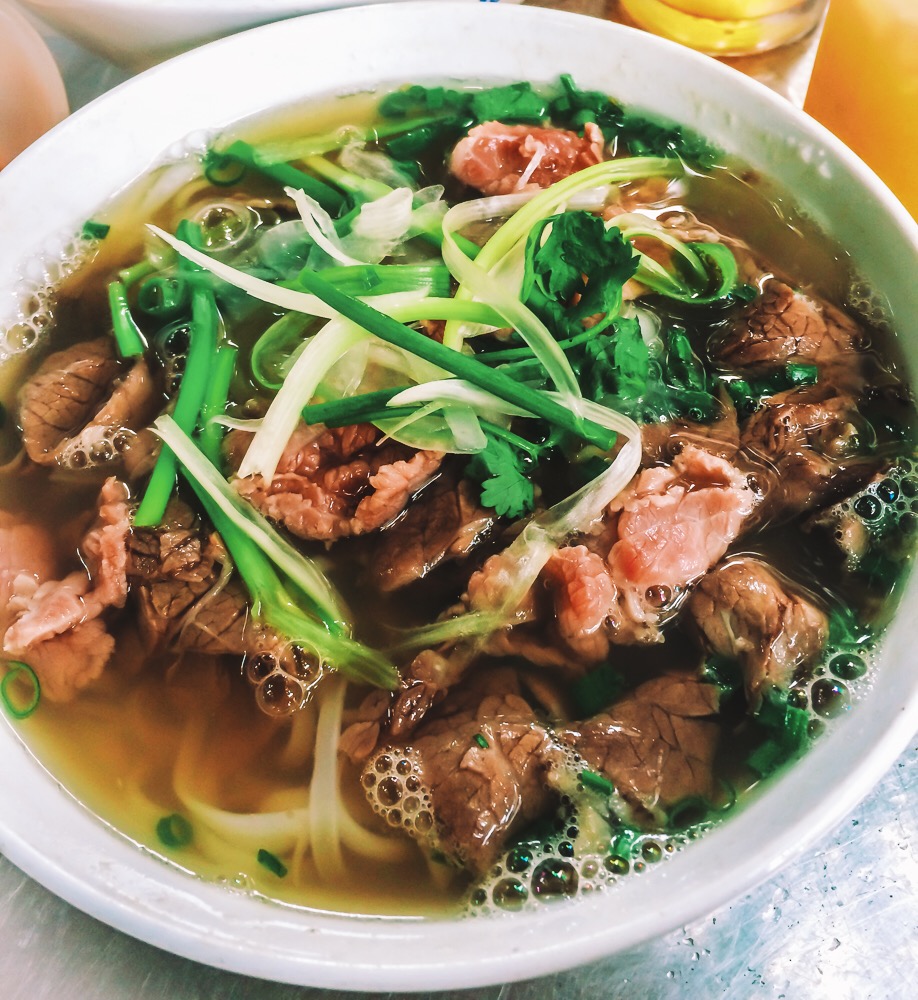 Pho, Vietnam's most famous food export, is a fine example of a classic Hanoian dish. There is a local saying that 'one has never been to Hanoi if you haven't eaten the pho'. There are several good restaurants on Quan Thanh street, but the best one is an unnamed family business restaurant at 42 Quan Thanh. Don't forget to try Cha Ca La Vong, a grilled fish dish originating from Hanoi. Cha Ca La Vong constitutes of fish balls, grilled pork vermicelli stuffed pancake, fried tofu vermicelli and eaten with shrimp sauce. If you are particularly interested in the food of Hanoi you can check out our ten hidden specialities of Hanoi. Tips
Time to visit: October to April
Hidden gems: Long Bien night market, explore Hanoi café culture: egg coffee (Giang cafe) or coconut latte (Cong Café).
Restaurants & Cafe: Giang cafe for egg coffee, Cong cafe for Coconut latte, Eel restaurant on Yen Ninh street for eel dishes
Things to do: Spend time at Ba Dinh square, the Literature Temple and museums, wandering around the Old Quarter, Duong Lam village, Bat Trang Pottery Village
Transport from the airport: As Noi Bai airport is very far from city central, it may take you up to $20-25USD for a taxi drive. There's also a shuttle bus to the city centre.
---
Day 3 - 4: Ha Long Bay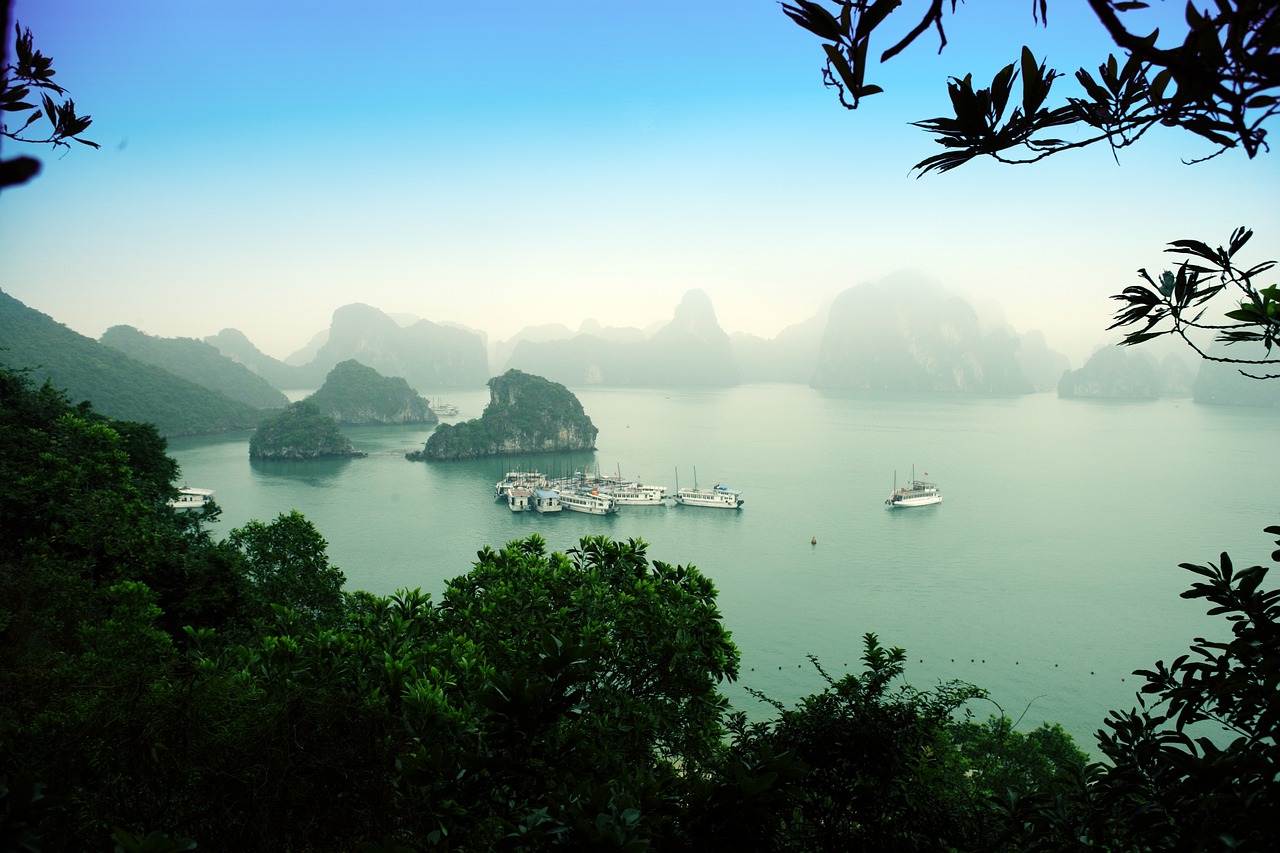 3.5 hours away from Hanoi by car, this is usually the must-see on every tourist agenda, and with good reason. Listed as one of the New Seven Wonders of the World. Recognised as a World Heritage Site by UNESCO, Ha Long Bay is known for its stunning bays, natural caves and Limestone Island. Book an overnight stay on the water if you can! The legislation is set to change shortly.
Tuan Chau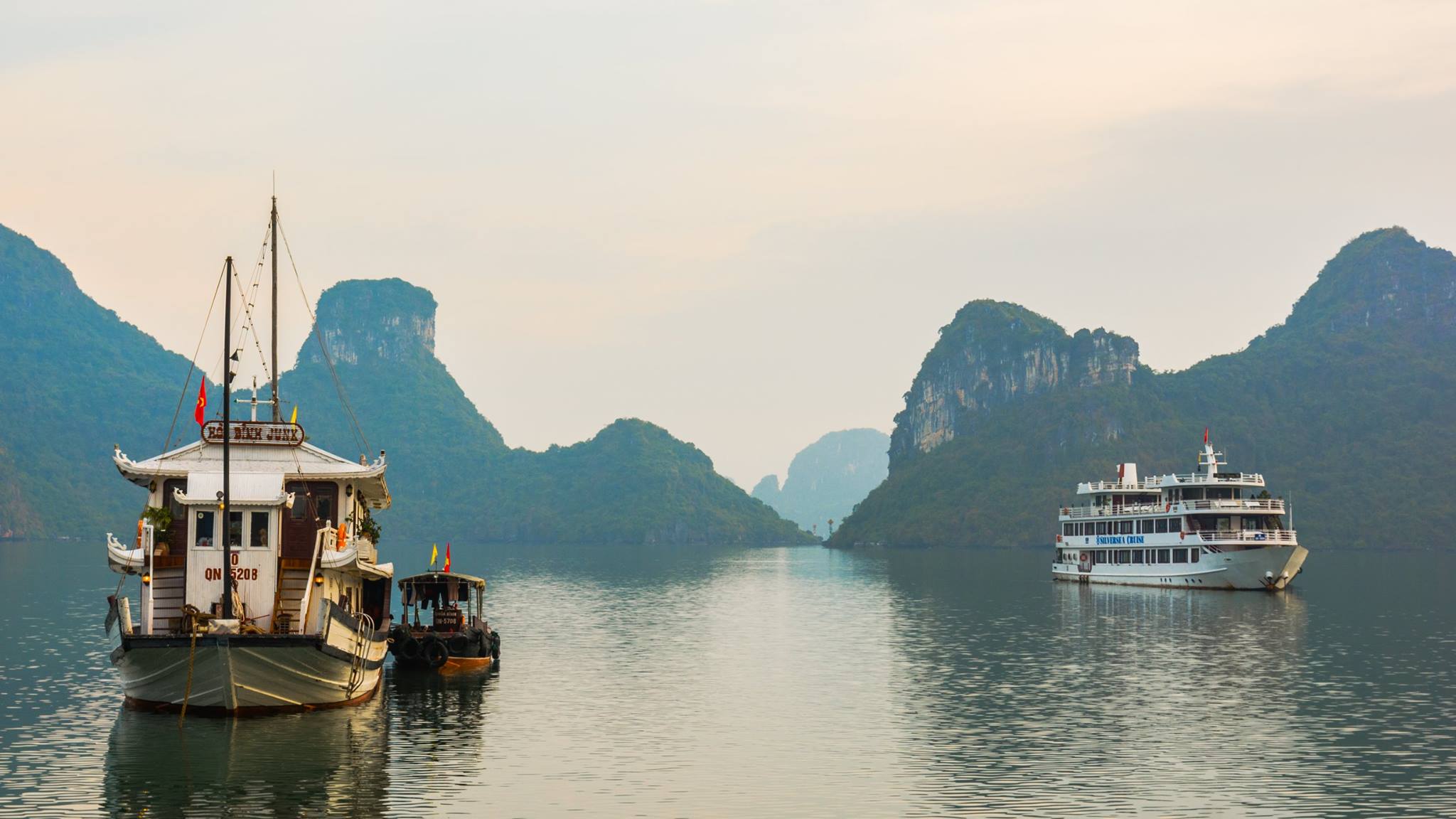 Most people usually head to Tuan Chau, one of a few inhabited islands. You may cruise along the bay and explore its natural caves. Ha Long Bay is surrounded by a dense cave network offering many opportunities for exploration. Among those, Hang Luon and Hang Sung Sot (Grotte des surprises) are the most famous and recognised as World Heritage Sites by UNESCO.Tips
Time to visit: the best time visit is from October to March
Hidden gems: Bai Tho mountain, Old Town coffee, Ha Long by Night lounge
Things to do: Explore the caves, sun bathe on the beach, book an island tour and scuba dive.
Foods to eat: Seafood, especially king crab
Transportation:
Car: From Ha Noi, the fastest route is through the Bac Ninh provinces, which is about 150km, roughly 3 hours of driving.
Bus: Available from 6am to 5pm at either Luong Yen or My Dinh bus station in Hanoi. Each bus departs 5 to 15 minutes away from each other and stops at Bai Chay station. A one way ticket costs $8-10 USD.
Train: The Ha Long Express departs from Gia Lam railway station. Trains start running at 7am daily and will take you there in 5 hours. The cost of a one way ticket is $15USD for foreign passengers.
---
Day 5 - 8: Sapa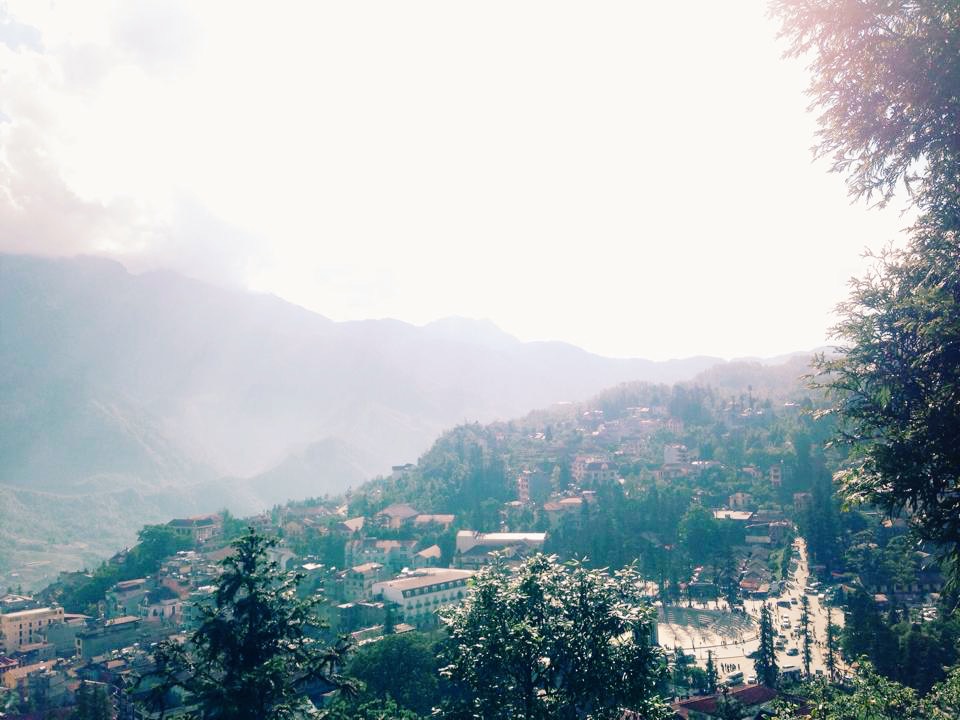 Located in the north west, 8 hours away from Hanoi by car, Sapa is called a "stairway to heaven" thanks to its foggy weather. The average temperature all year round is between 15 – 18 Celsius. If you have the time, try to spend a little more time in Sapa, as this charming town has so many attractions to discover.
Ethnic Minority Villages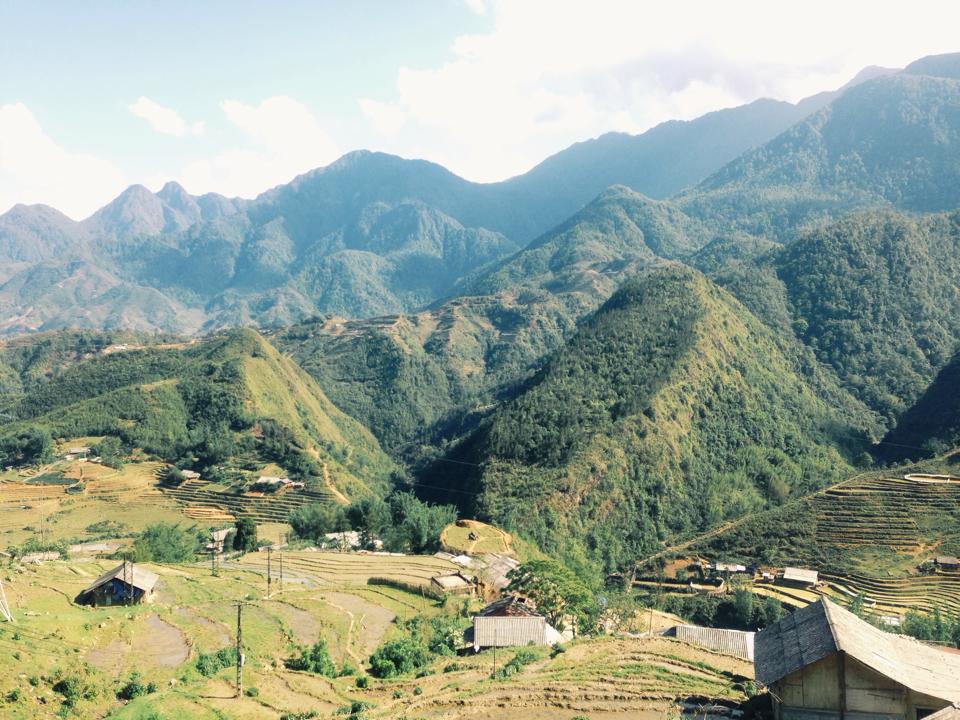 Located within 10 kms from the city centre, Ta Van, Ta Phin, Cat Cat and Sin Chai are great villages to visit. These villages are still relatively untouched, offering opportunities to have a closer look at the variety of Vietnamese ethnicities, lifestyle and culture. Tips
Time to visit: Best time to travel here from March to May or September to November (sunny at day and a bit cold at night).
Hidden gems: Muong Hoa valley, May bridge, Bac Ha market.
Things to do: Climb to Fansipan mount, driving motorbike on mountain, visit minor ethic villages, drink local liquor
Transportation:
Buses: Depart in the early morning or afternoon daily at Giap Bat, My Dinh or Yen Nghia stations. A ride takes you about 8 hours and you have to pay about $12 for a one-way ticket. To note, it's harder to book ticket from Sapa back to Ha Noi than the other way around, hence, you'd better book return ticket in advance to avoid them being sold out.
Train:  Depending on your seat prices vary from $9 – 20 per person (one way ticket). Trains usually depart around 9 or 10pm and arrive next early morning.
---
Day 9: Fly to Danang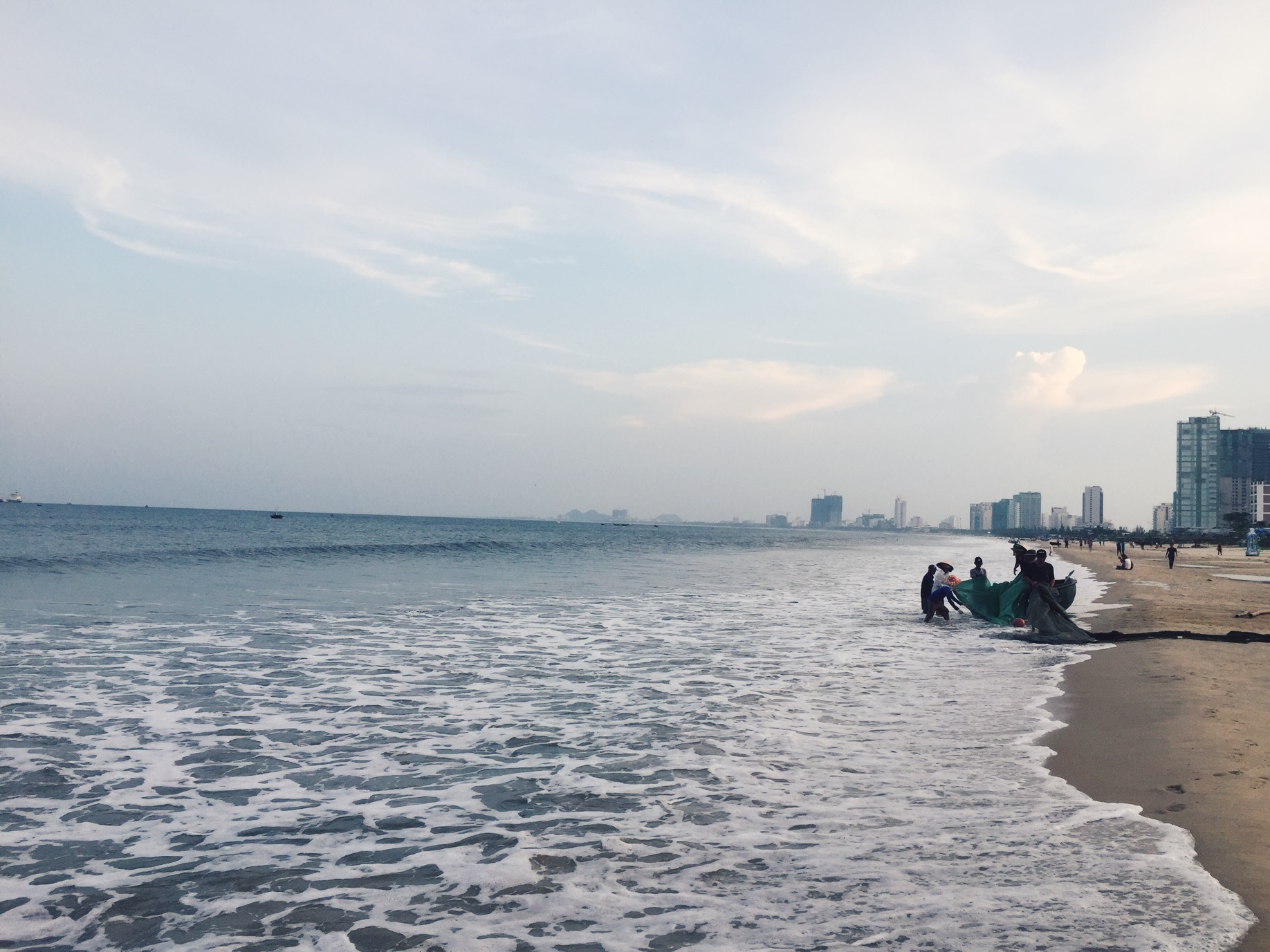 Next, you should get on a flight to Da Nang to experience the laid back beach lifestyle. Take the time time to have a few beers on the beach before heading to the Dragon Bridge. Each night at 9 pm the dragon (which is part of the bridge) spits out fire. Make sure you get there early as this can be busy and you will want the best view. If your interested in theme parks you can also check out Asia park. This large theme park is packed with things to see and do and their Ferris Wheel is beautifully lit up each night. If you have a little more time the Ba Na Hills are worth seeing also. The hills are a mountain resort accessible by cable car and offers some splendid views while you make your way there.
---
Day 10 - 12 : Hoi An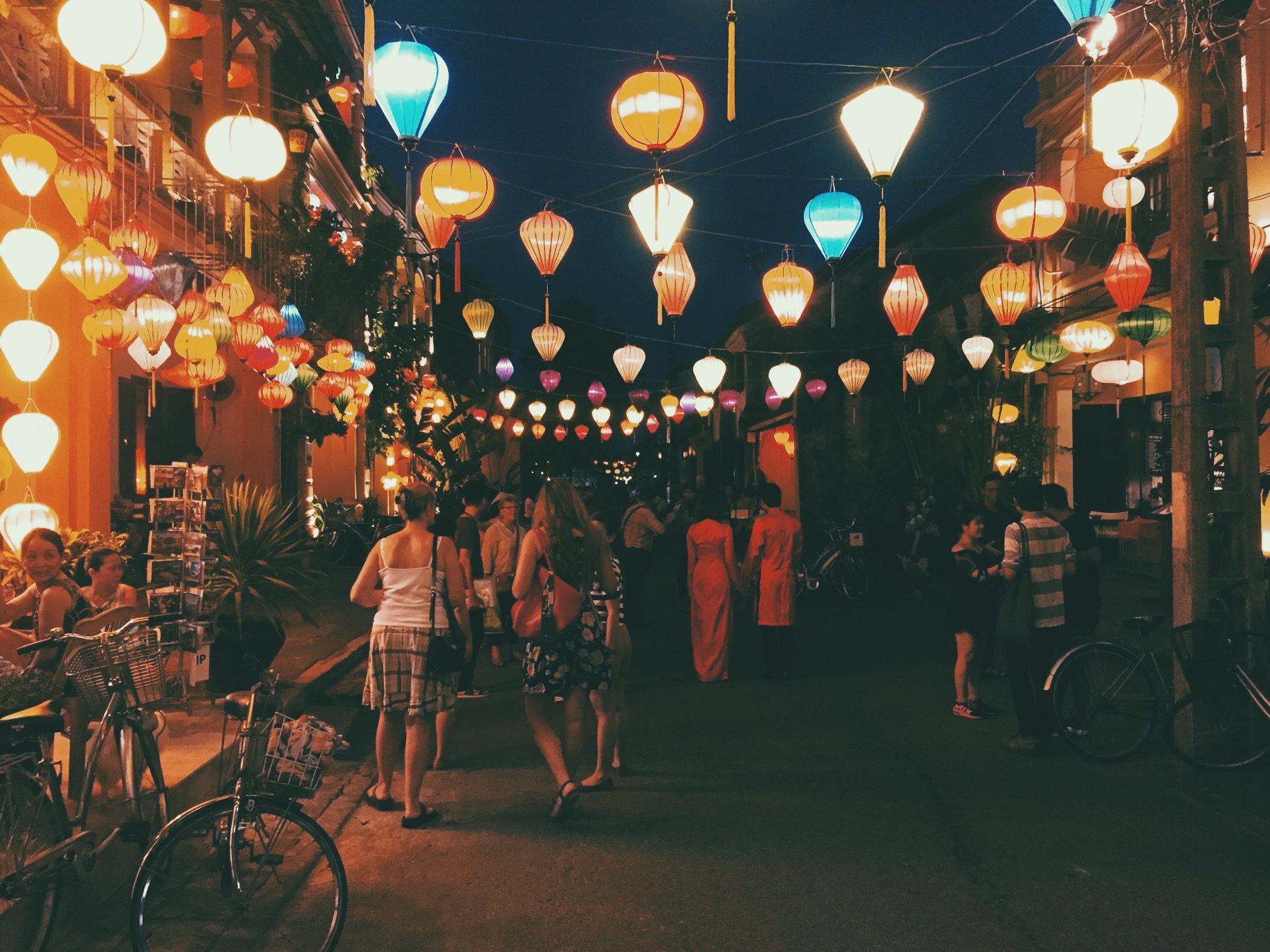 Any guide to travelling Vietnam would definitely be incomplete without a mention of Hoi An. Located about 30km from Danang city (1 hour flight from Hanoi). This charming old town is well-known for its beautiful beaches, distinct prehistoric architecture, amazing traditional Vietnamese food and talented tailors. Walking around Hoi An, you can often get lost in the feeling that you are in a small fishing village from hundreds of years ago.
The Ancient Town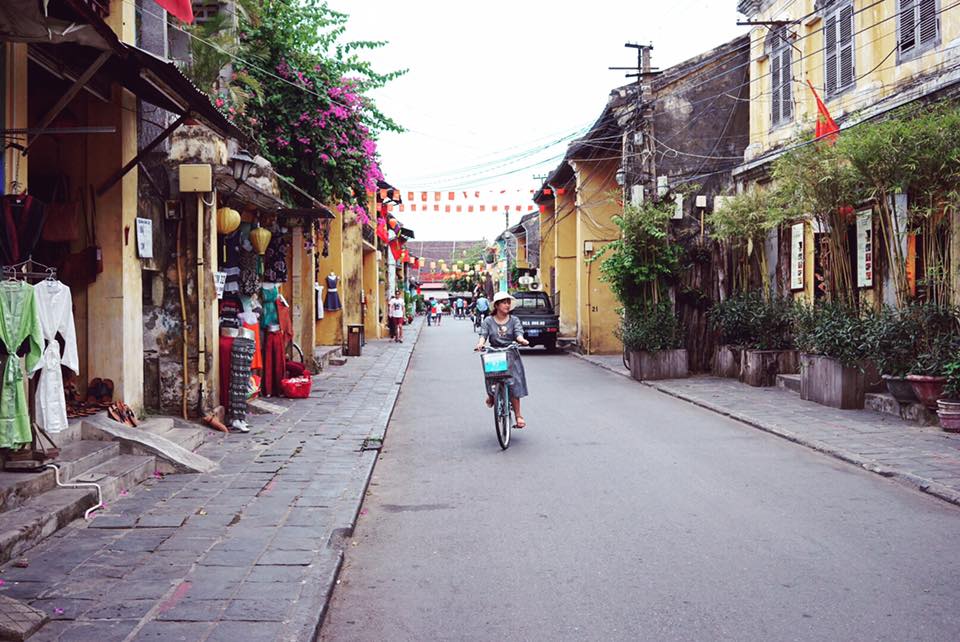 The best place to stay in Hoi An is close to the ancient town where you can rent a bicycle to wander around. At night, the whole town is lit with traditional lanterns. Standing on Japanese Covered Bridge, which connects 2 sides of the town and looking down, the entire ancient town looks like a painting. There are also floating lanterns that people put down onto the water wishing for good luck.
Shopping
If you are into shopping, Hoi An is a great place for a spree. You can stop by one of many local handmade leather shops offering from everything from handbags to suitcases. All the products here are locally made so buying products here is also a way to support the local economy.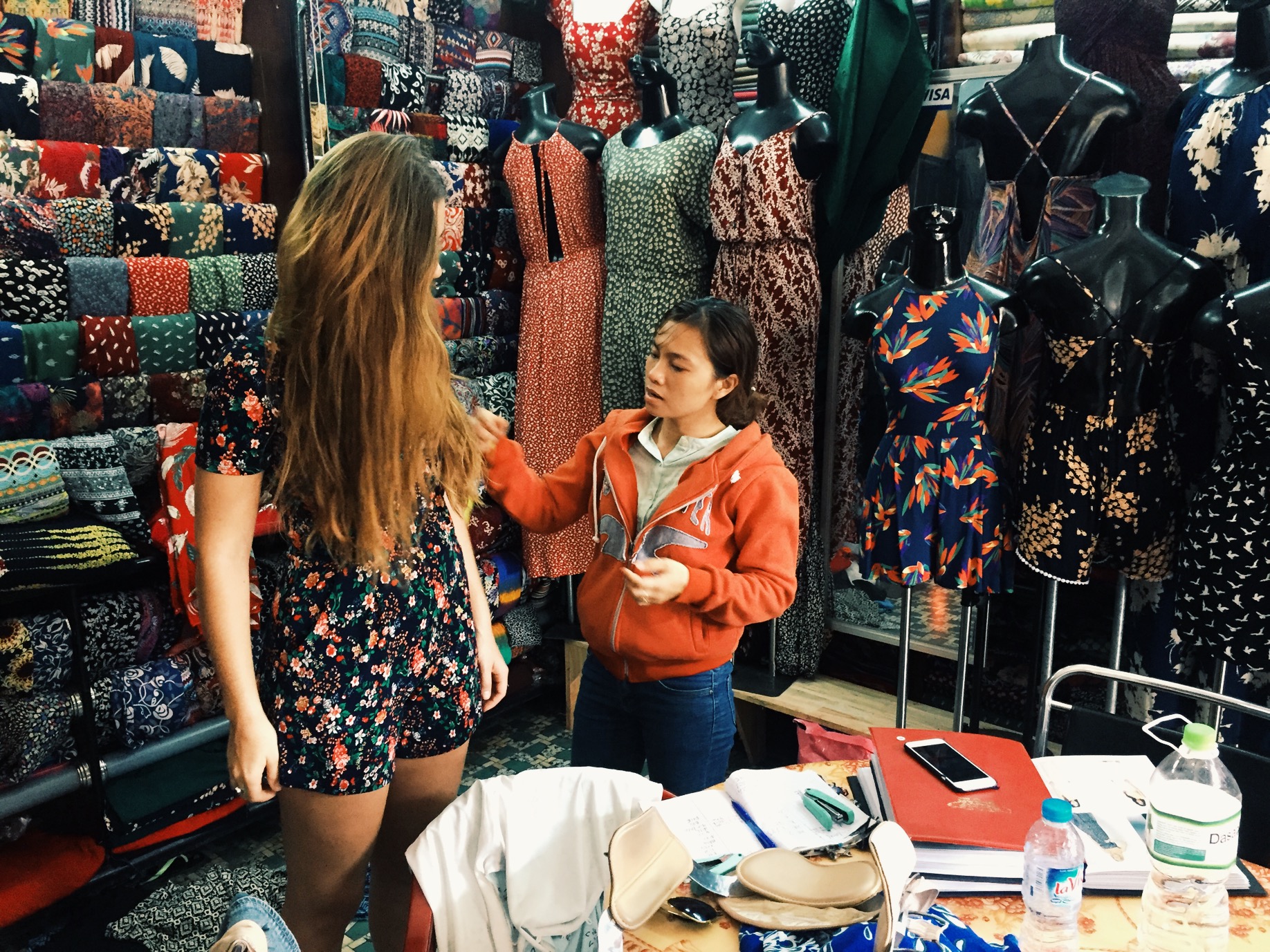 Food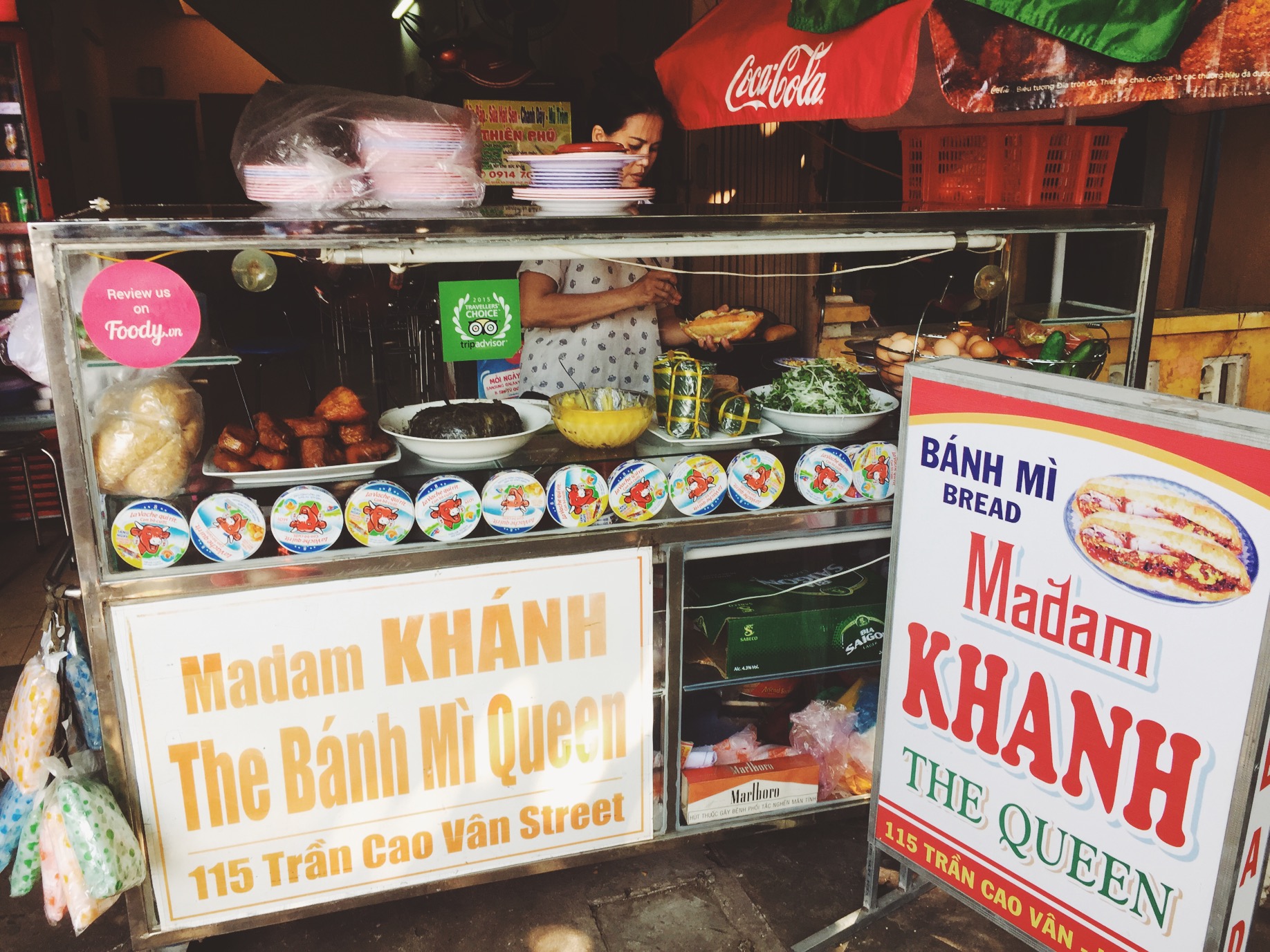 Although Banh Mi can be found anywhere in Vietnam, Hoi An is the home of two world famous Banh Mi stalls- Banh Mi Phuong and Banh Mi from Madam Khanh. Banh Mi Phuong, from 2B Phan Chu Trinh, is Anthony Bourdain's favourite. Madam Khanh's (aka The Banh Mi Queen) is on 115 Tran Cao van. Tips
Time to visit: Avoid October to December
Hidden gems: Faifo coffee, Banh Mi Madam Khanh, Banh Mi Phuong, Reach Out Tea House
Restaurants: Com Ga Nga (8 Phan Chu Trinh), Com Ga xi (47/2 Tran Hung Dao), Morning Glory,
Things to do: Bike ride, wander around ancient town, visit Cua Dai beach,  Tailor suits, visit My Son Holy Land, Cam Thanh Coconut island, View sunset from Faifo coffee rooftop.
Airport Transportation: The town is about 30 kms from Danang city centre. You can buy a shuttle bus ticket directly from the airport for around $20. Alternatively, you can always use taxis. Taxis fare is around 250,000 VND but you can always negotiate with the drive for the fix price. An acceptable one is from 200,000 to 250,000 VND ($12 USD). If you plan to stay in Danang, you can rent a motorbike and ride there. The road is straight forwards and safe.
---
Day 13 - 14: Ho Chi Minh City (Saigon)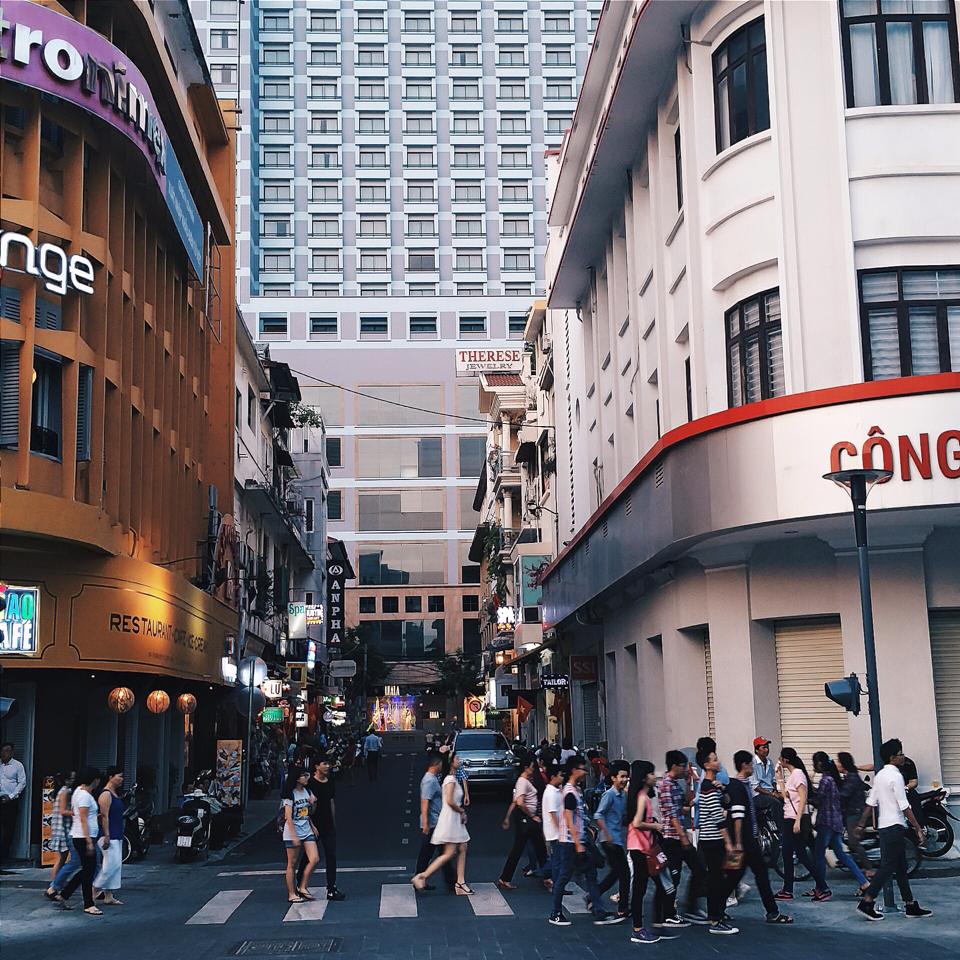 Ho Chi Minh City (aka Saigon) is one of the most vibrant cities in South East Asia and Vietnam's largest commercial hub. Saigon is famous for its hustle and bustle lifestyle, exciting nightlife and amazing coffee and food culture. Check our guide for the best things to do in Ho Chi Minh when are traveling here, including the best off-the-beaten-path experiences.
District 1
The best place to stay in Saigon if you are a visitor is in District 1, as all the landmarks are located within the area. Popular hotels can be found around the backpacking area, Bui Vien, and Ben Thanh Market.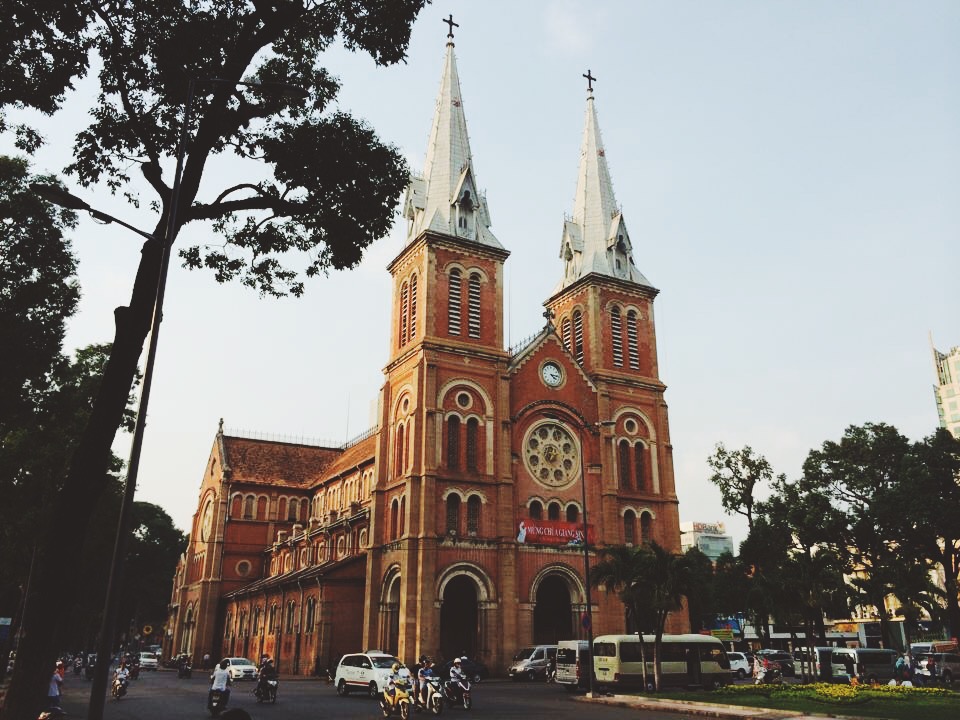 Start your walk around with Ben Thanh market and head to the Notre Dame Cathedral and Central Post Office, both built during the French colonial period. The Notre Dame Cathedral is a replica of the one in Paris, and the Central Post Office still functions as one! Also, you'll be able to buy postcards from the surrounding kiosks and the Book Street right next to the post office.
Nightlife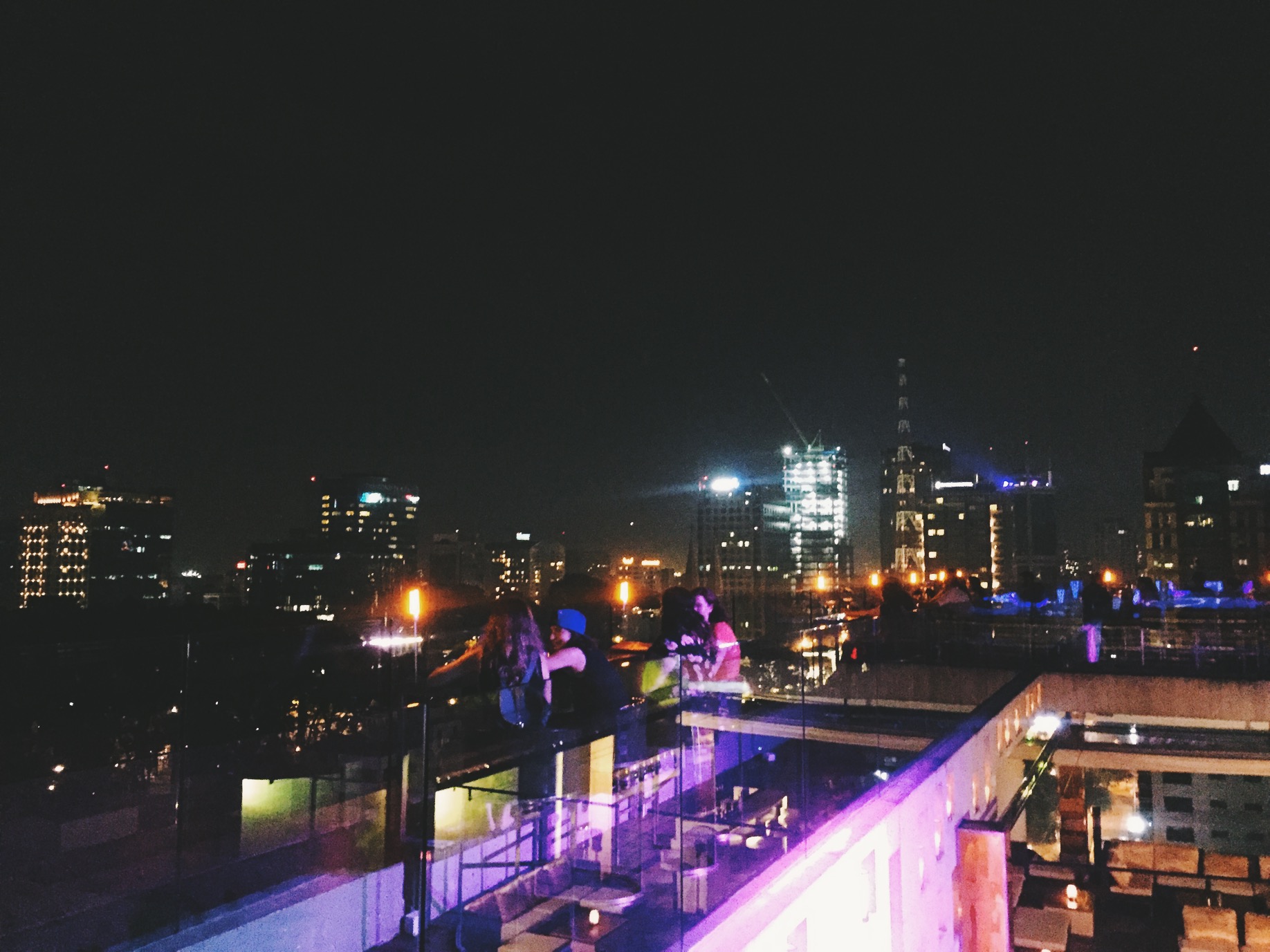 In the evening, take advantage of Saigon's reputation for the best nightlife in Vietnam. Rooftop bars are a Saigon highlight, and locals favourites include Glow Bar (corner Nguyen Du and Pasteur street), Chill Sky Bar (on 76 Le Lai) and Hotel Des Arts (on 76 Nguyen Thi Minh Khai). The best time of the day to visit these rooftop bars is around 6pm.  Sit back with a beer and watch the sunset and look down to the busy streets below.
Coffee Culture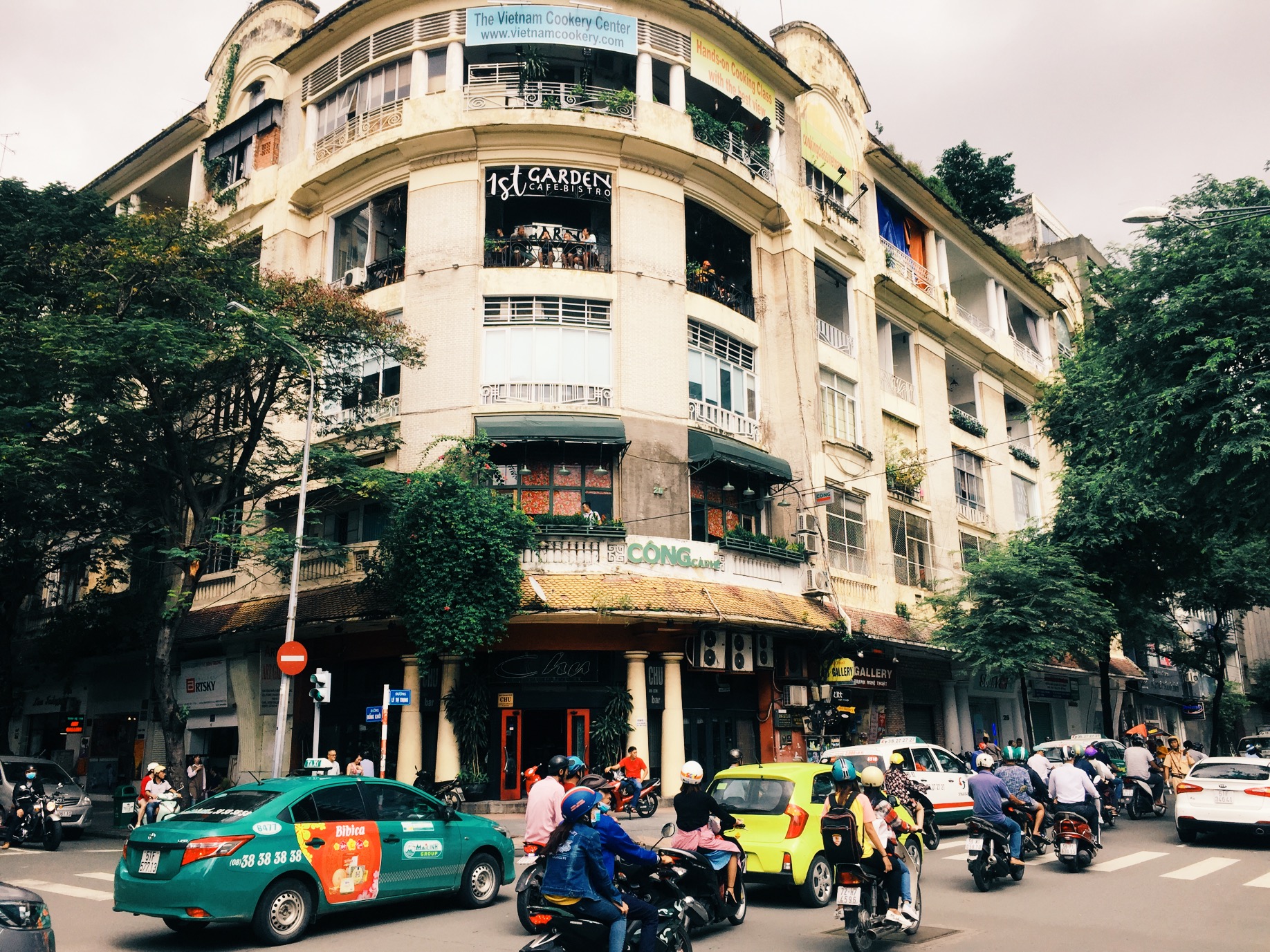 You cannot leave Saigon without exploring its great coffee culture. Many of the coffee shops are hidden in run down buildings built from the French colonial era. L'usine cafe (151 Dong Khoi) is a small French boutique coffee shop with an attached gallery, fashion boutique hidden in an old loft and great spot for relaxing brunching and dining. In order to get to it, however, you have to walk through an art gallery and a parking area
Food
If you crave a hot bowl of Pho soup, Pho Hoa on Pasteur Street is the best place to be. This restaurant is an institution and is unchanged over the past half century. It is revered for its high quality beef, large portions, and fast service. On the other end of Pasteur Street at number 158, Secret Garden restaurant is hidden on top of a crumbling building. A great find for Vietnamese food seekers, the yummy cuisine and countryside atmosphere make the five storey climb to get here worth it.
Cu Chi Tunnel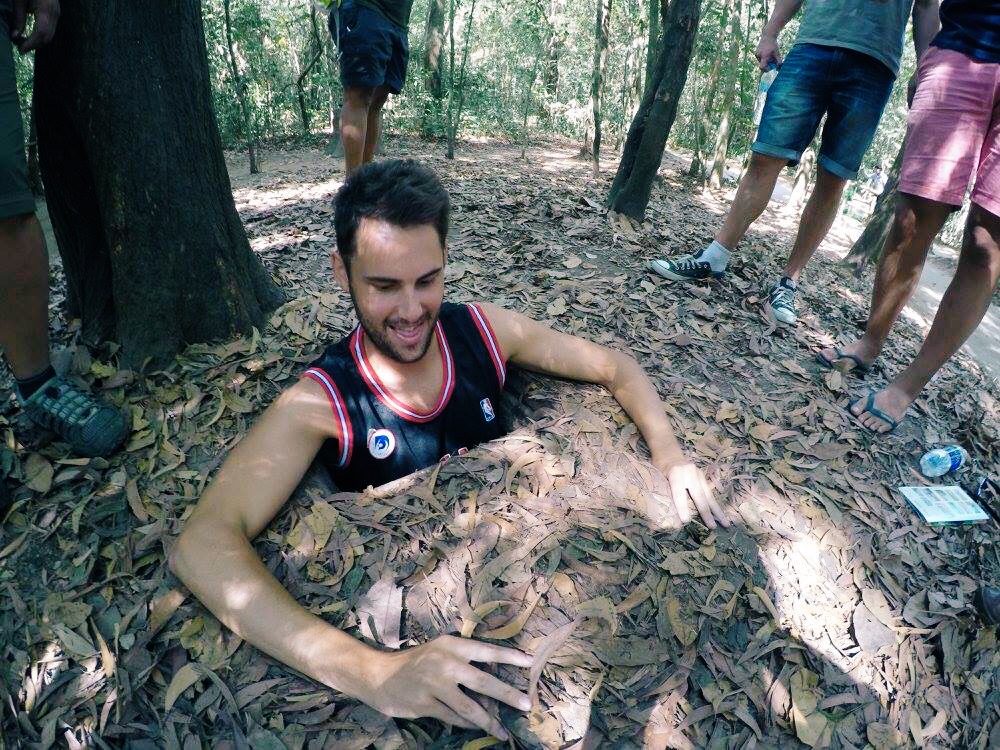 When in Ho Chi Minh City, don't forget to spend half a day visiting the Cu Chi tunnel, located about 50 km from the city centre. At the site you can see a network of connected underground tunnels used by the Viet Cong as hiding spots during the Vietnam War. It offers an insight to the reality of the Vietnam war you will not find anywhere else.