A guide on choosing a hotel around Hanoi Old Quarter
Choosing a hotel for your holidays always takes time. Especially when you have a long list of places to visit, you have to book a hotel that is easy for you to commute. When in Hanoi, due to its complicated traffic system and the position of famous tourist attractions, you should book a hotel around Hanoi Old Quarter for your stay. Scroll down for more tips and suggestions:
Overcrowded streets in Hanoi Old Quarter
Many travellers book hotels in the center of Hanoi Old Quarter because they think that it's easier to visit around the city. Nonetheless, the problem is that some streets in the center of Hanoi Old Quarter are overcrowded during weekend nights. Some even block traffic on the weekends due to congestion. If you don't like crowd, it's better for you not to choose hotels in the center area.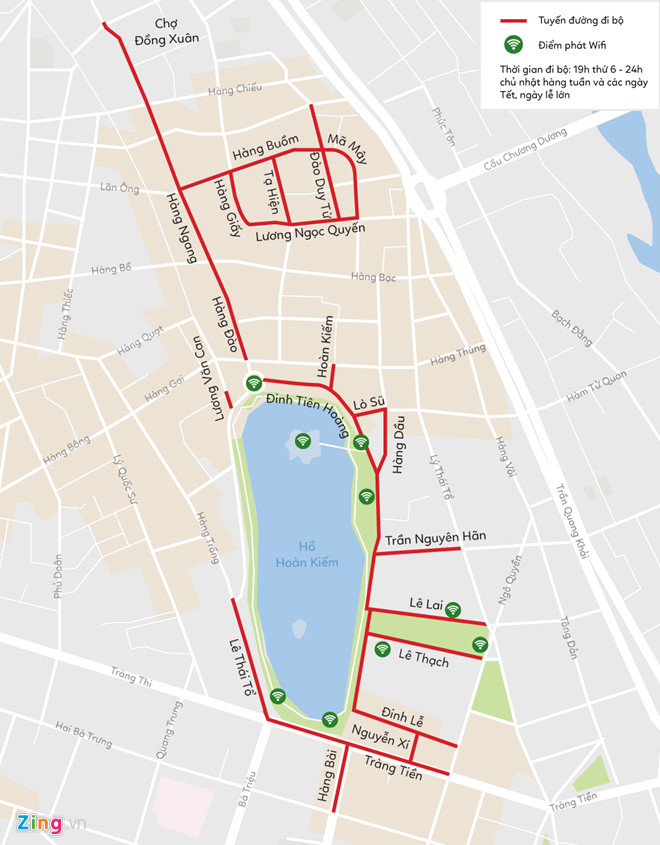 List of streets banning cars at weekend nights: Hang Ngang, Hang Dao, Hang Buom, Ma May, Luong Ngoc Quyen, Dao Duy Tu, Ta Hien, Hang Giay, Dinh Tien Hoang, Lo Su, Hang Dau, Tran Nguyen Han, Le Loi, Le Thach, Dinh Le, Nguyen Xi, Trang Tien, Le Thai To, Hang Bai.Keep in mind the map of must-visit places of Hanoi Old Quarter to get a big picture where to stay, eat and things to do in Hanoi. Here are our suggestions for different needs:
Best hostels for budget travellers
It's a lot of fun to stay in hotels with backpacker spirit. You can make numerous new friends, and exchange culture and travel tips with them. These hostels also offer motorbikes for rent so you can rent and return the bike right at the hostel. Check the following list out:
Hanoi Youth Hostel (5 Luong Ngoc Quyen, Hoan Kiem District, Hanoi): the hostel is owned by a very kind family who run a traditional show, which makes everything different. There's a tiny bar where you can share the comfortable atmosphere here with your travel buddy. The price of $5/night is just as cheap as a burger!
https://www.instagram.com/p/vf3Wseqw35/?tagged=hanoiyouthhostel
The Drift Backpackers' Hostel (42 Truong Han Sieu, Hoan Kiem District, Hanoi): The hostel is crazily cheap with the price of $2.5 and you can even get free beer in happy hours. The hostel is famous as a place where you can find tons of new friend. The spacious communal room is always fraught with backpackers.
Hanoi Rendezvous Hostel (27 Bat Dan, Hoan Kiem District, Hanoi): The clean and cozy hostel is located in a calm corner of Hanoi Old Quarter. The hostel offers free tour around the city every Wednesday, guided by university students for culture exchange purpose. Don't forget to try the famous Pho Bat Dan nearby the hostel.
https://www.instagram.com/p/BOhnHguDYNB/?tagged=hanoirendezvoushotel
Hanoi Backpackers' Hostel - The Downtown (9 Ma May, Hoan Kiem District, Hanoi): Just one word to describe the hostel, marvelous! They have a spacious bar and communal area, where you can find some interesting weirdos bringing about buoyant laughing. It best suits with travellers who love hanging out with new friends.
Hanoi Backpackers' Hostel - The Original (48 Ngo Huyen, Hoan Kiem District, Hanoi): While the Downtown is famous for its effervescent atmosphere, the Original suits someone looking for a bit quieter.
Best homestays for your comfortable stay
Homestays in Hanoi are famous for their gorgeous cultural decoration. Choosing a homestay also provides you chances to learn about Vietnamese culture through Hanoian lifestyle. They aren't always near the center area, but they're still easy for you to commute and explore hidden gems of Hanoi near the houses.Some cozy homestays for you to consider:
Momento Homestay (48A Trang Thi, Hoan Kiem District, Hanoi): A perfect combination of Hanoi 90s architecture, romantic Hoi An atmosphere and wildness of Sapa. Momento Homestay brings about the calm and relaxing feeling after a long day touring the city.
https://www.instagram.com/p/BbgtiWVhWT0/?taken-by=momentohomestay
Gecko Garden Hostel (117 Hang Bac, Hoan Kiem District, Hanoi): With impressive decorations, the hostel serves both Western and Eastern food in its gorgeous bar. In night time, the hostel become a mini backpacker area.
Gowhere Hanoi Hostel (1B Quoc Tu Giam, Dong Da District, Hanoi): Gowhere Hanoi Hostel is decorated simply. It's pretty cheap and suited best for students. It lies within walking distance of Temple of Literature and Vietnam Fine Arts Museum.
https://www.instagram.com/p/BRFRFvhh6x1/?taken-by=gowherehostel
S Jewelry Studio (29 Hang Giay, Hoan Kiem District, Hanoi): Located in the heart of the chessboard old town, S Jewelry Studio has a Western-inspired architecture with red-brick background, glass vases, and trees, which brings about a supper homey feeling. The house is well-equipped with household appliances, strong wifi and satellite TV 24/7 to meet all your family needs.
Best luxurious hotels
As a reward for yourself, why don't you book a super fancy hotel to enjoy the best treat of Hanoi? One of below hotels will satisfy all your needs!
Lotte Hanoi (54 Lieu Giai, Ba Dinh District, Hanoi): Located from the 33rd to 64th floors of Lotte Center, the tallest building in the inner city, Lotte Hanoi offers stunning views and luxurious facilities including an outdoor pool, an indoor pool, fitness center, sauna and free on-site parking.
https://www.instagram.com/p/BdfHLHLBBMz/?tagged=lottehanoi
Sofitel Metropole (15 Ngo Quyen, Hoan Kiem District, Hanoi): Built in French colonial style, this five-star hotel in Hanoi still retains the original vintage splendor of neo-classic themes and classic French decoration. Inside the building, there is a spa for you to enjoy massages and body treatments.
https://www.instagram.com/p/BdKzdILjrj-/?taken-by=metropolehanoi
Hanoi Daewoo (360 Kim Ma, Ba Dinh District, Hanoi): Hanoi Deawoo Hotel is a perfect combination of the modern, luxury architecture and Oriental style. The hotel offers an on-site restaurant, an indoor golf driving range, bar and spa centre. Just relax and enjoy the gorgeous view of Hanoi city and Thu Le Lake!
Melia Hà Nội (44 Ly Thuong Kiet, Hoan Kiem District, Hanoi): Built in modern Western architecture, the hotel is located in the central diplomatic and financial district of the city. The hotel is also close to many famous places such as Hoan Kiem Lake, One Pillar Pagoda, Cathedral and Ho Chi Minh Mausoleum. Besides, Mellia offers a very lively nightlife with a variety of bars and entertainment.
https://www.instagram.com/p/Bc5ElNQFUcA/?tagged=meliahanoi More tips
Remember to take your passport after staying
Ask the hosts/ hotel receptionists for nearby places to eat, you'll get a list of hidden gems for cheap and delicious food with no tourists around
Hoan Kiem District suits best with travellers who love shopping, street food and getting the city's vibe. Meanwhile, Ba Dinh District is good for travellers passionate about learning history and culture.