A detailed guide to Doi Inthanon National Park
Thailand, a great destination with palaces, markets, pagodas, temples, and great food. This country has always been a great place to travel to. Many people choose Thailand as their travel destination for spiritual reasons. The best place to search for peace and great sights is no other than Doi Inthanon National Park. It's also a great day tour destination for anyone staying in Chiang Mai. In today's guide, we will show you what are the best things to see and do here. Hope you're ready for a great journey.
Some information about Doi Inthanon National Park
Doi Inthanon National Park is on the highest mountain in Thailand. The Doi Inthanon National Park is situated at an altitude of 2565 meters and has a total area of 186 square miles (482 km2). The mountain itself is also a crucial national park. It's home to over 360 species of birds and trees and plants. You can also see a large number of waterfalls scatter around the park. Formerly, people know the mountain as Doi Luang which changed to Doi Inthanon National Park later. King Inthawichayanon is the sole reason for the name changing of the mountain. It was thanks to his involvement in preserving the wildlife and the forests in Northern Thailand that people decide to commemorate him. Fun fact, although it's quite cold up at the summit, it almost never snows here. You can find the Doi Inthanon National Park in Thanon Thong Chai Range at Chom Thong district, Chiang Mai Province in Northern Thailand. In 1972, people call this place "the roof of Thailand". The park opens from 6 AM to 6 PM. There's an entrance fee based on aged. Ticket for a foreigner adult is 300 THB (~US$ 9.50) and 150 THB (~US$ 4.50) for foreigner children. For local adults and children, it's 50 THB and 20 THB respectively. The Doi Inthanon National Park is just a little bit over 60 kilometers (37 mi) from Chiang Mai. Making it the perfect day tour for tourists in Chiang Mai.
Best time to visit Doi Inthanon National Park
It's very obvious that every tourist and traveler want to have a great trip. Everyone wants to visit a place at the best time to get the best experience. For Doi Inthanon National Park, people believe that summer will be the best time to visit and explore it. But some people said that the weather around this place can't be trusted. So just stay away from the park from April to November. This period of time often experiences heavy rainfall, making visiting and exploring this place impossible. In winter, the weather is very cold, the temperature often drops down to around 6℃ (42.8 ℉).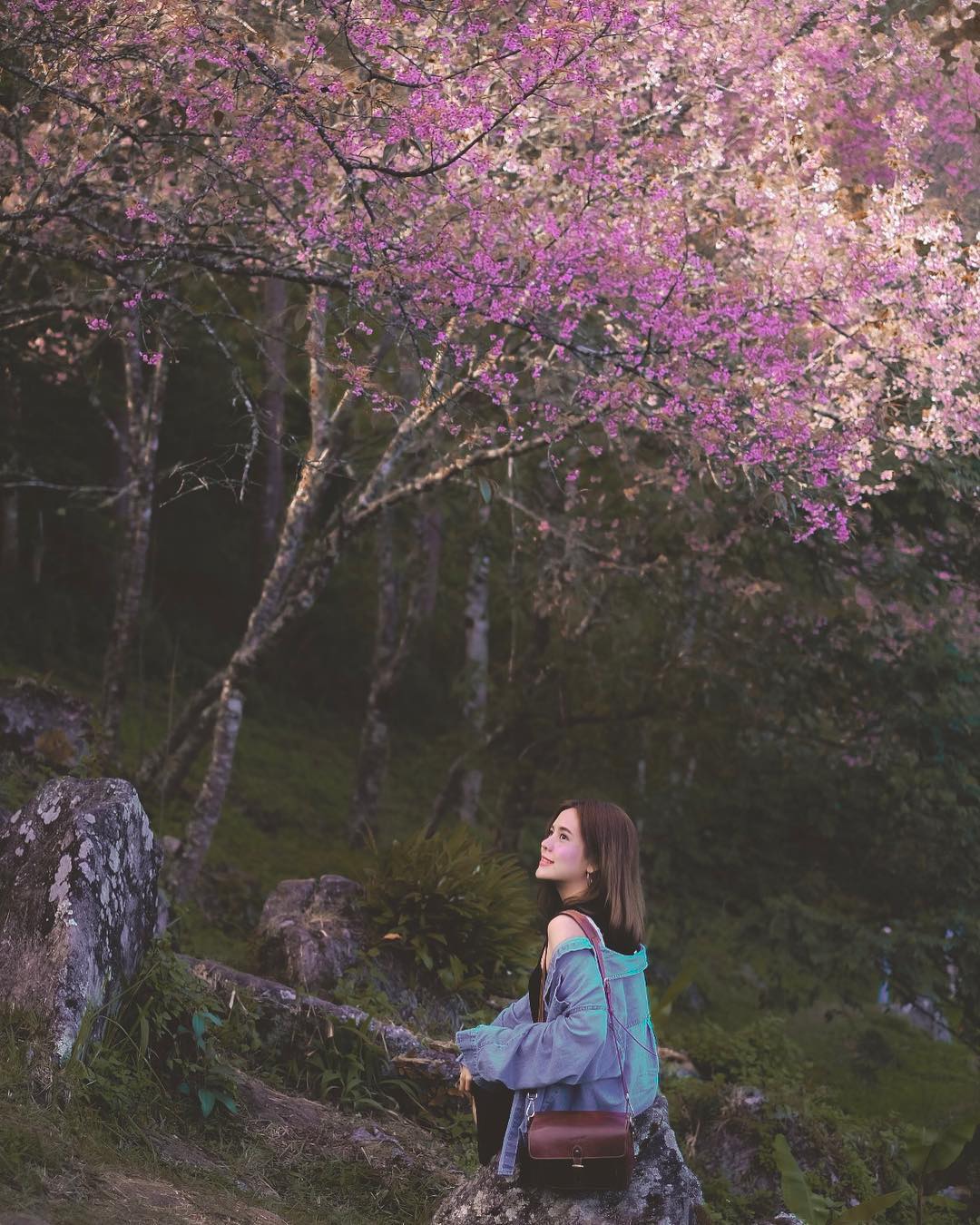 When the Siamese sakura bloom is the time where people would want to visit the Doi Inthanon National Park the most. And if it's your priority to see the sakura then late January to early February is the time for you. On the other hand, if you want to explore the numerous waterfalls here, May - November is the best for you. But visiting during the rainy days is still not recommended. Just make sure that you plan out your trip to have the best experience you can.
How to get to Doi Inthanon National Park
There are multiple ways for you to get to Doi Inthanon National Park. If you're feeling adventurous, you can try to get there by scooters. But keep in mind that the road to Doi Inthanon National Park is quite tricky. Only choose this option if you're fairly experienced with a scooter. Another option for you to choose from is travel by car. You can either get your own car and drive it yourself or you can hire a driver. The drive from Chiang Mai to the park is just a little over an hour. But always remember that Thailand traffic can get a little bit crazy, and the road is steep too. So if you're not too confident with these options, always consider hiring a driver.Another great option for anyone want to get to Doi Inthanon National Park is joining a tour. Joining a tour is great because everything is organized for you. You don't have to do anything besides enjoying yourself. You can contact the reception at your hotel to get more information. Or you can go online and find it yourself. A great day tour for you to consider is Inspitrip's day tour from Chiang Mai to Doi Inthanon National Park. On this trip, you can enjoy pick-up and drop-off at your hotel. There's also English-fluent guides and all the entrances fees paid for.But no matter which option you choose, there still something you have to prepare for the trip. Remember to wear comfortable clothes for the trip, remember to bring a jacket. Wear comfortable walking shoes, you're going to do lots of walking. And last but not least, always bring a water bottle with you to prevent heat stroke. The Thailand heat in the summer is nothing to trifle with.
What to see/do
There are many things to do at the Doi Inthanon National Park. Here are some suggestions for you to consider.
Explore the waterfalls
At the Doi Inthanon National Park, you can see that there are waterfalls litter all around the park. They're a great feature and an attraction of the park. Travelers everywhere one earth come here to explore those waterfalls. Surround the waterfalls is a wide variety of flora and fauna. While exploring the waterfalls, you should also be hiking. Surround yourself in greenery and fresh air will do your body a favor.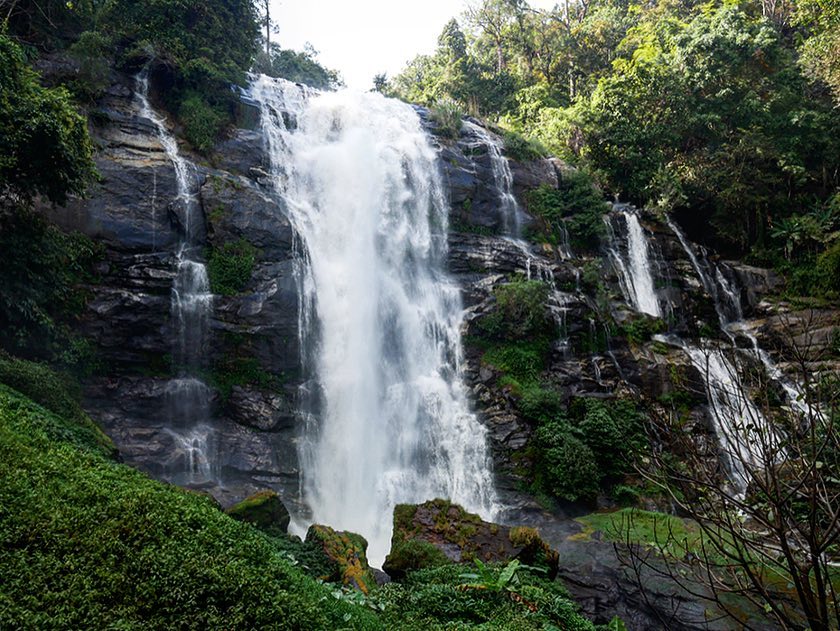 There are multiple waterfalls for you to explore. A few popular waterfalls are Mae Ya, Wachirathan, Mae Klang, and Siritharn. If you want to see the Mae Ya waterfall, it's going to be a bit of a side trip. It's not accessible from the park's main entrance, so it requires a specific journey to reach the waterfall. But if you get to this waterfall, it'll all be worth it. You can take a picture with the silky-smooth water here and enjoy the fresh air.The Wachirathan waterfalls are also spectacular in its own right. It's a breath-taking dual streams waterfalls, which is easy to access with just a few steps from the parking lots. Don't be surprised when you see there are a lot of people here, it's very famous with tours. Swimming is prohibited here, so just keep that in mind. Sirithan Waterfall is a less popular one among the waterfalls here. Its lack in popularity is mostly due to the viewing distance. You can only see the falls from a platform quite far away. But it's very easy to access, so it's definitely worth the time.
Go on hiking trails
For hiking fan, there's the Kew Mae Pan Nature Trail for you to explore. This trail is quite easy to walk. It's just 3 km in length and plenty of places to rest along the way. Along the way, there are numerous stations with information on the wildlife and ecosystem of Doi Inthanon Park. The view on this trail is exceptional too, so keep this trail in mind. Remember that the trail is only accessible with a guide with the fee of 200 THB (~US$ 6.00). The guide is very helpful on the trails. They can show you things that only a local would know, which definitely make the 200 Baht worth it. Another thing to remember is that the trail is closed for restoration from June 1st to October 30th every year.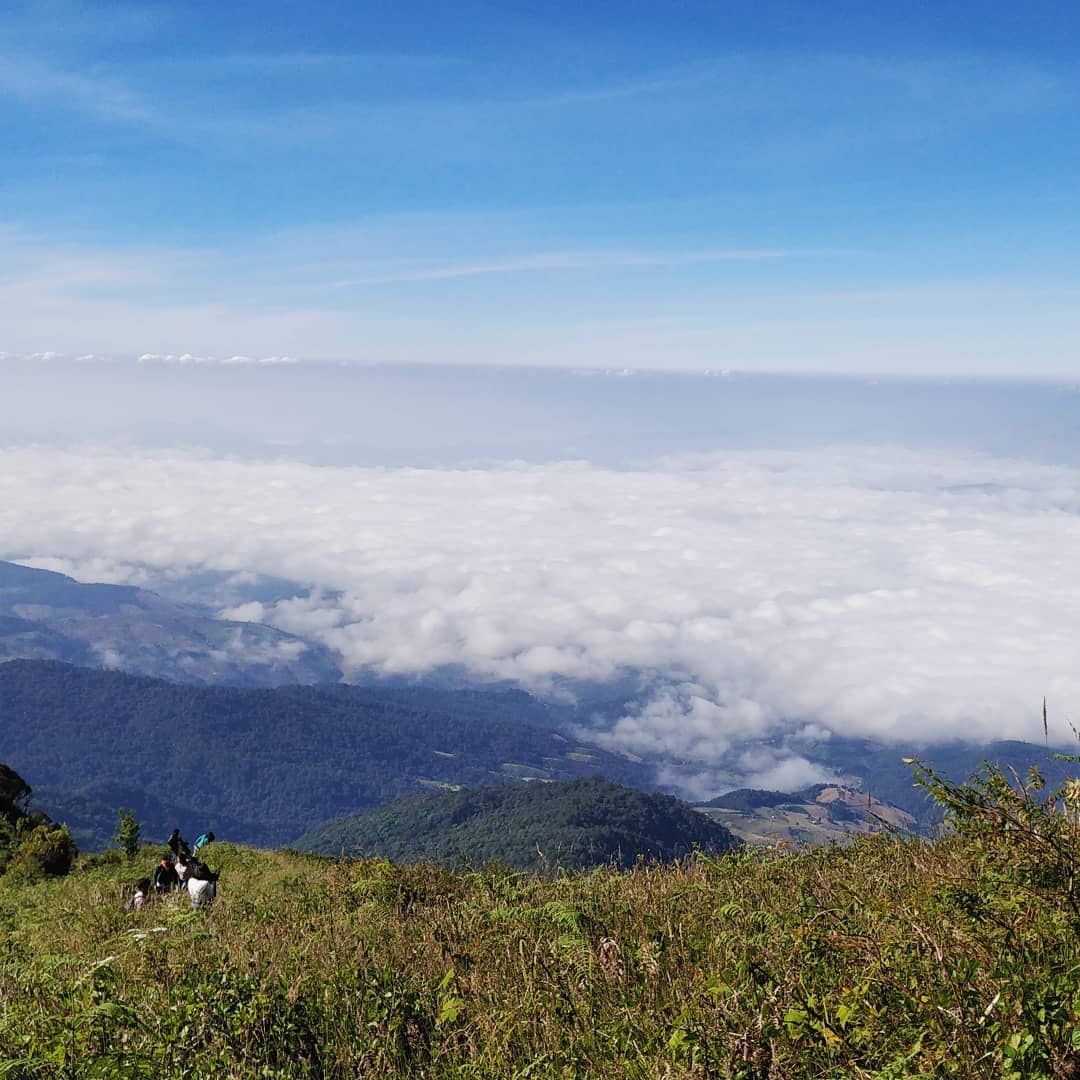 Another great hiking trail waiting for you to explore is the Angkha Nature Trail. It's fairly easy to access and will only take about 15 minutes of your times. The trail takes you through a mossy green forest. The wildlife habitat around the trail is very magical. The forest is dense, green, and mossy all year round. Depends on your point of view, the forest can give off a peaceful or creepy vibe.
Explore the Royal Pagodas and Gardens
On the peak of Doi Inthanon National Park, there are two royal pagodas waiting for you to explore. They were built to commemorate Thailand's King and Queen's 60th birthday. They were called Naphamethinidon (นภเมทินีดล) and Naphaphonphumisiri (นภพลภูมิสิริ) respectively. Some say that they are the most spectacular place in the whole park. Surrounding the towers are beautiful and breath-taking gardens. They're full of flowers and butterflies (and bees too).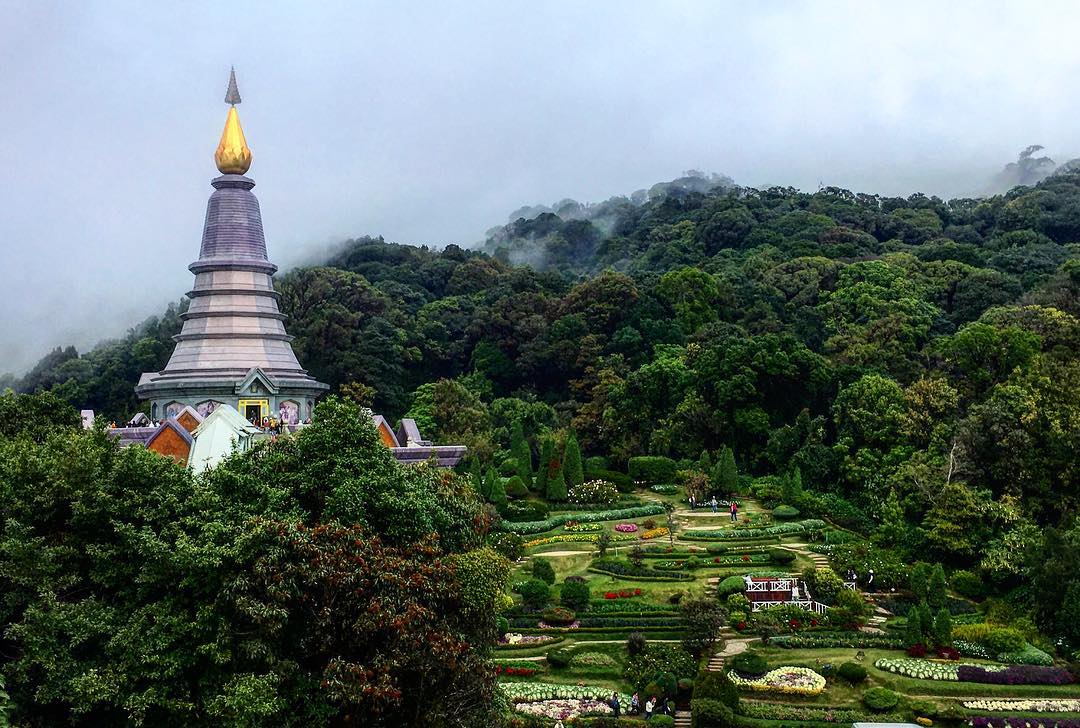 The pagodas' architecture is representative of Thailand's Buddhism. They are painted in a tone that definitely stands out in their surrounding. You can go into the pagodas if you want. Inside the pagodas, you can find a small shrine. On the ceiling, there are exceptional mosaics. But the thing that attracts most people when they come here is the view. These royal pagodas are definitely a must-see when you visit Doi Inthanon National Park.
See the highest point in Thailand
"The roof of Thailand" attracts lots of visitors every year. The main access point for the peak will be the main road, which goes all the way to the top. Surrounding the peak highest mountain in Thailand is a lush forest. You can explore the forest a bit while you're at the peak. Also, when you get to the peak, you will find a small shrine. It was built in the memory of the last king of Chang Mai, whose name was given to the park. There's a lovely trail through the forest, with signs showing information about the wildlife. It's absolutely a trail worth walking. If you can get here really early, the sunrise here will definitely blow you away.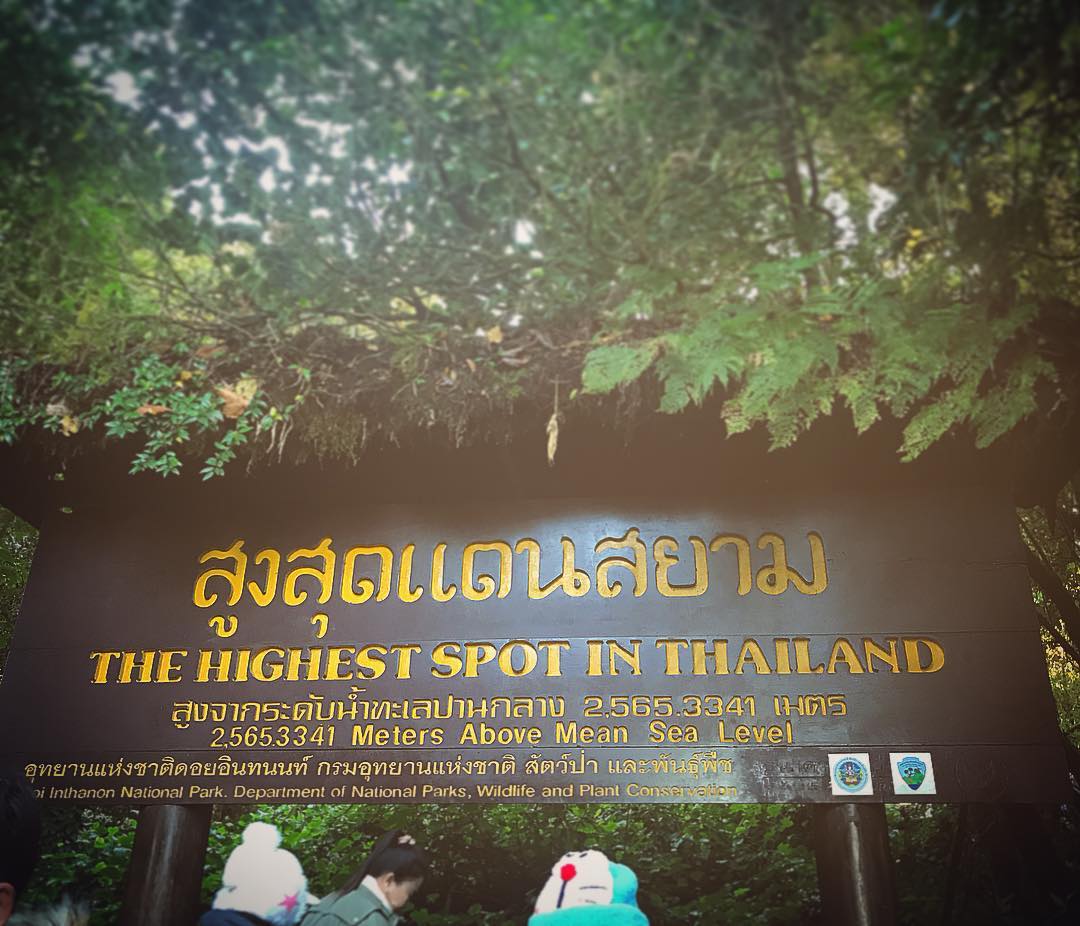 Admittedly, there's close to no overview of the whole area below due to the forest. But it's worth seeing just to make your trip here more complete. There's a sign that says "the highest point in Thailand". I suggest that you take pictures with the sign to show your friends. After walking the trail, see the shrine, take pictures with the sign, I suggest that you continue your journey at the Doi Inthanon National Park.
Visit a hill tribe
One of the great things that you can do at the Doi Inthanon National Park is visiting a hill tribe. There are multiple tours that include this activity such as this Doi Inthanon National Park tour from Chiang Mai. Here, you can meet some great people, who grow their own coffee. You can take a guided walk with a local guide and buy some coffee. The coffee here is superb, so consider them as gifts for your friends at home.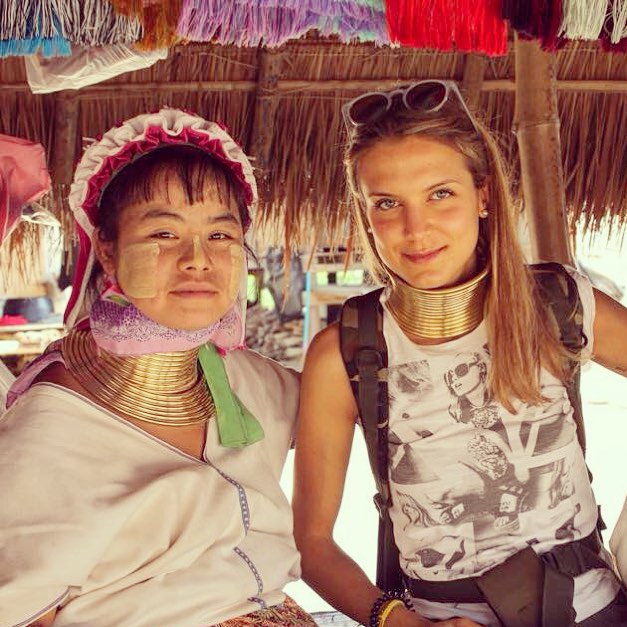 The experience with the tribe may vary. Not everyone has a great and positive visit with the hill tribe. Some may feel that it's kind of forced and artificial. So the best way to ensure you have a great experience here is doing some research.