A Detailed Guide to Day Trip to Hoa Lu and Tam Coc
If you are a fan of both epic history and breathtaking scenery, you must visit Hoa Lu and Tam Coc at least once in your lifetime! They have great proximity to the capital city of Hanoi, and together form an inseparable piece of the great story of Vietnam. Millennia ago, back in the time forgotten, ancient kings of a rising people chose Hoa Lu as the centerpiece of their great kingdom about to be born. Nowadays, the old citadel stands silent as a sacred heritage site, offering a glimpse of historic glory lost in the mists of time. Nearby lies Tam Coc, a flooded cave karst system whose majestic yet serene scenery can bring tears to your eyes. Don't miss out any travel highlights and arrangements tips for your day trip to Ninh Binh, Vietnam by reading this detailed guide.
Hoa Lu Ancient Capital: Glory of the past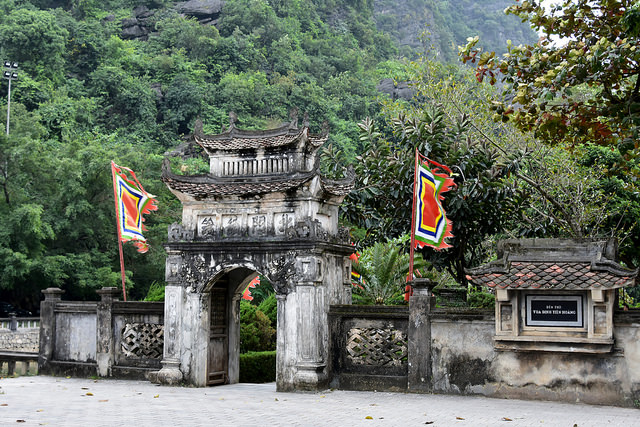 Situated 100 km south of Hanoi, Hoa Lu Ancient Capital is among the most alluring tourist attractions of Vietnam. Built in the middle of the 10th century, Hoa Lu consisted of the royal courts, magnificent palaces, grim fortresses and vast treasuries. Its favorable geography was the main reason why King Dinh Tien Hoang, the first feudal emperor of Vietnam, decided to establish the capital of his kingdom here. From a military point of view, Hoa Lu was an excellent location as it had range upon range of high limestone mountains as well as the winding Hoang Long River as impregnable natural barriers. This was very important for the young kingdom when foreign invasions were still a very real possibility. In the golden days, Hoa Lu was filled with lavish mansions, imposing temples, brick streets and crowded market squares, not to mention numerous barracks and stone fortresses. As a result, the site is now awash in ruins and historic relics that still remind the Vietnamese of an epic era. Walking among the ancient structures and feeling them with your bare hands, you will have a chance to learn about Vietnam's past and be immersed in a fantastic historical experience.
The temples of King Dinh and King Le: The legends live on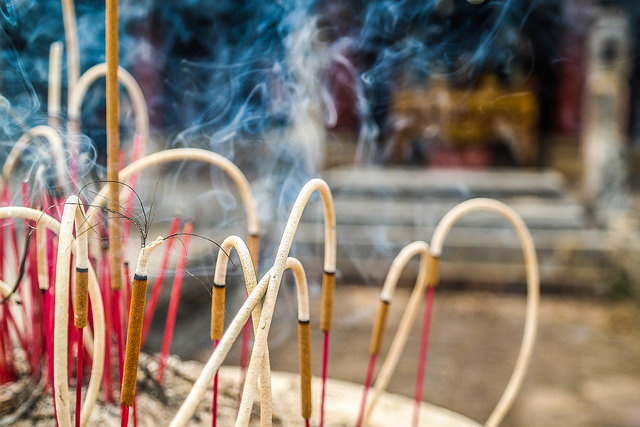 One of the places that you can't miss when visiting Hoa Lu Ancient Capital in particular and Ninh Binh, Vietnam, in general is the temples dedicated to the first kings of Dai Co Viet kingdom. They were King Dinh Tien Hoang and King Le Dai Hanh, who respectively ruled the Dinh and Early Le dynasties. Hoa Lu was the capital under both dynasties until Ly Thai To established the Ly dynasty when he became king in 1009 and moved the capital to Thang Long (present day Hanoi) the following year. Hoa Lu later became the strategically important Citadel, and the temples of King Dinh and King Le were then built in commemoration of the late hero kings. The temples are a special attraction for travelers who fancy a glimpse of ancient history as well as regal architecture. Here, you will find a collection of mossy stone obelisks, statues, mansions, wood carvings, etc. worthy of attention. All were done with skilled craftsmanship and have survived the test of time, still remaining in good condition. However, one thing you should remember is that though the temples lie in the middle of a leafy region, the weather can be quite hot so a wide hat and plenty of water would be necessary.
Idling down the Ngo Dong River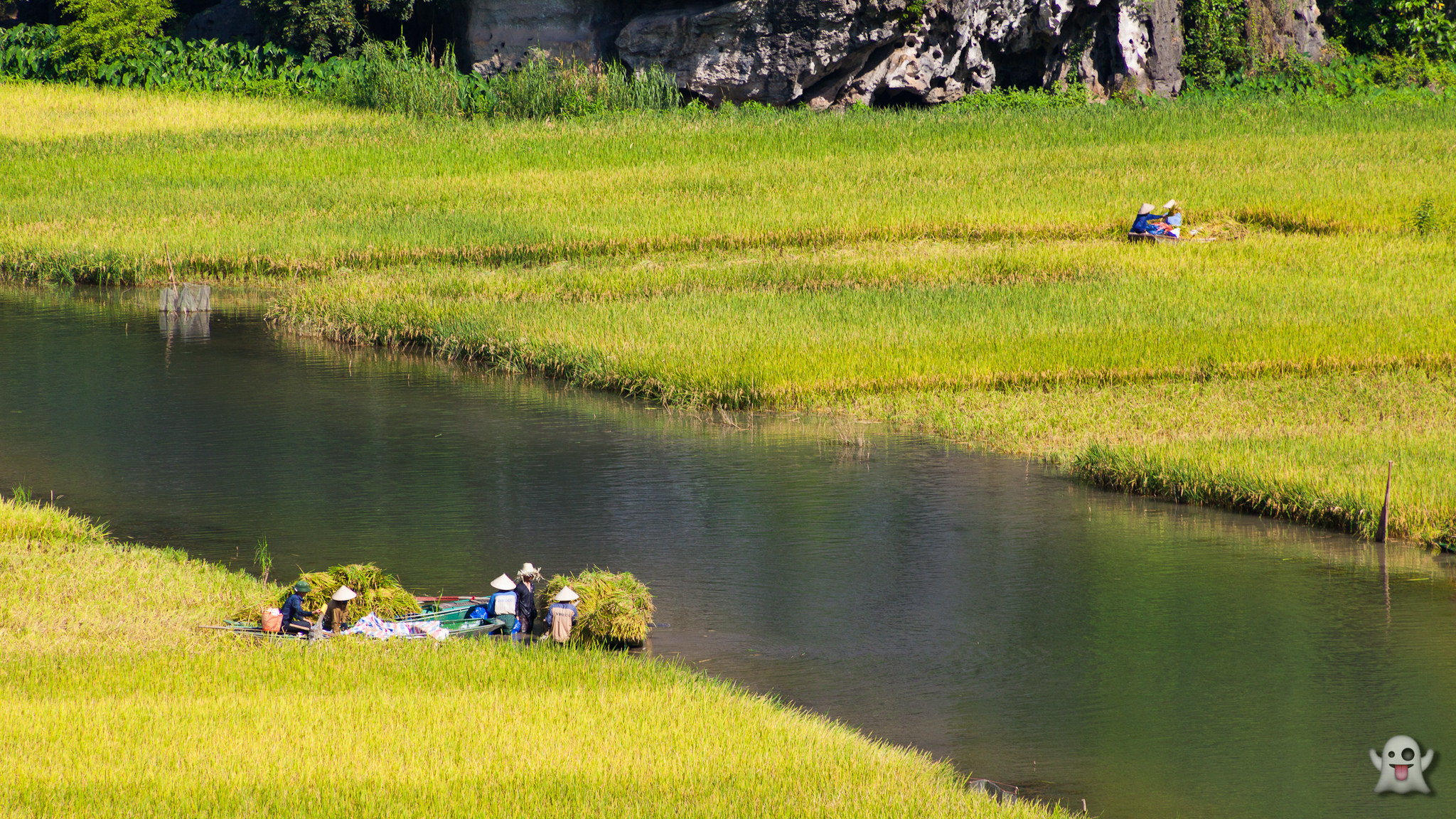 After departing Hoa Luu, the picturesque cave system of Tam Coc is the place where most travelers set their eyes on next. But do you know the beautiful Ngo Dong River that connects the two destinations is a travel wonder in its own right? The river is very special for having no riverside. It is actually a water channel lying among endless paddy fields, bodies of water and steep, ragged limestone mountains. Boarding a native sampan and sailing leisurely down the sluggish river, you will have a chance to admire the surreal beauty of a countryside landscape with grasslands being lazily grazed by livestock and vast, verdant paddy fields stretching seemingly beyond the horizon. If you are lucky enough to be here during harvest time which usually occurs in May, June and September, golden, rolling fields laden with life-sustaining grains is yours to enjoy. Also, you will be able to see actual farmers in action, an opportunity to learn about Southeast Asian agriculture. Alternatively, you can be more active and hire a bike to explore the region by land, which is equally enjoyable. However, the sampans don't have covers so you would need sunglasses, umbrellas or native Vietnamese conical hats to shade yourselves from the heat. Additionally, giving tips to the rowers would be nice. Another river route you can take is the Hoang Long River, which is larger and noisier. This big guy connects Hoa Lu with other well-known places in Ninh Binh, Vietnam like Bai Dinh Pagoda and Trang An complex.
Tam Coc voyage: Into the darkness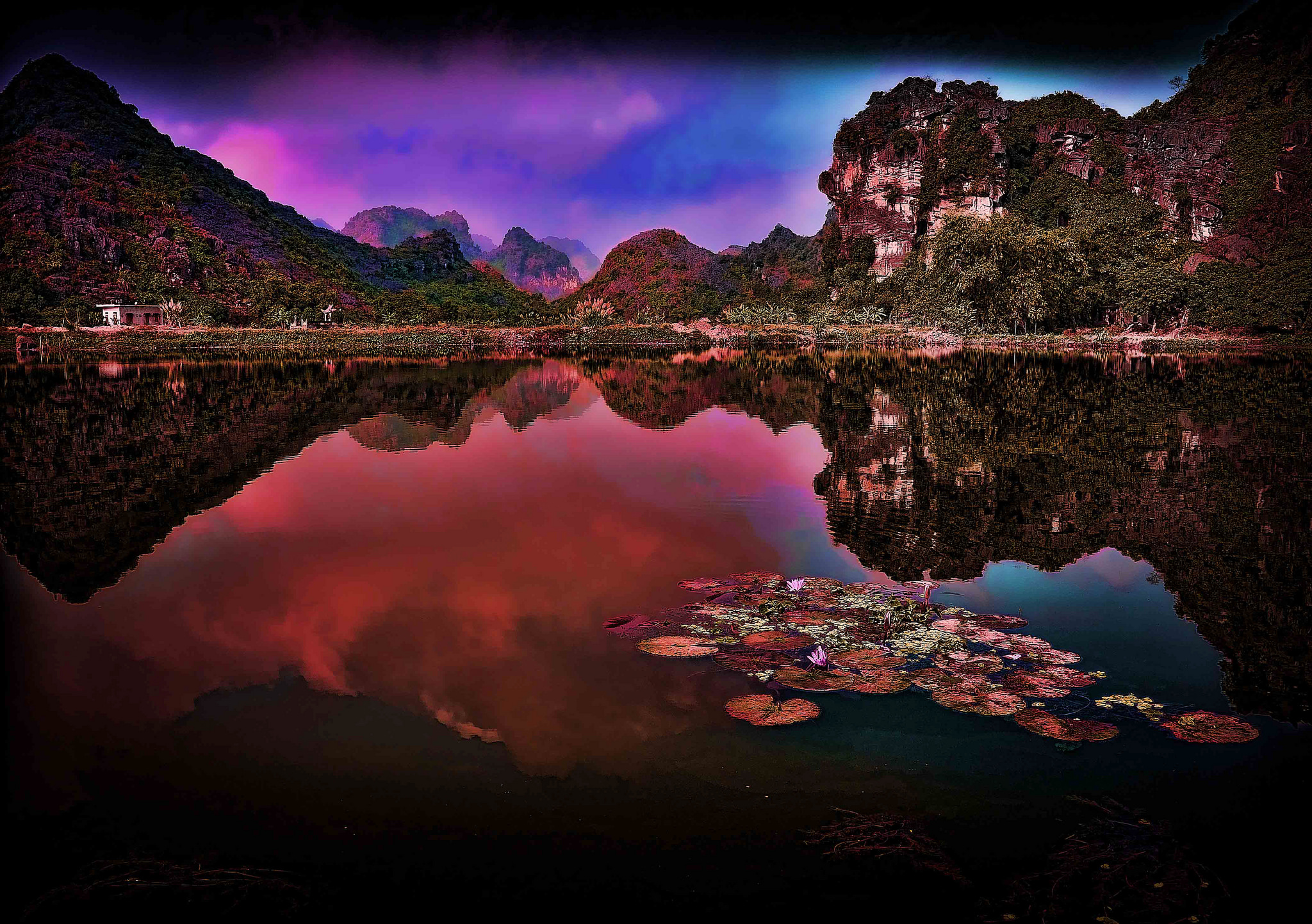 The Ngo Dong River is quite nice but you will find it merely a prelude once you feast your eyes upon what Tam Coc has to offer. Tam Coc, literally "three caves", consists of three stunningly beautiful natural caves on the river – Ca Cave, Hai Cave, and Ba Cave. The three caves can only be accessed via boat, so sailing through them is the best way to enjoy the view. You should first fill your lungs with the fresh, cool air in the caves, and then gaze at the innumerable bizarre stalactites hanging from the cave roof. They come in various shapes and sizes, and glow with many colors like diamonds in semi-darkness thanks to rays of sunlight filtering through small cracks or being reflecting by the flowing water. Those magnificent structures have long sparked locals' imagination, leading to them having many wonderful names. It would be an utterly surreal feeling for you to suddenly spot a Crane, a Fairy, a Mushroom or a Shepherd while you are sailing by. It's no wonder why Tam Coc has been nicknamed "the inland Ha Long Bay". The boats are usually operated by local women who are both friendly and knowledgeable about the place. [cta_button link="https://inspitrip.com/experiences/explore-hoa-lu-tam-coc-full-day-tour-738?utm_source=blog&utm_medium=button&utm_campaign=product&utm_term=inline&utm_content=12561" label="Book Hoa Lu and Tam Coc full day tour from Hanoi"]
Bich Dong: The jewel of the South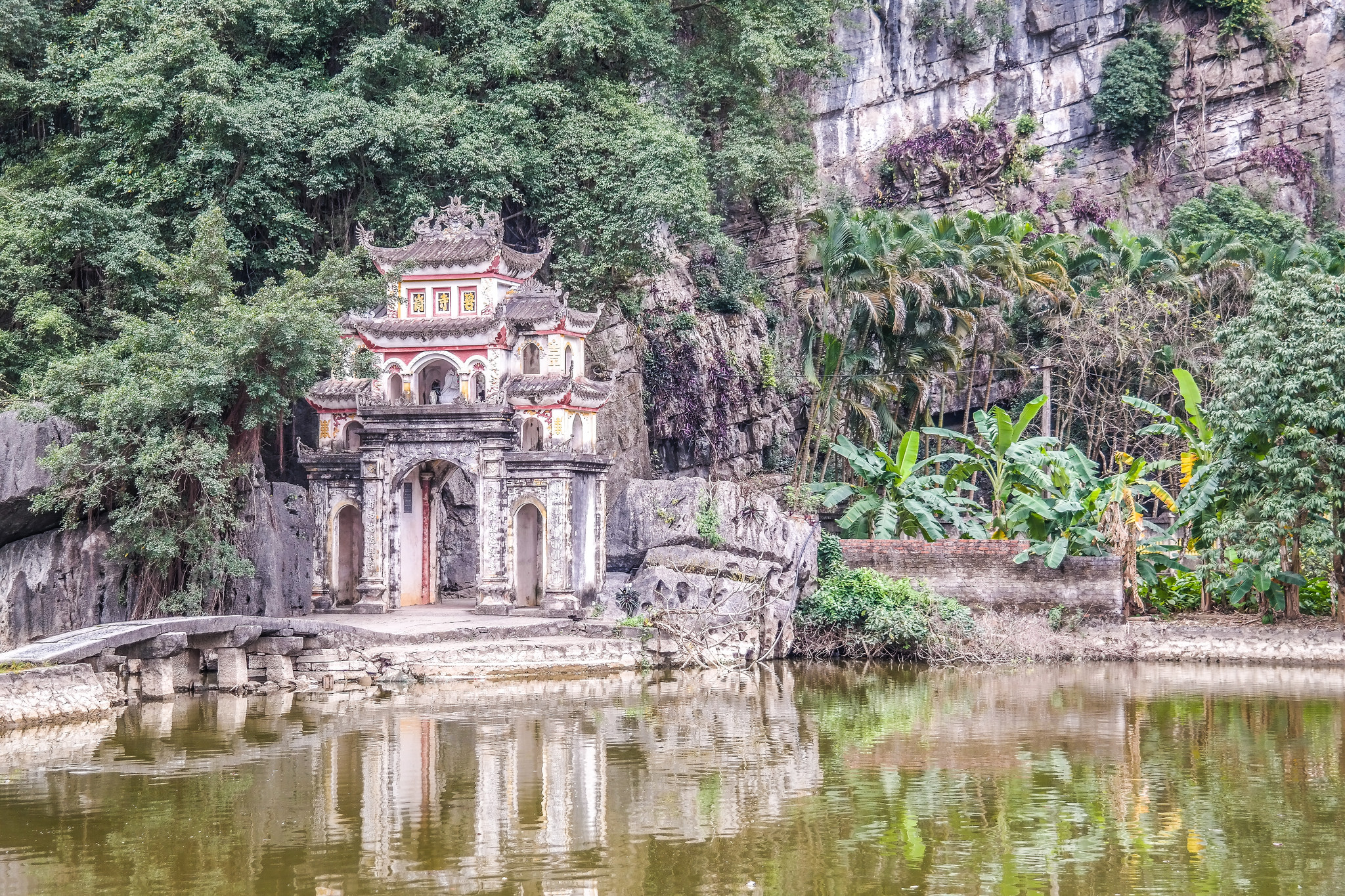 Best known for a pagoda complex built in the 15th century, Bich Dong should score a place on your travel list. In fact, it is located so close by Tam Coc that the two are usually referred to as one. Situated on the top of a high mountain range overlooking a wide and scenic area below, Bich Dong Pagoda features three main pagodas made of stone and rare wood. The pagodas represent an ancient and elaborate architectural design, making them both historically and culturally significant. The surrounding area is also very picturesque and deserves a good look. The nearby Bich Dong Cave was recognized as "the second greatest cave in the Southern land" by Vietnamese nobles. And do you know that Tam Coc- Bich Dong used to serve as one of the filming locations for the 2017 blockbuster "Kong: Skull Island"? It would be fun to retrace the trail of the monster ape! Anyway, don't forget that Ninh Binh, Vietnam is fairly close to Hanoi, so the possibility of combining sightseeing tours of the two places is very viable.