A comprehensive guide to plan your trip from Hanoi to Halong Bay
After experiencing historical relics in the capital city of Hanoi, the next logical step is to start exploring the more natural wonders nested within Vietnam. Located in Northeast Vietnam, part of the West bank of the Gulf of Tonkin, Ha Long Bay is a natural wonder that epitomizes natural beauty, making it a welcoming, legendary attraction.
Transportation means
Halong is a large tourist city with convenient transportation systems, allowing visitors to freely choose their preferred modes of transit. With private cars or motorbikes, you can actively decide the destination, departure time, etc, but it is more expensive. Bus and train services, on the other hand, usually have a fixed schedule and are less flexible, but are more affordable. For those looking for a more adventurous experience, you can even take a seaplane - albeit with a high price point to match the excitement.
From Hanoi to Halong
1. Private motorbikes/cars
Ha Noi - Bac Ninh - Halong route with the length of 155 km is the shortest road from Ha Noi to Ha Long. If you travel by car, it takes about 3 hours. The routes are as follows:
Hanoi - Bac Ninh town: 30 km
Town of Bac Ninh - Pha Lai: 25 km
Pha Lai - Dong Trieu: 30 km
Dong Trieu - Uong Bi: 35 km
Uong Bi - Bai Chay - Ha Long: 40 km
2. Local coach bus
Visitors can go to the Luong Yen bus station or My Dinh bus station, where there are many bus services. The first trip departs at 6:00 am and ends at 5:00 pm. It takes 3-4 hours per trip and the destination is Bai Chay station in Ha Long, Quang Ninh. The ticket price ranges from VND 100,000/seat to VND 200,000/bed. You can also book a car and choose a departure location at the website here: https://vexere.com/en-US Remember to change the language on the website to English to avoid booking the wrong trip!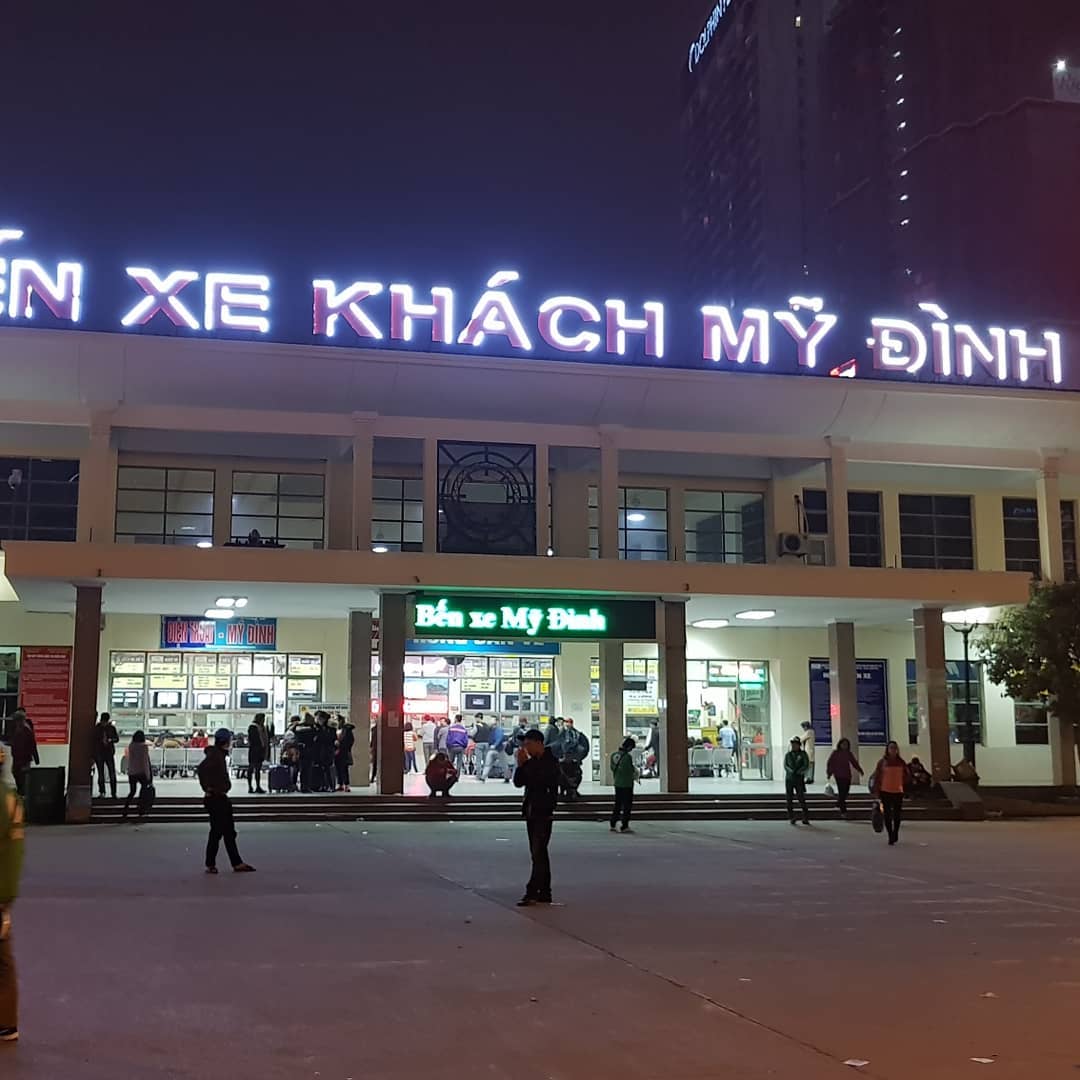 3. Train
Travellers can take a train at Gia Lam station, which departs at 07:05 am. It takes about 5 hours to get to Ha Long with a fare of 15USD/passenger each way for foreign visitors. You can visit the official website of Vietnam Railway to book tickets https://dsvn.vn/#/.
4. Seaplane
Currently, besides the usual means of transport, Ha Long Bay tourists from Hanoi also have new options with the modern and luxury seaplane. Airplanes have 2 seats for pilots, 12 seats for passengers and spacious windows. The seaplanes not only help you save time traveling, but also allow you to enjoy the beautiful view of Halong Bay from 150 to 3,000 meters above sea level. To book a seaplane ticket, you can go to seaplanes.vn.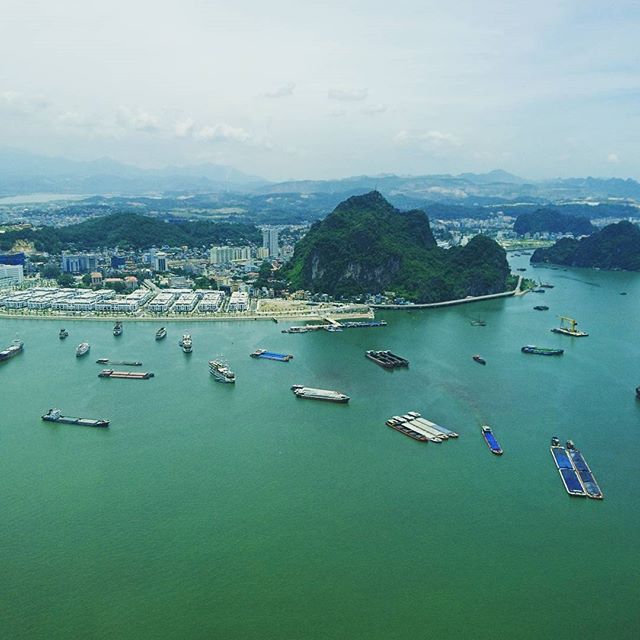 From Hanoi to Cat Ba Island
Cat Ba Island, also known as Ngoc Island, is the largest island of the 1,969 islands in Ha Long Bay. It is about 30 km from the heart of Haiphong and about 25 km from Halong city.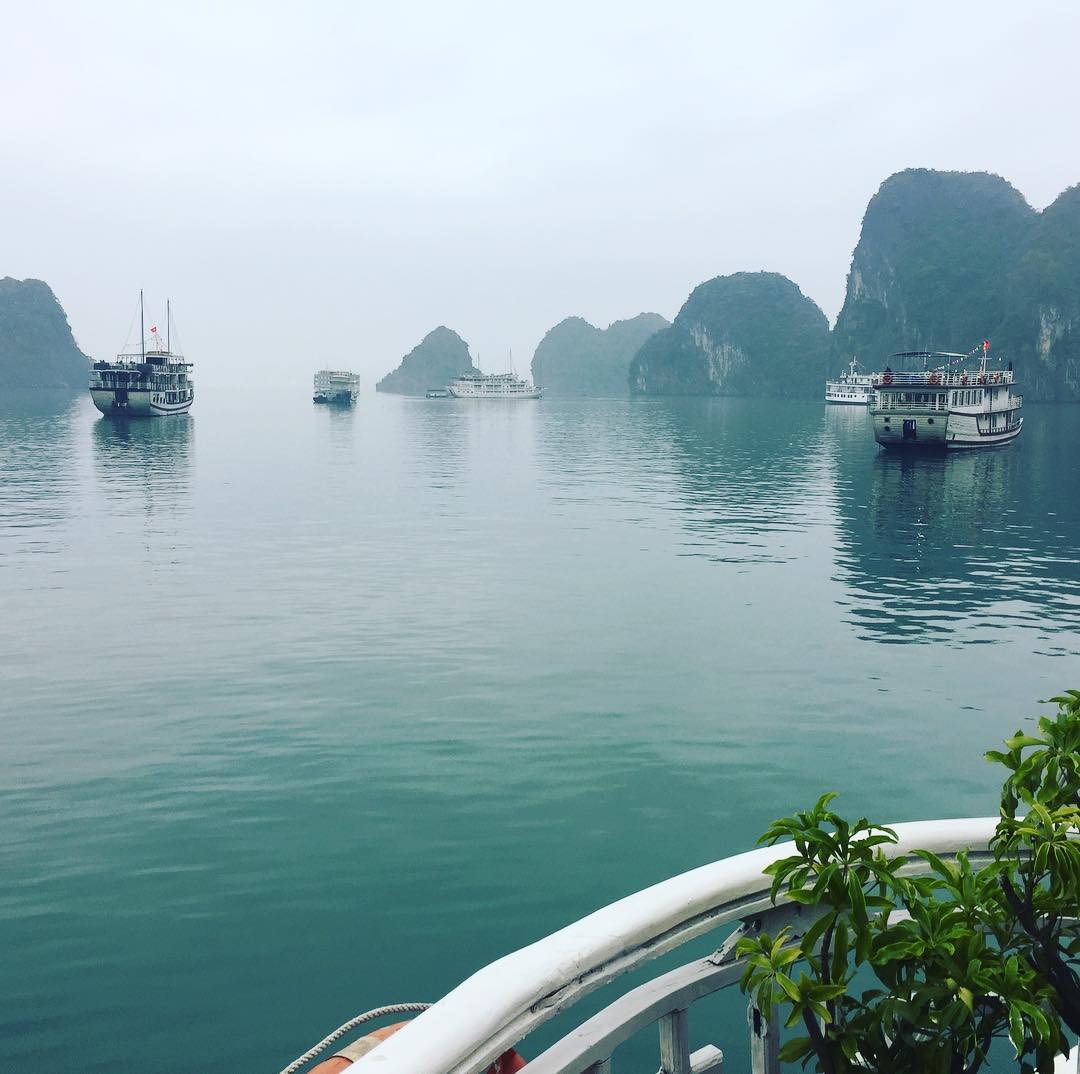 The view of a boat trip in Cat Ba Island @georrose
Visitors can go directly to this place from Hanoi through these two transit options: Hoang Long or Interbuslines.
1. Interbuslines:
Interbuslines provides high quality transport services in a limousine car for the Hanoi - Cat Ba route.The cost per passenger is 300,000 - 450,000VND. The service includes a car with air conditioning, picking up and dropping off up at the desired destination. You only have to spend about 4-5 hours to get to Cat Ba Island
Both both the return and departure begins at 7 A.M, picking up and dropping off the passengers at hotel or their homes.
Departure at 110 Tran Nhat Duat, Hoan Kiem, Hanoi.
Booking hotline: 0868 518 777 - 0868 519 777.
Website: https://interbuslines.com/en/.
2. Hoang Long:
Hoang Long car services' ticket to Cat Ba Island is priced at 280.000VND/passenger. The fare is cheaper than Interbuslines, but is more inconvenient because passengers have to change their car twice: One is to switch to the high-speed train at Dinh Vu and another to change to a shuttle bus in Cai Vieng Ferry Terminal to arrive at the city.
Everyday, there are 4 trips of Hoang Long car services at Nuoc Ngam station in Hanoi (5:20 – 7:20 – 11:20 – 13:20) and 5 return trips from Cat Ba to Hanoi (7:15 – 9:15 – 11:45 – 13:15 – 15:15).
Booking hotline: 0225.3920.920 – 0904.225.177
Website: http://www.hoanglongasia.com/.
From Hanoi to Hai Phong, then Cat Ba Island
Travellers can book Hoang Long car services and a speedboat to go from Hanoi to Hai Phong then Cat Ba Island.
Hoang Long cars will pick up passengers from Hanoi to Hai Phong at the office of 4 Le Thanh Tong to Dinh Vu pier. Hai Phong is about 20 km from Dinh Vu which takes about 30 minutes.
Passengers take a high speed train at Dinh Vu pier to Cai Vieng pier. It takes about 15 to 25 minutes.
Passengers pick up the cars waiting at Cai Vien pier, taking the cross-road to Cat Ba. The journey is about 30 minutes. On the way, you can see many beautiful landscapes such as national forests, caves, etc.
Booking hotline: 0313.920.920.
Where to stay
Although not as luxurious as a hotel or resort, homestays are full of amenities inside and bring you the feeling like home.
1. Banana and Rose:
Located in Tuan Chau Island, this homestay is the perfect place for your vacation with fresh air and stunning sea views. Feel safe with 24-hour security, taxi, ticket, and check-in/out as need. In addition, the homestay has 6 bedrooms with a maximum capacity of 16 guests with eye-catching space, suitable for a family trip or a trip between friends.
Address: Tuan Chau, Ha Long City, Quang Ninh
Room cost: 500.000 - 1.500.000VND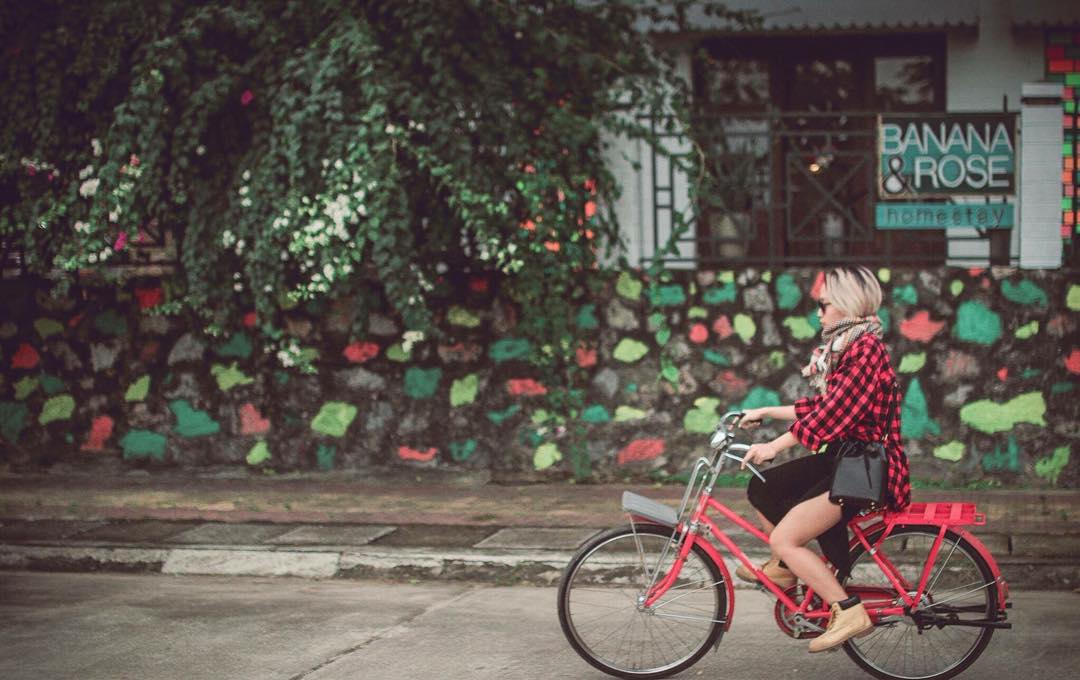 The guests of Banana and Rose can borrow the bicycles during their stay! @banana_and_rose
2. Brika Hostel:
Located on the 16th floor of Green Bay Tower in Ha Long, Brika Hostel is designed by Brika Group to feature delicate romantic delights. @anna.146
Brika Hostel offers panoramic views of the picturesque Halong Bay on the 16th floor of the Bai Chay Beach Resort. Enjoy the peace of being home, except while you enjoy the quiet morning hours, the sea stretches out to the horizon. All furniture is designed and handcrafted by the hotel owner: The small apartment has 2 bedrooms, 1 bathroom suitable for couples groups of 4-5 people. With convenient location in the center of Ha Long Bay, you can easily travel and experience famous nightlife attractions in Ha Long Bay such as: Dragon Park, Queen Cable Car, Halong Marina Plaza, Night Market, etc.
Address: Unit 1606, 17 T2 Green Bay Towers Ha Long , Hoang Quoc Viet, Hung Thang, Ha Long City
Room cost: 200.000 VND/person/night.
3. Coto village:
Situated on Hong Van Beach, built in 2015, it is a homestay popular with young people for its modern design and beautiful sea views.
Address: Dong Tien, Co To, Quang Ninh.
Room cost: 1.200.000 – 1.600.000VND/night for rooms of 2-6 guests with sea views.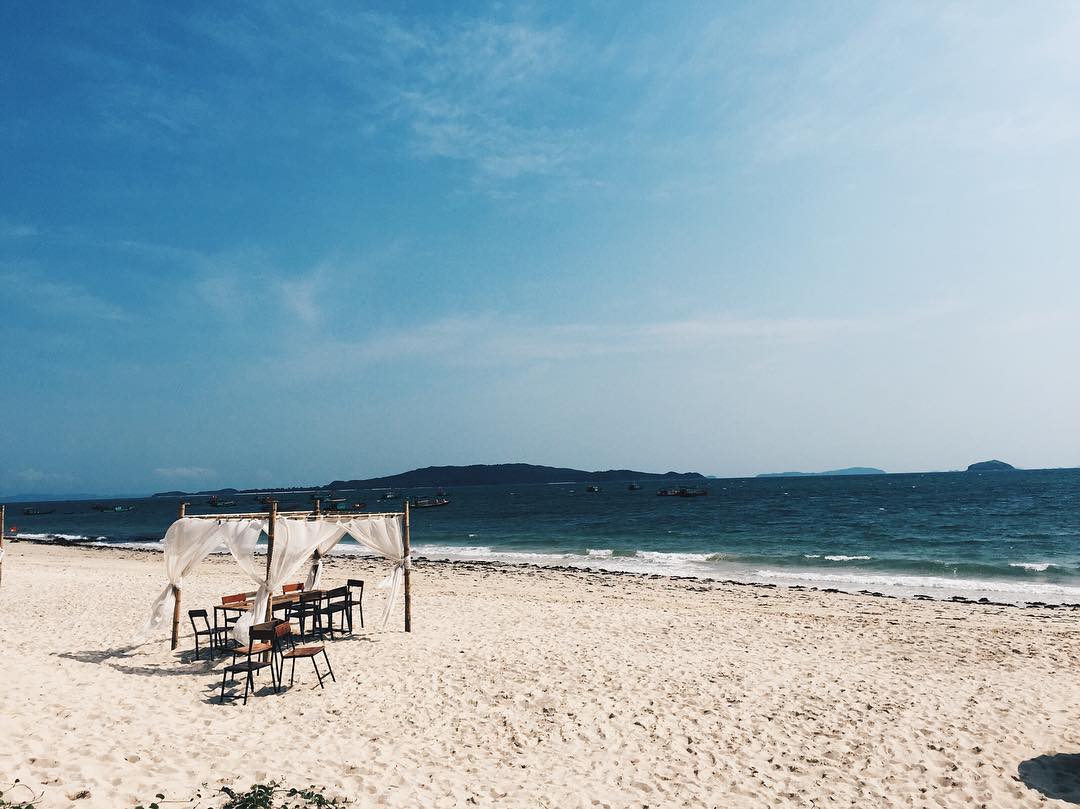 Seaside of Coto Village @mingchangg21
4. LePont Bungalow Hostel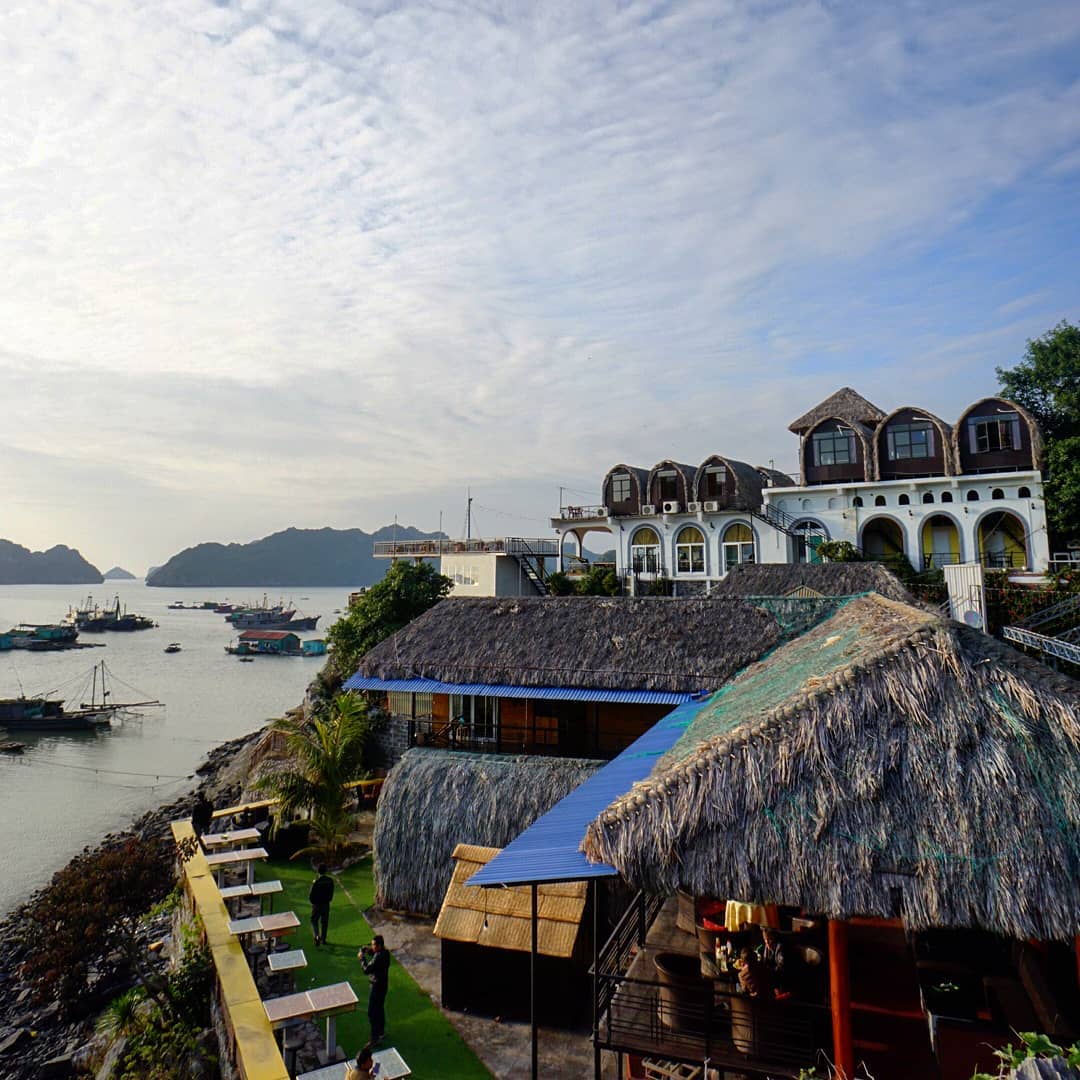 Built environmentally-conscious, this hostel is mainly made by wood with palm-leaf roofing to keep visitors in tune with the environment. @fukenho
Its small courtyard is also arranged with wooden, suitable for tourists to watch the sunset or dawn and chat together.
Address: Cat Co 3 Beach Street, Cat Ba Island
Room cost: 250.000 - 450.000VND/room/night. You can book rooms on travel websites s at VND100.000/room /night.
Things to do in Halong Bay
Cruising around
The culinary culture of Halong features plenty of seafood:
Stone crab: Stone crabs are similar to crabs but three times larger. Therefore, their price scales to match. It can be steamed, baked or fried with tamarind sauce or used to cook the famous noodles with stone crabs of Quang Ninh. Steamed stone crabs served with salt is extremely delicious.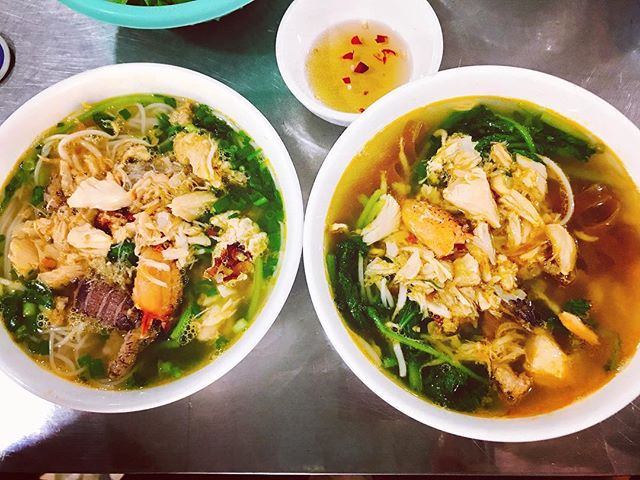 Noodles with steamed stone crabs @thuyntt29192
Mantis shrimp: This species is a relative of the shrimp but with more legs.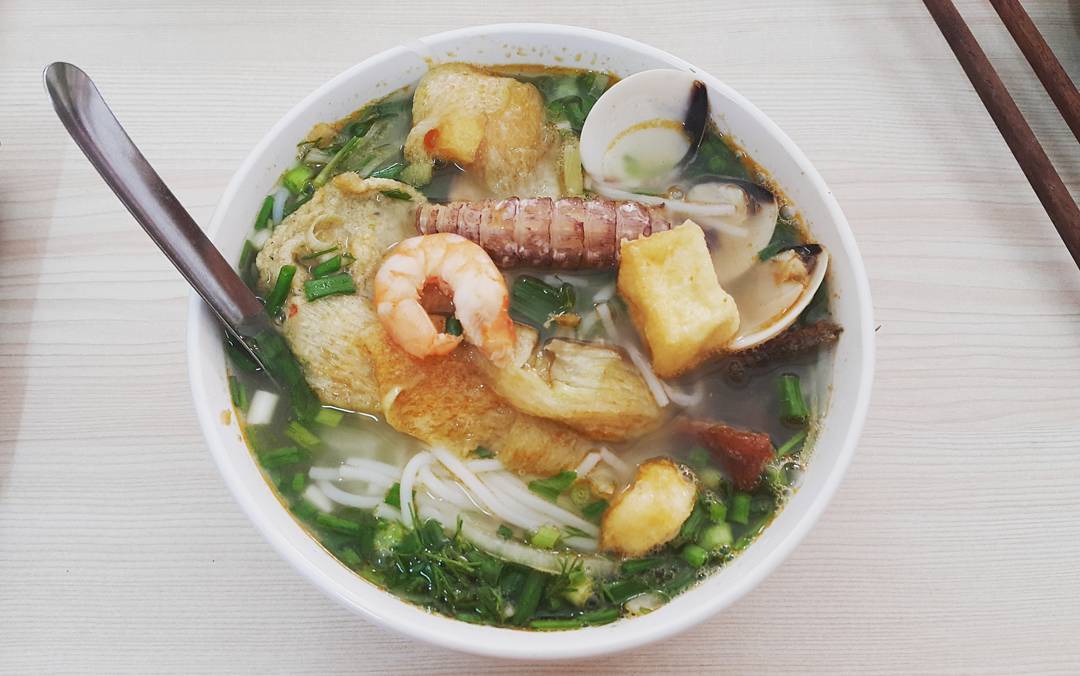 Noodles with mantis shrimp are one of must-try dishes in Ha Long. @kim.dung.3895
Peanut Worms: Peanut Worms are often consumed dried and as a beer snack.
Other Halong's specialties:
Steamed/grilled clams
Dipped Squid: You can find this hot and delicious dipped squid at stalls in the local market.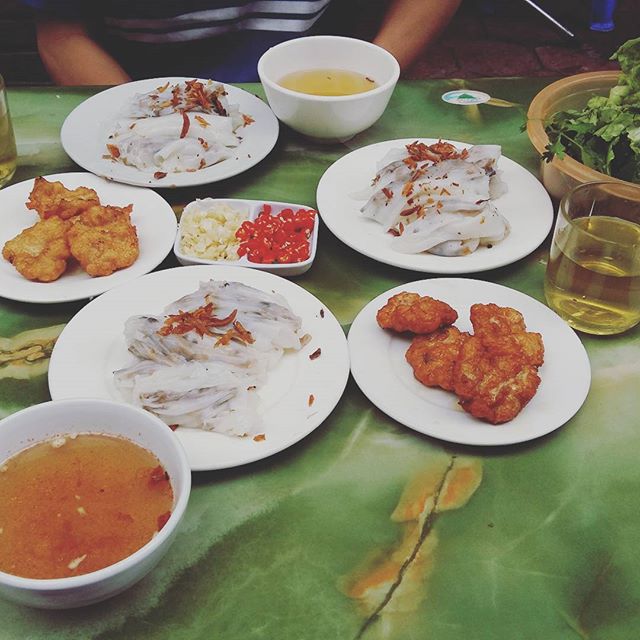 Spring roll with dipped squid @tranminhduc.9226
In addition, you should try white sticky rice with squid, deep-fried squid rolls, horseshoe crab, "nodded" cake, nem chua or fermented glutinous rice of Hoanh Bo, spring rolls of Quang Yen town, etc.
Where to eat seafood in Ha Long:
Enjoy seafood on cruise tours: The main seafood dishes are grilled clams, fried squid... at a price of 120.000 – 200.000/person.
Delicious seafood in Vuon Dao area, which is considered the paradise of fresh seafood in the area. Tips when traveling to Ha Long Bay: Remember to ask the price before ordering!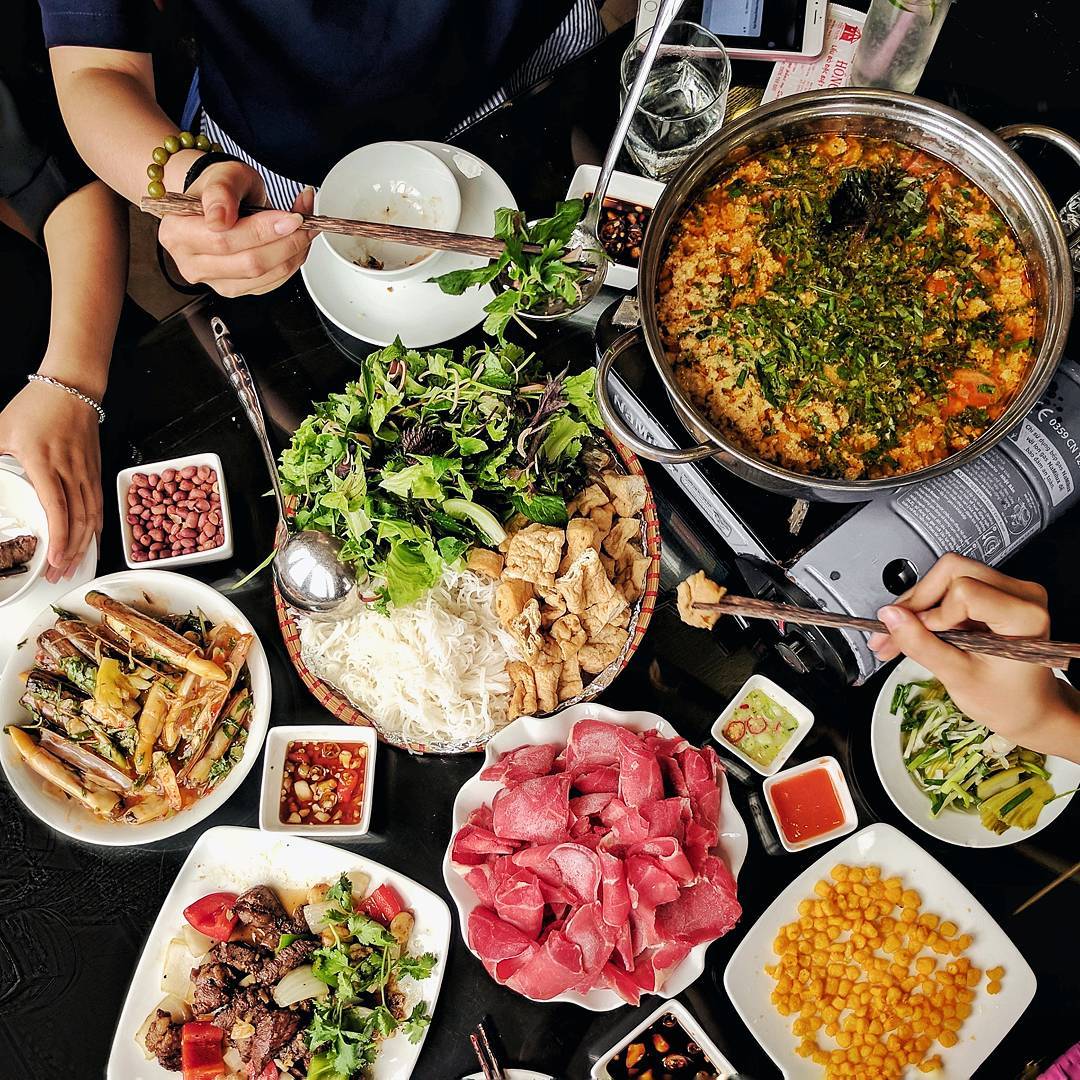 Seafood hot pot in a famous restaurant named Hong Hanh @linhchimm
The cheap seafood in Cai Dam market is one of the best must-try destinations in Halong. In addition, visitors can go to Ben Doan area for the wild seafood.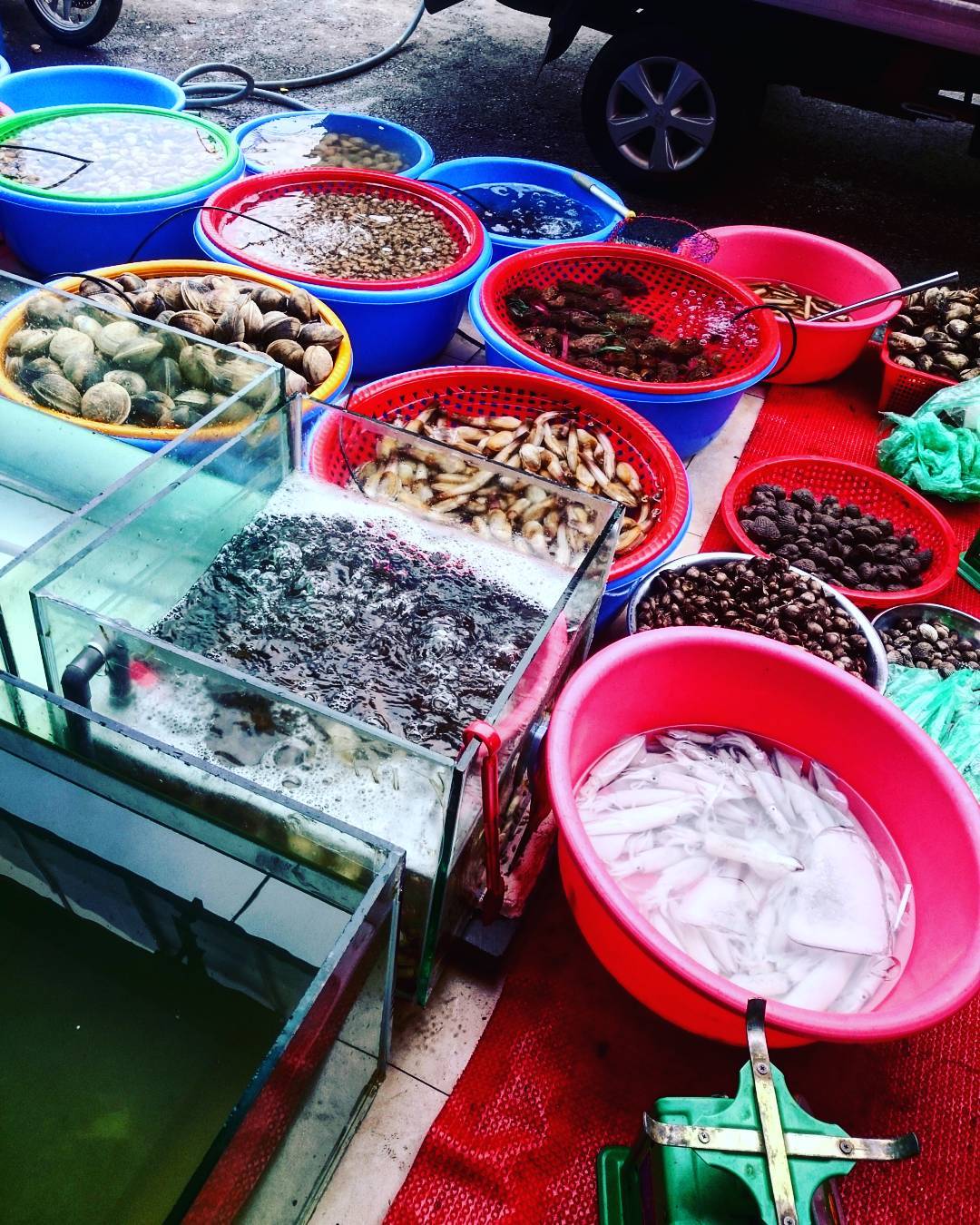 At Cai Dam market @xonnnnnnnnnn
Exploring caves
Ha Long Bay owns many caves with distinct beauty
Sung Sot cave: Located in the tourist center of Ha Long Bay, on the island of Bo Hon, Sung Sot Cave is the largest and most beautiful cave in Ha Long, which has many unique rock formations.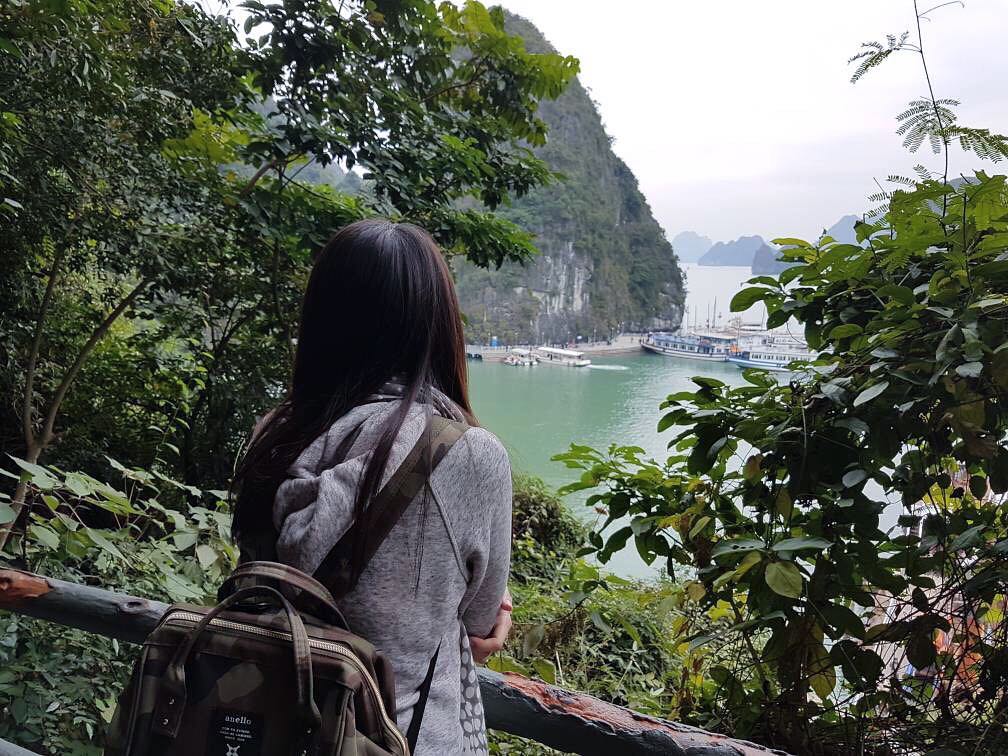 The road to Sung Sot cave is under the foliage of the forest with stone steps, offering visitors the fun hiking through the jungle. @gc_insta_0304
Trinh Nu Cave (Cave of Virgin): The name of this cave is born from legend and history. The first sight when entering the cave is the image of a stone statue of a girl lying down with long hair, sad eyes towards the sea waiting for her lover.
Trong Cave (as known as Male Cave): Located opposite Trinh Nu Cave, Trong Cave has the counterpart male statue facing to his lover.
Dau Go Cave: With a width of about 5000m2, Dau Go Cave is situated at an altitude of 27m above sea level.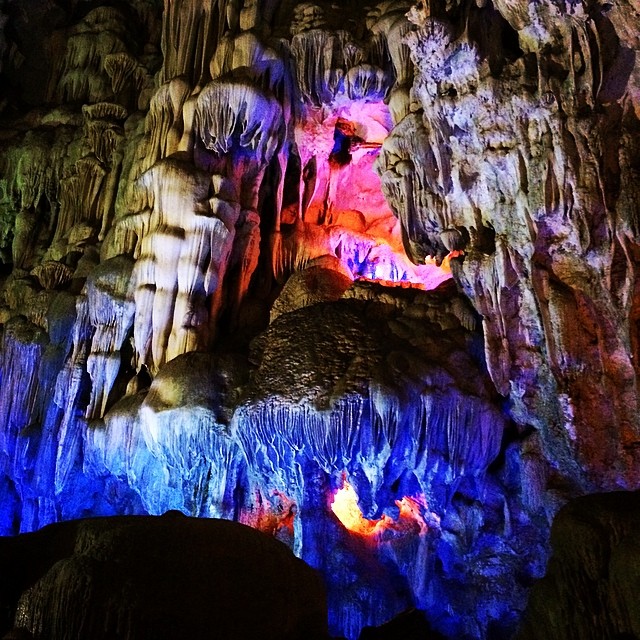 It is an ancient architectural complex with ancient, wild, and mysterious beauty with many stone pillars, small stalactites and stalagmites. @_arpagorn_
Luon Cave: Situated on the island of Bo Hon, 14 km south of Bai Chay. Con Rua islet is in front of the cave and Cong Troi (Heaven gate) is on its right.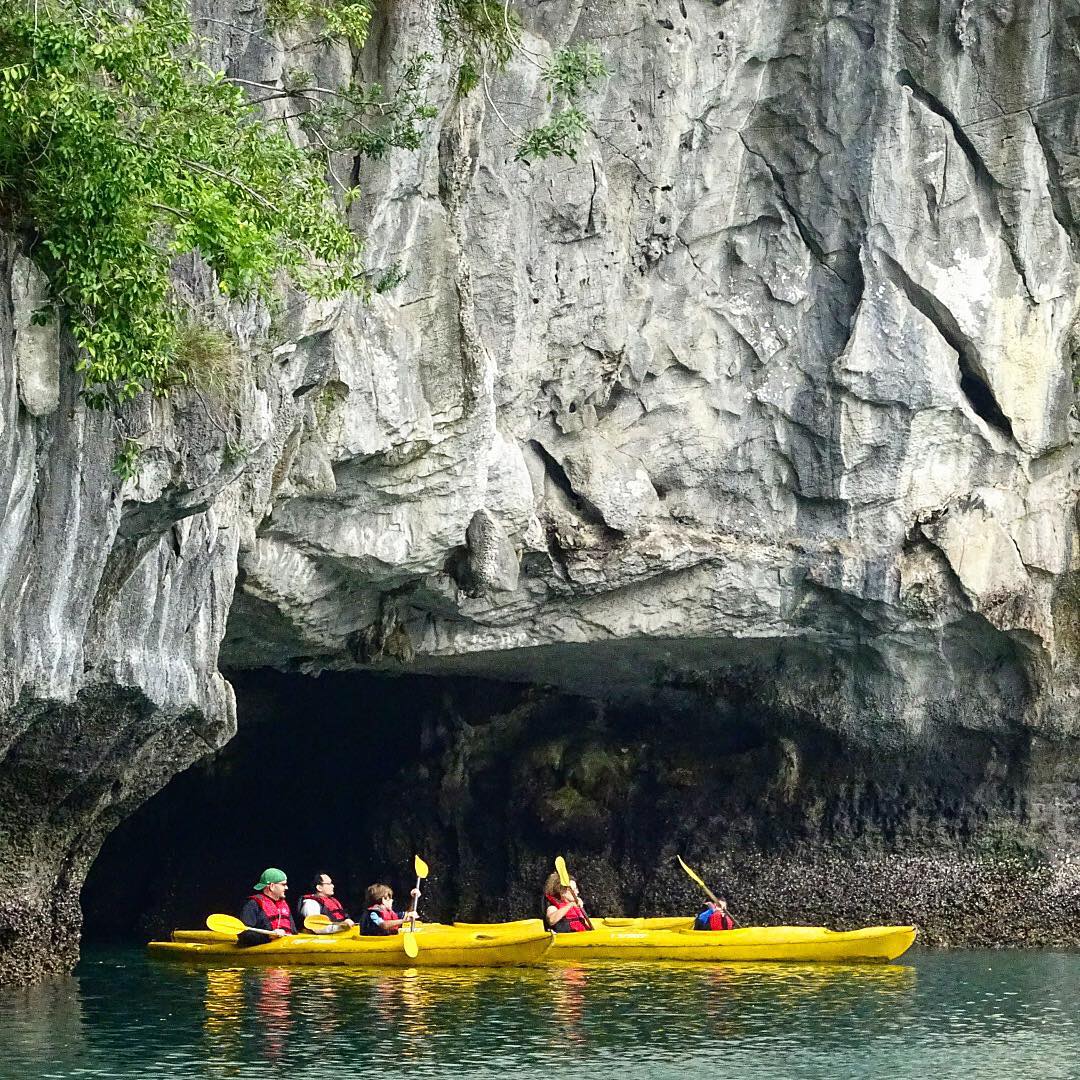 Luon Cave owns the beauty of four seasons with clear cliffs. @david_a_b
Thien Cung Cave: It is the most beautiful cave in the cave system of Ha Long, located in the southwest of the bay.
Kim Quy Cave: Located on Nam Dam Islet, this cave has 187m high peaks. The cave is 100m long and has a small path leading upwards. The stalactites are formed from the top of the cave, like a beautiful natural curtain.
Me Cung Cave: Located 2 km south-west of the Ti Top beach, Me Cung cave is on Lo Bo island at 25m above sea level. When going into the cave, visitors will feel like visiting the palace of a Persian emperor.
…
In addition to the familiar caves on the tourist map, Ha Long has many beautiful caves not yet suitable for tourists yet. Kayaking/canoeing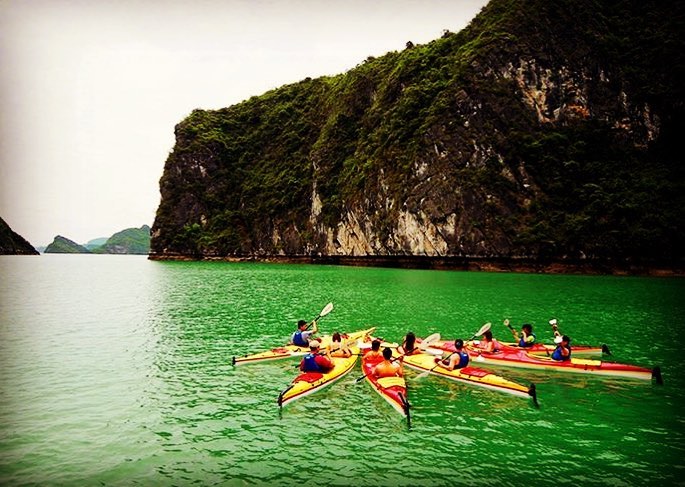 Don't miss out! Explore the wonders of Ha Long Bay with a kayak! @indotrek
When sitting on a small Kayak, you can admire the natural beauty in the middle of Halong. Halong Bay has been voted by National Geographic Adventures as one of the top 25 Kayak Tours in the world. There are plenty of places to rent Kayaks both at the tourism pier and within the islands themselves. It costs from 100.000 – 200.000VND per hour depending on the boat's type.
Islands
Halong owns more than 1,000 islands. Make sure to do your own research and plan accordingly! Here is a hint of some beautiful islands of Halong Bay.
Bo Hon Island: Located at the heart of Halong Bay, Bo Hon is surrounded by many small islands, where there are many famous caves like Sung Sot cave, Luon cave, Tien cave, Trinh Nu cave, etc.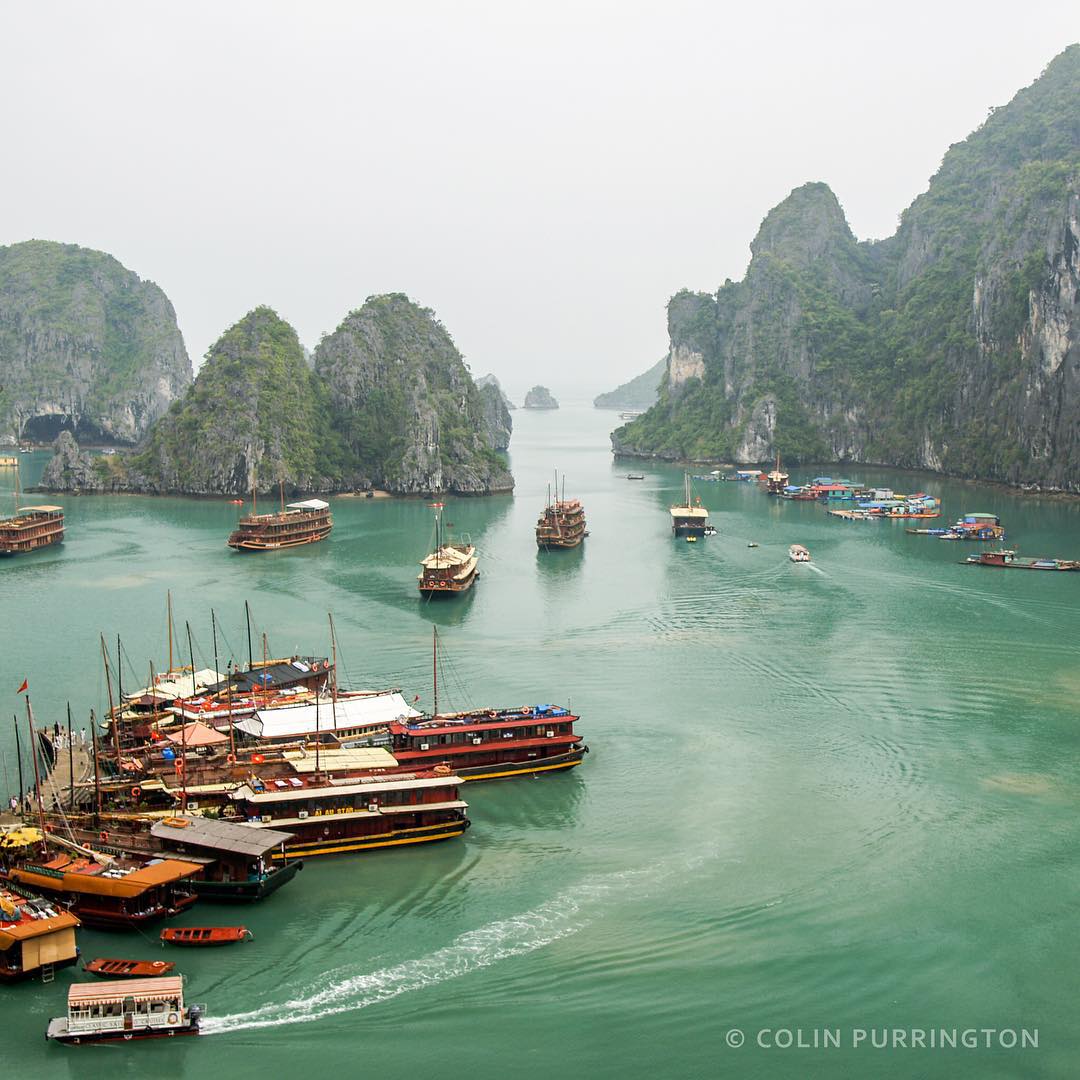 Visiting Bo Hon, you will see wild nature with vertical cliffs, long mountains and deep blue sea. @colin_purrington
Ngoc Vung Island: About 34 km from the center of Ha Long, Ngoc Vung Island is of Van Don District, between two small islands called Net Islet and Phuong Hoang. On the island, there are crowded inhabitants, gentle and bustling. Come to Ngoc Vung island, you also have the opportunity to visit the archaeological relics, cultural relics, historical relics of the province.
Tiptop Island: Located about 8 km southeast of Bai Chay port, the island is shaped like crescent moon.
Tuan Chau Island: Located about 2 km from the city center, the island is connected to the mainland by a concrete road. There is a system of restaurants, high-class hotels, and many attractive entertainment services for visitors.
Co To Island: The Co To Islands lie to the east of Van Don Island. Co To Island has seen plenty of investment into the tourism industry, and as a result you can find many hotels and restaurants that live up to international standards.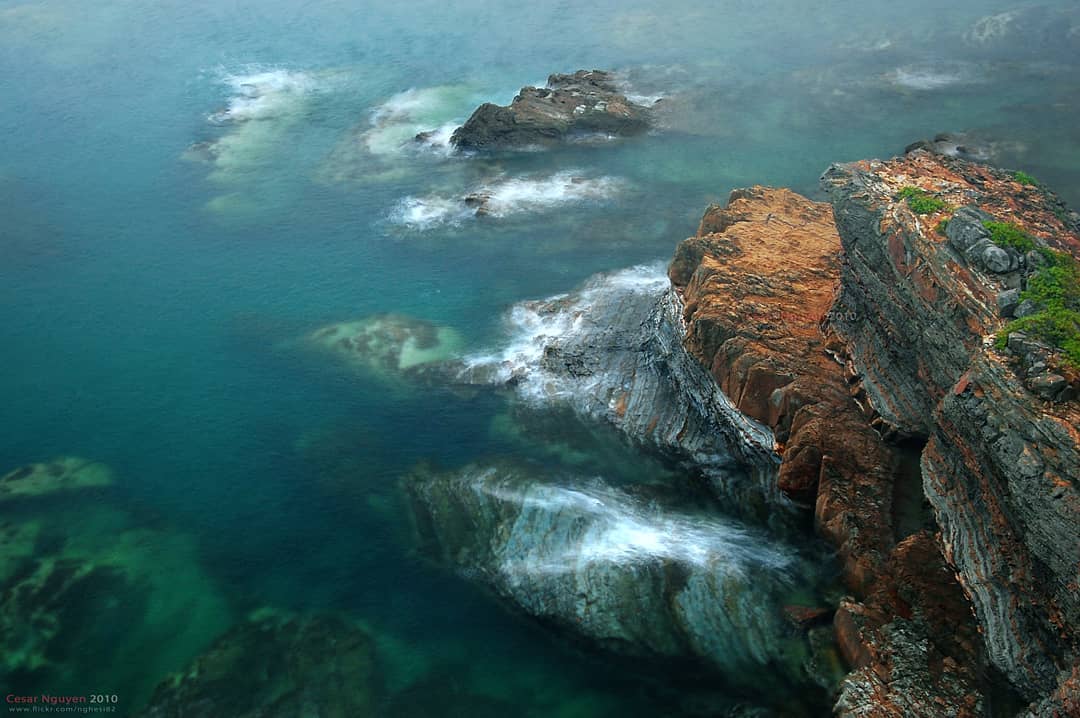 Breathtaking scenery of sea @cesarnguyen.vn
Local villages/ markets
In addition to beautiful sights, Ha Long is also famous for its shopping venues that attract many tourists.
Halong night markets: The market is open from 6pm until late at night. This place is quite full of goods from the ordinary to the high-class goods with hundreds of stalls to visit. Here, you'll find most souvenirs, handicrafts, backpacks, handbags, etc. You can buy a key ring made of shellfish for friends or buy colorful shirts in Ha Long - Tuan Chau.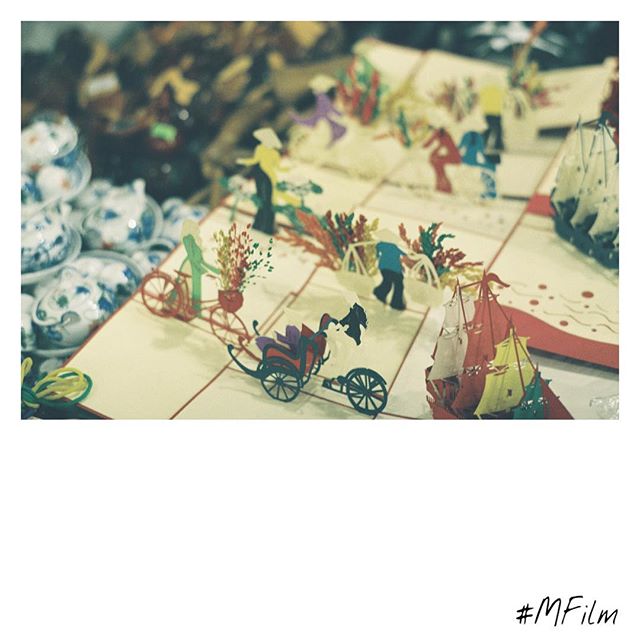 Pretty gift card at the night market @hatorichann
Bai Chay Trade Center: This is a modern commercial area with a full range of goods from ordinary to high-grade in Vuon Dao, Bai Chay area.
Mong Cai border market: The products at Mong Cai border gate are diversified.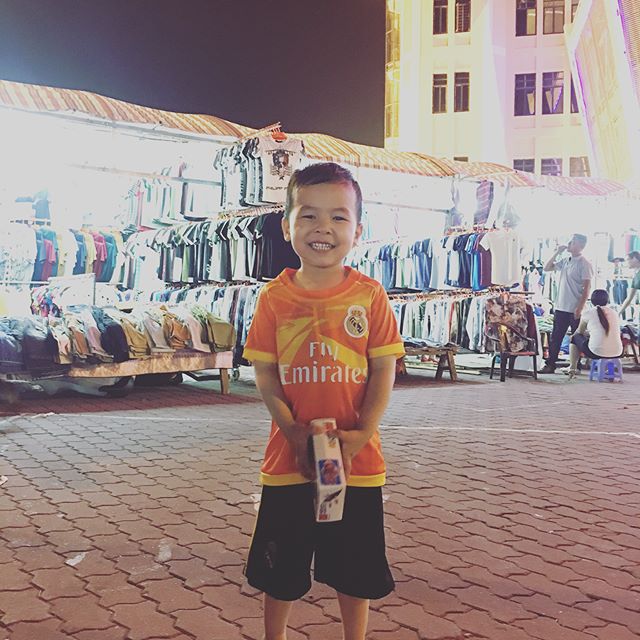 Most of them are goods imported from China such as clothes, shoes to electronics, fruit, food… @nguyenduchuy83
In addition, the market also has products from Vietnam and China such as seafood, frozen shrimp, coffee. In particular, herbalists can give on-site prescriptions and traditional medicine.
Local fair: On Tuesday, from 6 am to 2 pm at the Ha Long Hotel, a variety of products, mainly seafood, are sold to serve the needs of tourists.
Enjoy your Halong Bay trip in the most comfortable way
In order to experience Ha Long Bay completely, visitors should plan to spend about 2 days here on their journey. Inspitrip offers you two options with the guide of locals experts. In addition to the 2-day deluxe cruise experience, the tours also have a kayak experience in Halong Bay.With an English-speaking guide, Halong will be easily accessible to the outside.