A comprehensive guide for day tour to Ninh Binh from Hanoi
If you happen to be in Hanoi, don't miss Ninh Binh as one of the best day trip options from the capital. Contrary to a busy Hanoi, Ninh Binh brings a sense of calm and gentle with rustic and hospitable people. It is definitely the best opportunity for you not only to explore the magnificent natural scenery but also to enjoy the cultural and historical space of Vietnam. Below is the guide we made to make sure that you will not miss any awesome things in Ninh Binh in one day tour from Hanoi. Check out what we have for a day tour to Ninh Binh!
Day tour to Ninh Binh from Ha Noi
Explore more!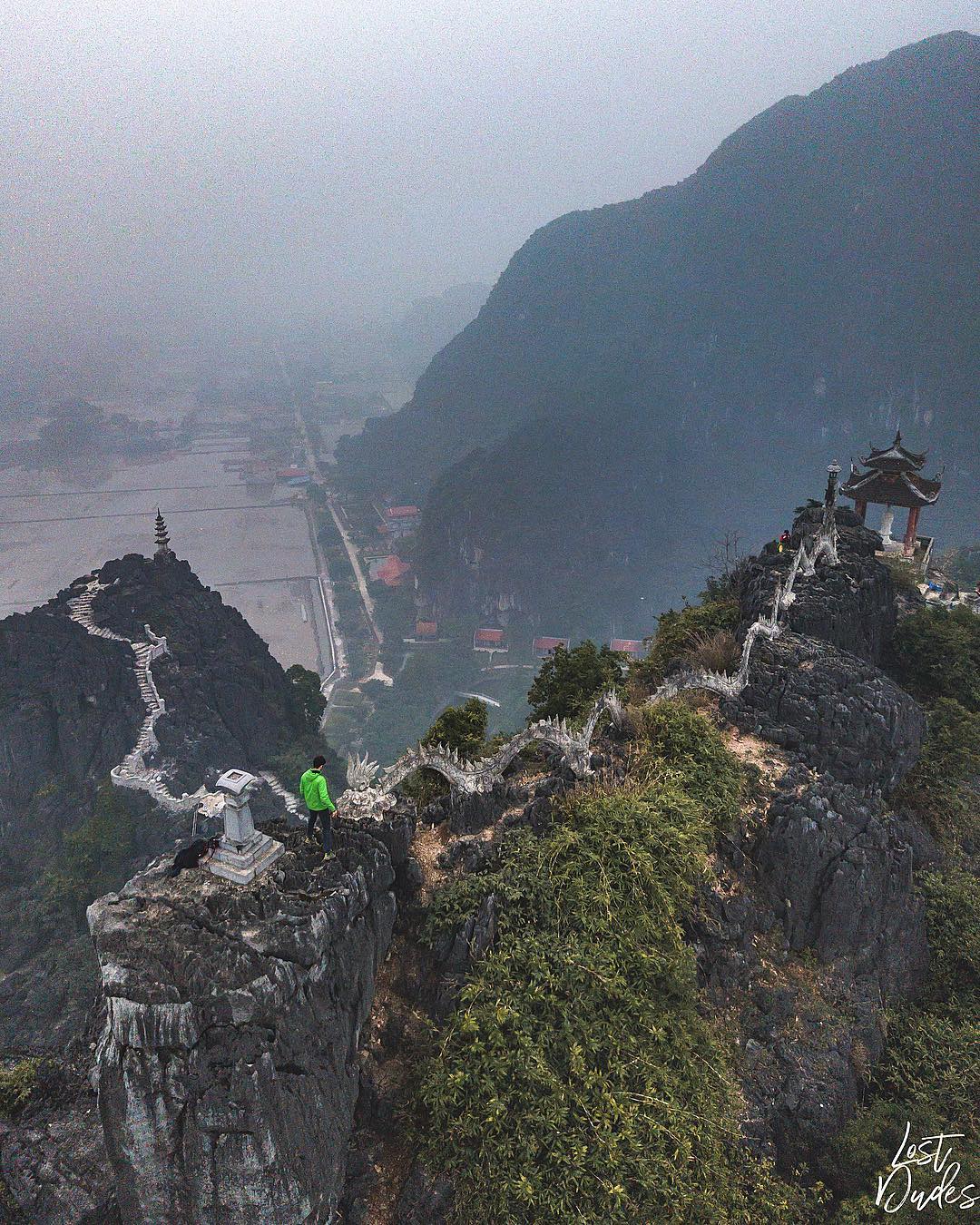 How to get to Ninh Binh from Ha Noi?
From Hanoi, there are many preferred options for transportation to go to Ninh Binh, which is located just about 90 km south of the capital. Each mode of transit will have its own pros and cons that you should consider after reading some tips below.
By public bus
Ticket fee: 60k-100k VND/person
The first option is catching the bus at Giap Bat bus station (Address: 897 Giai Phong Street) or My Dinh bus station (Address: 20 Pham Hung Street) with the cost of about 60k-100k VND per passenger. There are regular buses every 30 minutes, from 6:00 am to 6:00 pm every day, provided by Sao Viet, Cuong Hung, Hoang Long,... You only have to spend about 2 hours to arrive at Ninh Binh.
By train
Ticket fee: from 90k VND to over 200k VND depending on the type of seat
Like buses, it is a little inconvenient to travel by train because of its fixed schedule. Moreover, you also have to find other means of transportation to sightseeings in Ninh Binh. Despite these drawbacks, it ensures safety and if you are interested in the train route in Vietnam, then try it. Tickets are usually sold directly at Hanoi Railway Station (120 Le Duan Street) or you can buy on the official website of Vietnam Railway. In normal, it'll take at least 2 hours to get to Ninh Binh, so choose early trains to have as much travel time as possible here.
By motorbike
Rental fee: about 150k VND/day
Renting a motorbike would be a great option for more adventurous experience but it may make you a bit tired. There is always the road signs along the way, so it is easy to follow, first going by the highway Phap Van - Cau Gie and then continue in the direction of Cau Gie - Phu Ly - Ninh Binh. The travel time lasts from 1 hrs 30 mins to 2 hrs depending on your speed and of course, don't forget to obey traffic laws to keep safe.
Things to do for a day tour to Ninh Binh
Trang An Eco-Tourism Complex
Entrance fee: 200k VND/ adult, 100k VND/ child (including the boat ride)
Located 7 km west of Ninh Binh center, Trang An is one of the most famous attractions among tourists. In Trang An, there are two sites called The Trang An and The Ancient Trang An. In particular, The Ancient Trang An is well-known for its wild beauty. One of the most fascinating things is the winding road up to the mountain. Unfortunately, this site has been temporarily closed since the beginning of 2018.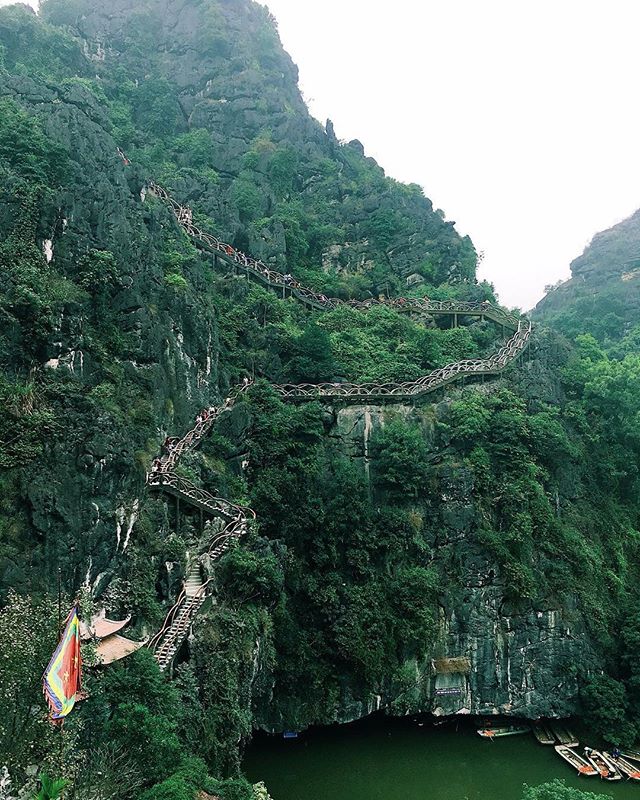 Hoa Lu, Tam Coc & Mua Cave day trip (from Hanoi)
Book now!
The Trang An, which is composed of numerous mysterious caves formed by the river running through the limestone mountains, attracts thousands of visitors as well. Taking the boat trip to discover Trang An would be definitely an ideal experience to be immersed with nature. A 2-hour journey will take you through about 6-9 caves, other temples and lakes with many majestic landscapes. Each boat can carry up to 4 guests.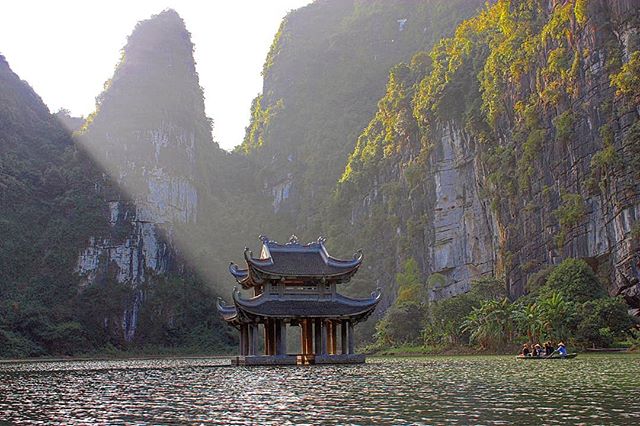 Explore the marvellous nature in Ninh Binh with Inspitrip now!
Bai Dinh Pagoda
Besides Trang An, Bai Dinh pagoda is also a top attraction in Ninh Binh to both local and tourists. Not only because this is the largest temple that owns many records in Vietnam, but also due to its architecture. While wandering, you will be lost in the vast campus and overwhelmed by many monumental Buddhist architectures such as: The largest bronze Buddha statue in Asia, the longest corridor of 500 Arhats,... It is recommended that you should travel by tram with the cost of 30k VND/person, then walk and admire the magnificent beauty of the pagoda.
Trang An Complex and Bai Dinh Pagoda day trip (from Hanoi)
Book now!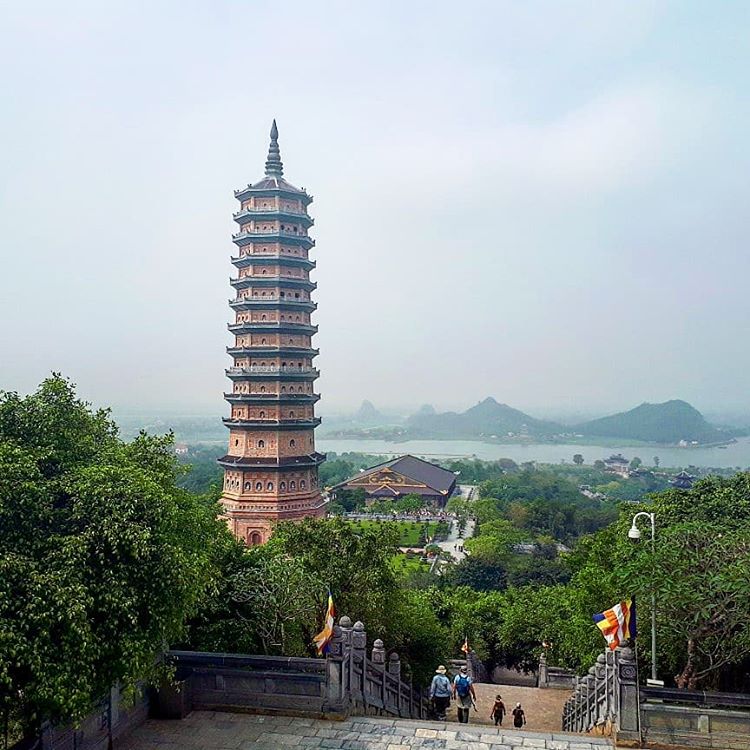 Tam Coc – Bich Dong (Tam Grotto - Bich Cave)
Entrance fee: 120k VND/person,
Boat ticket: 150k VND/boat for a maximum of four people
Tam Coc is also known as "Ha Long bay on land". In addition to Trang An, it can be the second choice in Ninh Binh in terms of boat ride. "Tam Coc" means "three caves", including Ca cave, Hai cave and Ba cave. In the caves, there are many stalactites hanging down with many strange shapes. The journey through three caves lasts about 2 hours.
Hoa Lu and Tam Coc full day tour (from Hanoi)
Click for more details!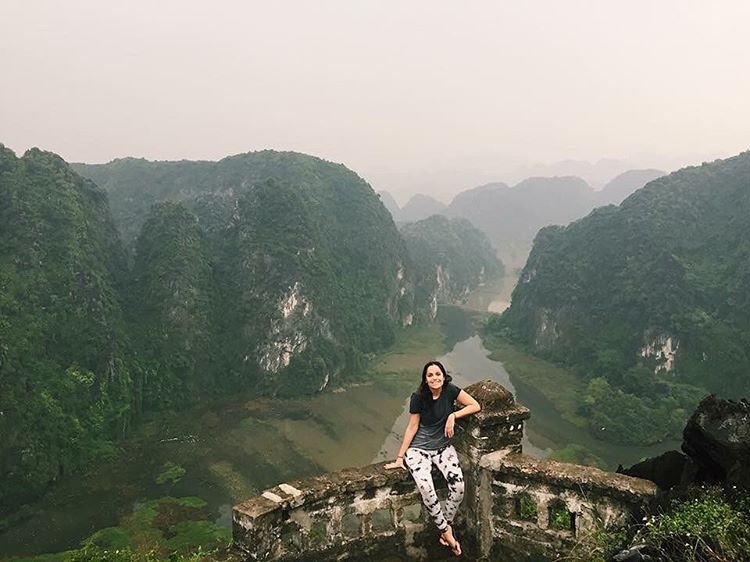 Bich Dong is located 2 km from Tam Coc, which means "green cave". Much like its name, sighting view of mountains, rivers, water, rice fields around Bich Dong… are all in green. This stop will not disappoint you, be sure to take lots of photos to remember it by.
Mua Cave
Entrance fee: 100k VND/person
If you are looking for something more challenging, Mua Cave is a good option because you will be endeavoring to climb up the mountain through 486 stone steps. Standing on the top while looking at the marvelous beauty of Tam Coc area with the vast green fields is mesmerizing and relaxing for many people. You can book Tam Coc & Mua Cave full-day private tour on Inspitrip.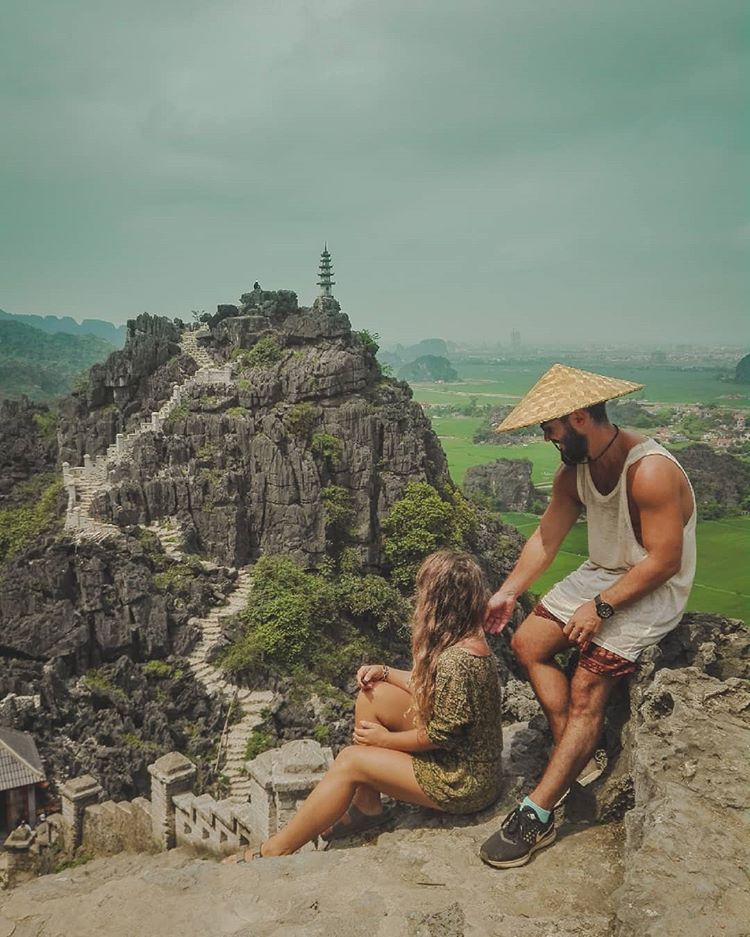 Tam Coc & Mua Cave full-day private tour (from Hanoi)
Van Long Natural Reserve
Entrance fee: 20k VND/person
Boat ticket: 60k VND/ boat (including 2 persons)
Van Long is known for its majestic scenery. The mountain ranges from the walls of nature surrounding the immense lakes. The beauty of Van Long is like a water painting, with fresh air. Relaxing on a small boat, you will enjoy the feeling of being spotted in the cool caves to explore the intact nature. If you are lucky, you will see doucs squinting on the branches.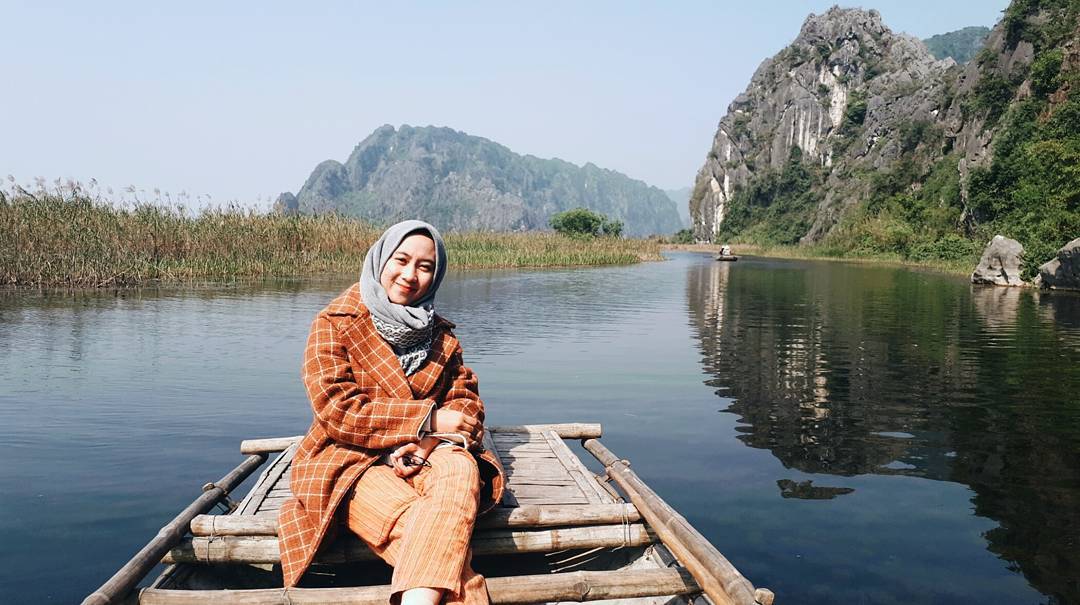 Hoa Lu Ancient Capital
Entrance fee: 20k VND/ person
Hoa Lu Ancient Capital is 300 hectares width, surrounded by a series of rocky arc mountains. Its spectacular scenery and architecture will completely amaze you. while wandering. Highlights of this relic are the two temples of King Dinh Tien Hoang and King Le Dai Hanh with exceptional architectural works and exquisite sculptures on wood and stone. This place is one of the cultural and historical icons in Vietnam.
Read more: A detailed guide to day trip to Hoa Lu and Tam Coc
Cuc Phuong National Park
Entrance fee: 60k VND/ person
Cuc Phuong National Park is another ideal place for who love to bike around and observe a wild range of animals. With an area of over 22,000 hectares, Cuc Phuong has been ranked in the top 5 largest national parks to explore. It is famous for the diversity of species in the forest ecology, the beautiful natural scenery, and Muong cultural identity as well. The park still features wildness, mysteriously of the primitive forest with ancient trees thousands of years old.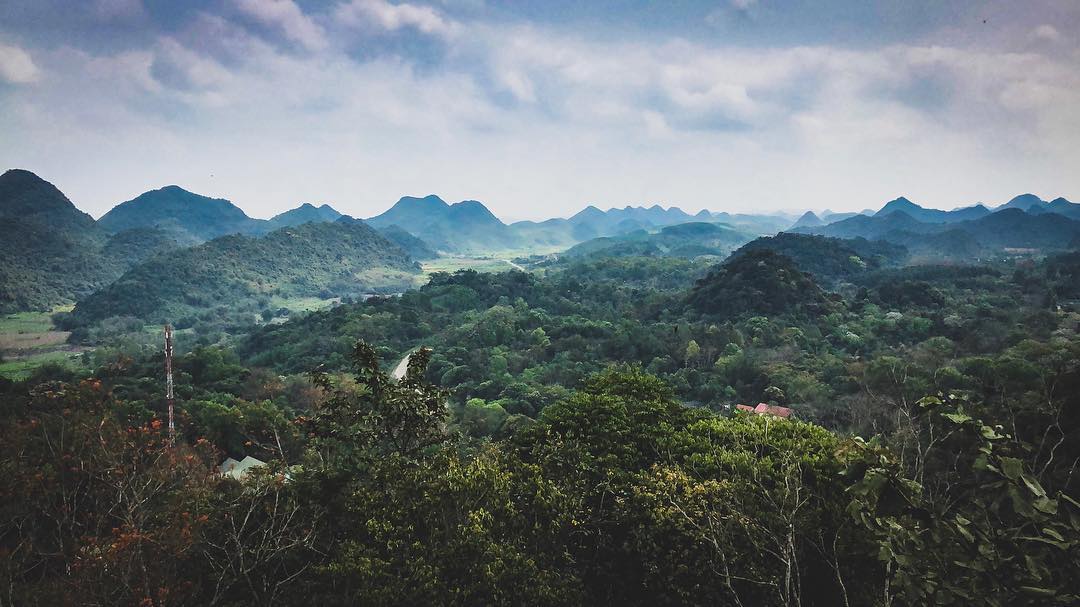 What to eat?
Visiting Ninh Binh, many visitors often wonder "what to eat?". In addition to beautiful scenery, this region is no shortage of delicious food to enjoy and explore. The hints below will give you the answer right away.
Ninh Binh Burned rice
Being one of the most famous specialties of Ninh Binh, burned rice always comes first in the list of dishes that you should try. Ninh Binh Burned rice is very attractive from the way of processing to sauces. It is made from cooked rice, then being soaked into hot oil pan until it turns yellow. Beef and pig's heart and kidney are crushed into thin slices and mixed with spices and other ingredients. Then the mixture is well-fried and put into the bowl.
Address: Duc De Restaurant (445 Nguyen Hue Street)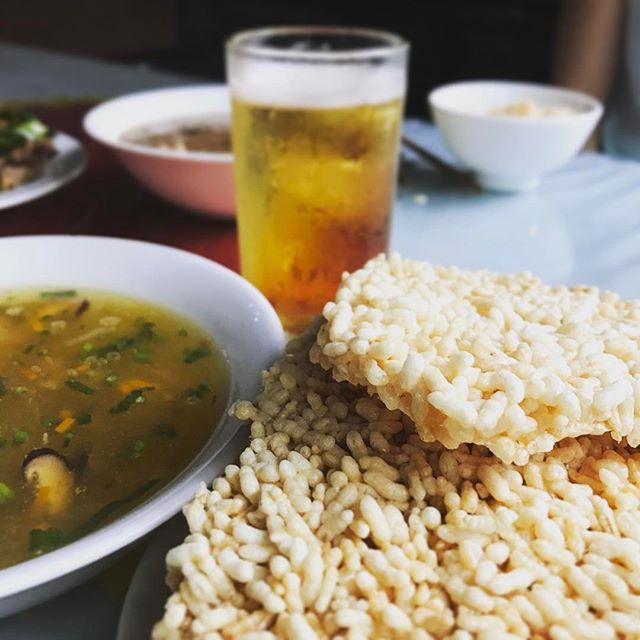 Ninh Binh Goat Meat
Goat meat is one of the dishes you must eat when going to Ninh Binh. With a variety of processing such as goat steamed, goat grilled, spring rolls ..., each dish has a unique appeal that you can not refuse. The sweet goat meal is carefully prepared and mixed with the typical spices and many fine herbs. This dish is so nutritious and delicious.
Address: Duc De Restaurant (445 Nguyen Hue Street)
Ninh Binh Eel Vermicelli (Mien luon)
The most delicious eel vermicelli is made by Mrs. Phan, whose family has a long-standing tradition of producing this dish. She carefully selects and processes the eels and vermicelli for diners. Another important ingredient of this dish is banana flowers which make the dish more special and delicious. Besides, there are also many other spices and additives like fish sauce, salted shrimp sauce, lemon, pepper, chilly and other fine herbs to be served with eel vermicelli.
Address: Mrs. Phan's restaurant (999 Tran Hung Dao Street)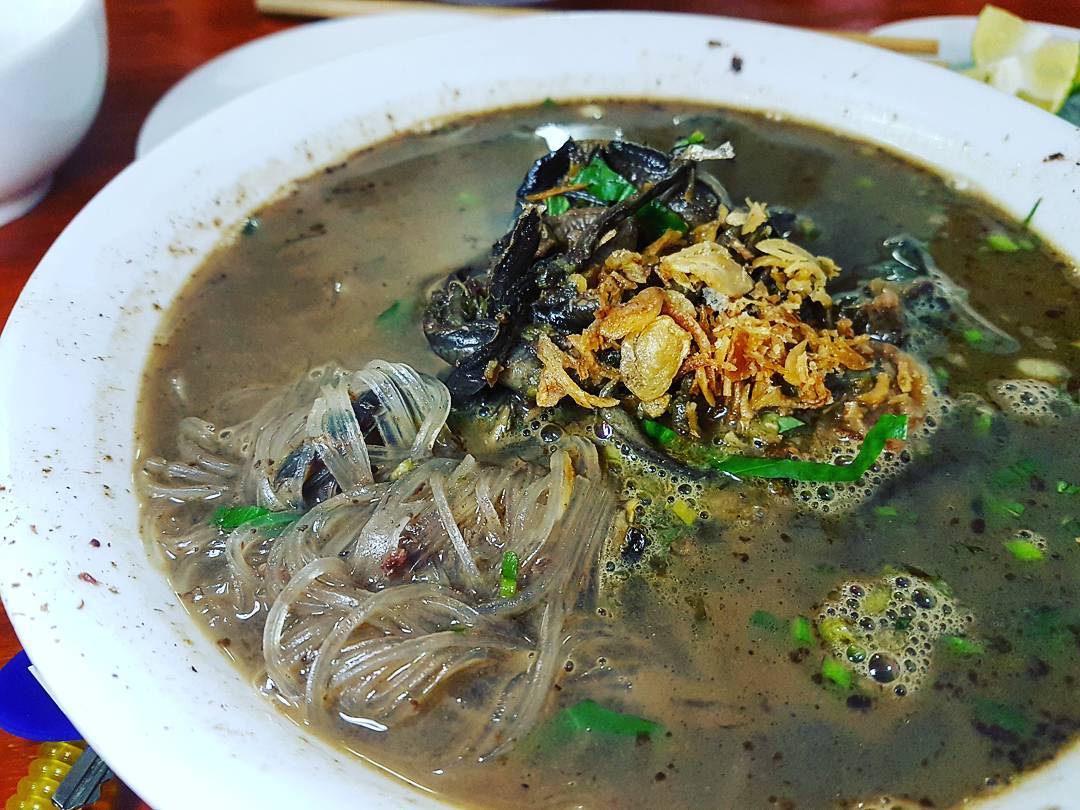 Discovering Ninh Binh in one day is not impossible. There are lots of interesting things to see and to explore, but just choose 2-3 attractions according to your preferences. If you know how to arrange the schedule appropriately, one day trip is not bad at all. If you have the chance to come back to Ninh Binh, try to stay longer to discover this great place more.