A complete guide to Banh Mi in Vietnam
You might have heard about the dish, but those are just small parts of the diverse world of Banh Mi.
You might have heard about the dish, but those are just small parts of the diverse world of Banh Mi. Coming to its homeland, it's worth a bit of your time exploring this signature one.
A brief look into the origin of Banh Mi
Banh Mi was a localization of the French baguette, brought into Ho Chi Minh City (Saigon) during the French colonization in the 19th century. As local people made the dish more accessible and convenient for the Vietnamese lifestyle, the original french baguette has become shorter in length, hollower and fluffier inside. Local people also change the fillings, using local ingredients and sauces that match local cuisine preferences.
Types of Banh Mi - the notable similarities and differences
In each region of Vietnam, Banh Mi tells different stories about locals' distinct flavor preferences, local agricultural plants, and animals. However, they all share similarities in terms of main ingredients and flavors.
Firstly, the signature shape and flavor of the crunchy small-size baguette. Often come in 20-30 cm length with a golden crispy outer layer accompanied by a white, soft inner layer of yeasty white bread, Banh Mi delivers a satisfying textural feeling at the first bite.
Pate used in most Banh Mi within and outside Vietnam contributes to the unmistakable taste of the dish. The second alikeness is the signature flavor of unique Pate paste and the homemade mayonnaise sauce. This spread is made mainly from pork livers, while some variants are made from cow, chicken, or duck. Each vendor produces their pate with different recipes; thus, coming to Vietnam is an opportunity to explore your favorite ones.
Mayonnaise is also added for the creamy mouthfeel of the bite, making a perfect flavor addition to pate.
The third similarity is the taste of herbs and vegetables alongside the main fillings. Some local herbs such as Vietnamese basil, cilantro, spring onion, pickled carrot and radish, mint, and cucumber always be added for a more nutritious and flavor-balance loaf of Banh Mi.
The significant difference is the fillings. Some are more popular than others in different regions. However, most are available national-wide. It's up to you to try and pick your favorite one. Here are the top choices of Banh Mi fillings to consider:
Banh Mi Thit Nguoi (Coldcut)
This bread is stuffed with cold cuts ham and sausages with a generous splash of soy sauce alongside pate, mayonnaise, vegetable, herbs, and spices such as black pepper, red chili, or chili oil.
Banh Mi Thit Nguoi is available worldwide and nationally; however, it's more popular in the North and Southern region of Vietnam (Hanoi, Ho Chi Minh City).
---
Banh Mi Heo Quay (Grilled Pork)
Instead of cold ingredients, this bread is filled with freshly grilled pork patties. The other components are almost identical to the Coldcut ones.
---
Banh Mi Op La (Omlette)
There are two versions of the omelet Banh Mi; the first one is ordinary omelet fillings with other ingredients like other types of Banh Mi. The second type is pan-omelet served separately with the Vietnamese baguette. They pan-fry the eggs with special sauce, sausages, and pate, topped with onion slices and green onion, then serve with small-size crunchy baguettes.
Banh Mi Xiu Mai (Pork Meat Balls)
This type of Banh Mi is widespread in Dalat and Ho Chi Minh City. The pork meatballs will firstly be fried, then cooked with chicken broth, species and herbs. It can be served separately in a bowl or filled inside the traditional Banh Mi style.
---
Banh mi Ga (Grilled shredded chicken)
Freshly grilled, hot, and yummy choice of protein for your Banh Mi, Banh Mi Ga is not as popular as others, but you can find it in big Banh Mi stores across the country.  
---
Banh Mi Bot Loc (Clear dumpling cake)
The one that is made only in central Vietnam. This one is topped with chewy precise dumpling cakes. The dumplings are filled with the traditional sweet, salty shrimp saute or cooked mung bean. This one is available in many vendors or large Banh mi stalls in Hue city.
---
Banh Mi Chay (Vegan)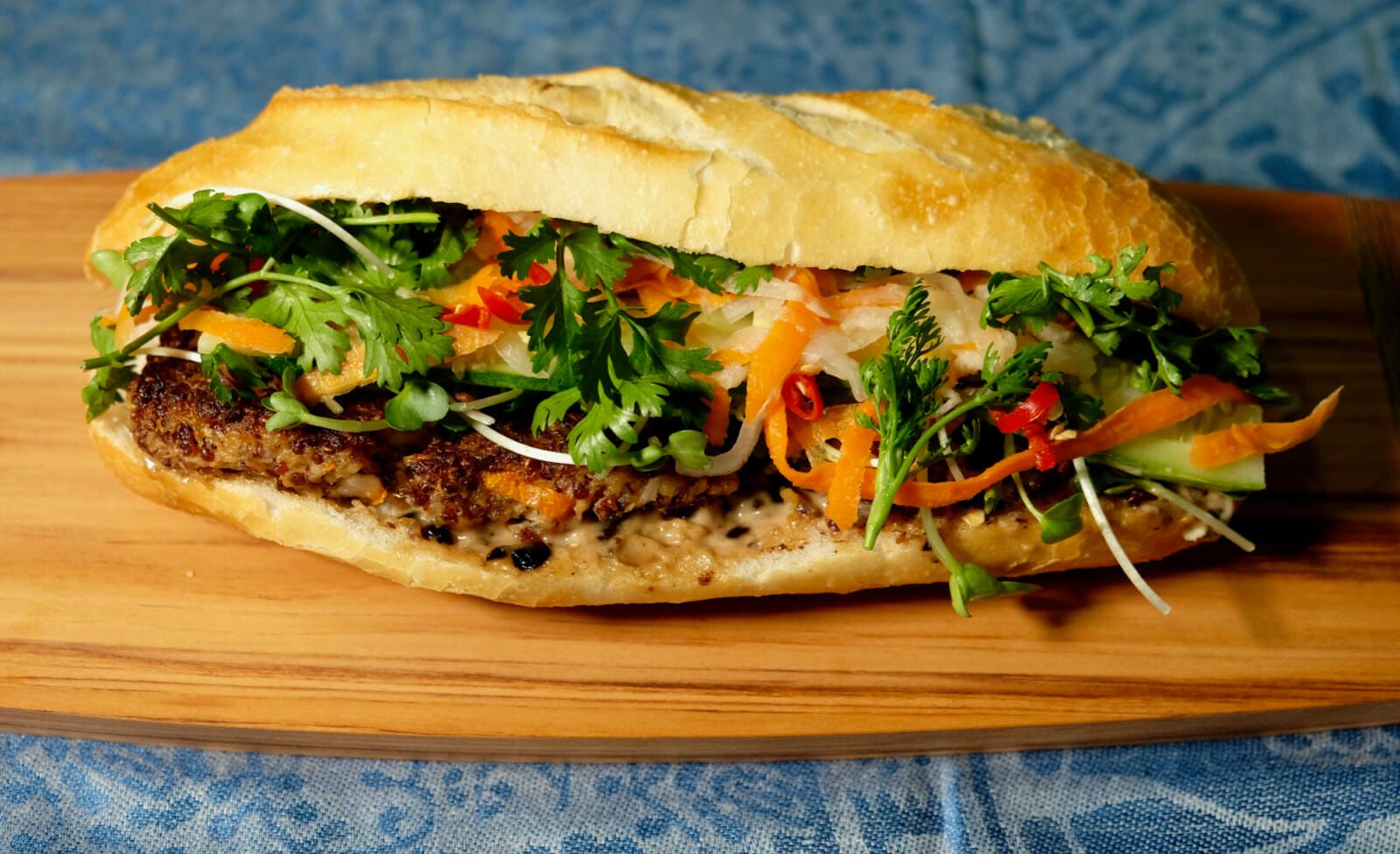 As Buddhism is a thriving religion in Vietnam, vegan options for Banh Mi are various. You can find mushroom banh mi, tofu banh mi, vegan meatloaf, or even vegan clear dumpling cake banh mi with the filling made from mung beans or saute mushroom with carrot.
Here are the most popular Banh Mi stalls:

Ho Chi Minh
Banh Mi Hoa Ma
It's one of the oldest Banh Mi in Vietnam, which offers various choices of fillings. They are famous for pan-fried Banh Mi, in which ingredients such as eggs, sausage, and meatloaf are fried together in a pan, then served with plain baguettes.
Opening time: 6 A.M - 11 A.M
Address: 53 Cao Thang, District 3
Price range: 30.000VND- 60.000 VND
Should try: Two fried eggs with assorted meat Banh Mi

Banh Mi Huynh Hoa
Banh Mi Huynh Hoa is located in central Ho Chi Minh City. It only serves take-away with a wide range of options. They are known for the signature hearty flavor and the significant portion of meat filling in each Banh Mi.
Opening time: 11 A.M - 9 P.M
Address: 26 Le Thi Rieng, District 1
Price range: 40.000VND- 60.000 VND
Should try: Coldcut Banh Mi
Hoi An
Banh Mi Phuong:
It lies among the first established Banh Mi stores in Hoi An and is rated as one of the world's best Banh Mi. The first impression of Banh mi here is a huge portion and a lot of fillings. Notice that there will be a long line of customers waiting!
Opening time: 6 A.M - 9:30 P.M
Address: 2b Phan Chu Trinh, Hoi An
Price range: 25.000VND- 30.000 VND
Should try: Bread Mixed
Madame Khanh
Madame Khanh is often known under the name Banh Mi Queen. The place offers various options of Banh Mi and a large portion of filling.
Opening time: 6:30 A.M - 7:30 P.M
Address: 115 Tran Cao Van, Hoi An
Price range: 20.000VND- 30.000 VND
Should try: Chicken Banh Mi
Da Nang:
Banh Mi Ba Lan
Hearty filling with special homemade pate, Banh Mi Ba Lan is beloved by locals and tourists in Da Nang. This store's unique option is Banh Mi Qu. This type of bread features a stick-like shape with the filling comprised of mayonnaise, spring onion, and salted shredded chicken or pork.
Opening time: 3 P.M- 10:30 P.M
Address: 62 Trung Nu Vuong, Hai Chau, Da Nang
Price range: 10.000VND- 25.000 VND
Should try: Banh Mi Ba Lan, Banh Mi Que
Hanoi
Banh Mi chao Cot dien
Similar to Banh Mi Hoa Ma in Ho Chi Minh City, this store offers the pan-fried style of Banh Mi.
Address:
Opening time: 8:30 A.M - 10 P.M
Address: 71 Dang Van Ngu, Dong Da, Ha Noi
403 Bach Mai, Bach Mai, Ha Noi
Price range: 25.000 VND - 50.000VND
Should try: Mixed Banh Mi
Banh Mi Pate Lan Ong
Among the oldest Banh Mi stalls in Ha Noi, the baguettes here are simple yet yummy, with the taste of traditional flavors.
Opening time: 8:30 A.M to 10P.M
Address:  03 locations in Hoan Kiem District, Hanoi
Price range: 30.000 VND - 55.000VND
Should try: Banh Mi Pate Lan Ong
Enjoy your Banh Mi's exploring in Vietnam!