6 must-visit local markets in Saigon
For first time visitors, the Ben Thanh market is one of the most iconic bazaars in all of Vietnam. There are plenty of other impressive Saigon markets that are just as noteworthy, however, and they are filled with unique finds, exciting history and fascinating local people manning their shops. Here, the six most noteworthy markets to visit when travelling to Ho Chi Minh City.
Ben Thanh market
The Ben Thanh market was built by Brossard et Maupin. The Construction began in 1912 and finished in March of 1914. The official opening of the market kicked off with a three-day celebration in late March which consisted of fireworks, trucks carrying large bundles of flowers and over 100,000 people in attendance. Saigonese call this market the Saigon or New Market to distinguish it from the previous one that used to be here but was later destroyed. The market was named after its creator, Brossard et Maupin. https://www.instagram.com/p/BZ5wW2cF6Ts/ Ben Thanh market has four different gates that connect to various main streets. The main road is where the clock tower is found and is considered a symbol of Saigon. About 3,000 vendors are operating inside of the market, with both wholesale and retails shops found throughout. An abundance of food and fruits, household goods, handicrafts and premium brands are all found at this unique market. Vendors at the north gate (accessible from Le Thanh Ton Street) open at around 4 a.m. and sell fresh ingredients and fruits. The rest of the vendors start opening up at about 8-9 a.m. https://www.instagram.com/p/BZxMwvSBLBf/ Local tipsThe hotels and accommodation options around Ben Thanh market are always in high demand as they have easy access to many of the city's main attractions including the Notre Dame Cathedral, Opera House, Central Post Office, Bitexco Financial Towers and more. Be sure to book ahead of time.As most of the visitors to the market are tourists, the prices here are usually inflated two or three times the regular asking price. Prepare to haggle until you get an acceptable price.The earlier in the morning you visit, the better deal you will get. Sellers believe that the first customer of the day facilitates their sales for the rest of the day, thus making them more willing to lower the price to get their first customer. Sellers are also generally in better moods in the morning as they have yet to deal with an onslaught of customers.
Ben Thanh Night Market
The Ben Thanh night market is on two side streets of the Ben Thanh market: Phan Chau Trinh street and Phan Boi Chau street. Unlike the market during the day, this night market specialises in selling fashion accessories in addition to food. The majority of visitors to this market are travellers who enjoy discovering the nightlife and soaking in the shopping vibes of Ho Chi Minh City. It is an excellent place to stop and have a beer and experience the local drinking culture before enjoying a night out in the city. https://www.instagram.com/p/BRpZTxygx69/ Local tipsIf you do not want to drink here, there are plenty of venues selling alcoholic beverages at Bui Vien, which is within walking distance of the market.You may have a handful of students approach you while exploring the market. Do not fret, as they just want to practise their English with you. Feel free to refuse if you are not available.
Binh Tay market
Also known as the Great market by locals, the creation of Binh Tay market was only possible because of a large donation made by a Chinese businessman. He had but one condition on the market: he would be allowed to build homes around it and have his statue placed there after he passed away. The market was constructed using Western materials yet the architecture remains Eastern in style. https://www.instagram.com/p/BWxZ-ouBMFJ/ The market's central tower has four big clocks on four sides and two dragons facing one another. Four small observatories are found at the corners of the market and are all embellished with yin-yang roofs, making them feel open and airy. In the middle of the market, there is a significant yard with a statue of the owner and a brief history of the Binh Tay market.Binh Tay is the largest and oldest Saigon market. As a wholesale market, the price of the products here are quite low in comparison to other markets elsewhere. You can purchase almost everything here, but the most common items found are fresh ingredients, textiles, handicrafts and food. Significantly influenced by Chinese culture, favourite dishes here include Chinese-style roasted duck, Pha Lau (pig's organs), black chicken braised with Chinese medicine and fish curry. The market is open from 2 a.m. until 10 p.m. daily. In addition to sellers and locals, the market also attracts a large number of visitors who come to shop and admire the incredible architecture here. https://www.instagram.com/p/BWIG11_lbch/ Address: 57A Thap Muoi Street, Ward 2, District 6.Local tips:Chinese is the second most popular language in the market besides Vietnamese as the market is found in Chinatown. Knowing a few basic Chinese phrases gives you extra advantages while shopping.Visit the market early in the morning to see how vendors prepare and transport their products. It is indeed a once in a lifetime experience.
Tan Dinh market
Located within the central district and established over 100 years ago, Tan Dinh market is not only a market but also a historically significant area in the city. In the past, Tan Dinh market was the central shopping hub for high-class people. Because of this, the prices here remain a bit higher than most of the other markets on our list. The products are always the freshest and high in quality, however. https://www.instagram.com/p/BYimxFPDH0g/ The front gate is a unique mixture of East meets West design. The architecture is otherwise reasonably mundane. Like many other markets, Tan Dinh market sells fresh ingredients, apparel, fruits and household products. To the locals, Tan Dinh is known as the most prominent textile marketplace in the city, as textile materials can be purchased here at a very affordable price. Banh xeo, bun mam, crab soup, crab noodles, mixed fruits and especially the famous chicken sticky rice dishes are all ones you should try at least once at this remarkable market. https://www.instagram.com/p/BDAxC8UOeBt/ Address: 1 Nguyen Huu Cau street, District 1, Ho Chi Minh CityLocal tipsThe crab soup vendor here has been selling this dish for over two decades and remains one of the most delicious finds at the market. It is relatively expensive, but the taste is well worth the cost.Next to the crab soup vendor is a sweet soup vendor surrounded by low, plastic chairs. The vendor has been selling this soup here since the 1970s, and her sweet soups are incredibly delicious.
An Dong market
Although established much later than Ben Thanh market, this 60-year-old market is seemingly just as significant and noteworthy. Over 2,700 vendors sell a wide range of products here. The market is also known for its fashion products as commercial vendors provide goods to countless fashion boutiques in the city and bring many of the products here to sell. Several vendors sell authentic products by well-known brands, including Vera, Wacoal and more. The prices are so low because the products have come straight from the factory.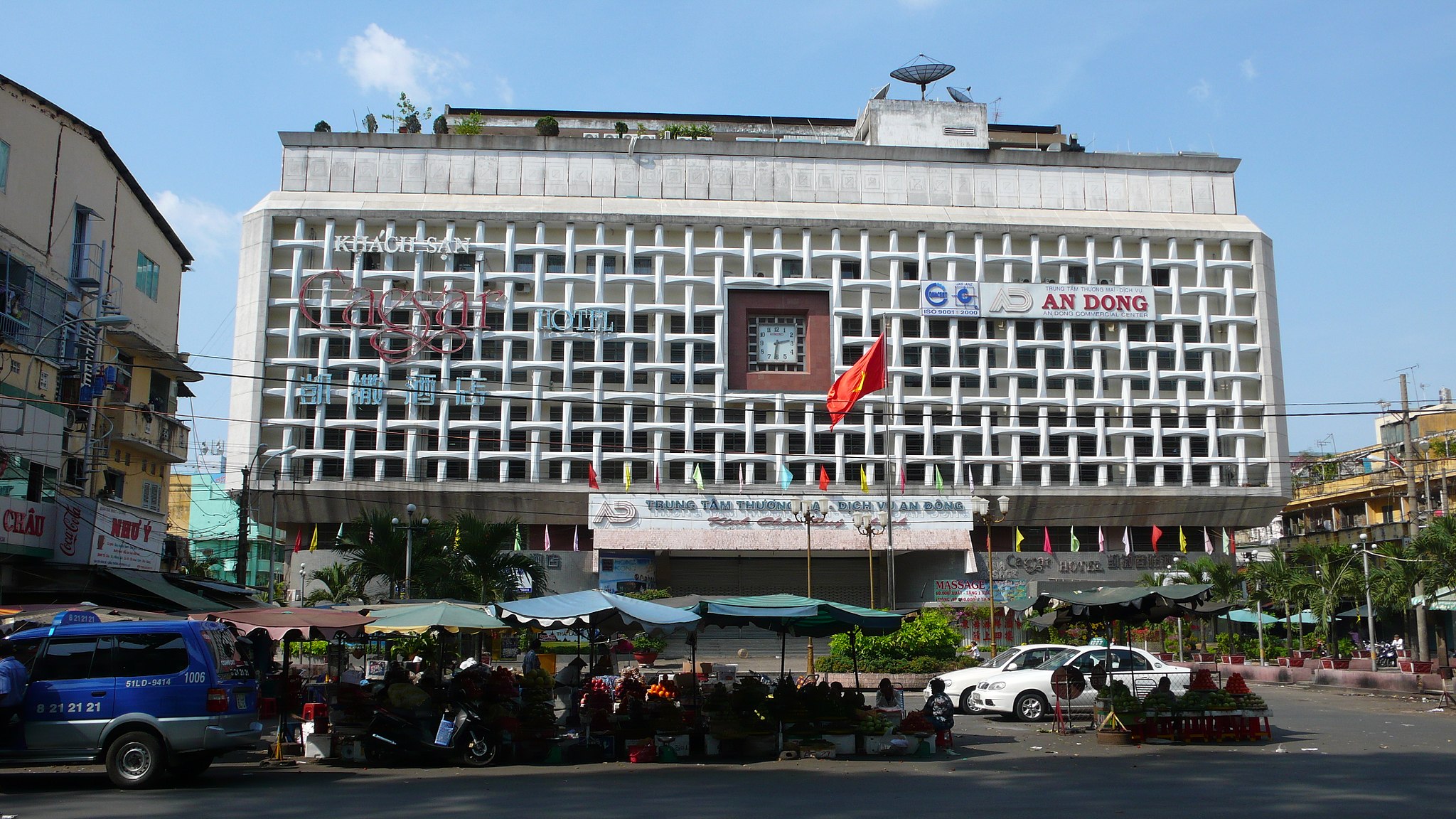 Address: 37-39 An Duong Vuong street, Ward 9, District 5.Local tipsIt is here visitors will find an abundance of Chinese, Vietnamese, Indian and Thai cuisine. Signature dishes at the market include Thai hot pots, crab noodle soup, goat curry, chicken noodle soup and more. There are also plenty of vegan options available, as well.
Ba Hoa market
The Ba Hoa market was named after a woman hailing from Quang Nam and was founded in 1967. The unique thing about the market is that the products are only available in Quang Nam. The people from Quang Nam feel like they are living in their hometown while exploring the market while visitors feel as though they are in an entirely different province altogether regarding culture and cuisine. Apart from purchasing fresh ingredients, visitors can taste the delicious Quang Nam dishes including Quang noodle, cracked grilled pancakes and more. https://www.instagram.com/p/BY9_GXljxUz/ Address: Tran Mai Ninh street, Ward 11, Tan Binh District, near the Tan Son Nhat Airport.Local tips:The sellers do not speak English, so it is better to venture to the market with a local.Want to explore Saigon markets with a local? Find one on Inspitrip.