5 vibrant floating markets in Vietnam you must visit
Delving into the world of floating markets in Vietnam is an unparalleled experience for travelers who truly want to explore and feel the vibrant atmosphere here. Floating markets have existed for hundreds of years and have become a vital part of the local life in the Mekong Delta. Known for its complex river system, the Mekong Delta waterway seems to never sleep with hundreds of boats floating along daily, making it one of the main attractions in South East Asia.
Visit Cai Rang Floating Market and Ben Tre Village
Go now!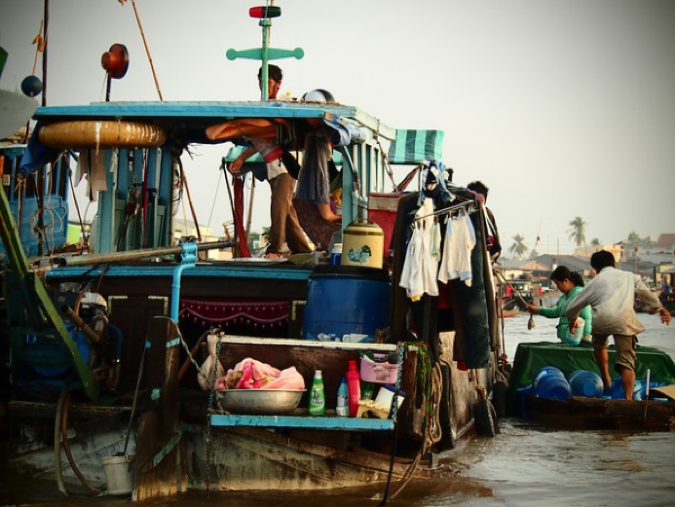 Rules of the floating markets in Vietnam
The unwritten rule for selling goods in the floating markets is to display the product on a lateral bar to let the customers know exactly what the merchant is selling. Nonetheless, there are a few exceptions:
"Hang but not for sale?"
For most market merchants, the boat is not only their stalls but also their residence. All daily activities for the people in the floating markets are often taken place inside a few square meters, including the hanging of their clothes. These clothes can sometimes be mistaken for merchandise, however, these clothes are not for sale.
"For sale but not hang?"
These are items are generally foods and drinks, which are available to buy, but it is very difficult to hang them so they are not displayed.
"Hang one but sell another?"
This happens when traders hang coconut leaves on the lateral bar to signal that they want to sell their boats.
Read more: Best 20 Things To Do in Mekong Delta Vietnam
Cai Be floating market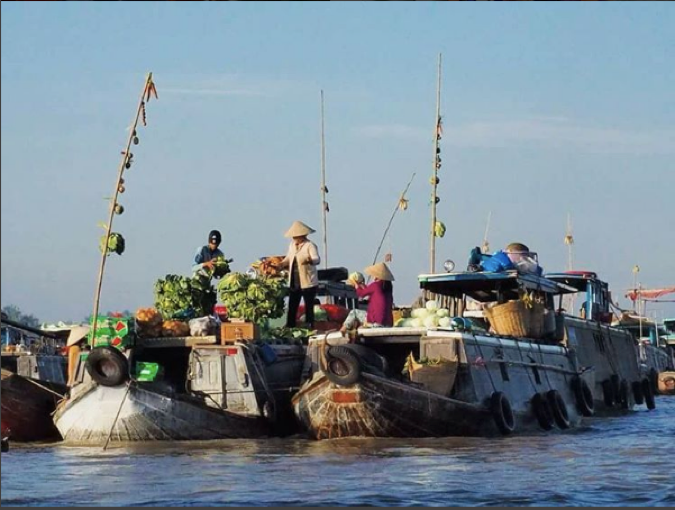 Cai Be floating market is located in Cai Be district, Tien Giang province – on the giant Tien river (one of the two main streams of Cuu Long river). This is a hub for transporting goods, fruits and seafoods to and from the Mekong Delta and the rest of Vietnam.  It remains a convenient choice for many foreign travelers due to its short distance from Ho Chi Minh city.
Unlike other floating markets in Vietnam which start early in the morning and therefore finish earlier, Cai Be market stays open until late, to accommodate for travelers who might not be as keen on mornings as the Vietnamese! Right from the first moment of sunrise, boats start gathering and kicking off their daily trading activities.
As the floating market is open all day long, you can easily visit whenever you like to witness the lively and vibrant atmosphere of a Southern styled market. If you're a photographer or simply love capturing moments, Cai Be is truly an endless source of inspiration to bring out unique ideas and images.
How to get there?
Location: Cai Be province is only about 80km away from Ho Chi Minh; City driving along 1A highway.
Transportation: You can book a private Cai Be floating market tour or taxis to go there from district 1. Once reaching Cai Be bridge, just ask local people, they are more than happy to show you the direction to the floating market.
Boat rental: Since Cai Rang is a tourist attraction, it offers lots of visiting methods to customers. You can either join a 2-hour tour on large boat with tour guide with $2/person or rent a private boat for group of 10 people with the price of $25.
Don't worry if the long distance from Ho Chi Minh city puts you off.
Check out now the best floating market tours from Ho Chi Minh at Inspitrip.com
Nga Bay floating market in Hau Giang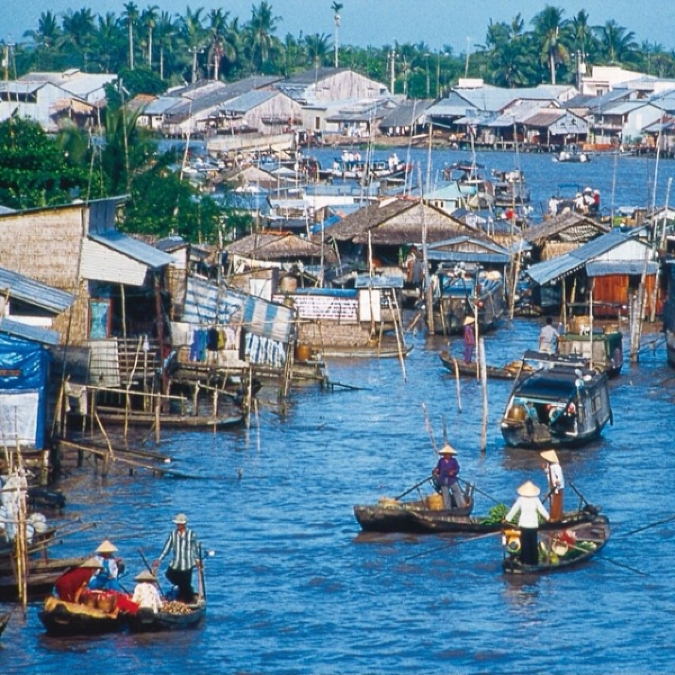 Nga Bay floating market, also known as Phung Hiep floating market opened in 1915 and since then it has been a key trading spot for the locals in Nga Bay town. This market is very popular for travelers who aspire to discover the rich and diverse culture of Mekong Delta.
In the morning, the whole market comes alive with color with vivid stacks of veggies, fruits, and other household goods. Interestingly, each boat here only sells one particular type of good which loosely hang on the lateral bar for promotion. The market also sells animals such as turtles, birds, and even lizards to supply the locals and tourists' demand. Goods sold here are occasionally transported nationwide and exported overseas.
If you ever had a chance to visit, do not forget to spend your early morning absorbing the whole atmosphere, floating across the river, sipping on your iced coffee, listening to a couple of folk songs and appreciating the colorful "ao ba ba" - the traditional southern Vietnamese garments. You will feel yourself blending into mixed crowds of locals who keep smiling yet never give up on bargaining.
How to get there?
Time to visit: The market normally starts at 7am so you need to stay overnight.
Location: Nga Bay district, 60km away from Can Tho.
Transportation: You can go to Can Tho by bus (it's about 4 hours long). You can buy the ticket at Phuong Trang bus office at 272 De Tham, District 1 or book online via https://futabus.vn. The one-way ticket costs about $5.5 and departs every 4-5 hours per day. Once you are in Can Tho, you can hire a private car or taxis to take you to Nga Bay province (about 30km from the city center).
Boat rental: The cost of hiring a rowboat is varied and depends on the number of passengers, so forming a group with other people with help reduce the cost.
Nga Nam market – Sóc Trăng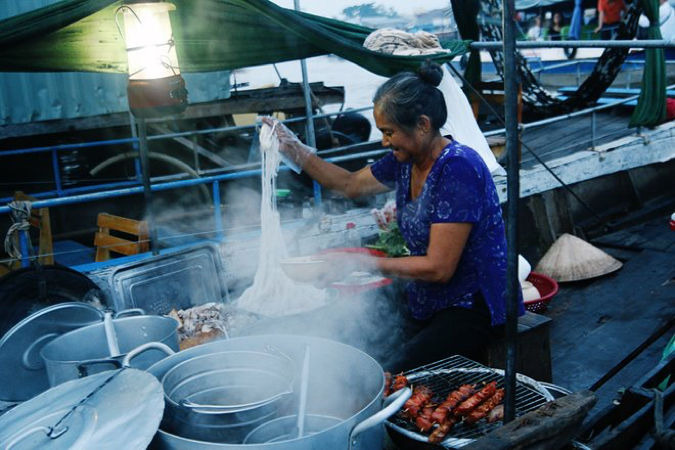 Nga Nam market, unsurprisingly, is located in Nga Nam town province, where five rivers, Ca Mau, Vinh Quoi, Long My, Thanh Tri and Phung Hiep interchange. Nga Nam market is famous for its hustle and bustle atmosphere that no other floating market in Vietnam can compare to.
If you visit Nga Nam market you can enjoy endless stretches of boats displaying their wide range of goods, with dangling cabbage, potato, tomato and garlic. Being the central market of the entire Mekong delta area, this market provides most of the goods and specialties from this region, from signature types of rice and tropical fruits to countless types of seafood, displaying the pure range of resource diversity the Mekong Delta has to offer. You will find it hard to resist temptation when approached by some southern merchants, offering their delightful fish noodle, rice soup or coffee.
Nga Nam floating market nowadays still retains the uniqueness of Mekong countryside as well as typical attributes that make it special such as "ao ba ba", sweet old folk songs and distinctive accent of Southern people.
How to get there?
Time to visit: Nga Nam market starts selling at 3am, peaks at 5am and dismisses at 8am, you should stay overnight.
Transportation: Bus is the most popular and convenient way to get to Nga Nam market, which costs between $8 - $9 for a one-way ticket. You will reach Ca Mau city center after 8 hours and then take another shuttle bus, which leaves every 20 minutes from Ca Mau bus station.
Boat rental: Renting a small boat will cost you $1 and will allow you to visit the whole market.
Other notice: You should head to Ca Mau province instead of Soc Trang for easier transportation.
Cai Rang floating market in Can Tho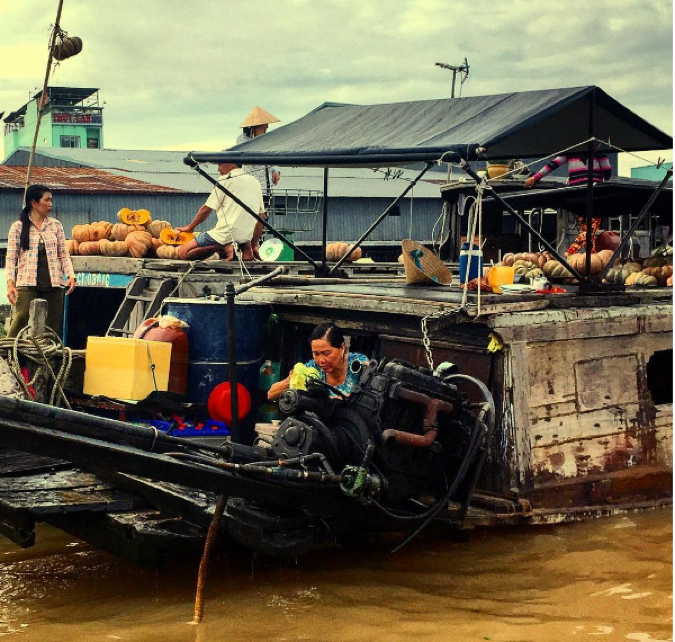 As one of the largest floating markets in Vietnam's Mekong Delta, Cai Rang, where around 350 boats sell a variety of fruits and vegetables among other things, attracts 500-700 tourists every day, most of them foreigners.
Cai Rang floating market is a big wholesale market and the must-see place for travelers when they visit Can Tho. The market starts at 5am and becomes crowded at 6am. Cai Rang is famous for being the largest fruit selling hub, specializing in exotic fruits such as Nam Roi grapefruit, Ving Long pink kiwi kumquat or Cai Mon durian. Similar to other floating markets produce from the local area are hung on top of a long bar to showcase and attract customers.
Full day tour discovering Cai Rang floating market in Can Tho
Book now!
Interestingly, you can have breakfast served on boats with plastic chairs available, which turns it into a makeshift restaurant. Although a typical breakfast in this area will consist mainly of dishes such as rice noodle and soups, if you wander around and explore further, you will have a lot of invitations to buy local traditional snacks from coconut-leaf-cake to corn or banana pancake.
While visiting Cai Rang market, you will become immersed in the true spirit of commercial water culture. All that remains for you to do is to enjoy the floating feeling, watch the sunrise behind boat roofs and get a feel for the busy local life.
How to get there?
Time to visit: Remember to set your alarm as the market starts at 5am
Transportation: The easiest way to get here is to take the bus from Ho Chi Minh City to Can Tho. You can book a one-way ticket at vexere.com with lots of bus choices, priced from $5. Once you are in Can Tho, Cai Rang is only 6km away from the city center and around 30 minutes by boat from Ninh Kieu station. You can also book an authentic Cai Rang floating market on Inspitrip now.
Boat rental: about $15 for a private boat to visit the market
Long Xuyen market – An Giang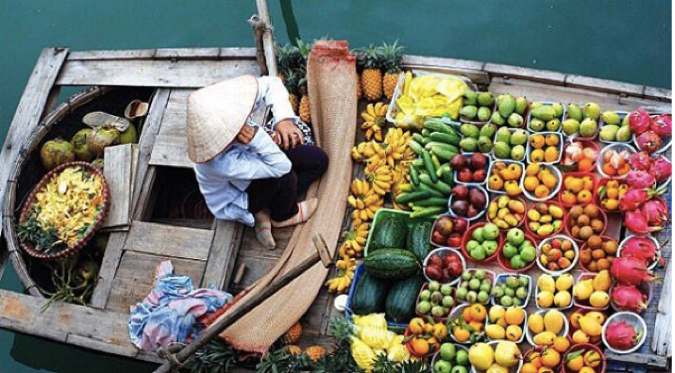 Long Xuyen floating market is a hidden gem, this market is one of the less popular floating markets in Vietnam, but definitely worth a try if you are in search of a place that gives off easy and genuine vibes of Mekong Delta's people and nature. The most popular local produce sold here are veggies, pickles, squash, sweet potato, fruits and typical West-Southern snacks as fish rice noodle, pig-skinned pieces or salad roll. Surprisingly, you cannot find a single person bargaining here since the market mostly serves local people and hardly commercialized.
How to get there?
Time to visit: Long Xuyen market is active from 6am to 6pm every day, so you should go early.
Location: The market is 2km away from Long Xuyen city, placed along the peaceful Hau river.