5 best rooftop bars in Ho Chi Minh City for a glamorous night with a view
If you want to enjoy Ho Chi Minh City night life at its best, don't forget to visit a rooftop bar, overlooking the vibrant city. These are great places to meet friends to share the views with. Here are our 5 go to rooftop bars in Ho Chi Minh City.
The Social Club & Pool Rooftop Bar
Located on level 24 of building 76 on Nguyen Thi Minh Khai street, this bar is a popular place for those who want to truly enjoy the view of Saigon at night, though the view can be just as good in the day. Although it's a bar, the music played here is quite soft and slow, which offers people a very romantic venue for date nights, formal meet ups or casual conversations.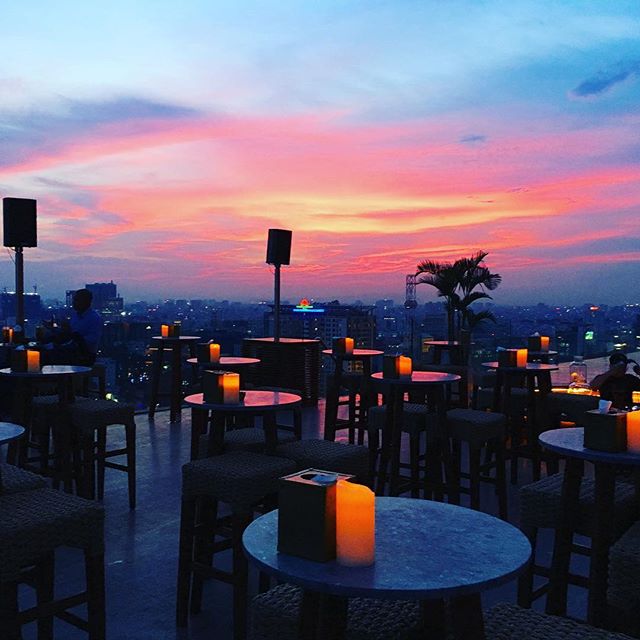 The highlight of The Social Club is its pool which runs vertically, a mini version the infamous SkyPark swimming in Singapore, so you will have the feeling of swimming in the air.
Broma not a Bar
Not at the height of a typical rooftop bar as people may expect, yet Broma not a Bar still offers a fascinating view of the city at night. Located at a prime venue on the incredible Nguyen Hue walking street, the bar is inherits the light from surrounding skyscrapers, which makes it beautiful and vibrant at night. Broma is also known a frequent gathering place of expats communities in town, hence, the price is a bit higher than some other rooftop bars.
A big plus of the bar is its diversity in terms of music, from House, EDM to Jazz, Latin. The upbeat music played in a open space will definitely lift your mood in a way you cannot expect. Sometimes, even the guests can contribute a few performances.
Shri Restaurant and Lounge
Being one of the first ever rooftop bars in Ho Chi Minh city, Shri today still remains in its dominating position and attracts huge numbers of visitors thanks to it central city view, which covers district 1 and 3, two most central districts. From the local perspective, the pure Western cuisine is its advantage that keeps the customers coming back. By pure, we mean it's original and authentic cooking, not the way which is adapted to fit with the local taste.
Caption: Western cuisine's performed by skillful chefs, who's hungry? Established in 2009, Shri once is a check in place to show off young people status thanks to its luxury, unique design and premium pricing. The cozy vibe is also ideal for a date night or firework gaze during the New Year celebrations.
One Plus Beer Club
One Plus is located on the roof of an iconic building of Ho Chi Minh City - the Saigon Trade Centre tower. This beer club is among the highest located of all beer clubs in the city and is able to offer a 360 view of the city from. On level 32, this open, windy and airy space of the club will help you relax and chill with beat.
Inside the bar, the guests are chilled out with dynamic performances from the top DJs, locally and internationally. One Plus can be named is one of the best places to enjoy the city from above with reasonable prices, as it mainly serves beer. The price range is between 250,000 - 300,000/person.
Chill Sky Bar
A veteran brand among the rooftop bars in Ho Chi Minh City, Chill Sky Bar is not only familiar with locals but also foreign visitors. Located on level 26 and 27 of AB tower (Le Lai street), next to the busiest roundabout of the city, this rooftop bars offers a fancy and luxurious design. The dress code in this establishment is quite formal so don't forget to dress up. From such a height, you may feel like the whole city is now all in your sight.
The reputation of Chill Sky Bar is not only because of its astonishing city view but also the high quality bartenders, whose cocktails are always on point and highly customized to your preference. The slots at Chill Sky Bar quickly sell out during weekends and special occasions. Especially, in order to get a place during New Year Eve, it's better to make your reservation at least one week in advance. During this period, the building can only can be accessed by walking as surrounding routes are blocked for firework shooting.