30 Best Luxury Hotels And Resorts In Nha Trang
Nha Trang is called the Riviera of the South China Sea because of the stunning turquoise sea, the crescent white sand, and rich marine lives. Besides enjoying the tranquility of the seaside in a resort, you can join some dynamic, fun water sport activities or savor fresh seafood in local markets. Giving yourself a vacation in a 5-star luxury Nha Trang hotel is a relaxing and enjoyable treat. Here are our top Nha Trang hotels and resorts list.
1. InterContinental Nha Trang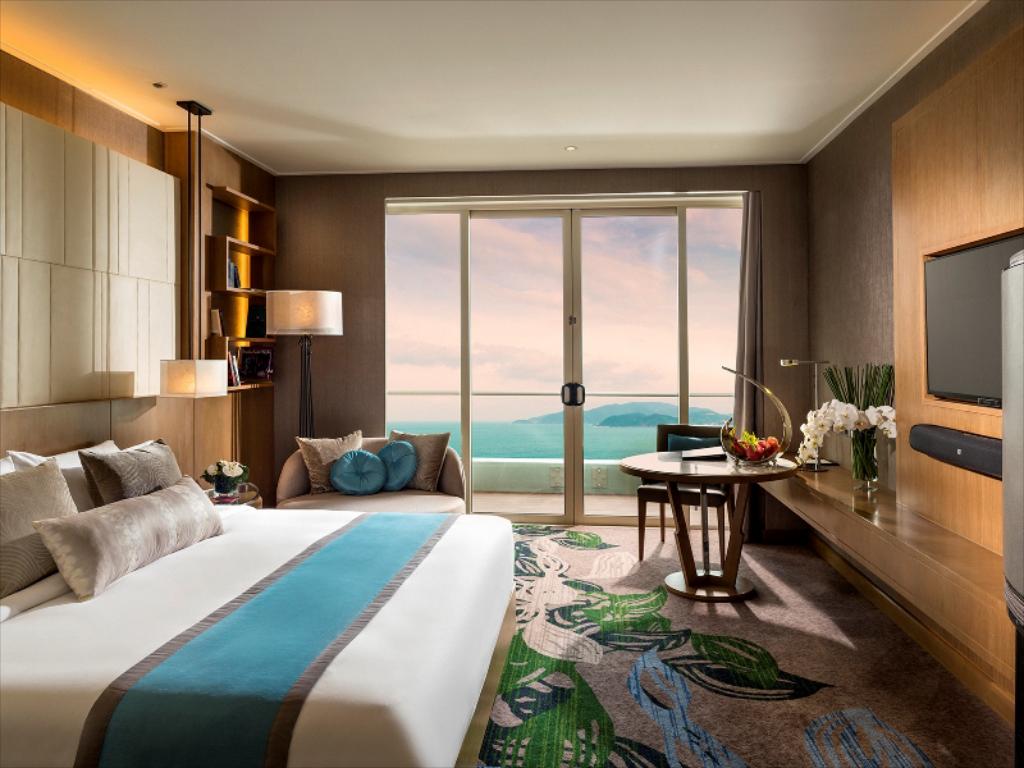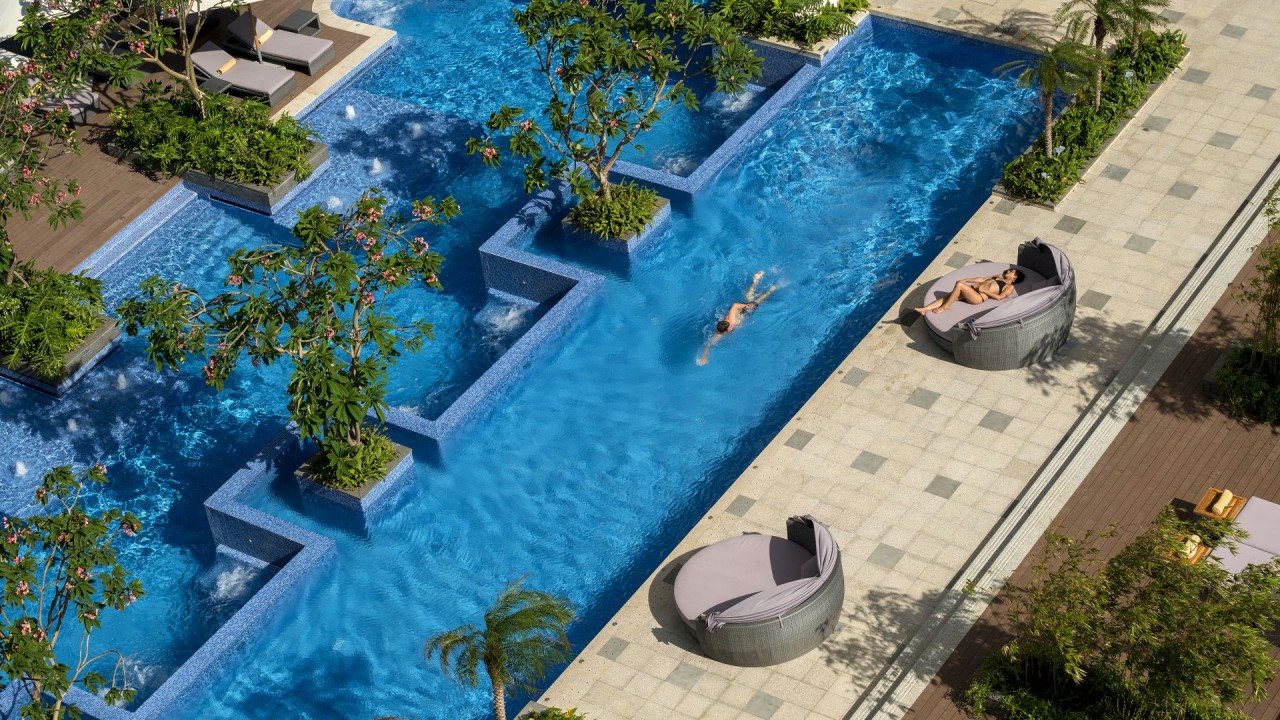 Located in the heart of Nha Trang, InterContinental resort has 279 superb, luxury rooms and suites decorated with a contemporary style and equipped with modern facilities. The ultimate comfort from the hotel's signature mattress and extra-soft pillows bring you a true retreat.
Awake all your senses by the Kinpaku session from Vietnamese well-trained therapists in the spa. If you want to take your family for a vacation, Intercontinental Nha Trang hotel will be the best choice because of the Kid's club and colorful bunk beds for the children.
2. Evason Ana Mandara Nha Trang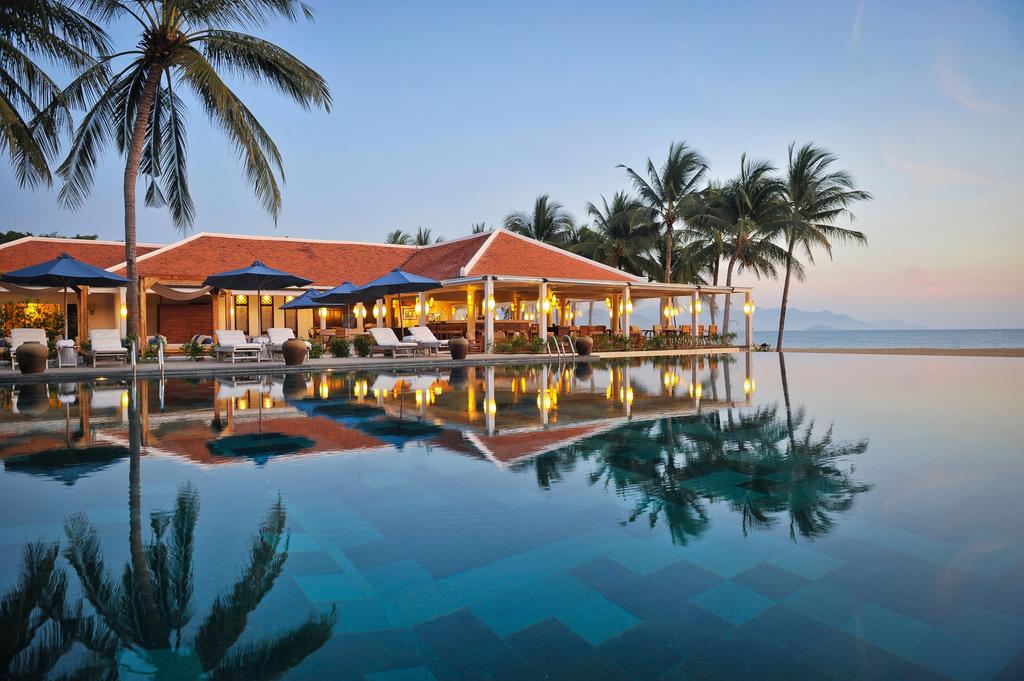 Evason Ana Mandara Nha Trang belongs to the world-class Six Senses Group, is the only beachfront resort in Nha Trang. When you enter this Nha Trang hotel, you will feel like traveling to a Vietnamese seaside village by its classic and traditional design.
Pampering and having a body detox by a massage session from the local experts. Another great way to discover this beautiful island is to enjoy mouthwatering and flavorful fresh local seafood.
3. Mia Resort Nha Trang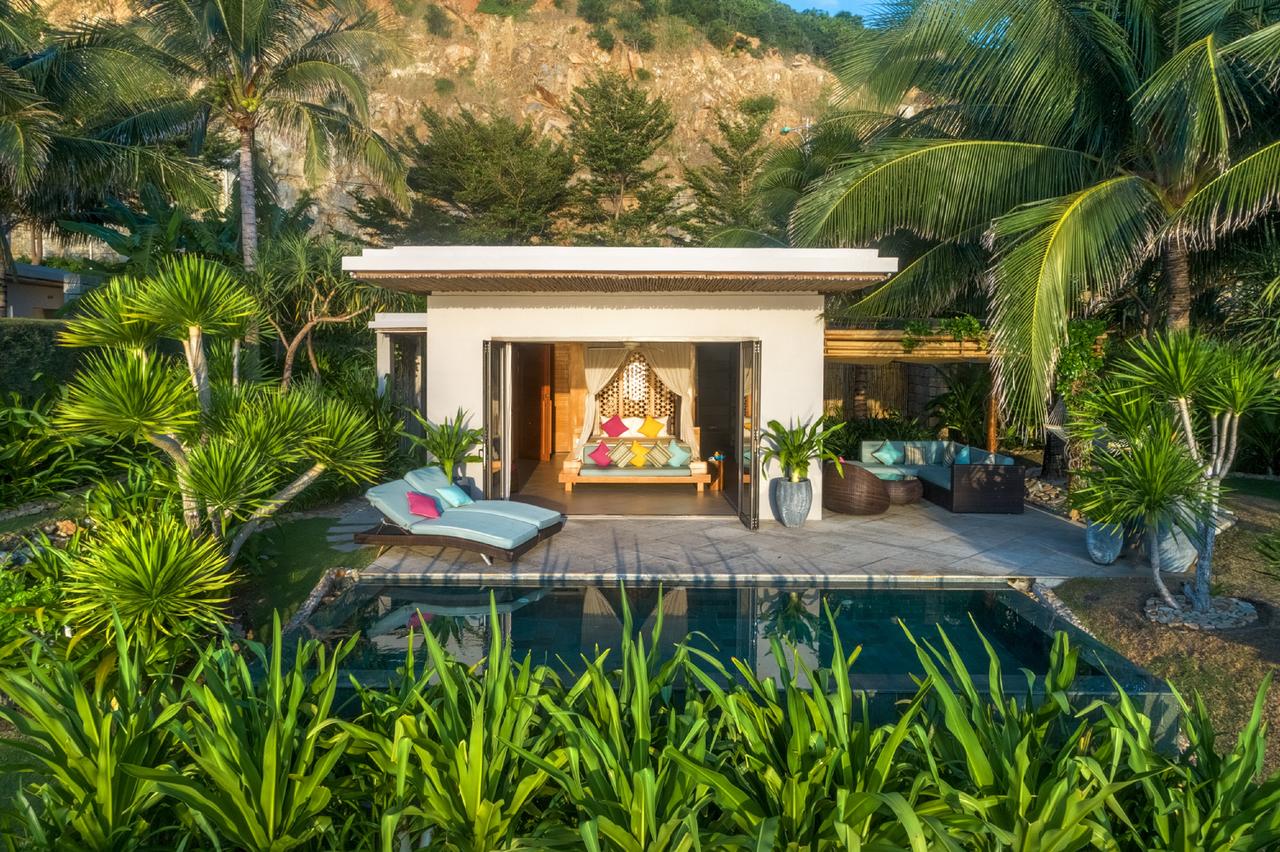 Mia Resort is a perfect Nha Trang hotel for couples with the exquisite modern design and surrounded by the forest and mountain. There's no better place to get closer to nature than sitting in the pool yard and watching the sunset.
4. Amiana Resort and Villas Nha Trang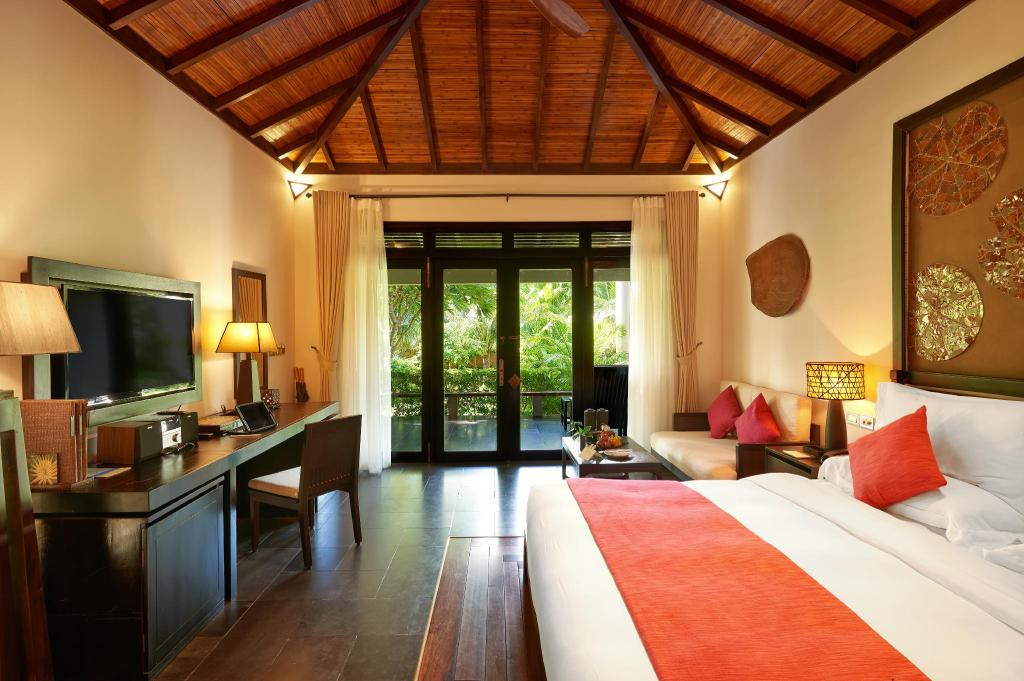 Leaned on the sweeping Nha Trang Bay, Amiana Resort and Villas is a surpassing destination with stunning extra-large infinity pools. The guest rooms are designed with a sense of traditional Bat Trang-inspired. You can find stuff such as tea sets or construction materials made from local bamboo and natural stones.
5. Sheraton Nha Trang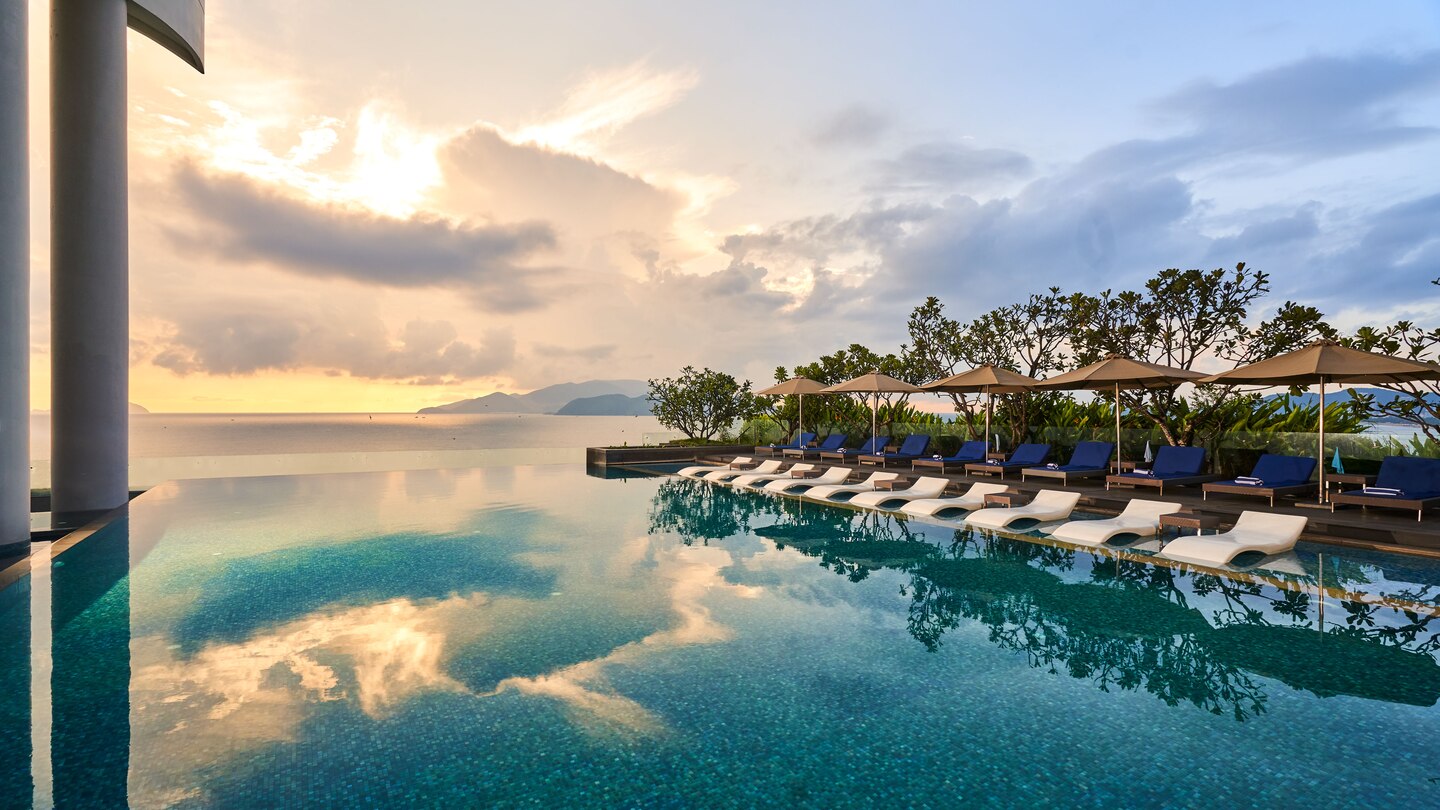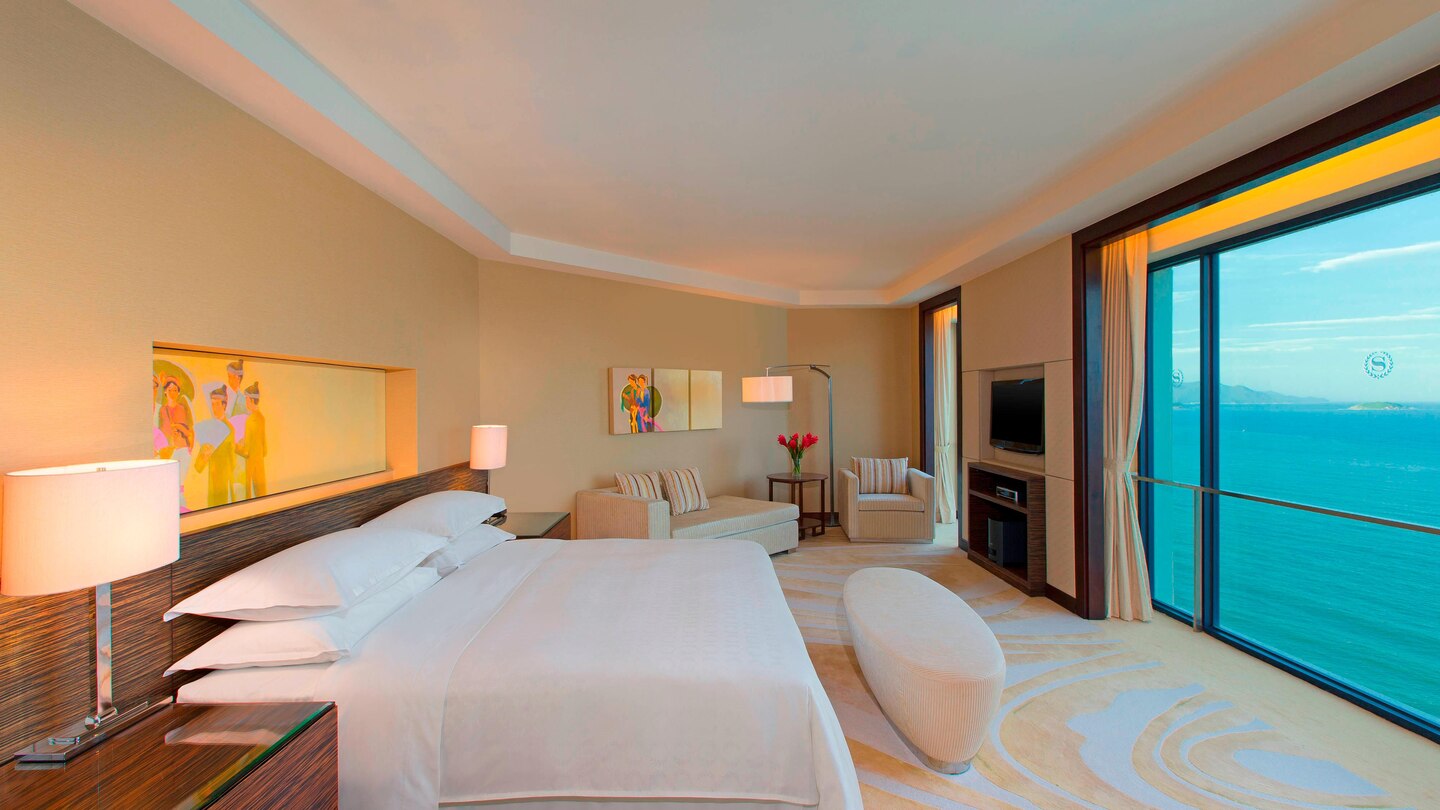 5-star Sheraton Nha Trang hotel creates the unique, exclusive infinity pool with a panoramic view of Nha Trang Bay. Every room, even the fitness, and spa area features large windows to give you a view of the spectacular, stunning landscape outside.
6. Amanoi Ninh Thuan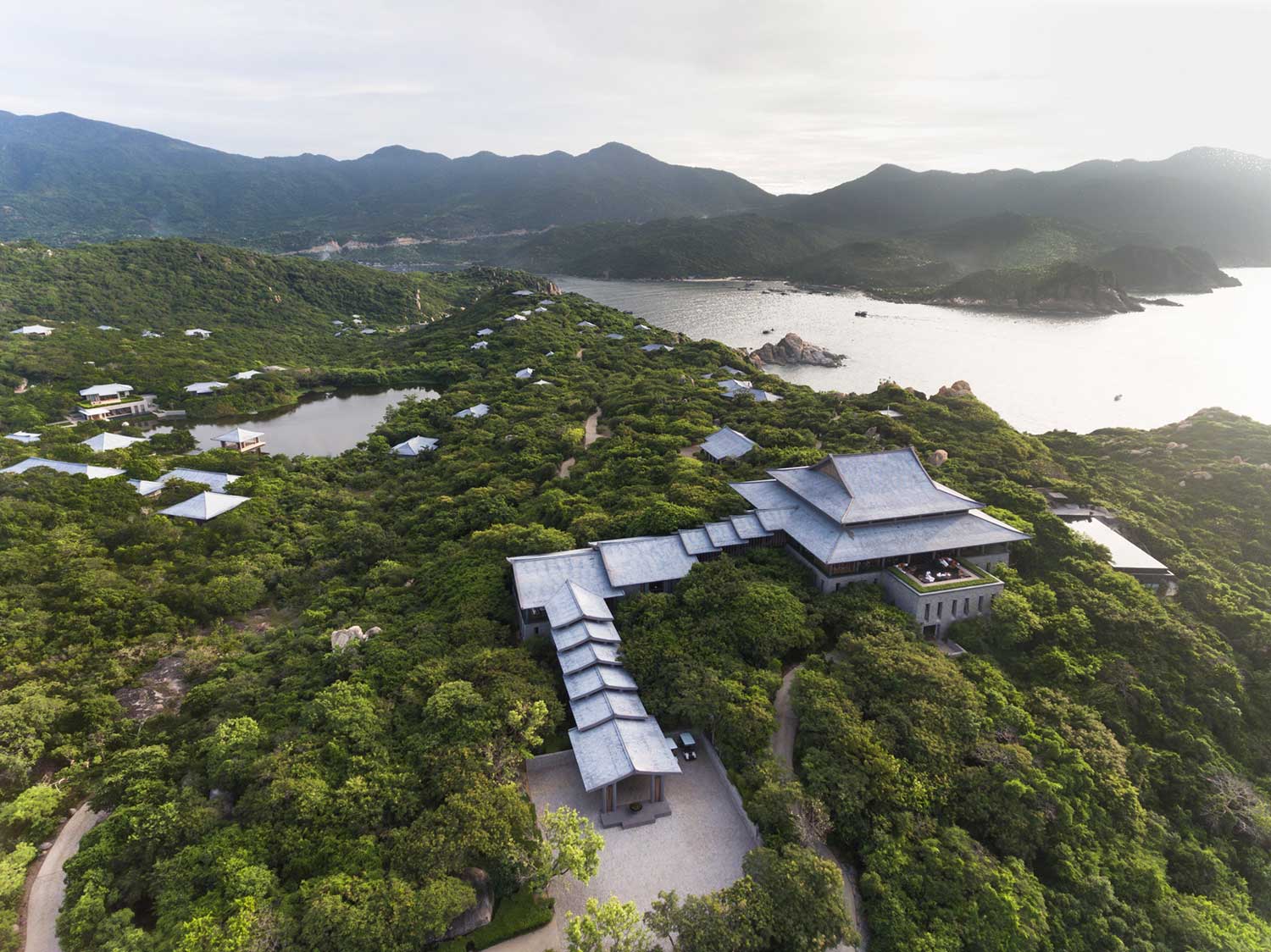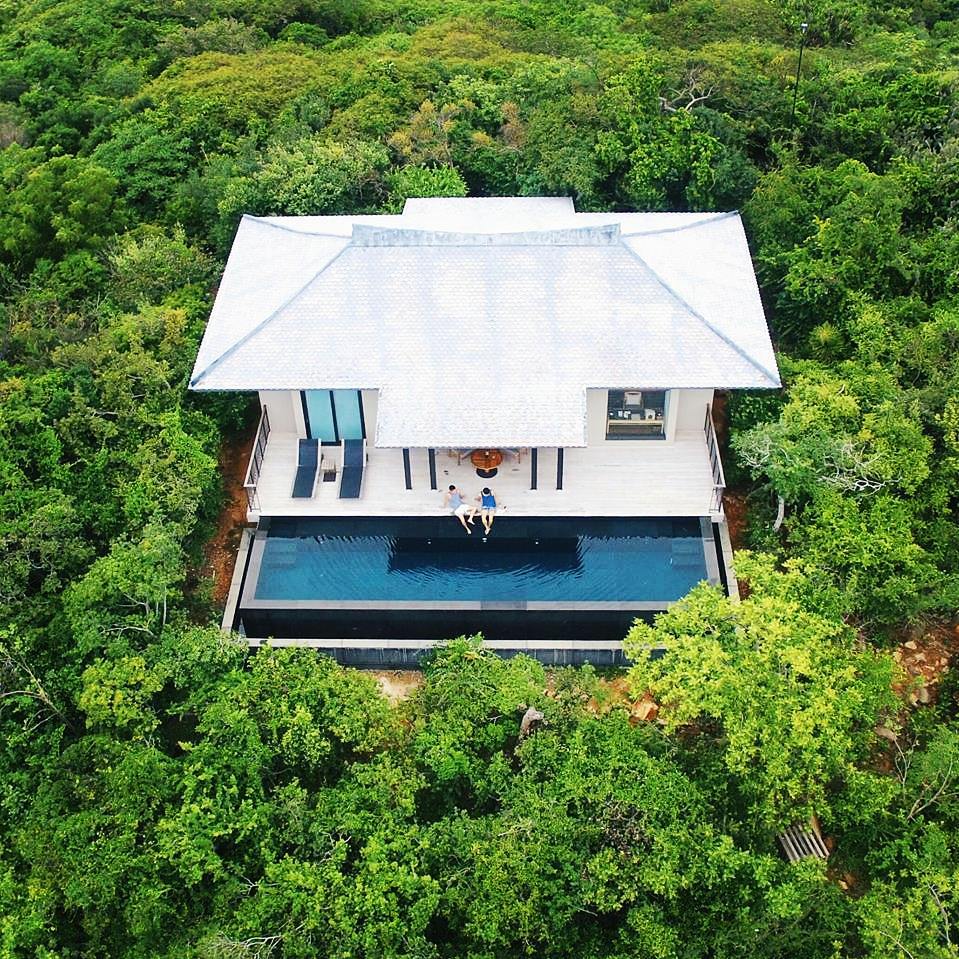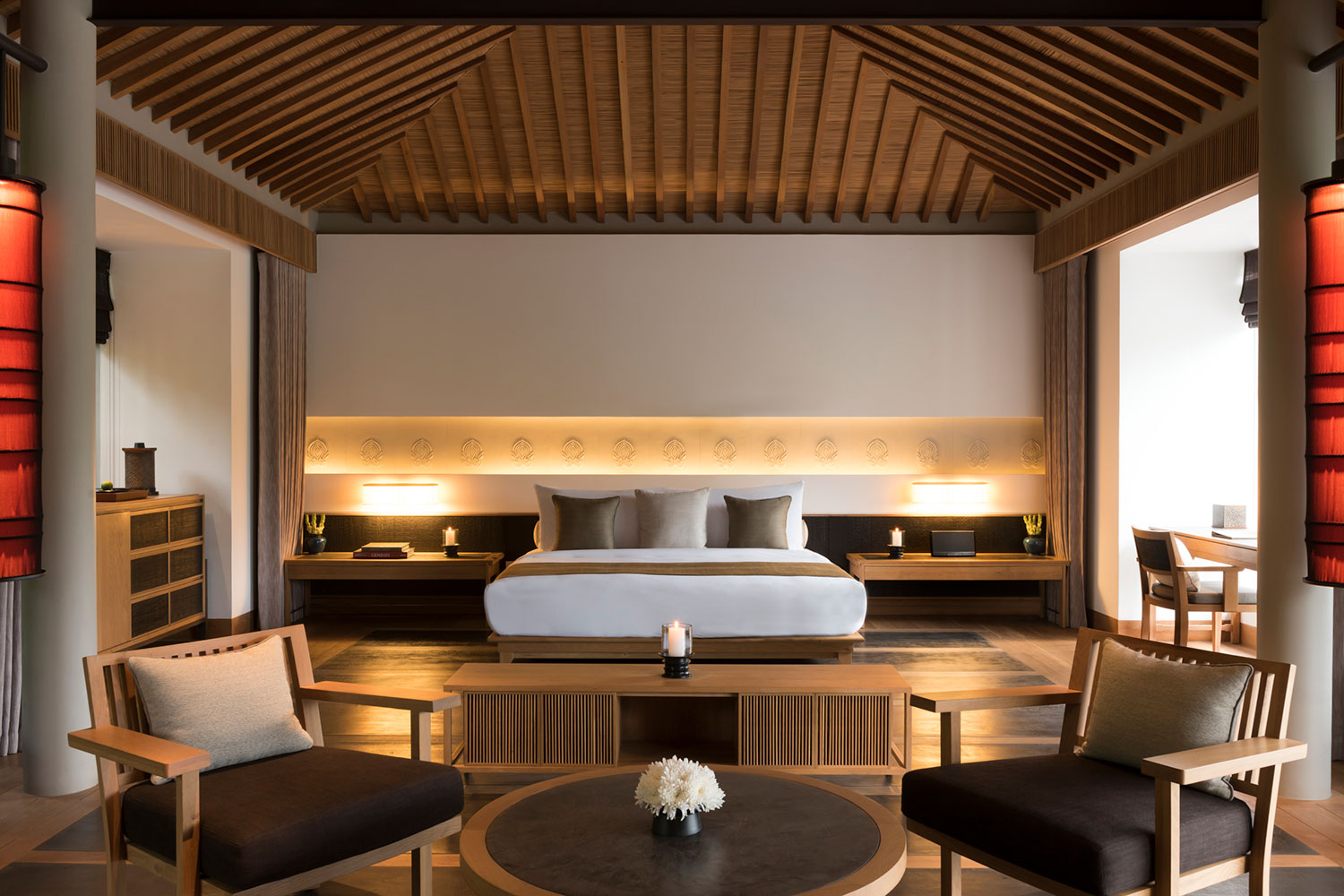 The 6-star hotel Amanoi is an exceptional resort just 20 minutes from Cam Ranh airport. It doesn't stand out but delicately merges into serene nature around. Focusing on wellness is their key point to bring guests special joy and retreat. The resort is made from natural materials with a subtle and elegant style to bring you a superb retreat experience.
7. Six Senses Ninh Van Bay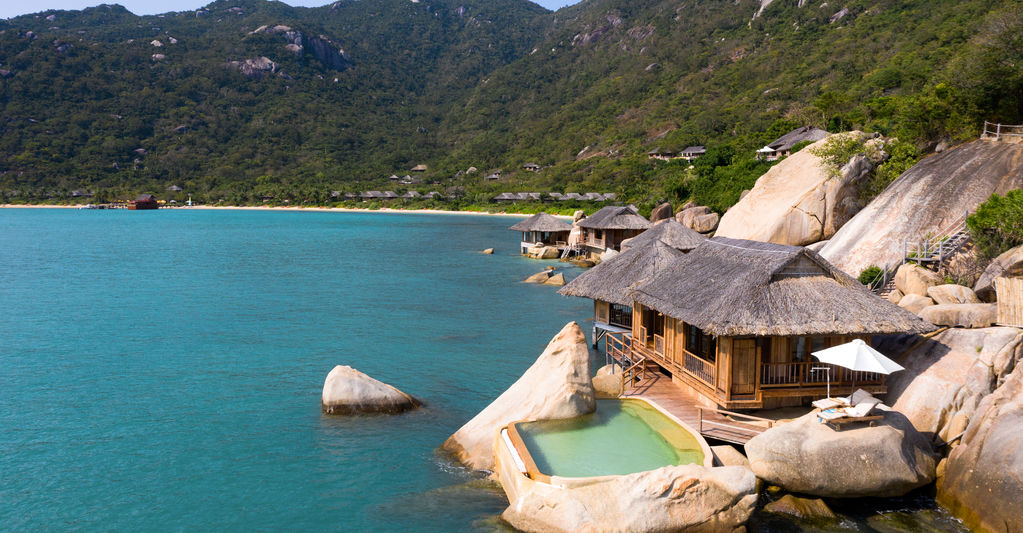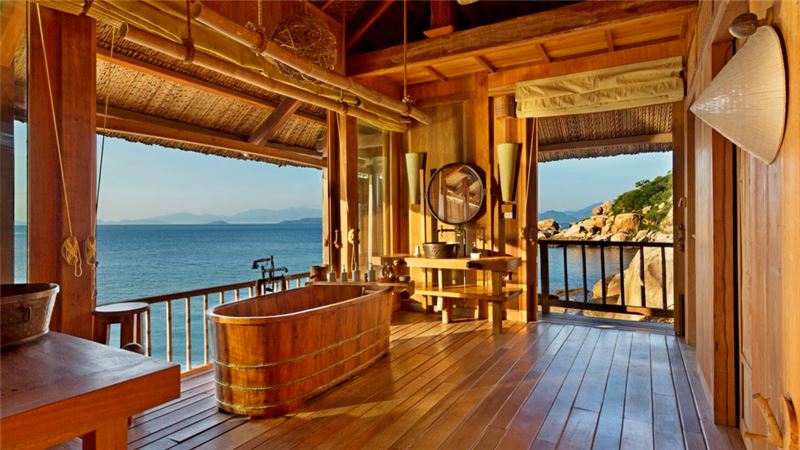 Do you think of staying at a resort floating among the turquoise beach and the rocks? You can experience Six Senses Ninh Van Bay, a 5-star unique hotspot that leverages your kind of retreat. This resort uses natural woods and bamboo to create and make interior while offering guests world-class services.
8. Fusion Resort Nha Trang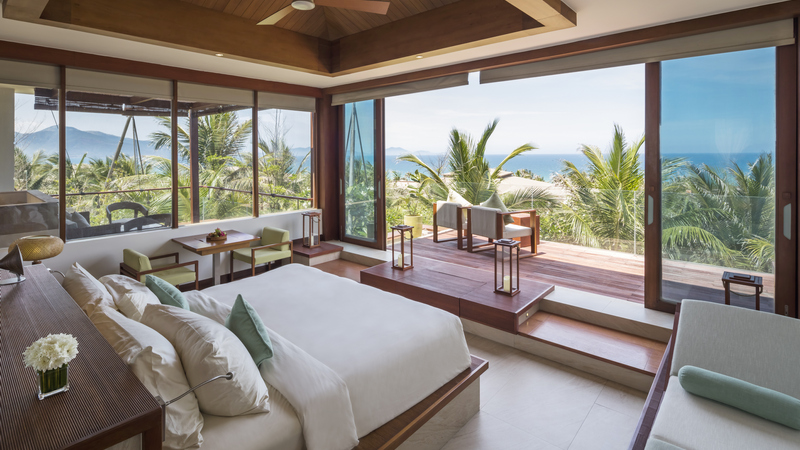 Located in a high dune, Fusion Resort Nha Trang gives you an unlimited view of the spectacular stunning ocean. The beachfront villas feature en-suite bathrooms and private pools decorated in a modern, elegant style. You are also offered two special treatments per night including healing massage, facial & body scrub, and yoga, tai chi & qi gong sessions.
9. Vesna Hotel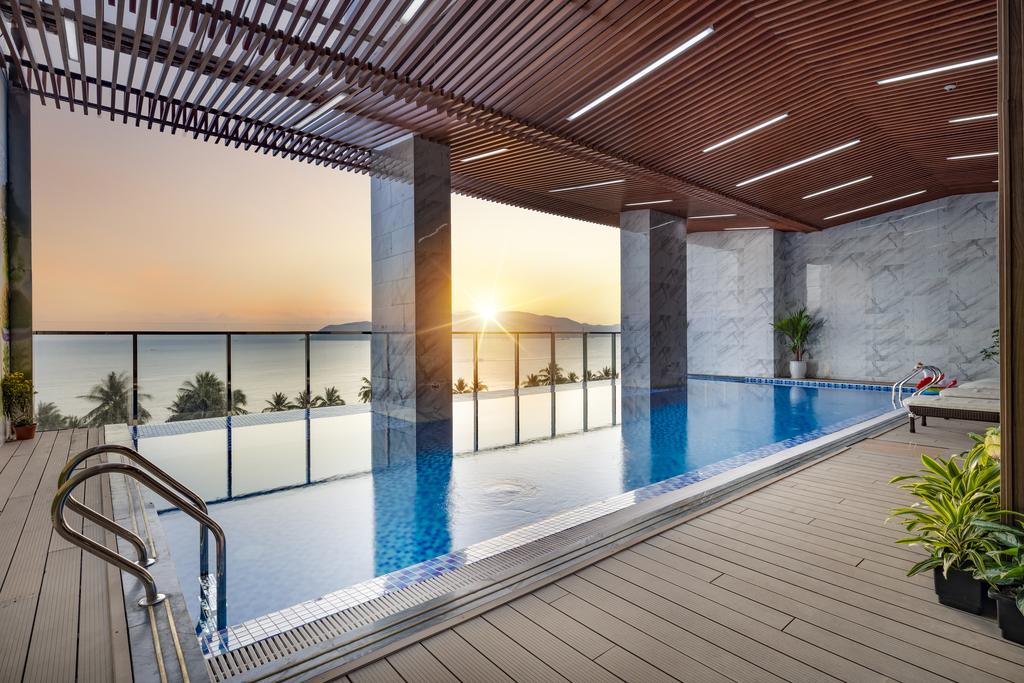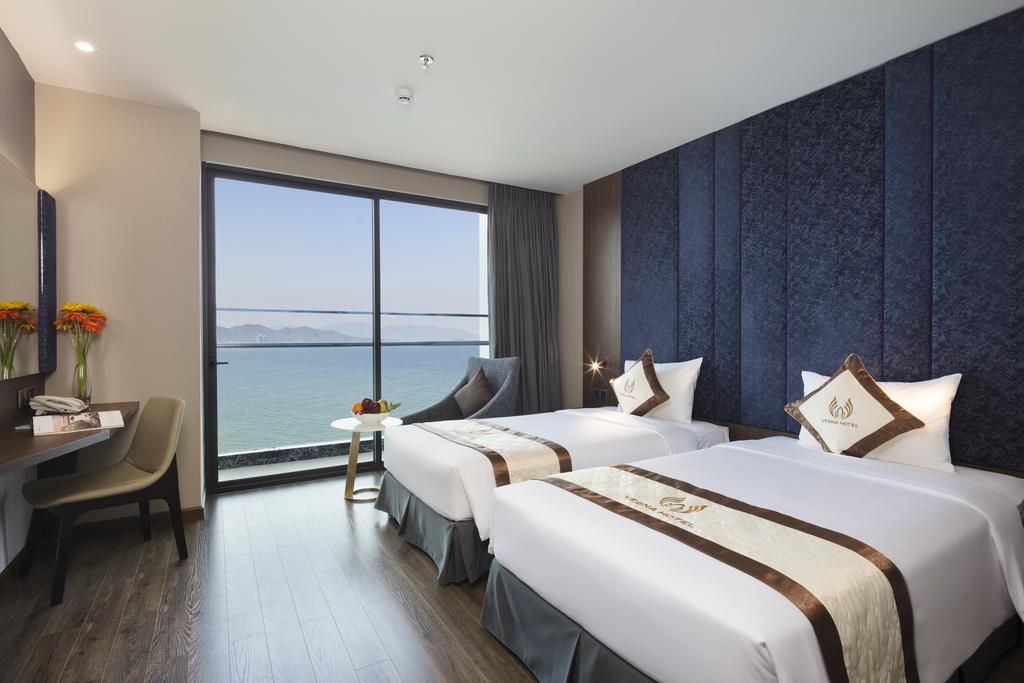 Vesna Nha Trang Hotel is a perfect destination for both couples and families because of the abundant, high-class services. You can have a relaxing time in the soft king bed and enjoy fresh cocktails from skilled bartenders at the pool bar. If you want to have free time in the spa or gym, you can take your kids to the Kids club to give them a wonderful playtime.
10. The Anam Resort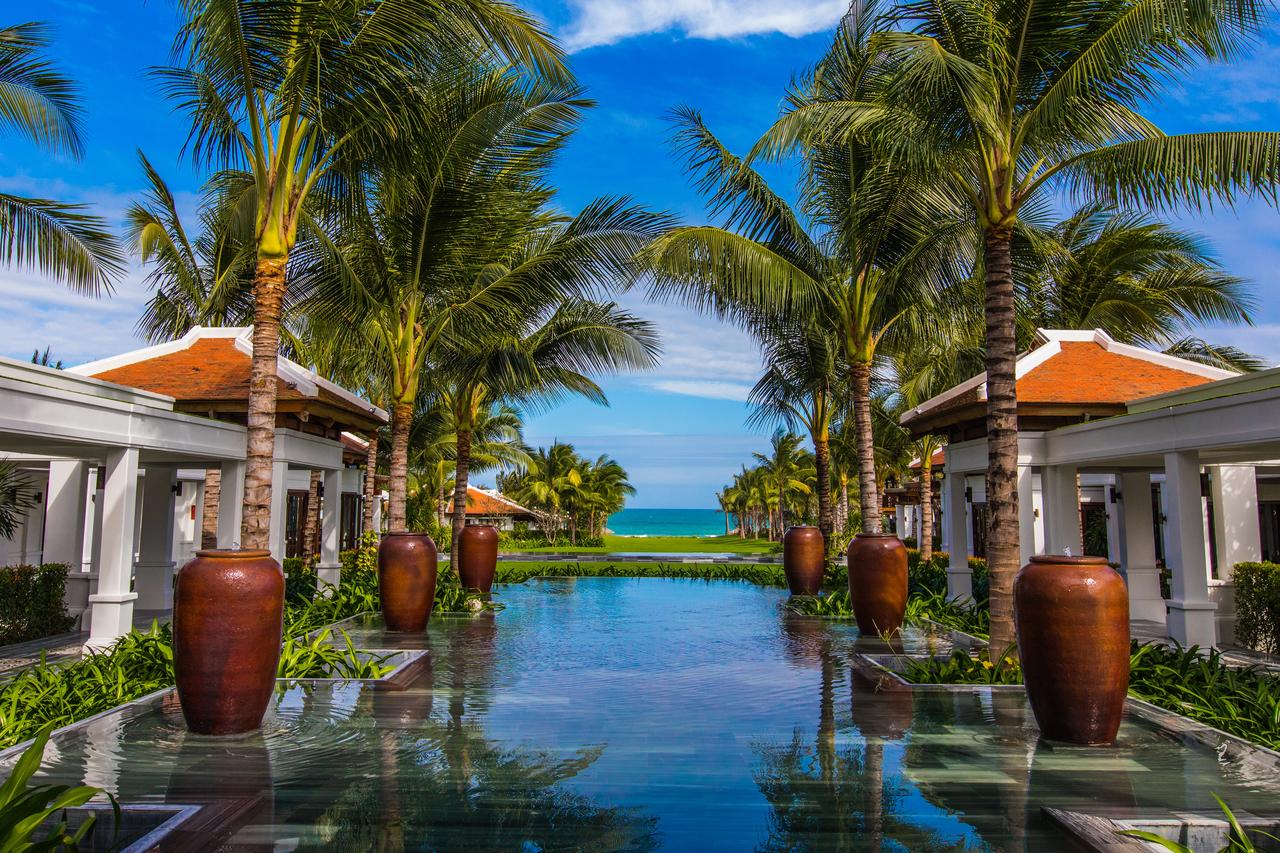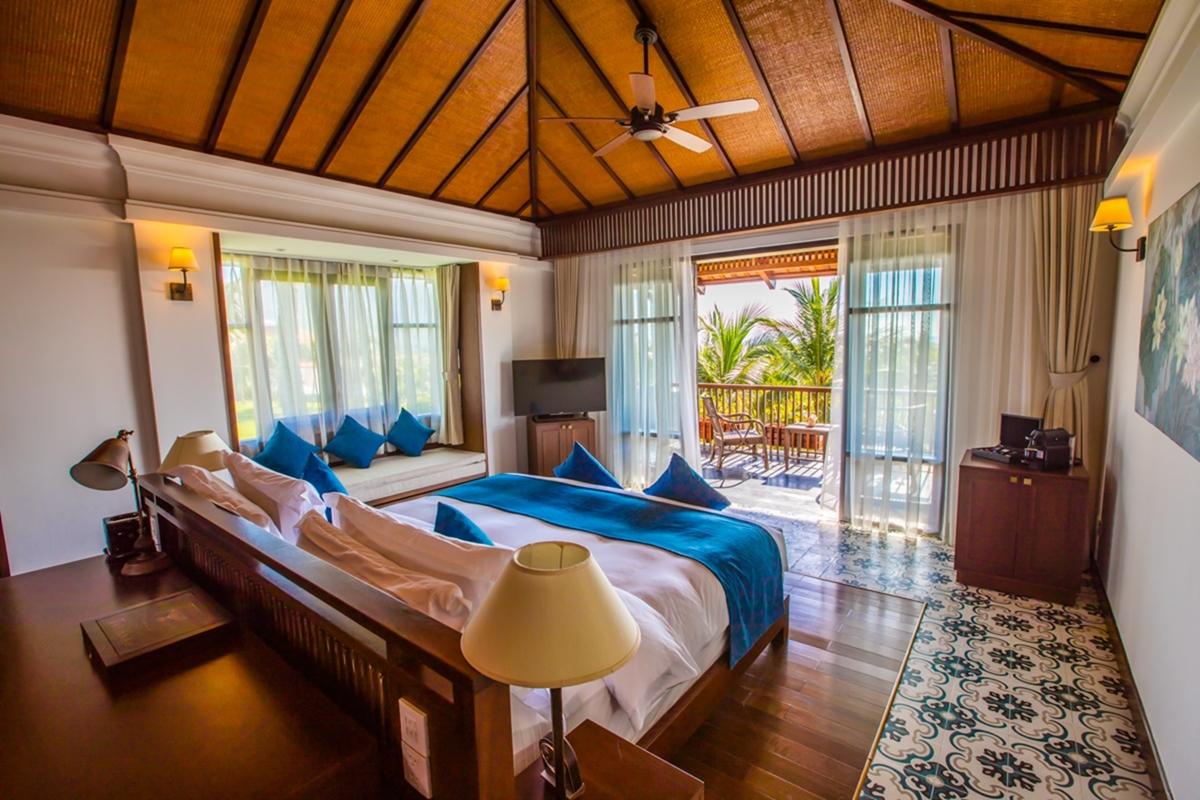 The Anam defines a new idea of luxury vacation where you can enjoy a serene retreat besides having a great time watching 3D movies or joining a tennis match. This resort's design is inspired by the Indochine colonial golden time with the exquisite interior. You can also take your loved ones there to enjoy the "Family is Everything" package.
11. Vinpearl Resort & Spa Long Beach Nha Trang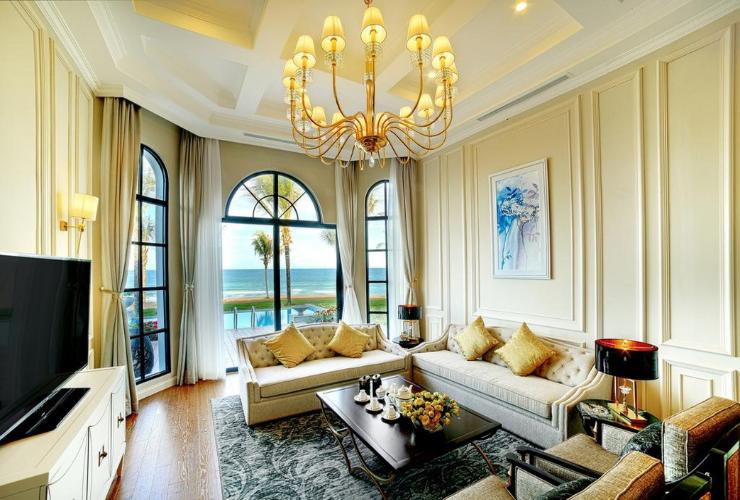 Lies on the neglected Bai Dai in Cam Ranh Bay, Vinpearl Resort & Spa offer multiple 5-star services and suite rooms with a new-classic, luxury design. Vinpearl resort has spacious, fully equipped meeting rooms and a stunning coast for wedding parties.
12. An Lam Retreats Ninh Van Bay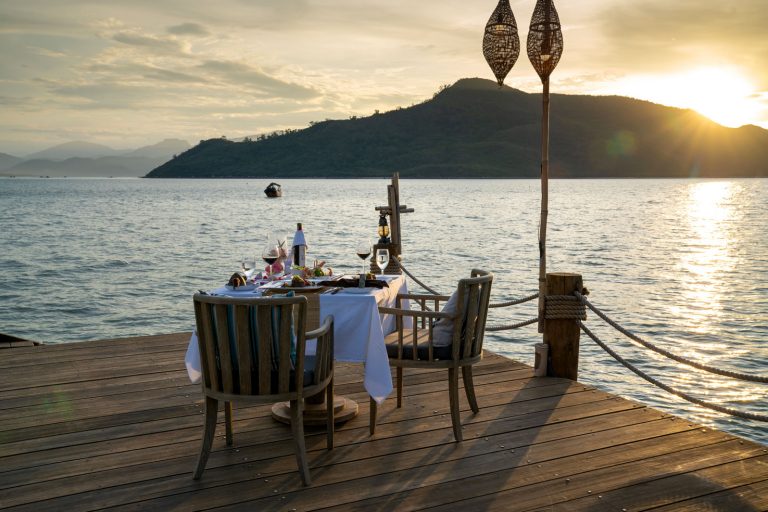 An Lam Retreats invites guests to a private, open-to-nature Nha Trang hotel built and decorated by craftsmanship. You and your loved one can also enjoy a romantic dinner in the wharf while catching the sunset kiss on the beach. An Lam is like hideaway heaven for couples and newlyweds because it's the first adult-only resort in Vietnam.
An Lam Retreats invites guests to a private, open-to-nature Nha Trang hotel built and decorated by craftsmanship. You and your loved one can also enjoy a romantic dinner in the wharf while catching the sunset kiss on the beach. An Lam is like hideaway heaven for couples and newlyweds because it's the first adult-only resort in Vietnam.
13. Duyen Ha Resort Cam Ranh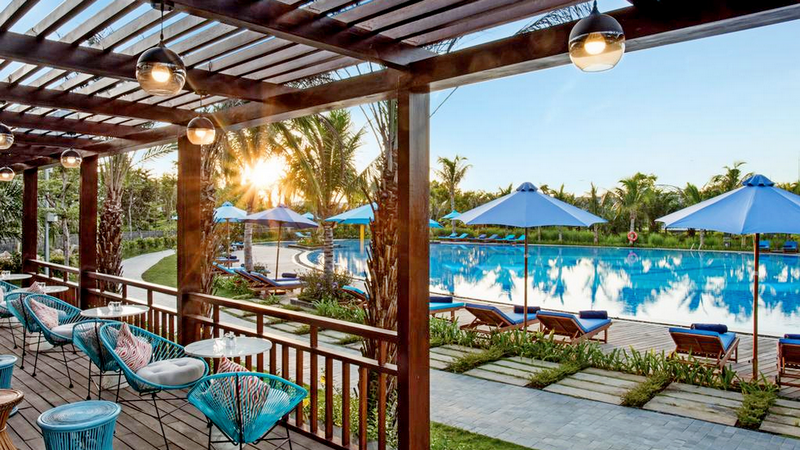 Located in the magnificent Cam Ranh beach, Duyen Ha Resort has ocean-view rooms and floating villas with traditional Vietnamese decoration. Duyen Ha Resort offers guests the best-in-class culinary experience with flavorful Asian cuisine dishes. The hotel is a perfect destination for families because of various activities such as Jukebox Karaoke, casino, tennis court, golf.
14. Gonsala Hotel Nha Trang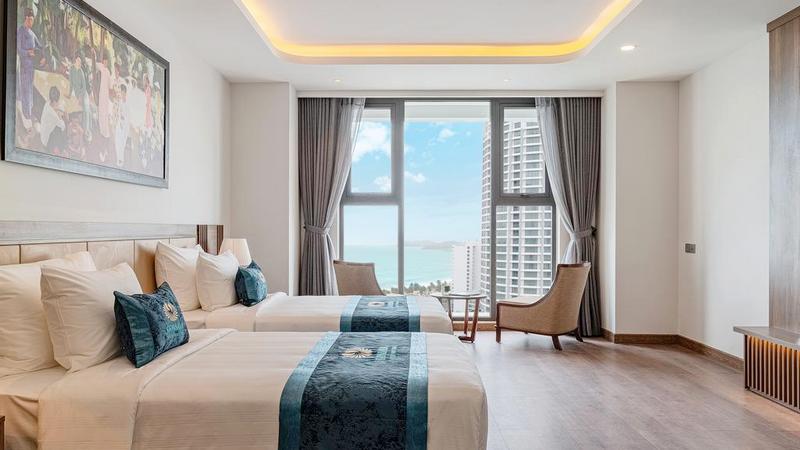 Gonsala Nha Trang Hotel has a golden location in the busiest street of Nha Trang, where you can walk to popular hotspots in a few minutes. Defining as your faraway second home, Gonsala Hotel brings you a relaxing vacation with high-class services at a good price.
15. Champa Island Nha Trang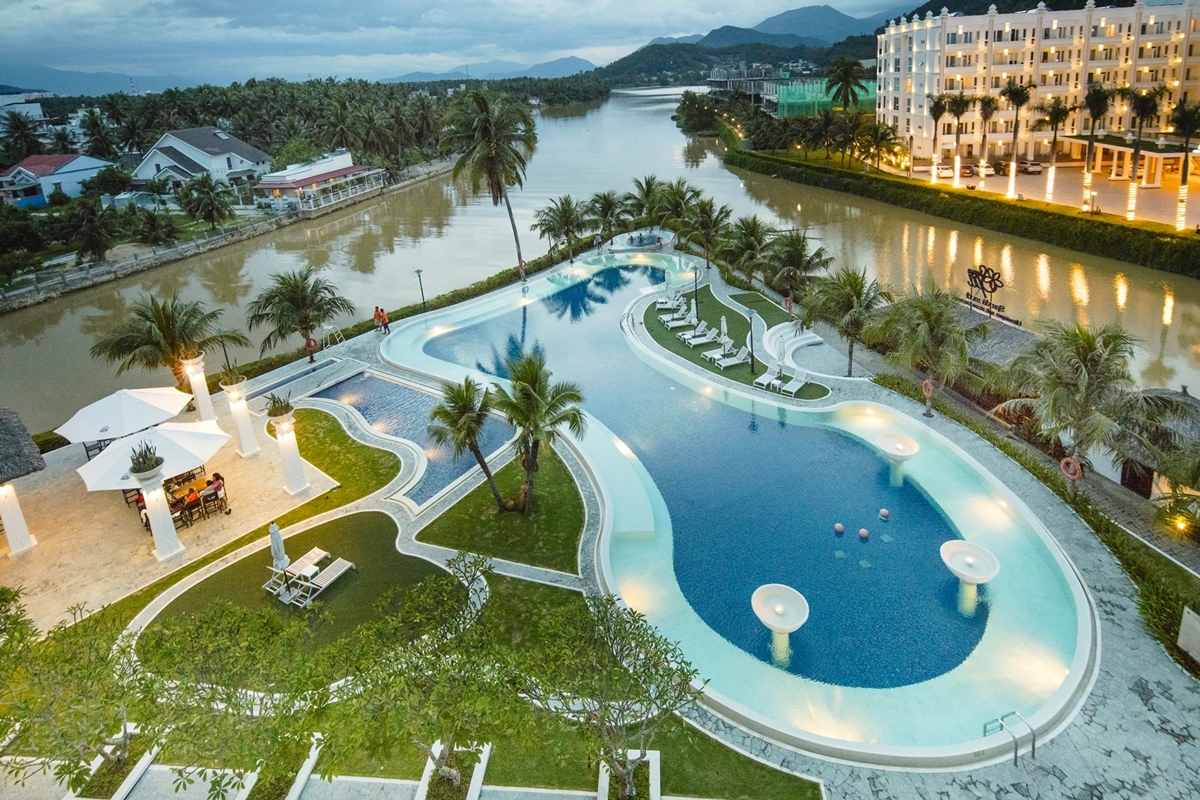 Inspired by the fascinating Cham culture, Champa island and Cham Oasis is built with Cham architecture at the cross point of the sea and the river. The resort has lots of suite rooms, villas, and condotels mixed between Cham and modern decoration. Treat yourself at the river-view fine-dining restaurant to have a fulfilling night.
16. Navada Beach Hotel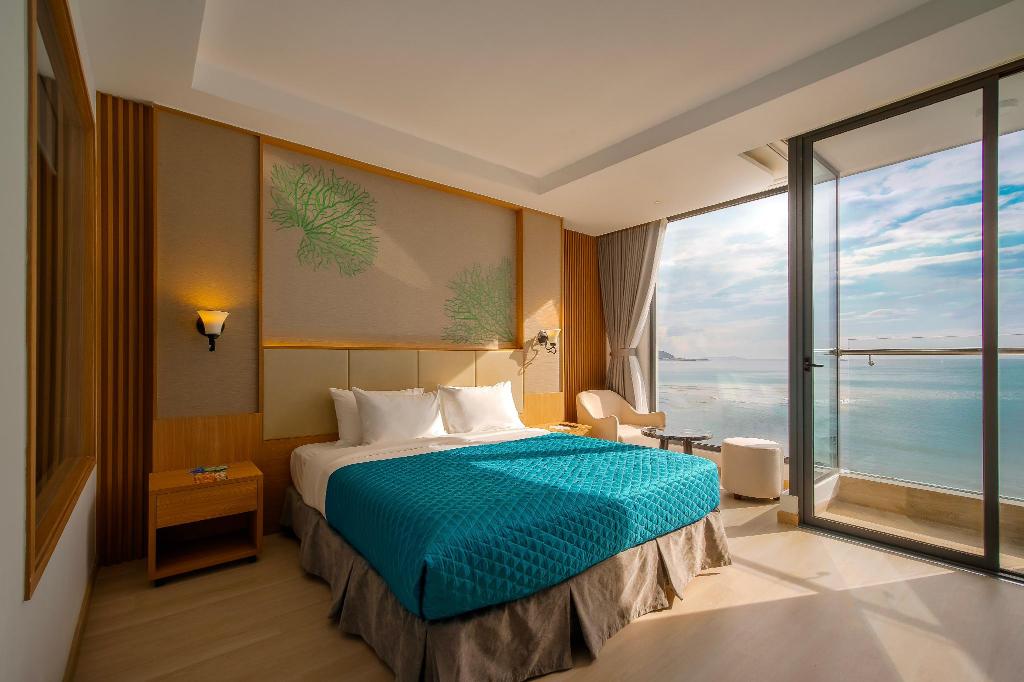 You will have a true luxury experience in this 4-star hotel at the beautiful Hon Chong. The resort is designed with the Eurasia architecture and harmonious, elegant style. The bar and restaurant have an open space allowing you to watch the local street and get the natural light.
17. Muong Thanh Luxury Khanh Hoa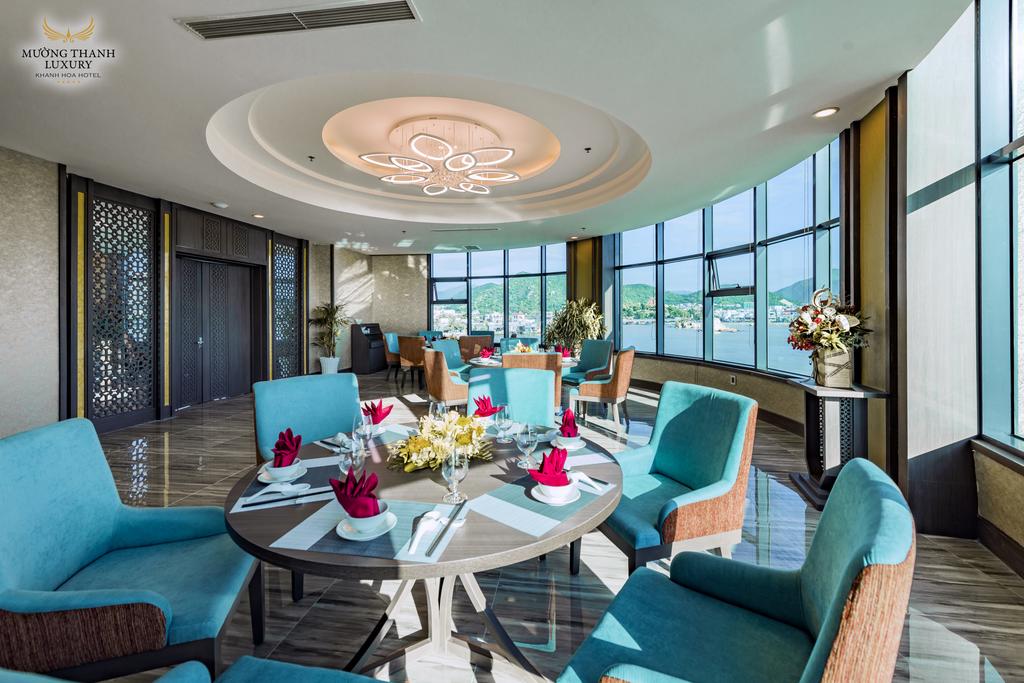 Muong Thanh Luxury is set in the heart of Khanh Hoa Province, confronts the Nha Trang Bay and Ponagar Tower. You can enjoy tasty fusion with your loved one at the VIP dining room with a panoramic view of the topaz beach. For entertainment, you can try your singing skills at the karaoke or having a night swim in the indoor spacious pool.
18. Royal Beach Boton Blue Hotel & Spa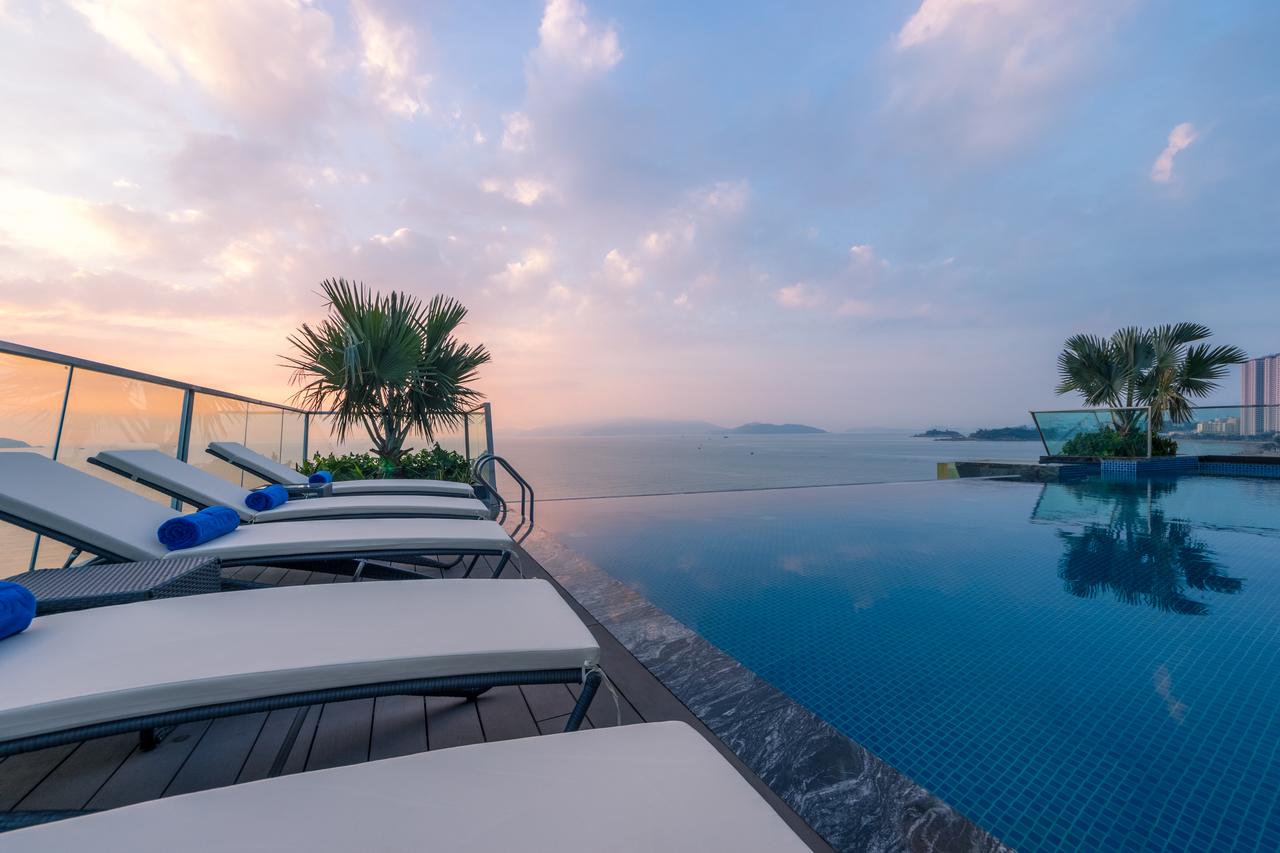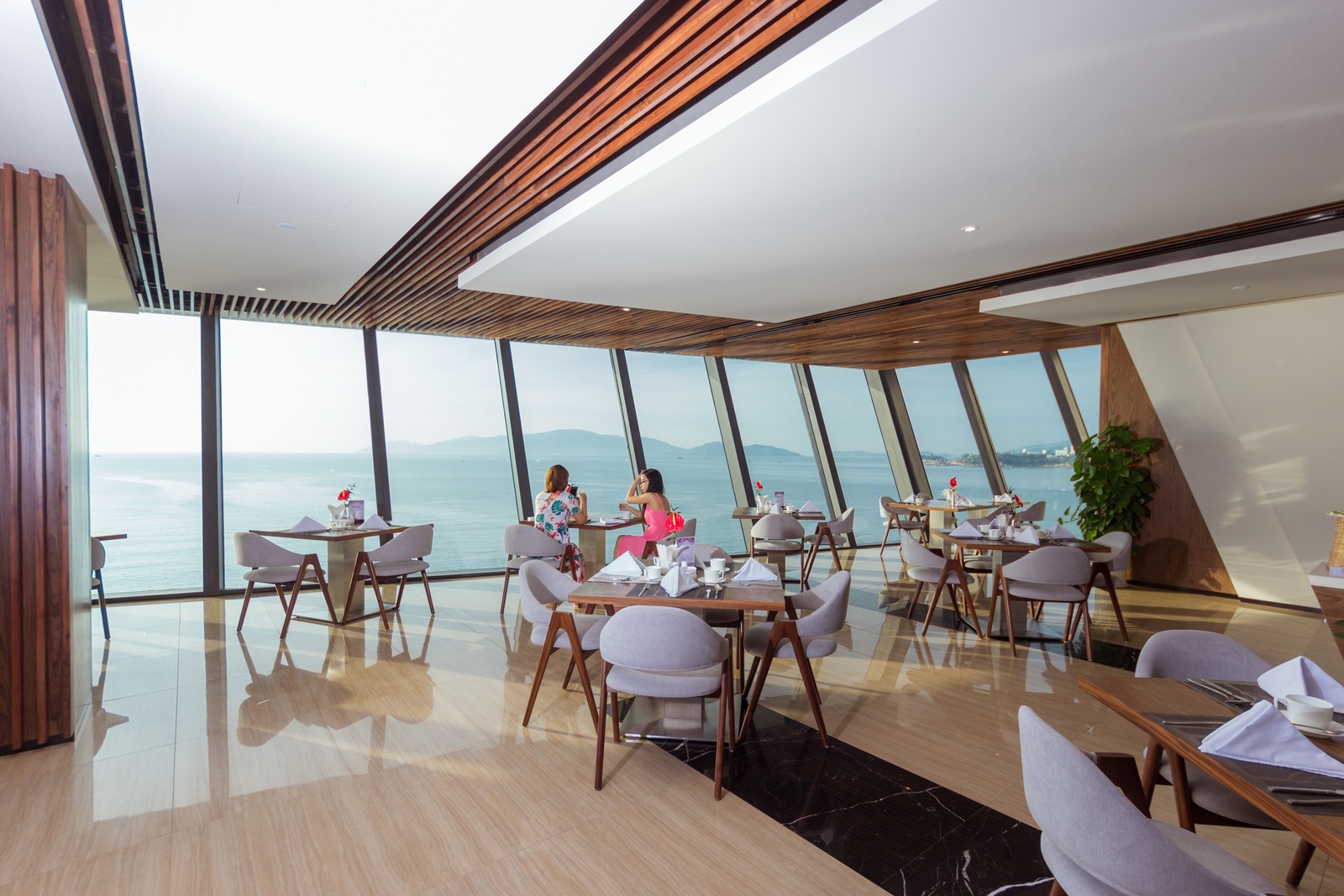 If you love moving your body to the rhythm while sipping cocktails and watching the ocean, you'll like this hotel. Featuring a rooftop bar with a view to the ocean and mountain, Royal Beach Boton Blue Hotel is a unique resort to have the best vacation in Nha Trang.
19. Ariyana SmartCondotel Nha Trang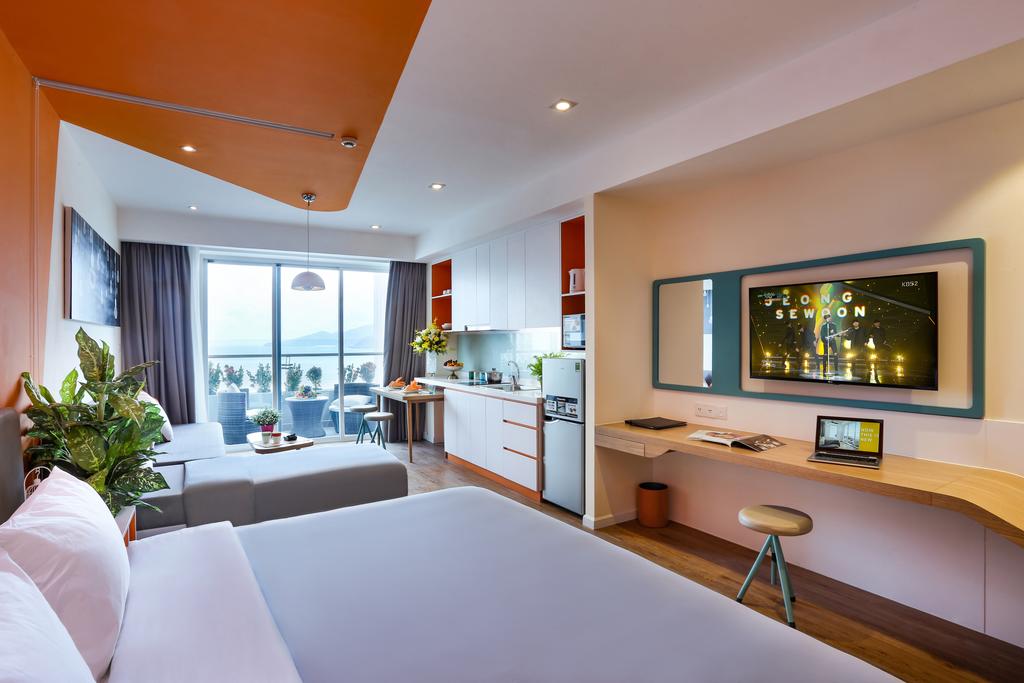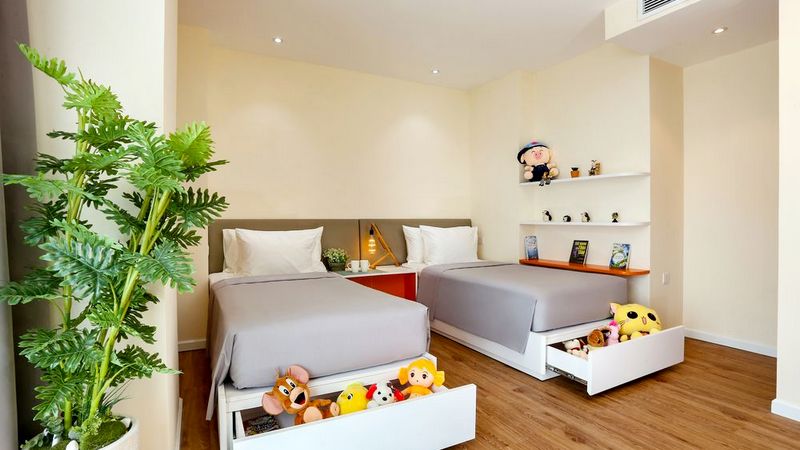 Ariyana SmartCondotel is an exclusive condotel in Nha Trang for group friends or families enjoying a great weekend vacation. You can take the children to the colorful playground while diving in the topaz pool and cheering the moments with your loved ones.
20. Regalia Gold Hotel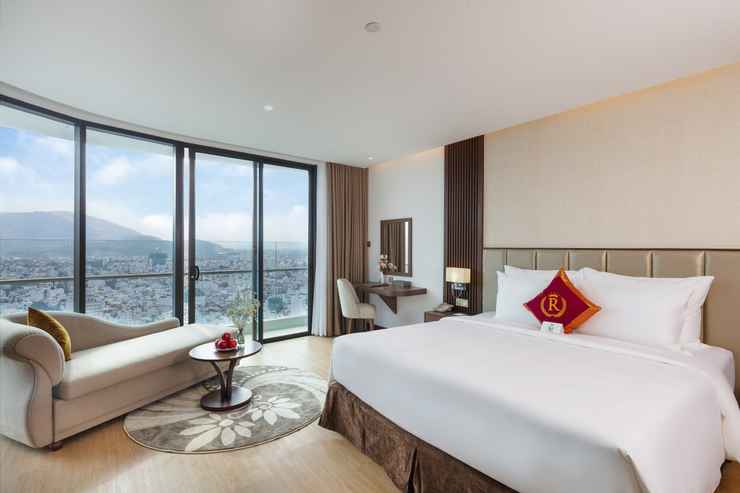 Regalia Gold is the most exceptional, luxury hotel in a dynamic street of Nha Trang city. Comes with 661 5-star suite rooms with a panoramic view, you can watch the colorful lights of the city at night and enjoy a relaxing time.
21. D'Qua Hotel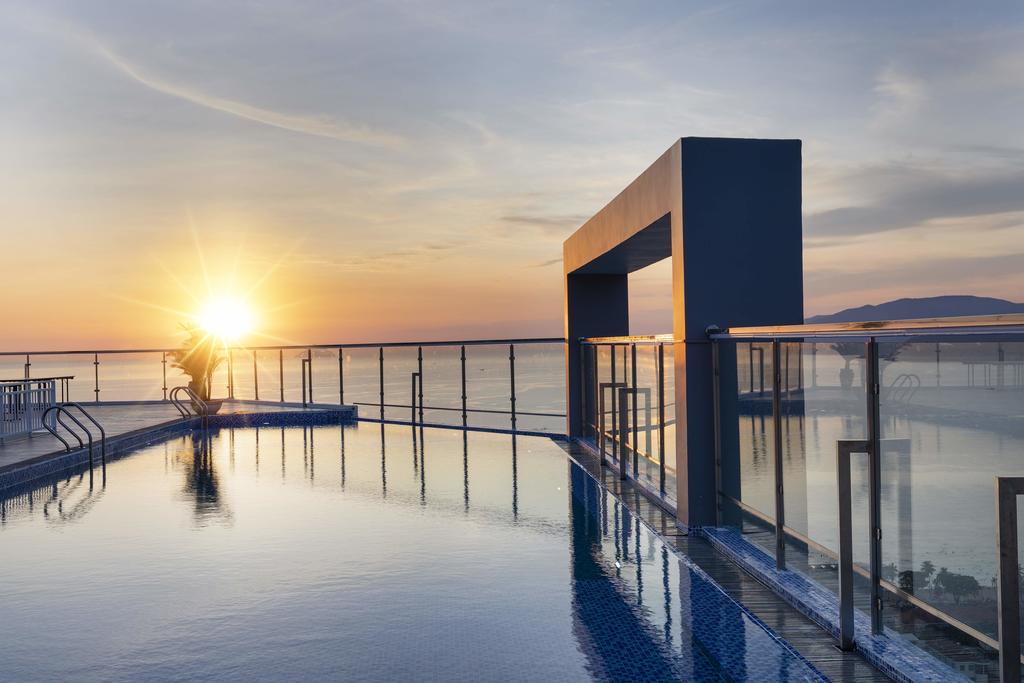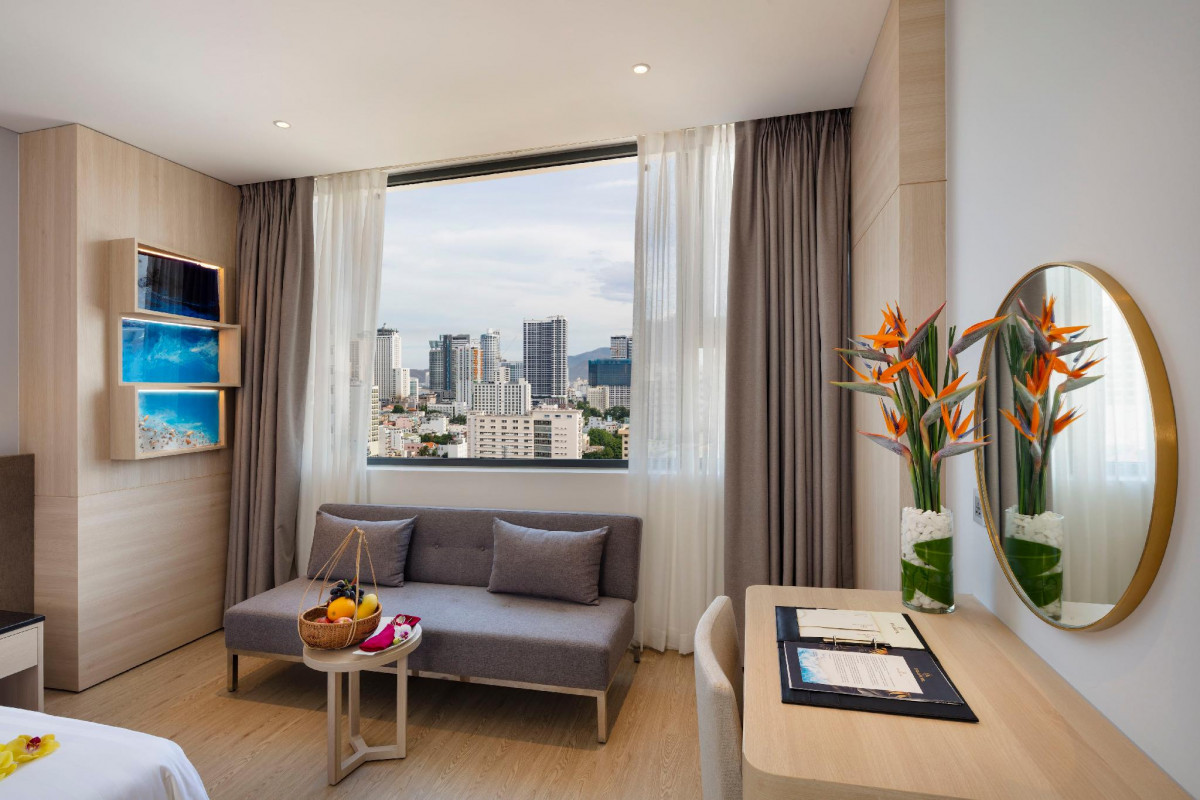 Located in a golden spot, from D'qua hotel it's easy to access many famous surroundings, including Ky Vien Trung Nghia Buddhist Temple, Shanti Yoga, a tram stop to Long Son Pagoda. In the morning, you can refresh your day in the outdoor pool and enjoy an American freshly made breakfast.
22. Seasing Boutique Hotel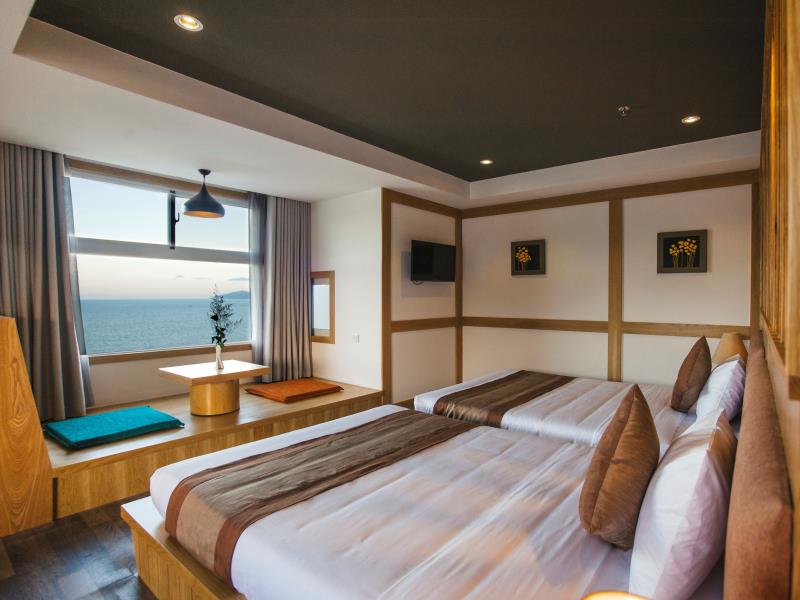 Seasing Boutique Nha Trang Hotel has a unique Japan-inspired decoration where you can sit on your knees and enjoy a cup of tea. The bathrooms feature natural materials and the interior wears a deep color tone. When you come to this hotel, you can have a serene space to relax and refresh your mind.
23. Diamond Bay Hotel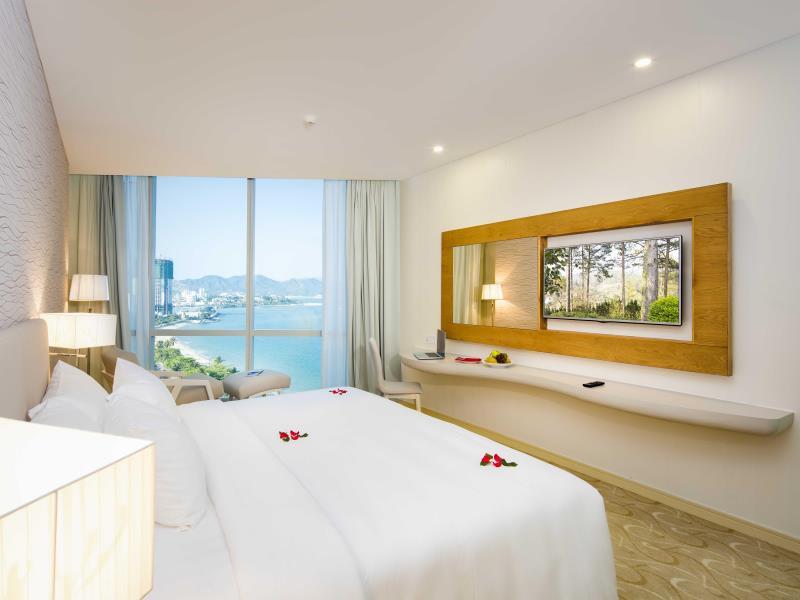 Close to the stunning coast, Diamond Bay Hotel offers lots of high-class and modern rooms that look straight to the topaz ocean. You can also find various services such as a convenience store, large meeting rooms, currency exchange, and excursion booking.
24. Hotel Novotel Nha Trang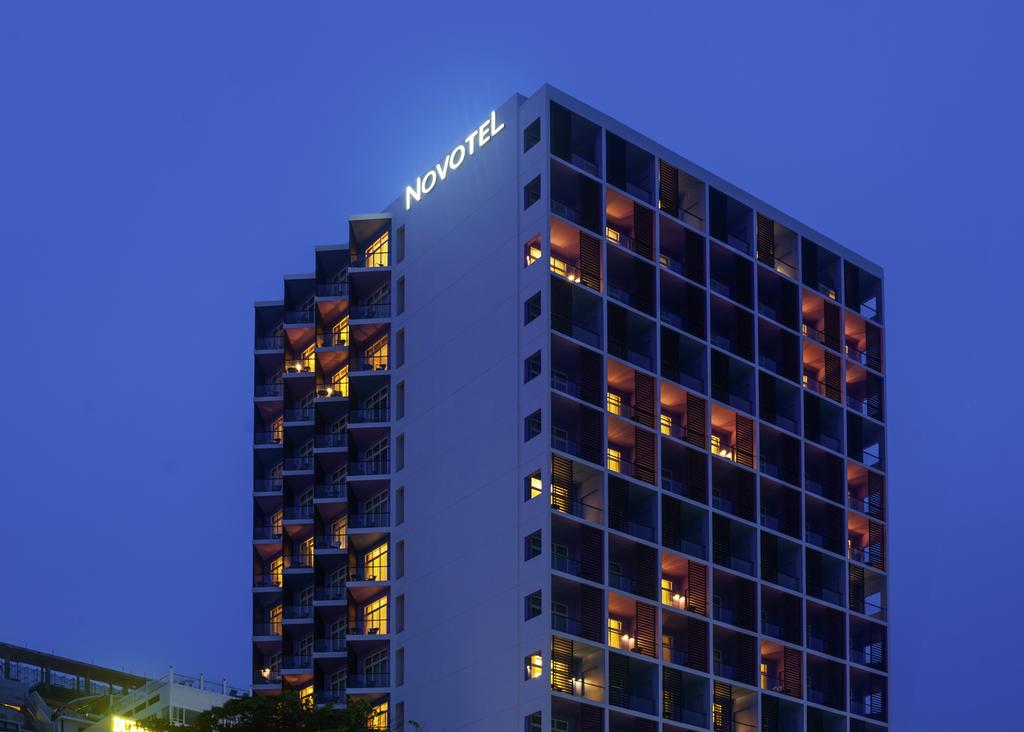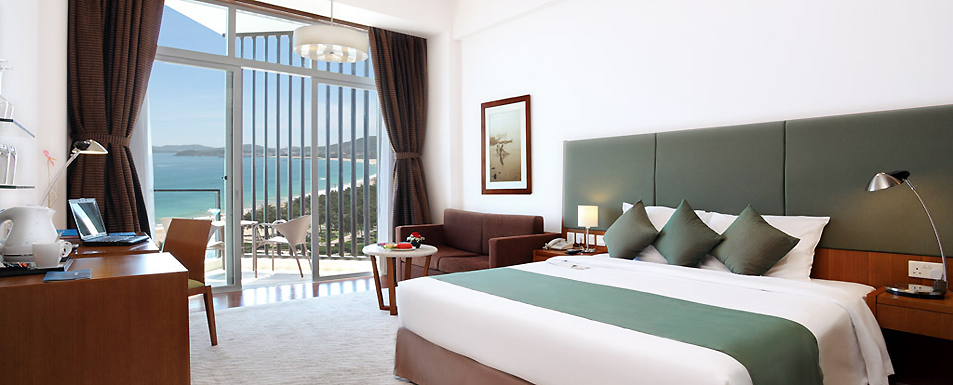 Novotel is the #1 4-star hotel in Nha Trang rated by worldwide guests. Confronted with the ocean so, from Novotel hotel, you can walk to the beach or enjoy the uninterrupted sea view from your hotel room.
The best thing when you travel to Nha Trang is to enjoy fresh, tasty seafood made by the local expert chefs. Hotel Novel will bring a memorable vacation for you and your loved ones.
25. Rosaka Nha Trang Hotel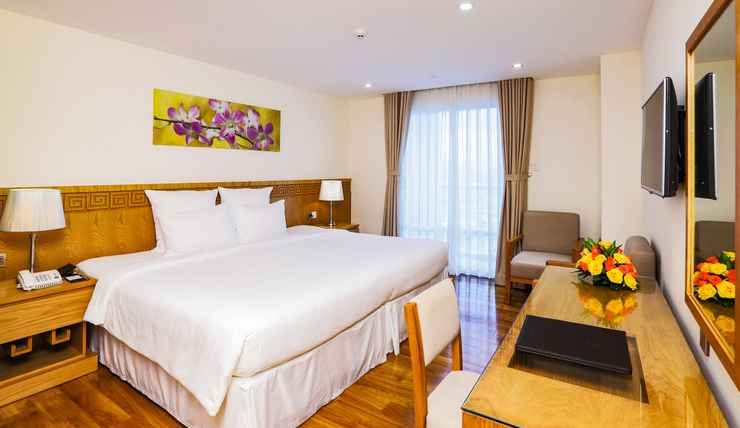 Rosaka Nha Trang Hotel offers modern rooms that can automatically turn off the air-con when you open the windows to take natural ocean winds. Refresh your body and your mind for a new day after finishing the swimming round in the 22nd-floor pool and gym time in the fitness area.
If you want to organize an important business event at Nha Trang, Rosaka has a spacious meeting room with modern equipment and flower decorations as requested.
26. Alana Nha Trang Beach Hotel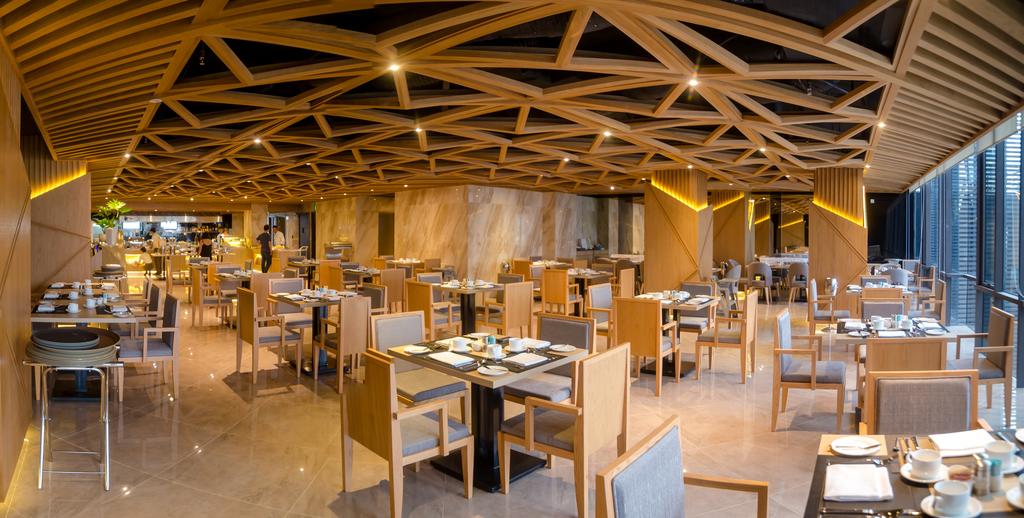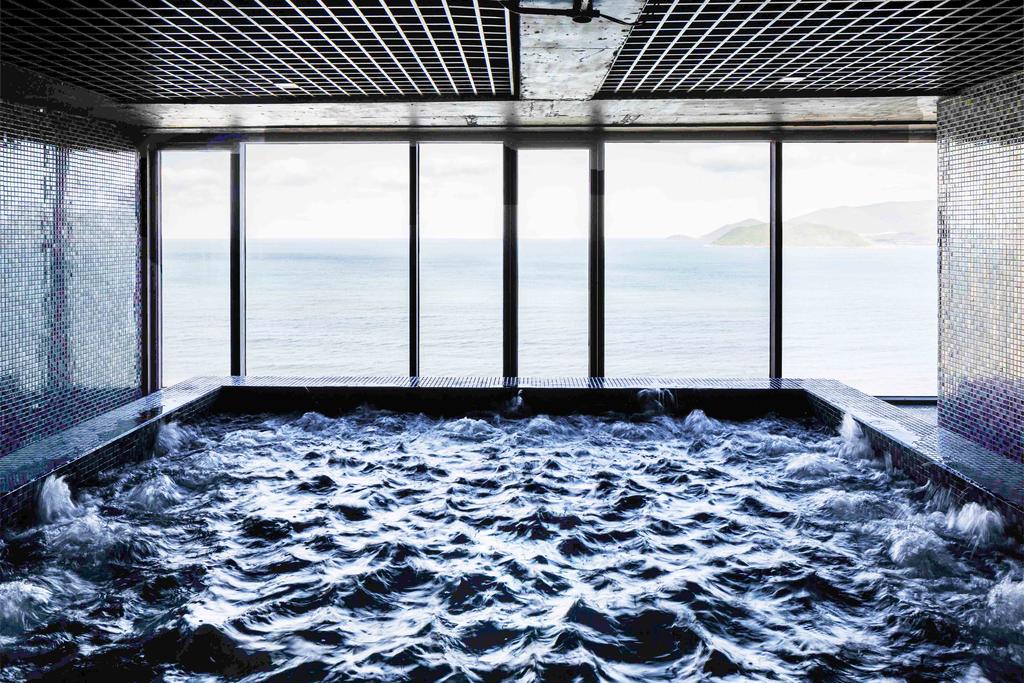 What guests love the most in Alana Beach Hotel is the amazing ocean view from the superior executive rooms. You can also take a Jacuzzi with a panoramic sea view to detoxify and refresh your body.
All rooms are designed with the modern and subtle interior to bring you a luxury experience. Complete the wonderful day with a swimming round in the rooftop pool where you can dive into cool water while watching the night sky.
27. Havana Nha Trang Hotel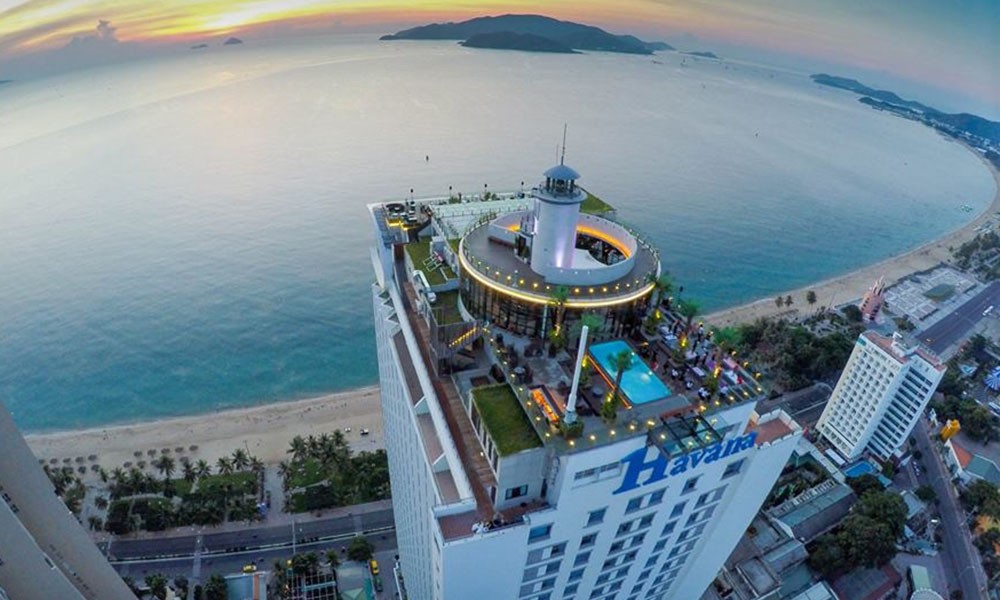 Havana Nha Trang Hotel is an ideal destination for the vibrant souls and nightlife lovers. Located in the most crowded street Tran Phu, you can easily walk to the local markets and famous hotspots such as the floating fishing village and Cham Ponagar Towers.
Besides, Havana Hotel also has a one-of-a-kind rooftop beach club featuring a 360° Skydeck and with a skywalk to go beyond to the lighthouse. From there, you can enjoy the beauty of the ocean and Nha Trang city with no interruption.
28. Sunrise Nha Trang Beach Hotel & Spa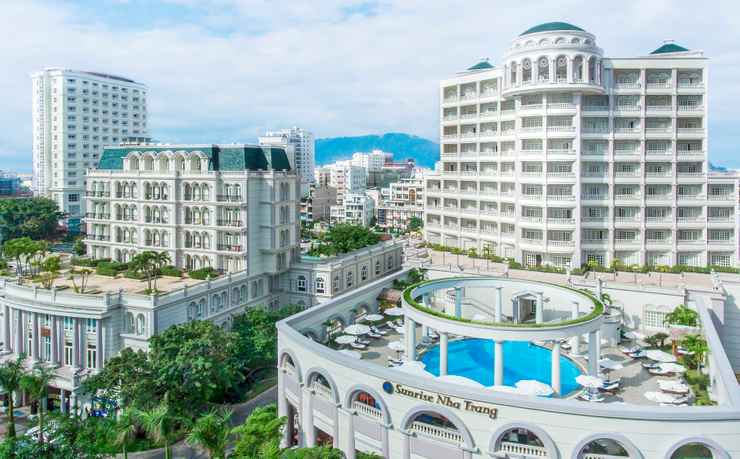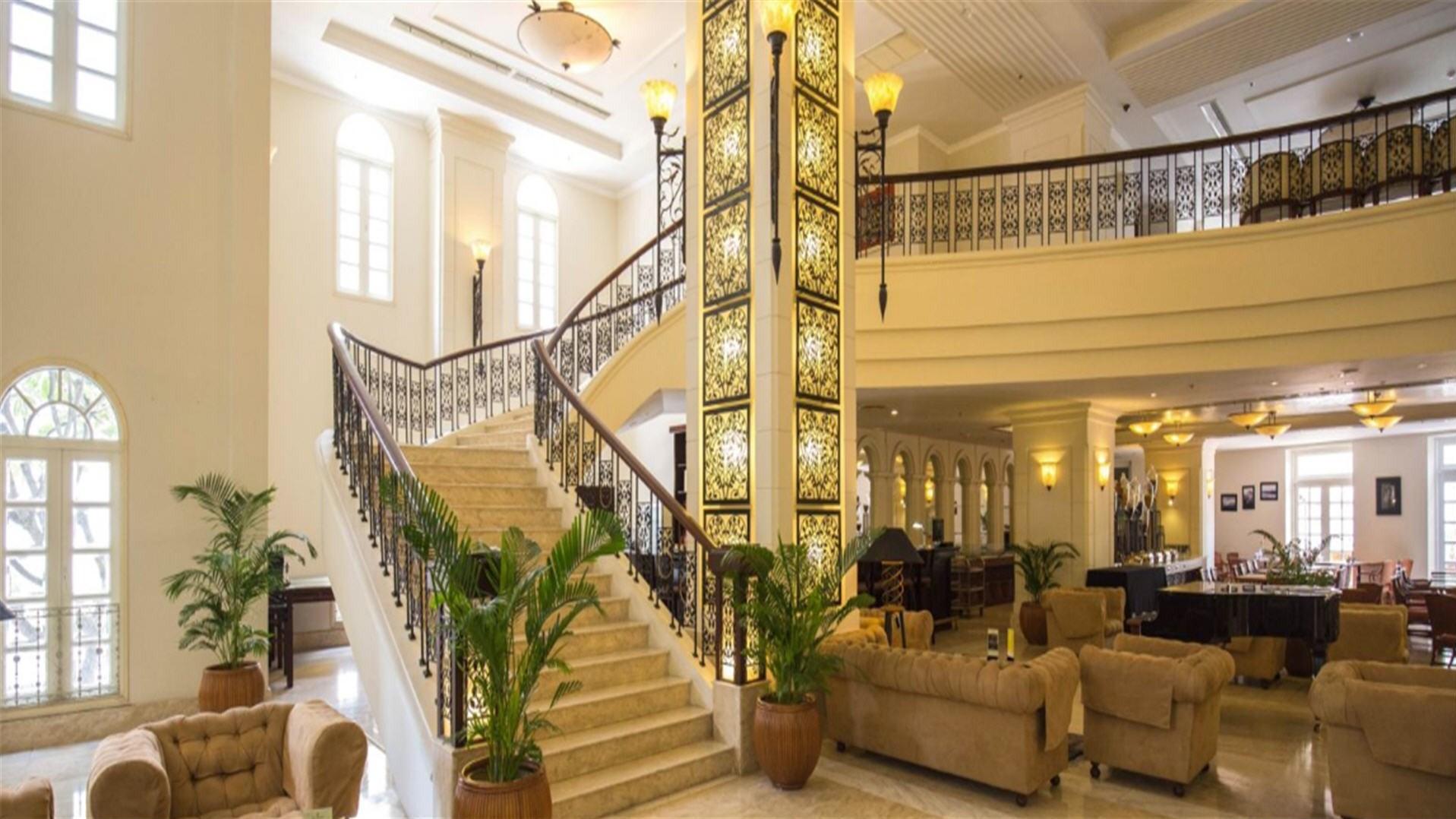 Nothing can be greater than dive into cool water in the circular rooftop swimming pool at Sunrise Nha Trang. The hotel is decorated with a simple, luxury style to make you feel like a VIP guest when you stay here.
29. L'Alyana Ninh Van Bay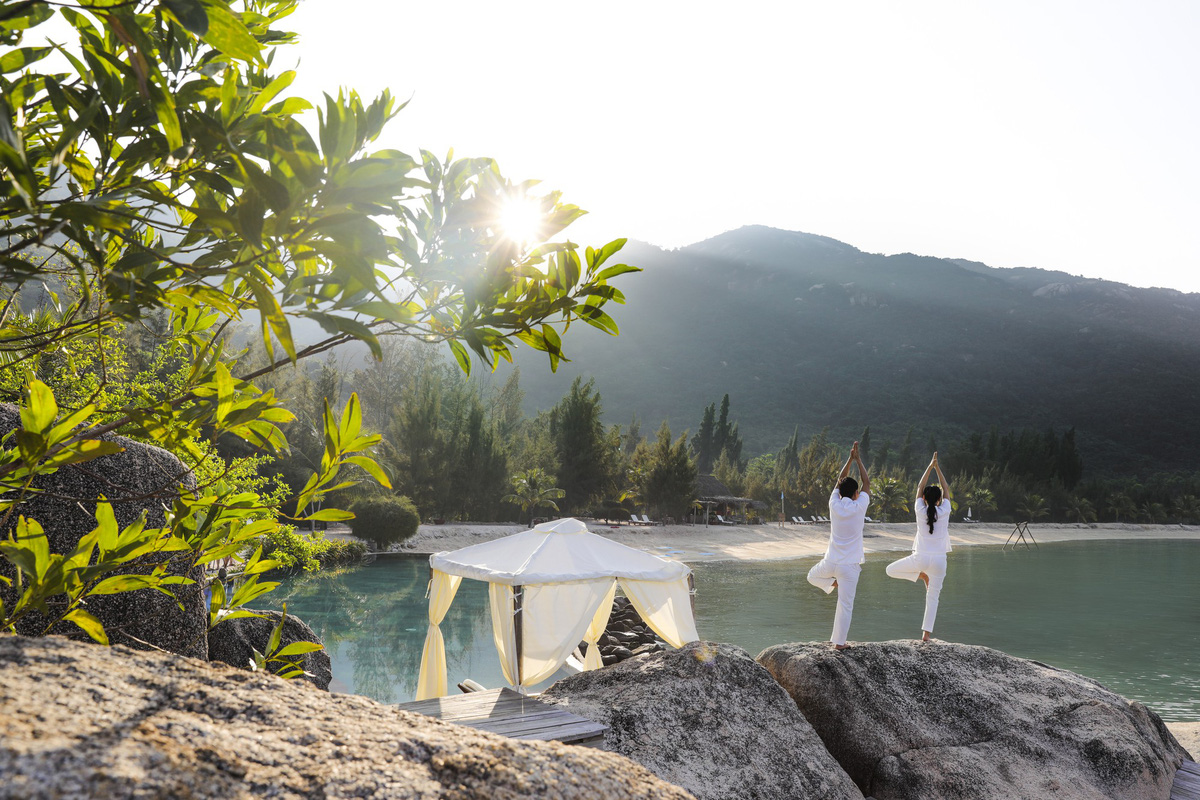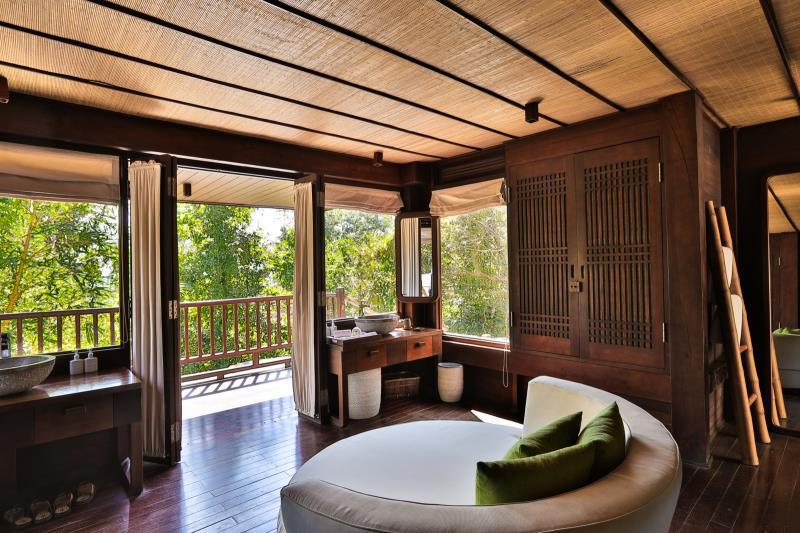 L'Alyana Ninh Van Bay is a one-of-a-kind luxury resort in the cross point where the jungle meets the ocean. The resort is a hidden gem in the stunning, spectacular Ninh Van Bay to give you a private getaway.
L'Alyana Ninh Van Bay gives you a blast of Vietnamese traditional culture in minimal design and natural materials such as wood and brick. Surrounded by serene, beautiful nature, you will feel relaxed and blessed to stay here.
30. Liberty Central Nha Trang Hotel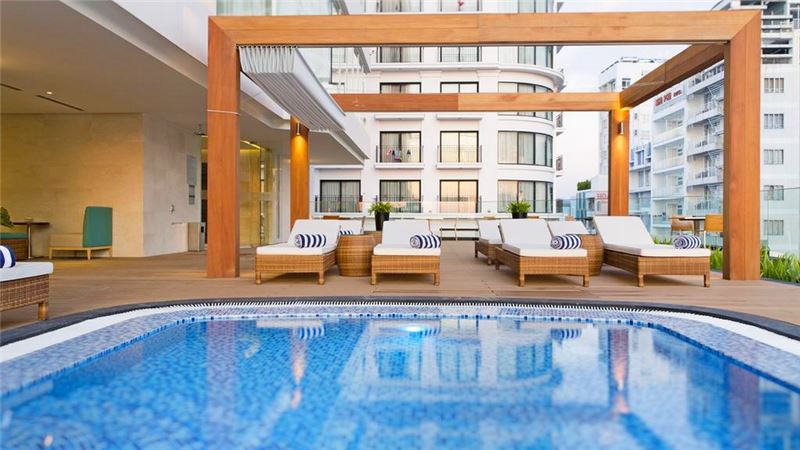 There's must be a reason that many couples love to spend their vacations in Liberty Central Nha Trang. You're not only allowed to stay in modern, elegant rooms but also invite a diverse menu with tasty local and international dishes. The bathrooms are surrounded by panoramic glasses so you can enjoy the city while chilling with your favorite music.