28 awesome things to do in Bangkok
Did you know: "Thailand", in Thai language, means "the land of freedom". Thai people are well-known for being friendly, open-hearted, and hospitable. Bangkok is the symbol of Thailand, a city of friendliness and fun!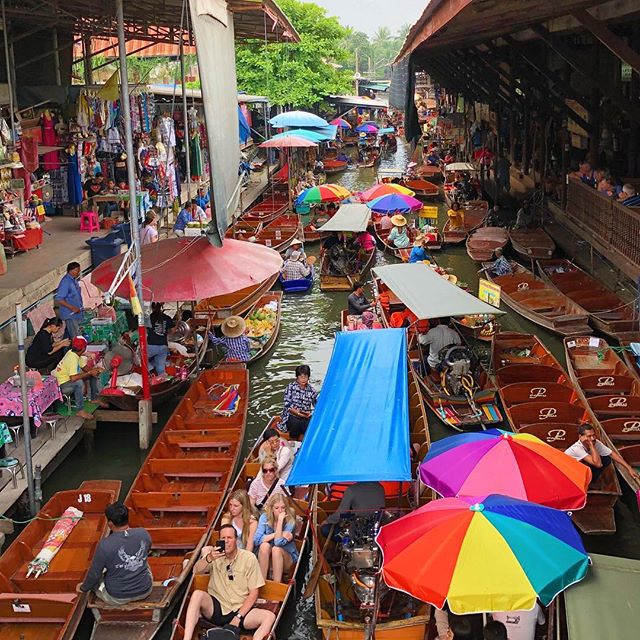 You may have heard that Bangkok is the heaven of cheap shopping, yes, it's true. You may also have heard that Bangkok is the kingdom of sophisticated temples, and yes again, it's true. You may as well have heard that Bangkok has a greater variety of street food than any city ever on Earth, and yes it's definitely true. Bangkok is way more than just temples, shopping, and food. Check out our top 28 awesome things to do in Bangkok below and make sure not to let a second of fun go to waste while in the city.
Attractions in Bangkok - "It's a kingdom of temples!"
1. The Grand Palace and Wat Phrakeaw
The Grand Palace is one of the most famous tourist attractions in Thailand, located in Bangkok, a large-scale and sophisticated architectural complex. The palace was the residence and workplace of King Ramma 1 to King Ramma 5. In the present day, the palace is the venue of royal ceremonies and banquets.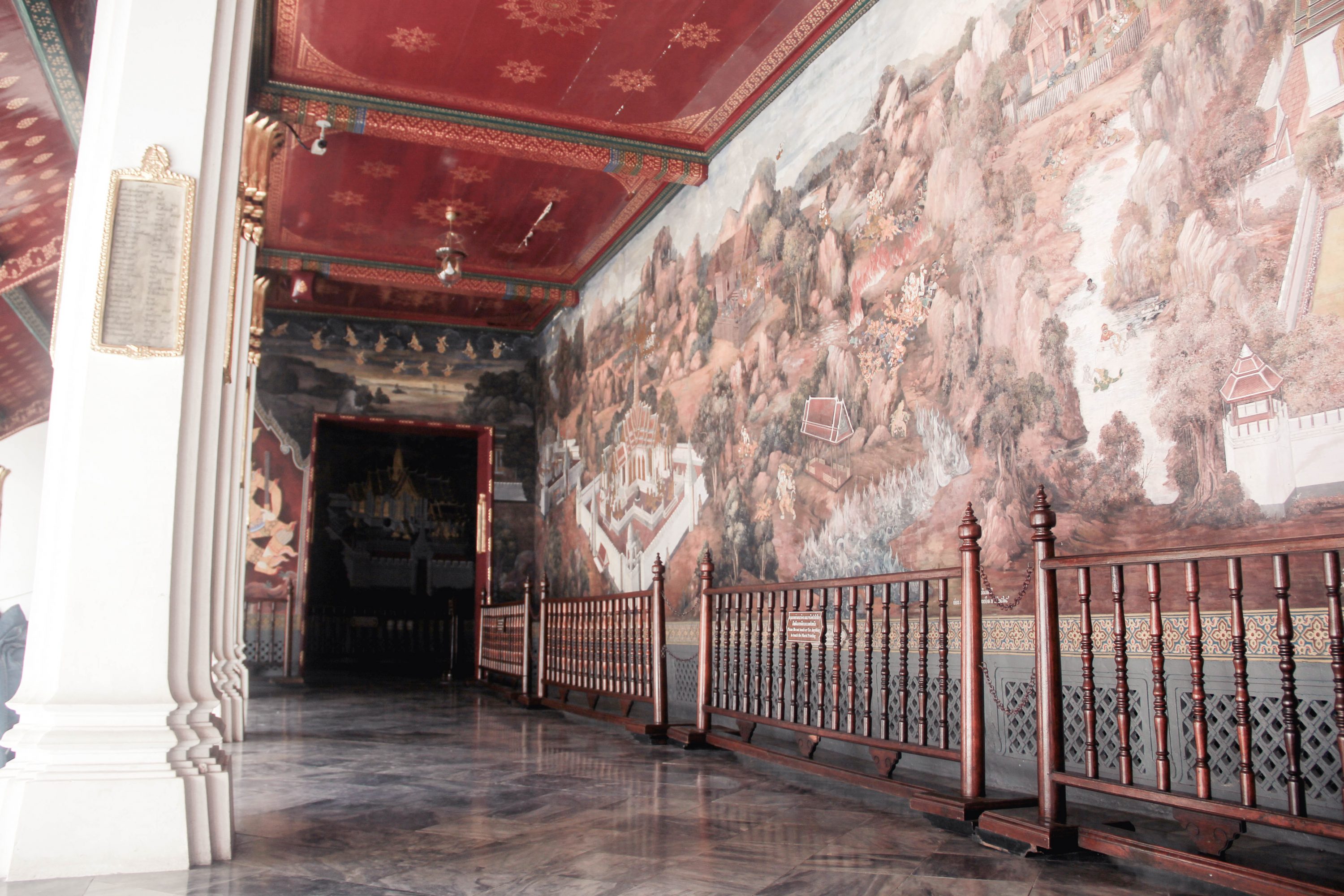 The Royal Palace is known for its unique architectural design, which combines Thai traditional architecture with Chinese and Western styles from France and the Italian Renaissance. The palace carries a respectful, dignified manner showing the royal authority of Thailand. After visiting the Grand Palace, you can stop by Wat Phrakeaw - a Buddhist temple just nearby. The temple worships a statue of Buddha carved from a monolithic jade block. The Jade Buddha statue is considered a national treasure, a symbol of prosperity.
2. Wat Pho - The Golden Buddha temple
Wat Pho is a top attraction in Bangkok to both local Thai and travelers alike. This large temple is famous for its statues and has more Buddha statues than any other temple in Thailand.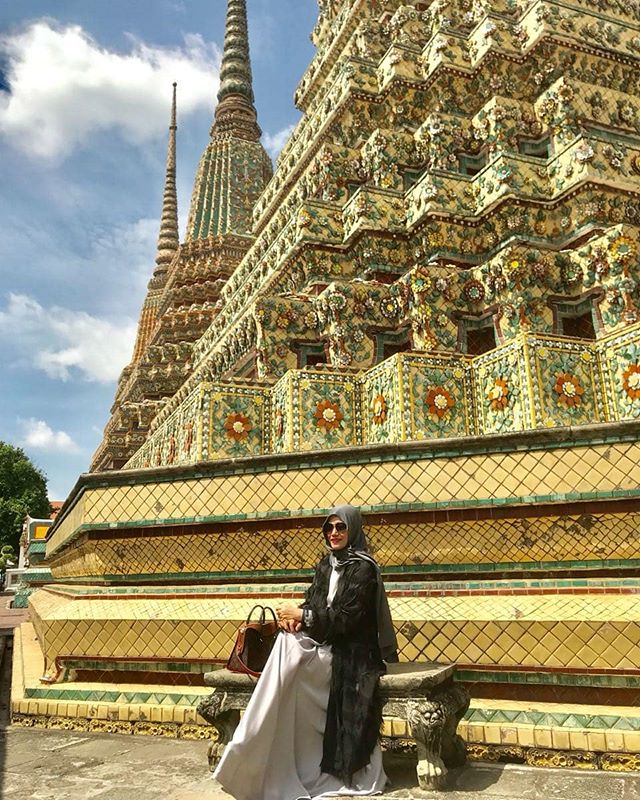 In addition, this is also the ideal place to experience a traditional Thai massage. Wat Pho is widely known as the best massage school in Thailand, so you can have great relaxing moments with the skillful hands here.
3. Wat Arun - The Dawn temple
Located on the western bank of the Chao Phraya River, Wat Arun is one of the most beautiful temples of Bangkok, not only due to amazing views being near a river, but also because of its architecture. Wat Arun is designed with colorful towers standing majestically by the water.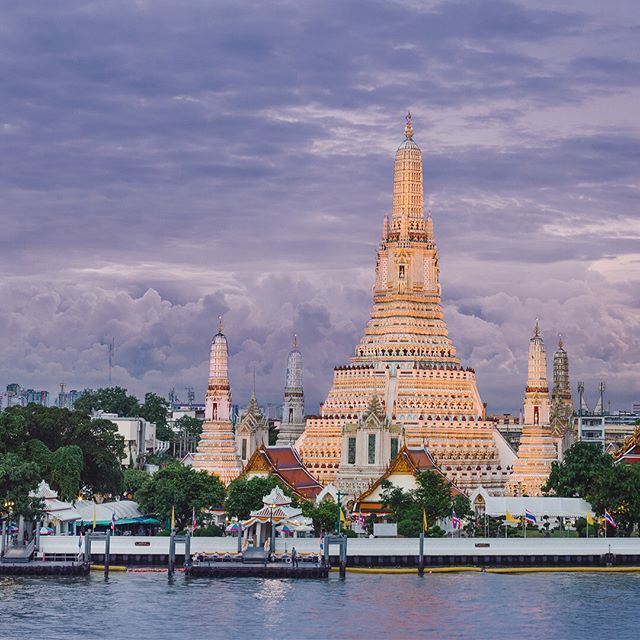 Although known as the Dawn temple, Wat Arun is the perfect place to enjoy a beautiful sunrise or sunset in Bangkok.
4. Chao Phraya river
Chao Phraya river has been the lifeblood of the city for centuries. That's why cruising the river has become one of the best things to do in Bangkok that you wouldn't want to miss. While cruising, you can enjoy the changing city scenery along the river. There are many cruise lines but you should choose the orange flag boats because they operate all day. Ticket prices are about 10 - 30 baht. You can check out the map below.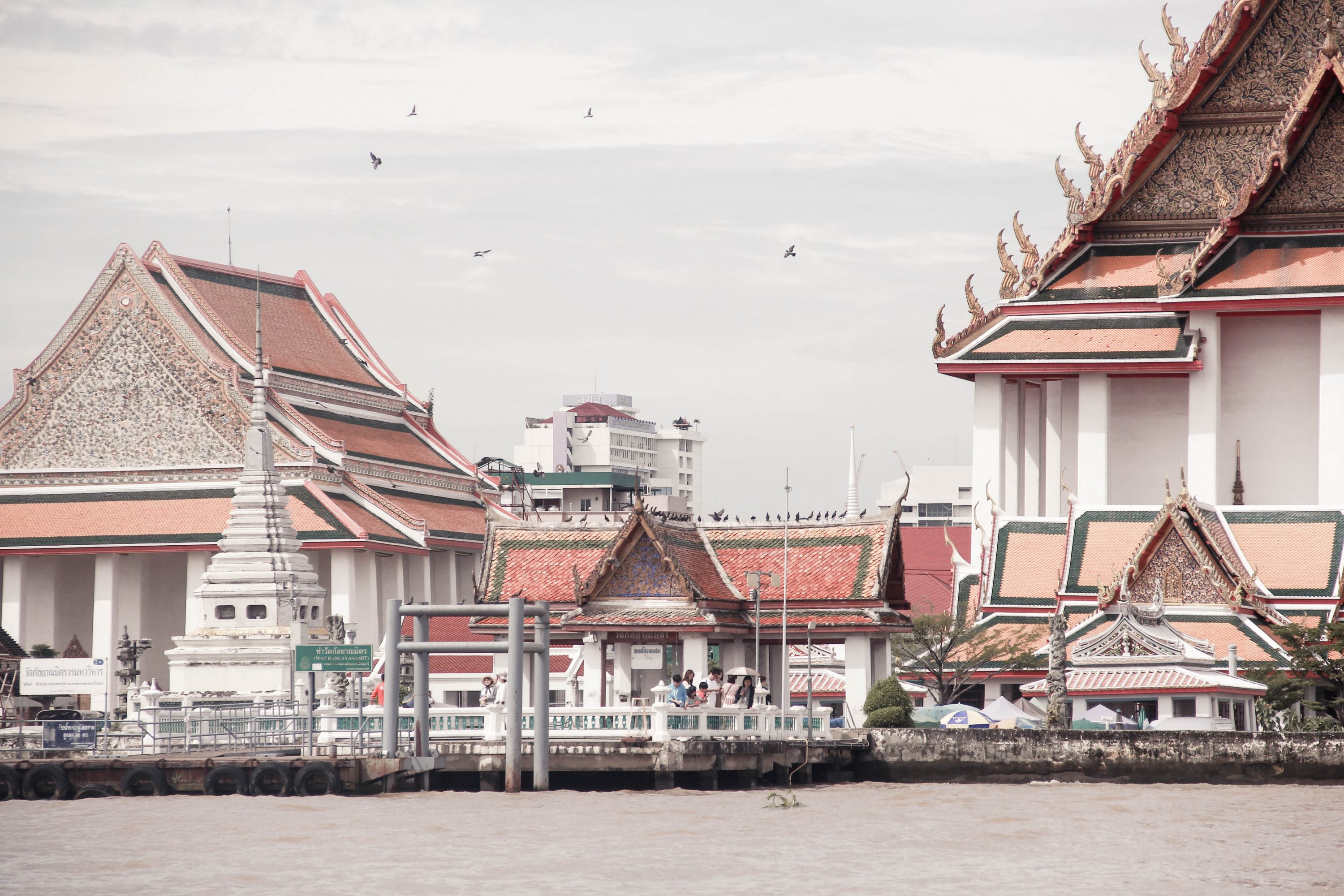 5. Chinatown of Bangkok
Chinatown Bangkok is famous for its unique atmosphere, and both its historical and cultural beauty. You can spend a whole day exploring Chinatown experiencing the special blend of Thai and Chinese culture.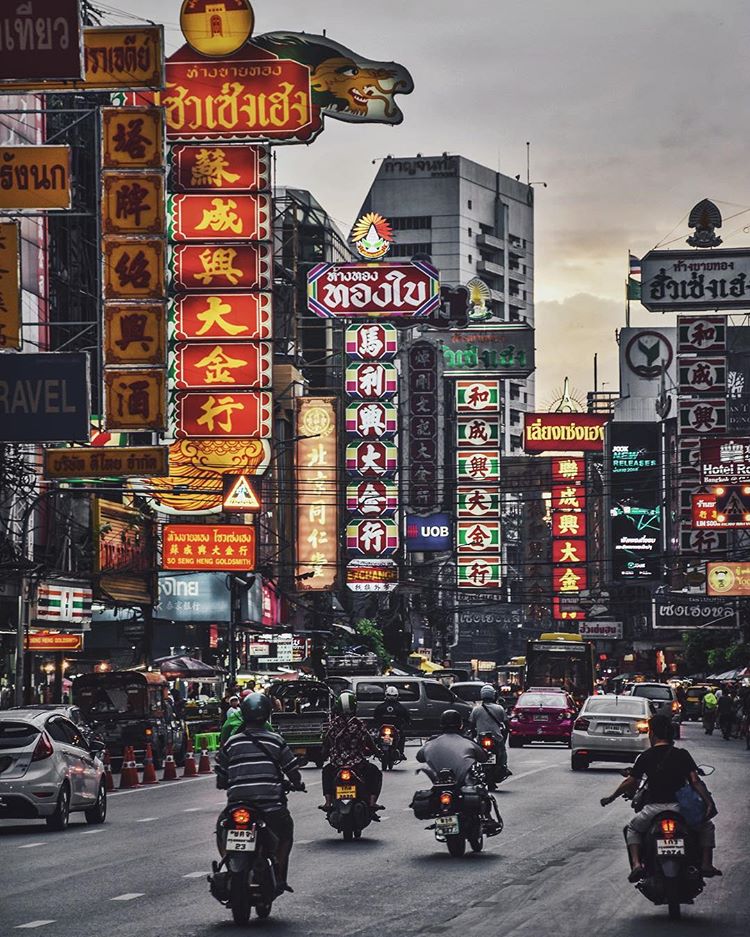 Arriving in Chinatown, you may first visit Wat Traimit. Travelers often visit Wat Traimit to admire the largest Buddha statue in the world. In the middle of the temple is the Golden Buddha which is 3 meters high and weighs 5.5 tons.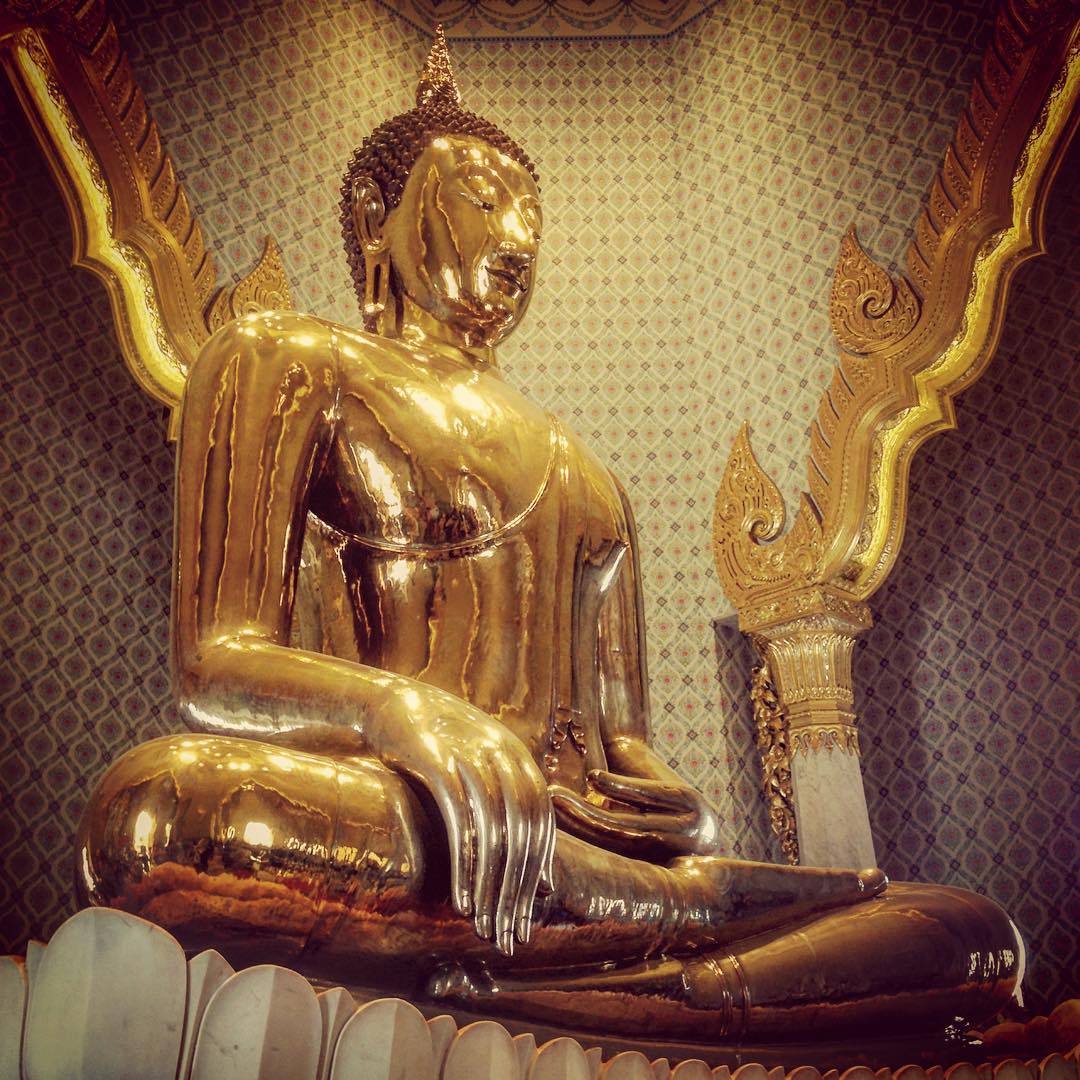 Chinatowns around the world are dominated by red gates, tile roofs and dragon carvings. In Bangkok - one of the largest Chinatowns in the world, the western Chinese gate is the most impressive. Established in 1999, this large, elaborately designed gate was the work to celebrate Thai king's 60th birthday and show the respect of the Chinese to the King. The Chinese Gate is one of Chinatown's iconic buildings. This place is also the most famous check-in scenery of travelers.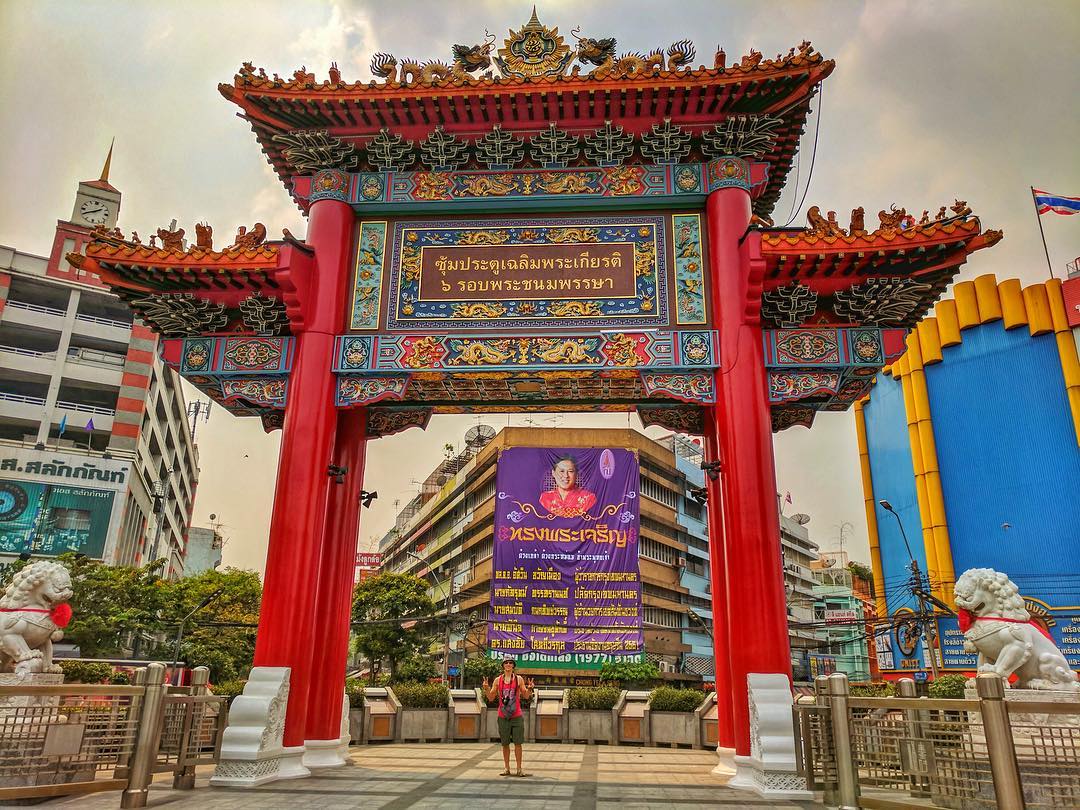 Yaowarat is the center route of Chinatown Bangkok. Yaowarat takes you on a journey to discover the flavorful dishes. The most famous dishes in the area are dim sum, oysters with fried egg, noodles, and lots, lots of fresh seafood. You should also try the desserts and fresh fruit on this road. Coconut cream or durian cream (Thai specialty) or a cool glass of juice will definitely be the perfect match for dinner. https://www.instagram.com/p/BgjRAwQAylG/?tagged=chinatownbangkok Yaorawat street The best way to get to the Chinatown is to pick MRT to Hua Lamphong Station and walk about 15 minutes to Yaowarat. Or if you want some more excite and speed, a tuk tuk trip will be a great choice for you.
6. Vimanmek Palace
The Vimanmek Palace was a royal palace of Thailand, located in the Dusit Palace. This palace is believed to be the largest palace in the world made of yellow teak. King Chulalongkorn (Rama V) built this palace in 1901. Since 1982, Vimannek palace was restored and has became a museum of King Chulalongkorn.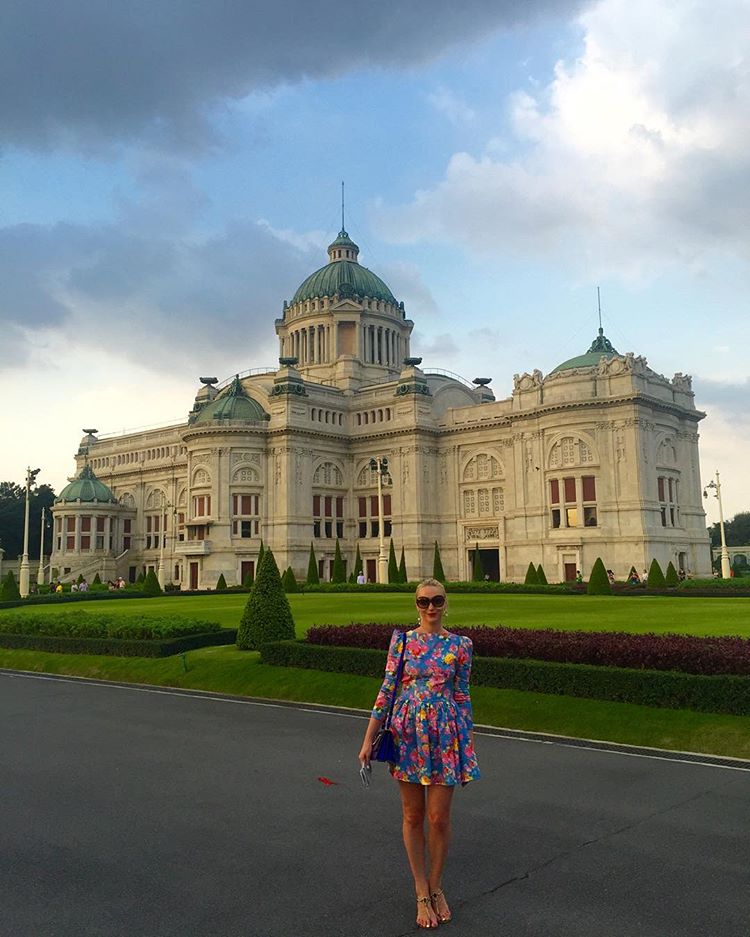 Vimanmek has three floors, including 81 rooms, hall and living room. Near the entrance there is a unique collection of royal chariots from the reign of King Rama V. After the visit, you can take a break at a restaurant or a coffee shop inside the Dusit Garden, or visit some souvenir shops.
7. Sanam Luang
Sanam Luang is a large grass lawn park, known as the "Royal Field", used as cremation grounds for Thai royal figures. Sanam Luang is located in front of Wat Phra Kaew and the Royal Palace.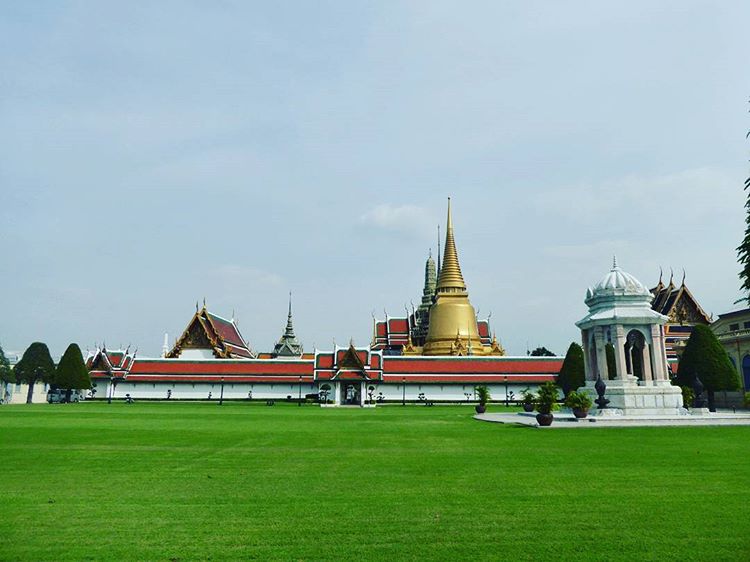 Of the top list things to do in Bangkok, walking Sanam Luang would be an ideal choice for those who love nature and want to enjoy a peaceful evening. Sanam Luang Park is also the venue for an annual kite flying contest, which attracts talented contestants from all over the country as well as foreign visitors.
8. Jim Thompson's House
James Harrison Wilson Thompson was born in 1906 in Greenville, Delaware. He studied architecture and then was sent to Thailand to serve World War II. Recognizing the potential for business here after the war ended, he moved to Bangkok. He restored the silk trade in Thailand and received the medal of recognition from Thai government.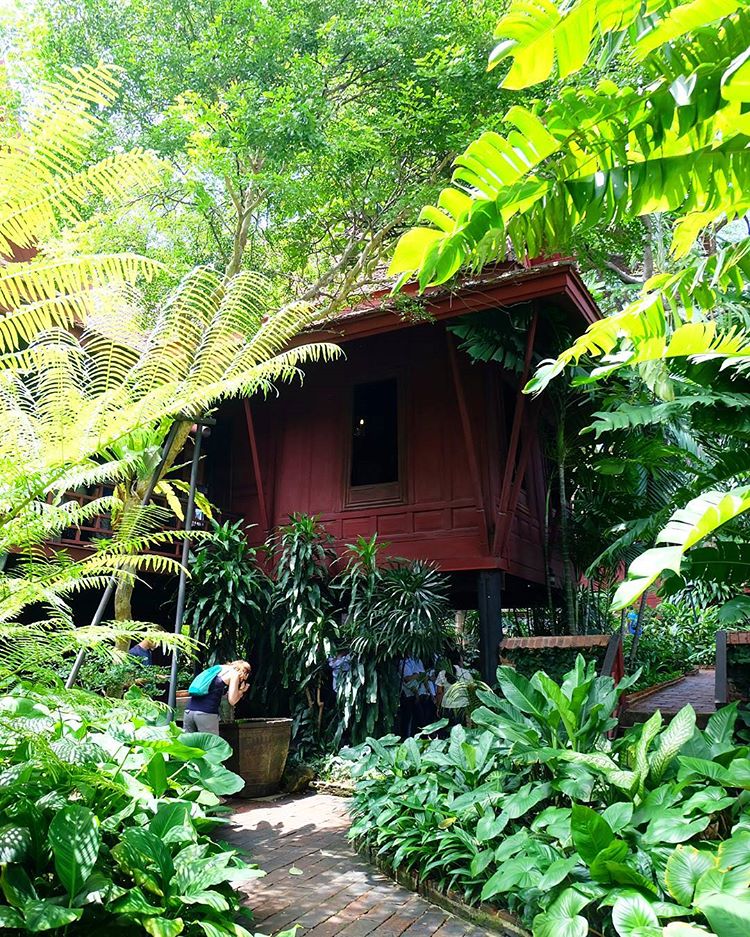 Entering the lobby of this house, you will immediately feel the sophistication and nostalgia in every detail of the house. With all the gardens surrounding, you may feel as standing in middle of a Asian jungle, and the house is a mysterious oasis in Bangkok city. Jim Thompson's House is located opposite the National Stadium. You can arrive here by public transport, taxi or tuk-tuk. The house is open daily.
9. Siam Ocean World
Located in the basement of Siam Paragon, Siam Ocean World is the largest aquarium in Southeast Asia with an area of 10000 square meters. Siam Ocean World has more than 30,000 species of marine life. The aquarium is divided into seven areas: Weird and Wonderful, Deep Reef, Living Ocean, Rainforest, Rocky Shore, Open Ocean and Sea Jellies.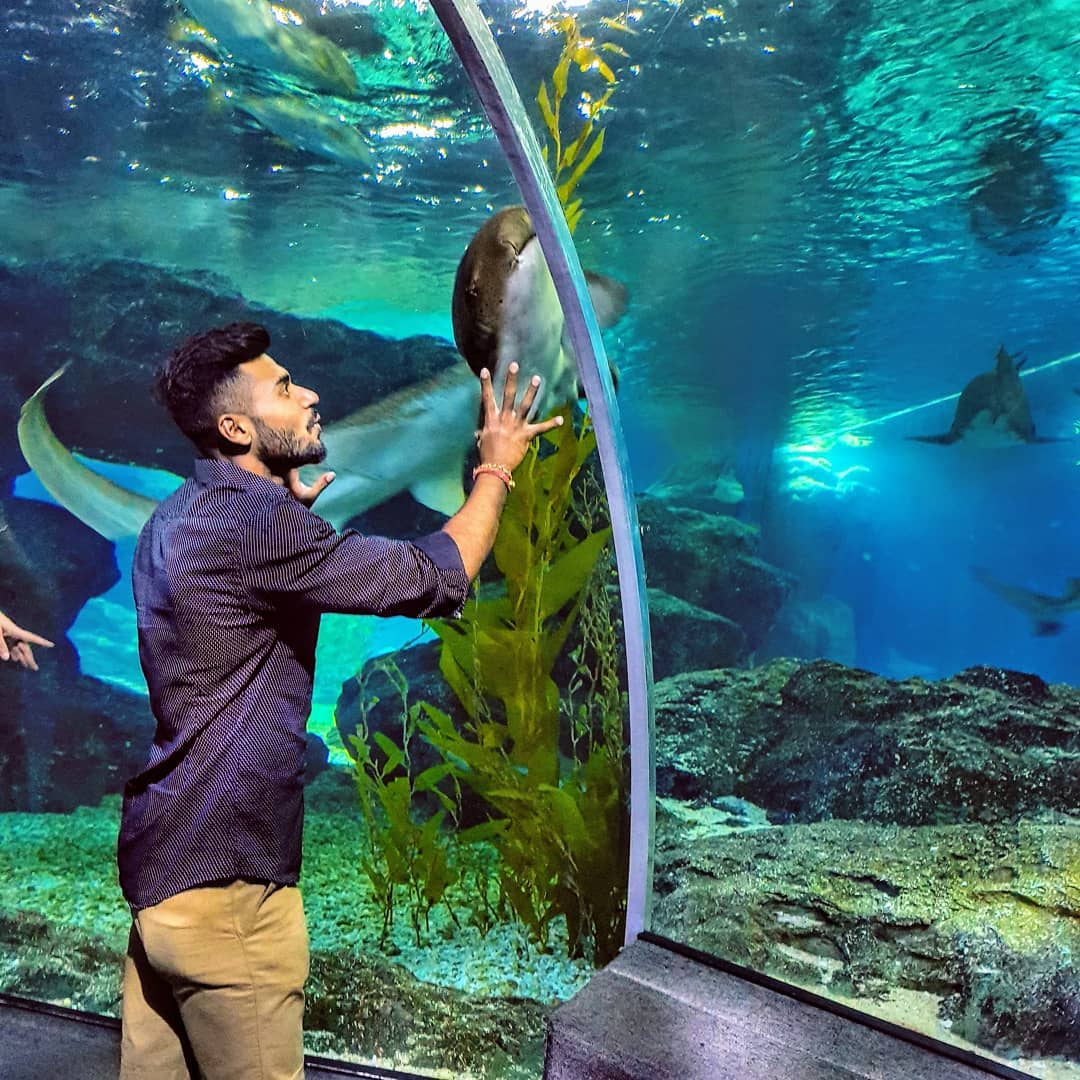 Ticket price for foreigner adult is 900baht and 700baht for children, including 1 can of water, glass bottom boat tour, 5D movie. It would be cheaper to buy the ticket online, so remember to plan ahead.
Street food in Bangkok - "Try not to overeat!"
One of the best things to do in Bangkok is street food tour. You can find good street food literally anywhere in Bangkok, coming from various forms. It could be a small street-side trolley, as well as many stalls locating in local markets or small stores with tables and chairs on the sidewalk.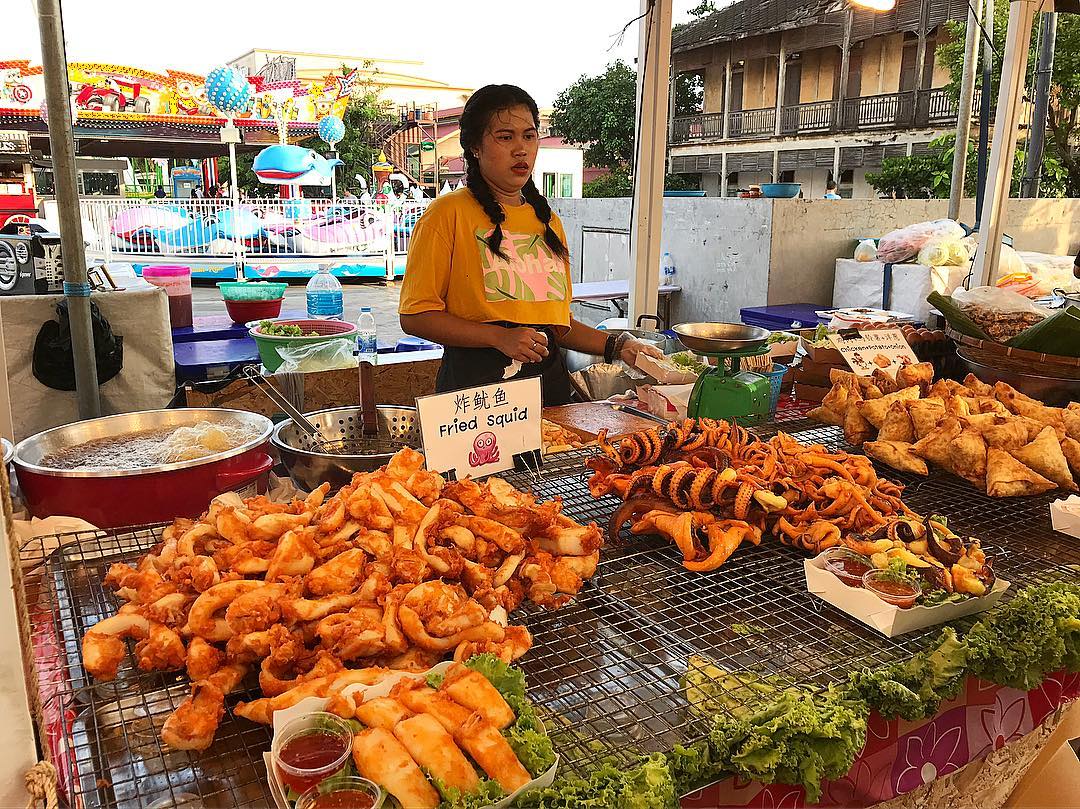 At these pavilions, you can see fresh ingredients and how the cook prepares the dish. Some sellers can speak English but not very clear. Therefore, we have prepared a list of the most popular dishes below. Som Tam (ส้มตำ) – Papaya salad Khao Pad (ข้าวผัด) – Fried Rice Pad Thai Kung (ผัดไทยกุ้ง) – Noodles with shrimp Khao Mun Gai (ข้าวมันไก่) – Steamed chicken on rice Gai/Moo Bing (ไก่/หมูปิ้ง) – Grilled chicken/pork skewers Sai Krok Issan (ไส้กรอกอีสาน) – Sour issan sausage Pad krapao moo (ผัดกระเพราหมู) – Stir-fried pork with basil Pla Pao (ปลาเผา) – Fish barbecued in salt The best way to enjoy as many street foods as possible is to take a food tour around a local market or a tourism district. You would love to try out these places below.
10. Street food in Chinatown
As night falls, the main streets of Chinatown begin to light up. The most famous food here are freshly baked seafood dishes in two restaurants, Lek & Rut and T & K. Do not indulge in some certain dish, so that you wouldn't be able to explore all the street food of Chinatown. This place is always crowded so at first, it would be a bit overwhelming, but you will soon feel the joy. The most popular dishes in the area are: dim sum, eggs with oysters, roasted chestnuts, ice cream, fruit, pasta, pepper noodles, etc.
11. Bang Rak
This is the ancient area of Bangkok with a long-standing immigrant community. These people brought with them their own culture and culinary. Over time, these dishes have been also harmonized with the traditional Thai food, making the cuisine here even more diverse.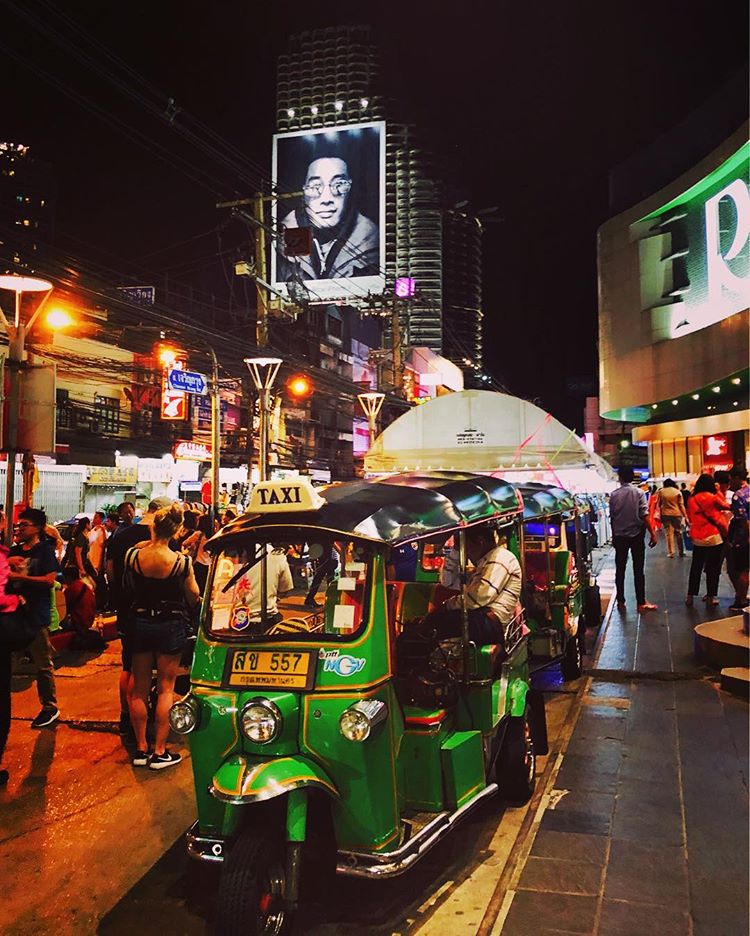 The most popular dishes here are: roasted duck, crispy fried pork, porridge, pork dumplings, roti bread served with green curry, toast, etc.
12. Bangkok Old City (Rattanakosin)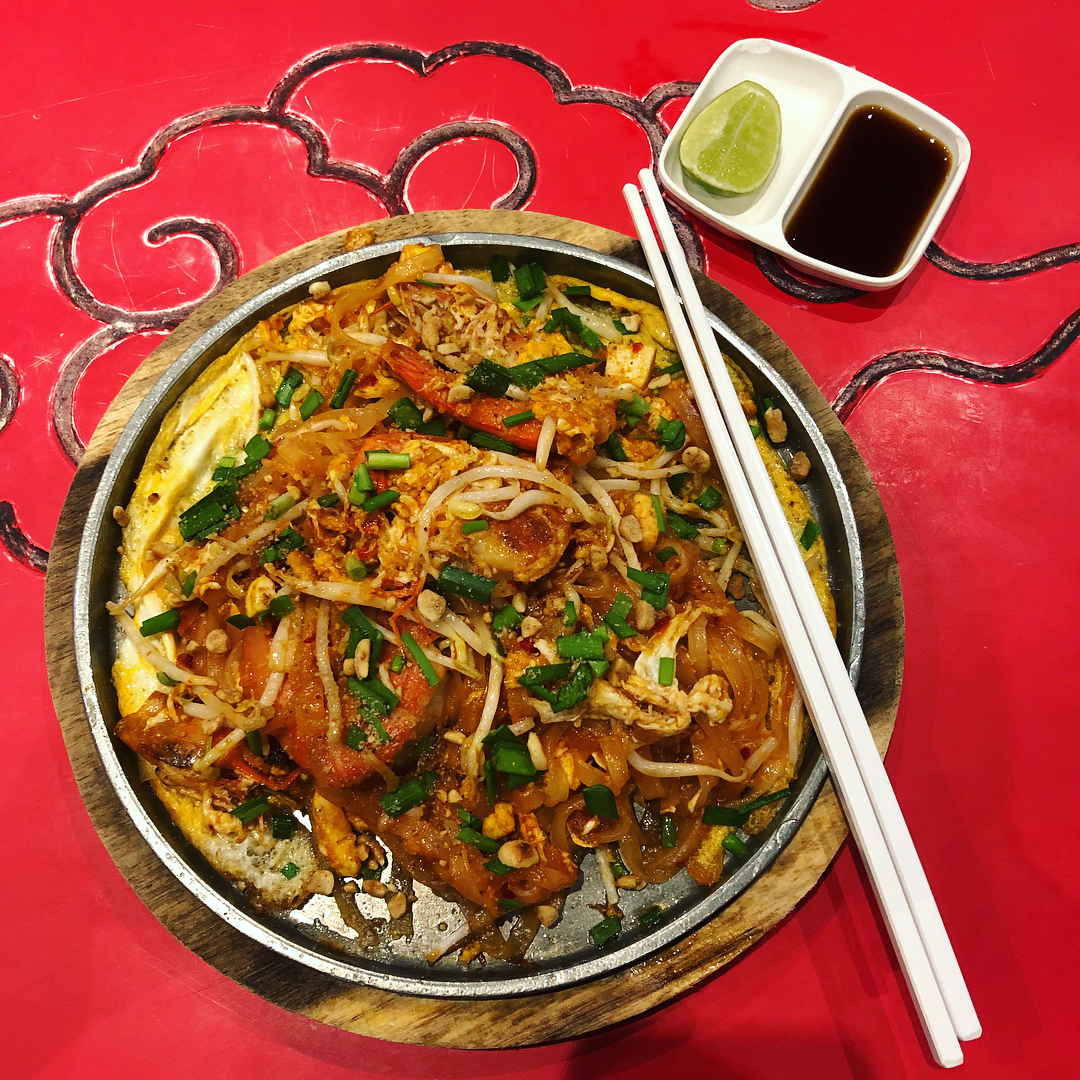 Bangkok Old City has many famous street food restaurants located in narrow streets. The most famous restaurant is Thip Samai serving Pad Thai. Old City is not only loved by travelers, but also the local people for its famously delicious Pad Thai (a noodle dish of Thai).
13. Street food on Khao San Road
Surrounding Khao San and Soi Rambuttri Road, you will find a variety of street food stalls with diverse dishes. Although the food here has been adjusted a bit to fit the foreigners appetite but it still does not lose the signature taste. Shopping in Bangkok - "It's unstoppable!" If you are a shopaholic, you're gonna love Bangkok. It's a shopping heaven, and you can find almost everything at a crazily cheap price. Here below is a list of top places to go shopping in Bangkok.
14. Chatuchak Weekend Market
In Thai language, Chatuchak means "weekend market". It is the largest market in the world, covers 1.13 km² and includes 15,000 counters, welcoming from 200,000 to 300,000 visitors per day. Chatuchak Market is next to Bangkok's Kamphaengphet MRT Station and just 5-minute walk from Mo Chit Station and Chatuchak Park.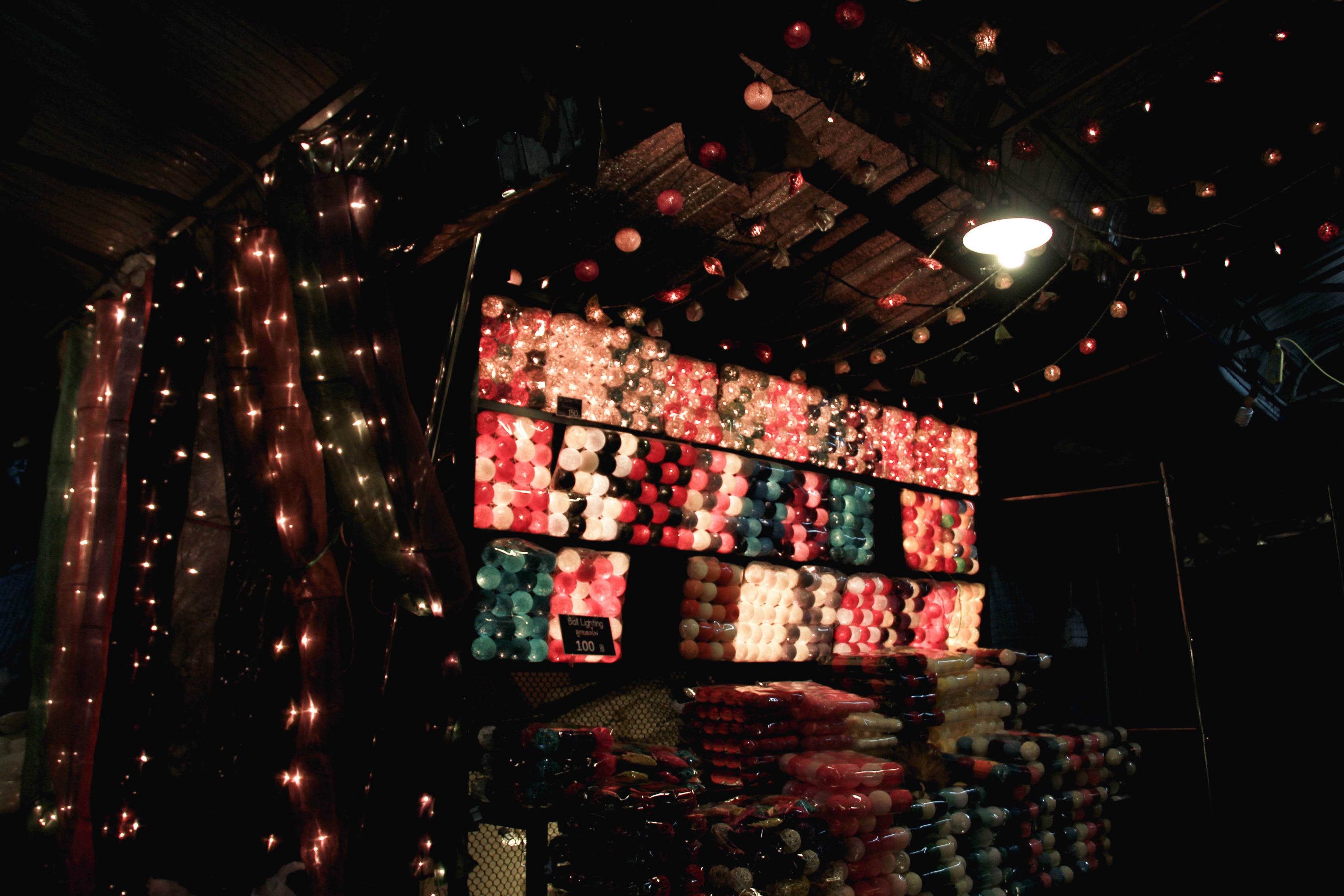 There are various kinds of goods sold at Chatutak, from food, flowers, trees, fresh fruits, to handicrafts, cosmetics, electronics. The most popular good here is clothes, footwear and other textiles. There are many promotions if you buy You can feel free to take a look without buying, and always remember to bargain as well. Don't worry, sellers here are always friendly.
15. Siam Paragon Shopping Center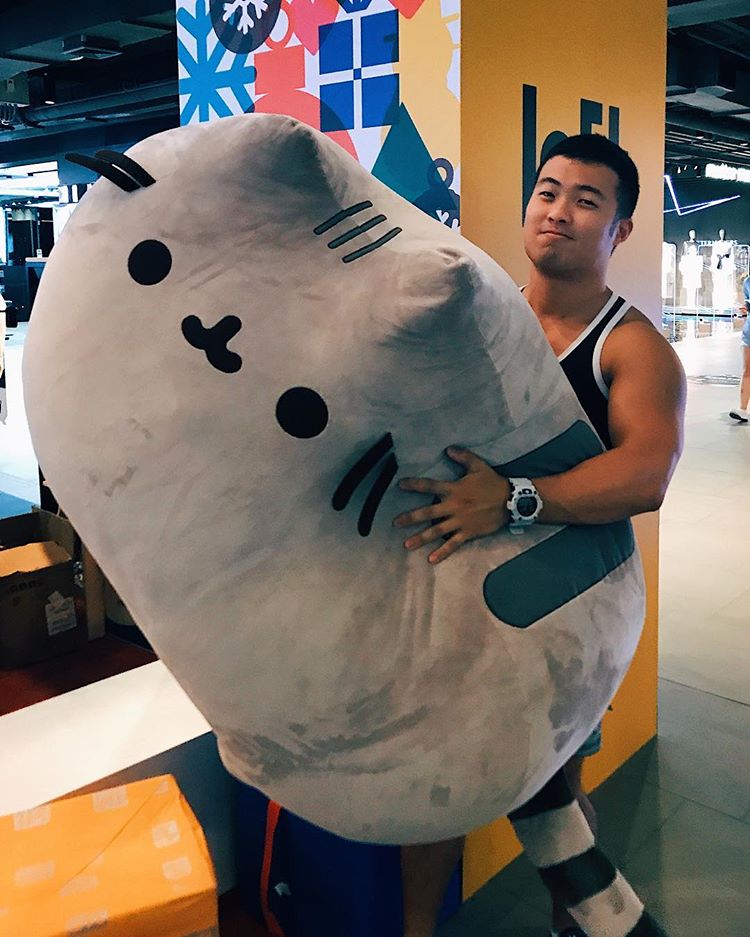 Siam Paragon is a pride of Bangkok. It is the largest shopping mall in Thailand (80,000 square meters). Siam Paragon is located on Sukhumvit Road at Siam BTS Skytrain square, near the Siam Center and Siam Discovery. This shopping center converges on a myriad of premium brands such as Chanel, Dolce & Gabbana, Escada, Gucci, Versace.
16. MBK Shopping Center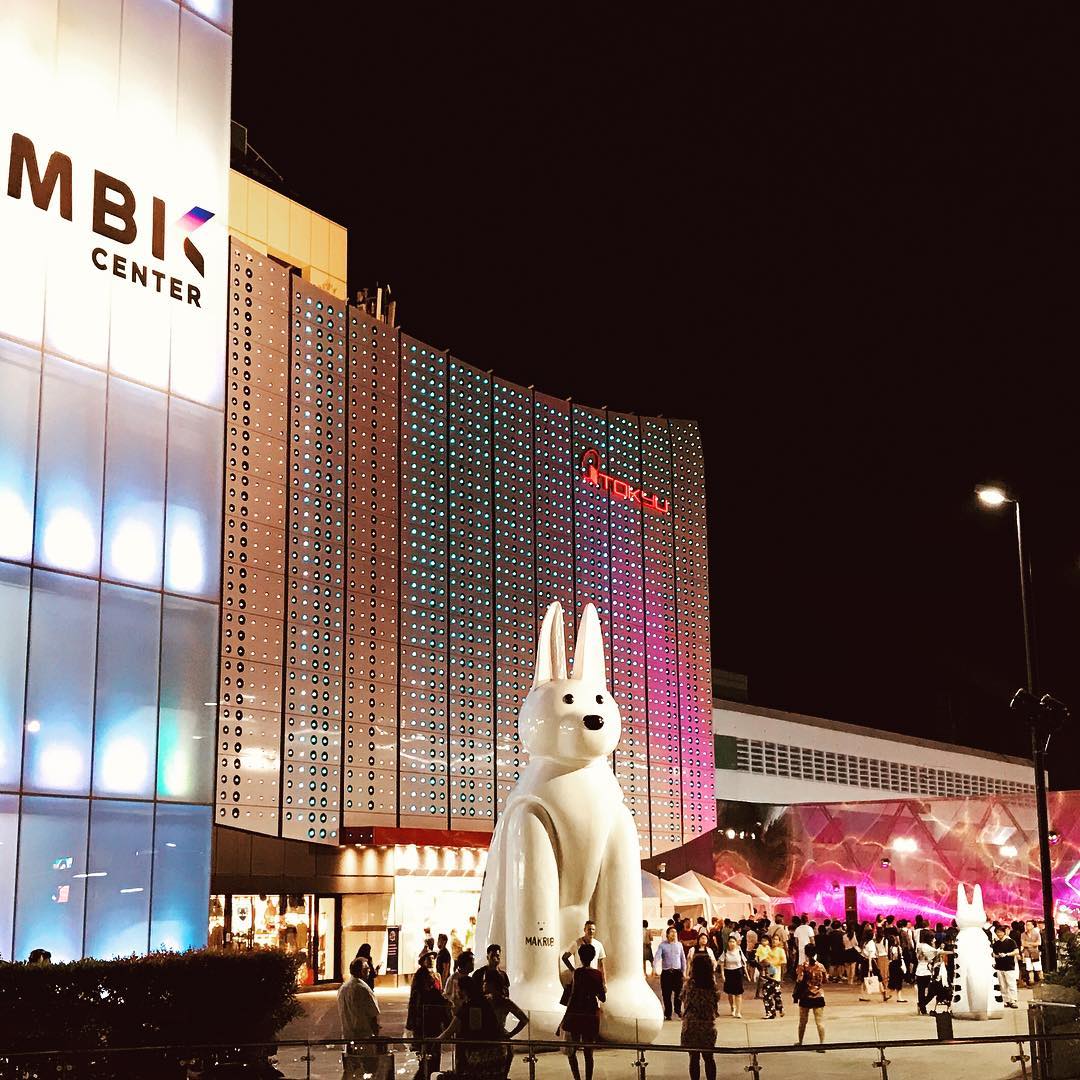 MBK Center is a large 8-floor building, one of the largest shopping mall in Asia. There are over 2000 shops and stores, including 150 dining outlets, a 4-floor department store and some large movie theaters. You can find bargainable items here including: clothes, cosmetics, leather, jewelry, electronics, IT, theaters, karaoke, game machines, etc.
17. Platinum Shopping Center
As a new shopping mall, Platinum brings you new fashion trends with a wide range selection and prices. If you are planning for budget shopping, Platinum would be perfect for you. Here they offer products at reasonable price, especially when you buy in bundles (from 3 products).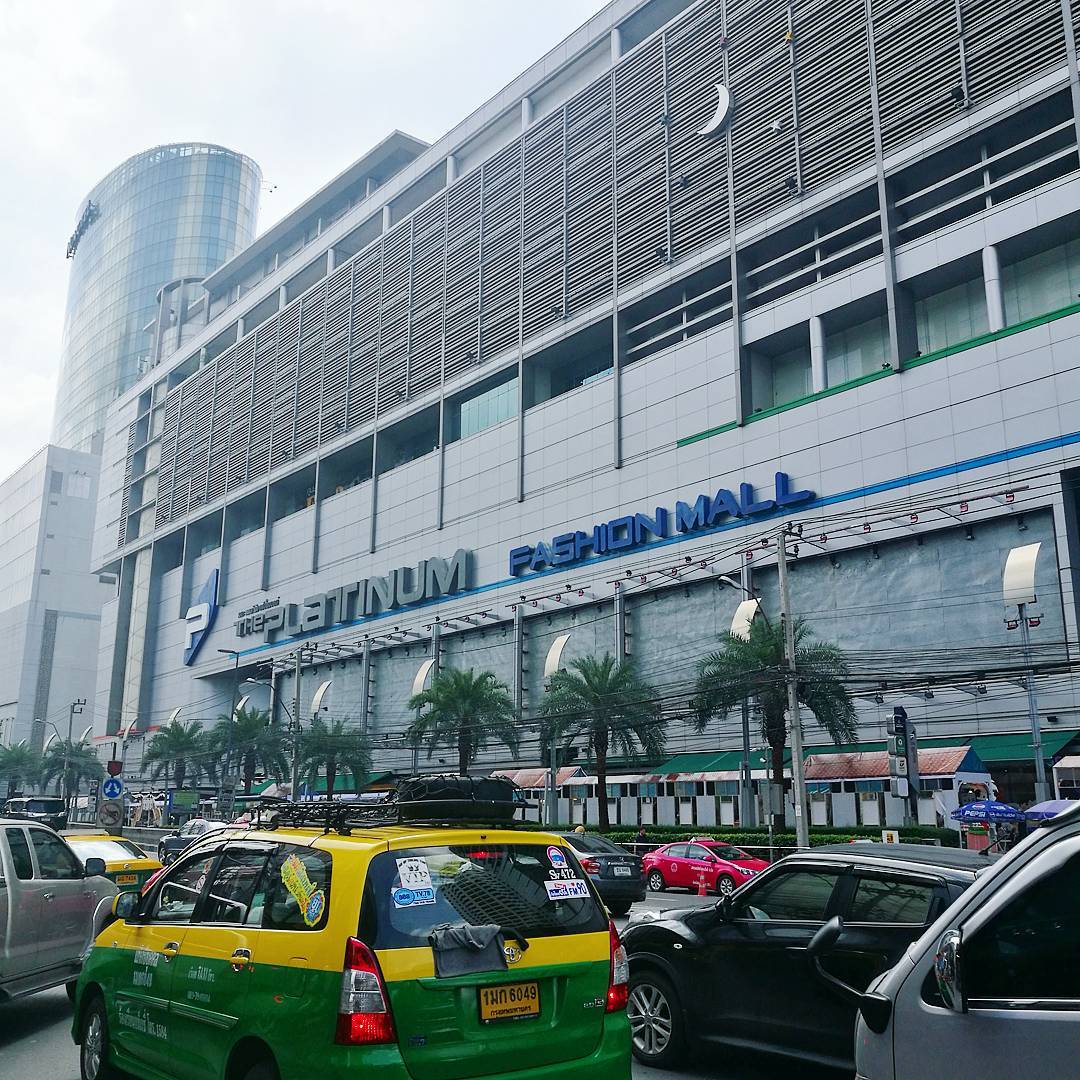 There are even some stores that offer discount for multiple products together, so you do not necessarily need to buy the same product in large quantities. Price here is usually 30% cheaper than the other shopping mall.
18. Taling Chan floating market
Known as the "Oriental Venice", floating market is one of the most unique charm of this city. Taling Chan floating market is located in western Bangkok, attracts travelers with food stalls on boats, serving grilled fish, steamed crabs, etc.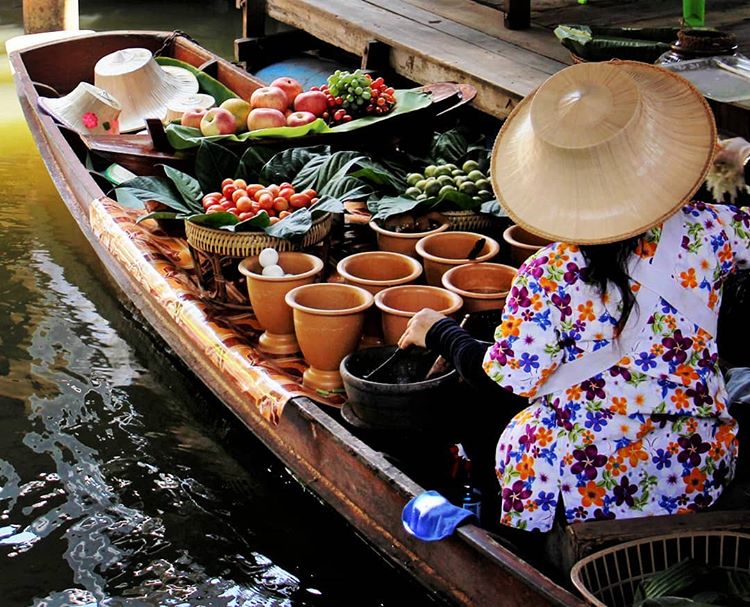 This is a long-standing market with centuries of history. The vendors, traders usually sell goods from 9am to 4pm, including traditional Thai food, desserts and fruits on their own boats. Nightlife in Bangkok - "A city that doesn't sleep!"
19. Night market on Khao San road
The night market on Khao San Road is where backpackers can find all Thai specialties or souvenirs such as Thai traditional food, pull shirts or other craft souvenirs. Khao San Road Night Market opened 24/7. The food stalls will be open from the morning to serve visitors, but as the sun goes down, the music starts and the streets become bustling until 11 pm.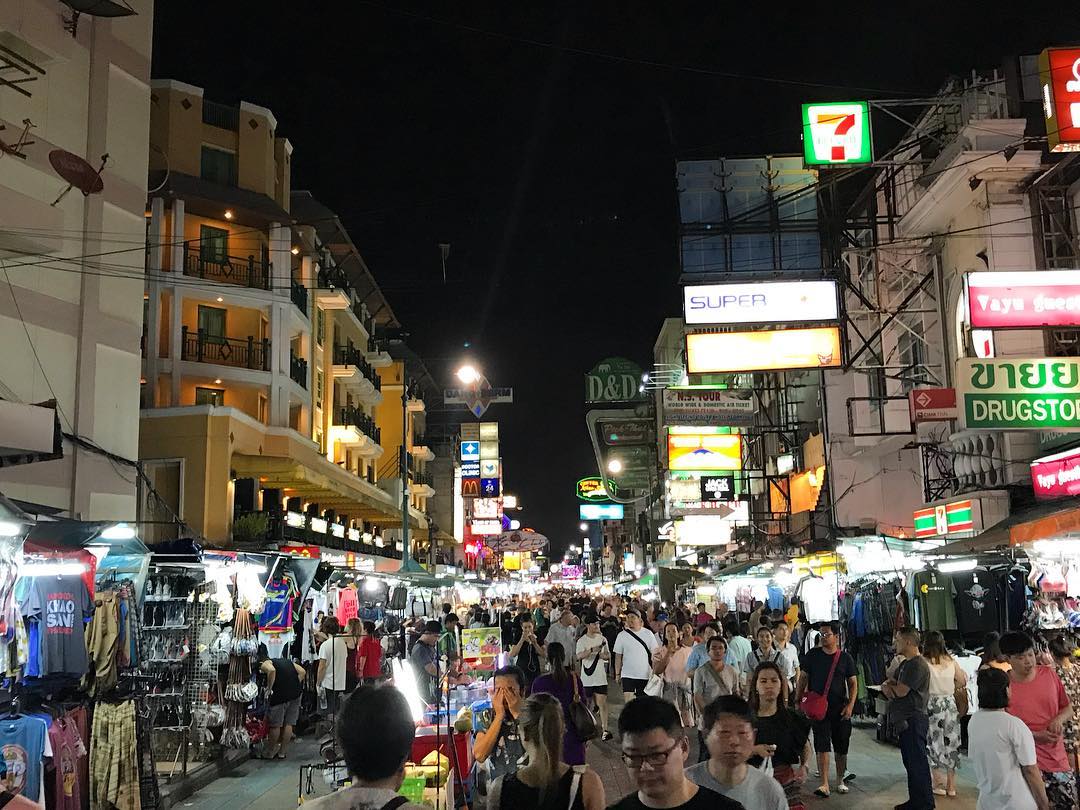 Khao San Road connects Chalabongse and Tanao Road. You can easily go to the market here by tuk-tuk or taxi.
20. Rooftop bar
If you are always looking forward to sipping cocktails while gazing at the city, or looking for a fine steak and seafood restaurant, Moon Bar of Banyan Tree hotel would be the ideal choice for you. Going to Moon Bar for a Malibu cocktail and watching the beautiful scenery of Bangkok at night is an awesome experience.
21. Patpong - The "Red light" district
Thailand and Bangkok is well-known for their "sex culture" and their open-mindedness to this kind of entertainment. Therefore, visiting a "red light" district would be a unskippable experience in the top list things to do in Bangkok.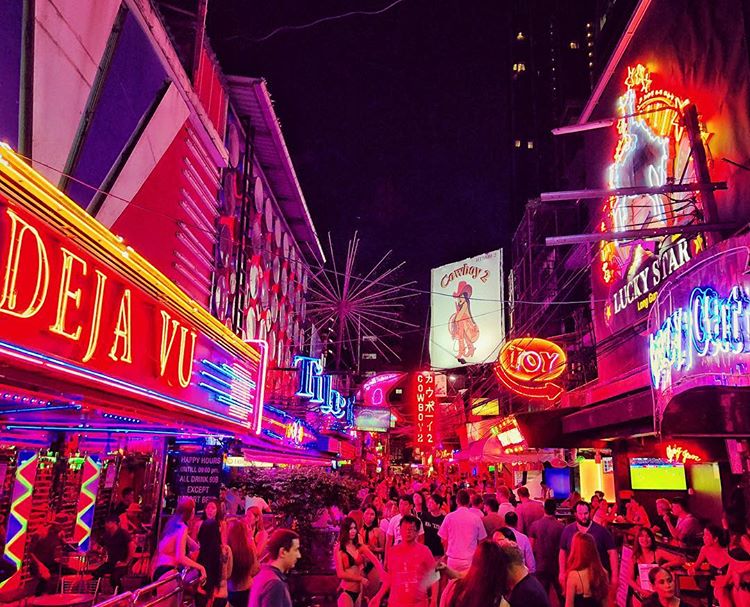 Patpong is not only a popular tourist destination, but also known as the number one "red light" district in Thai capital. The area began trading nightclubs and bars from the 1950s and became the night entertainment venue of the US military at that time. At Patpong, you would be impressed by the sexy dancers at their signature "sex show". This is also one of the places Thai where night entertainment is publicly allowed by the government, so it would a safe heaven for those looking for some refreshness.
22. Ladyboy shows
Ladyboy, also known as Katoey, in Thailand are the most beautiful and persuasive transgendered men in the world, and they are also well-recognized in Thai society. Bangkok is home to the best and most famous Katoey shows in the world.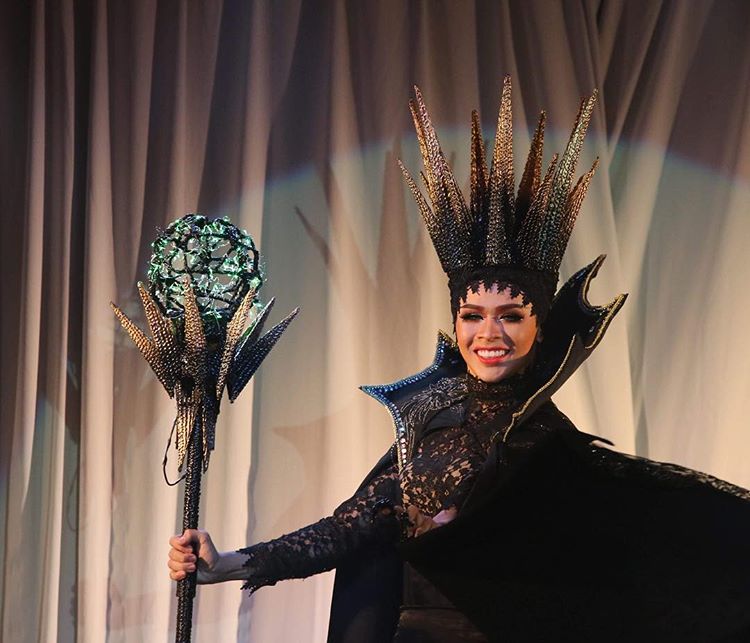 These variety shows often celebrate the beauty of women, from the Diva Glam and Disco Hollywood to the legendary characters, with gorgeous, breathtaking outfits and performance. In addition, gag performances in the show will bring laughter to audiences.
23. Bars and clubs in Bangkok
They say Bangkok is a city that doesn't sleep. When the night falls, many bars and clubs in Bangkok start to sparkle lights. Most bars serve young people with crowded, funky, vibrant and trendy dance floors.
24. Jazz live music
If you are more of something old-school romantic and seeking for things to do in Bangkok at night, a jazz live music show would be perfect for you. Opposite to the noisy night clubs, Bangkok's jazz bars is a seperate world of their own. Thailand's capital is home to some of the finest jazz artists in the country. We suggest you try out Saxophone Pub or Jazz Happens.
25. Siam Niramit - The History show
Siam Niramit is a world famous stage show about Thai history and their culture, traditions and beliefs. The program features a large cast of up to 150 people, with hundreds of different costumes and many acrobatic moves. All performances will re-present Thai history within 80 minutes. Besides, for those who want to have dinner before the show, Siam Namarita also offers delicious traditional Thai dishes.
26. Muay Thai show
One of the most popular sports in Thailand, and even worldwide famous is Muay Thai. Muay Thai is considered a traditional martial art, a distinct culture of the Thai people. At 6pm every Wednesday at MBK Shopping Mall, the Fight Night show outside the mall attracts hundreds of martial artists from all over the world.
27. Gay bars
If you are a member of the LGBT community, Thailand is your ideal destination. LGBT people are very well-recognized in Thailand. If the Patpong "red light" district is all about night entertainment, the streets in Silom 3 and Silom 4 are heaven for the gay world. This place is filled with gay bars, gay shows. This would be a very impressive experience for not only gay people but also curious travelers. We suggest you try visit the two best gay bars here called Gogo Boy and Boy Night Club.
28. Luxurious dinner while cruising Chao Phraya River
Cruising along the Chao Phraya River at night, admiring shining temples, is one of the best things to do in Bangkok at night, especially on the luxurious of the Apsara boat.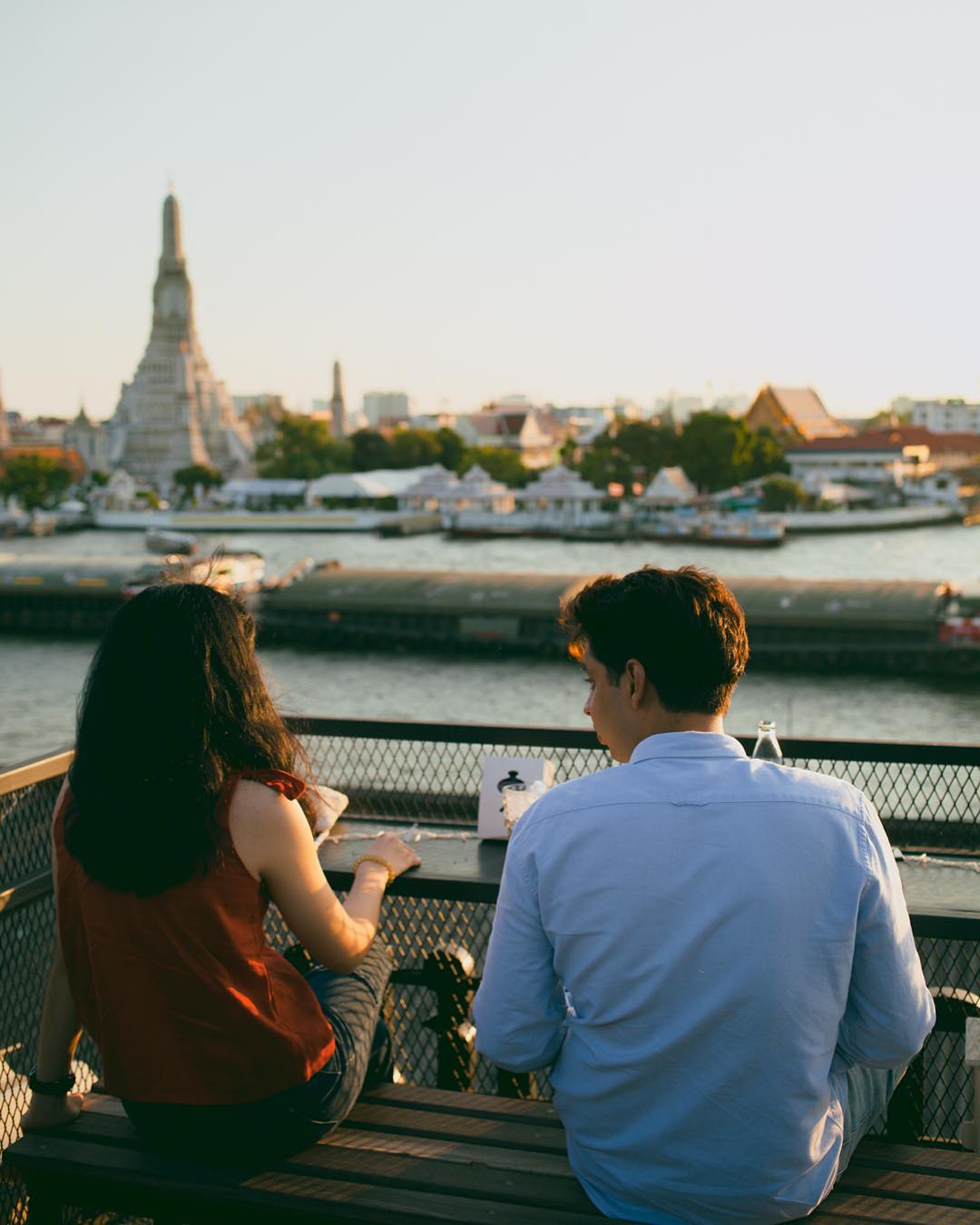 Romantic dinner in Bangkok Departing from the River City Pier, you will enjoy delicious Thai dinner party in a romantic atmosphere on the Apsara dragon boat. These above are our top favorite things to do in Bangkok for unique and fun experiences in Bangkok. Now check out Our hints for accommodations in Bangkok for a safe and comfortable trip, so you can enjoy the city to the max.