25 amazing things to do in Cairns
Cairns is a thriving tourist hotspot in Tropical North Queensland, immensely popular with tourists from all over the world. The city boasts mild winters, gorgeous beaches, stunning scenery, great nightlife and plenty of fun things to see and do. If you're visiting Australia, Cairns is a must! Here are the top 25 amazing things to do in Cairns, Australia.
Top things to do in Cairns
Check out!
Cairns is a small town of fewer than 170,000 people in the North of Queensland. Along with the Uluru in the red center of Australia, Cairns has become the quintessential location for visitors looking for that mind-blowing natural Australia experience. Most tourists use Cairns as a base for their Great Barrier Reef and Daintree adventures. Now, let's discover the top awesome things to do in Cairns.

Snorkeling at The Great Barrier Reef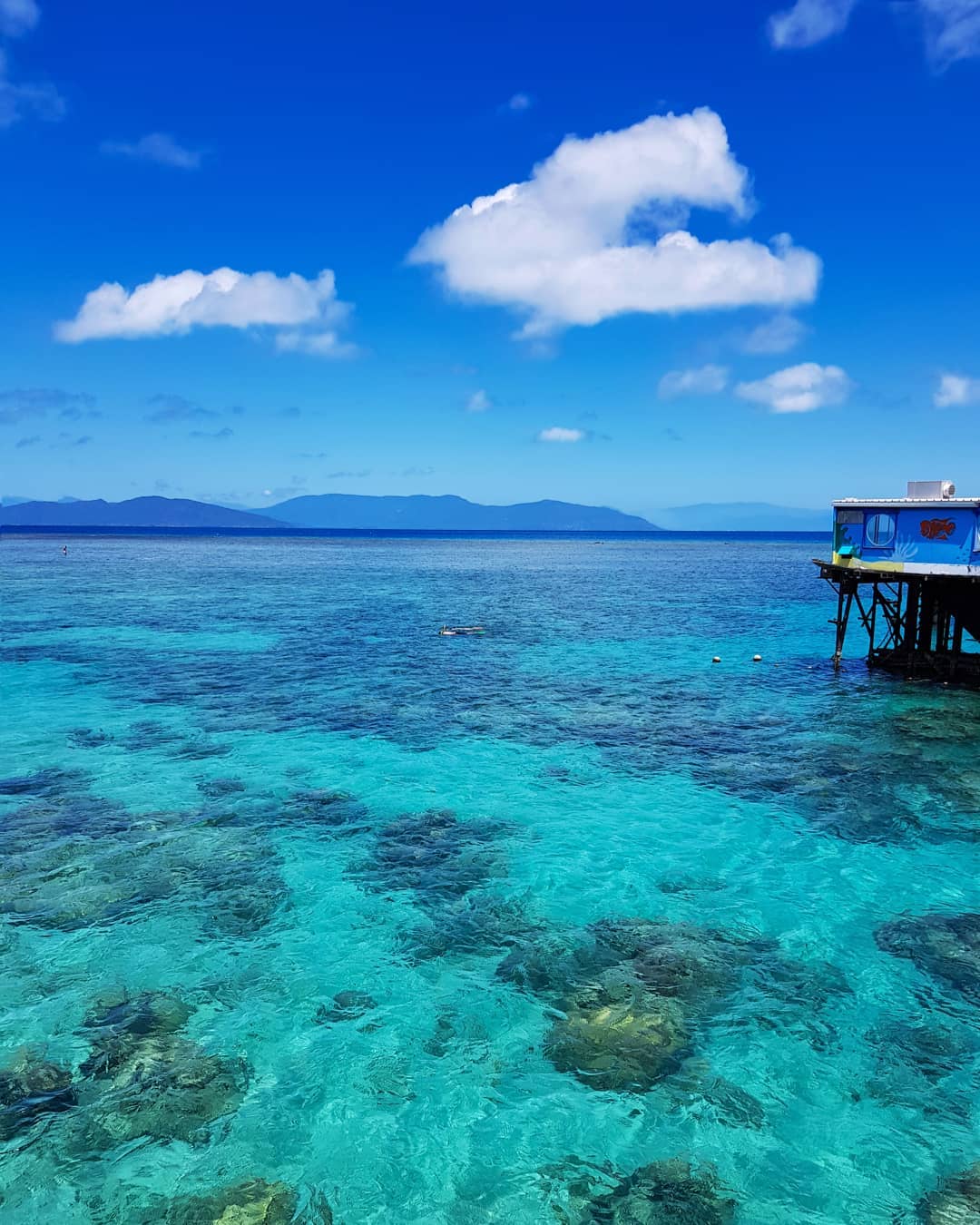 No visit to Cairns is complete without immersing yourselves into a Great Barrier Reef tour, the world's largest coral reef system - made up of nearly 3,000 individual reefs over an area of 344,400 square kilometers. In 1975, the Great Barrier Reef Marine Park was established to protect its fragile ecosystems, which includes more than 3,000 coral reefs, 600 continental islands, 300 coral cays, and inshore mangrove islands. One of the seven wonders of the natural world, the park stretches for 2,300 kilometers along with the state of Queensland on Australia's east coast. Day cruises out on the water with operators give you the chance to snorkel and dive among the vivid coral gardens.
Top day tours from Cairns to Great Barrier
Explore now!
Experience of Aboriginal Culture
Explore the rich history of the world's oldest living culture at the Tjapukai Aboriginal Cultural Park. Located just 15 minutes outside of Cairns, this authentic Australian Indigenous experience combines live performances of music, dance, and storytelling. Around 90-minutes north is the Mossman Gorge Centre, an eco-tourism development that allows visitors to explore the gorge while learning about the local Kuku Yalanji culture. The Bama Way, an Aboriginal journey from Cairns to north of Cooktown, lets you see Queensland from a more traditional perspective, from learning to throw a spear to hunting and gathering bush tucker in the mangroves.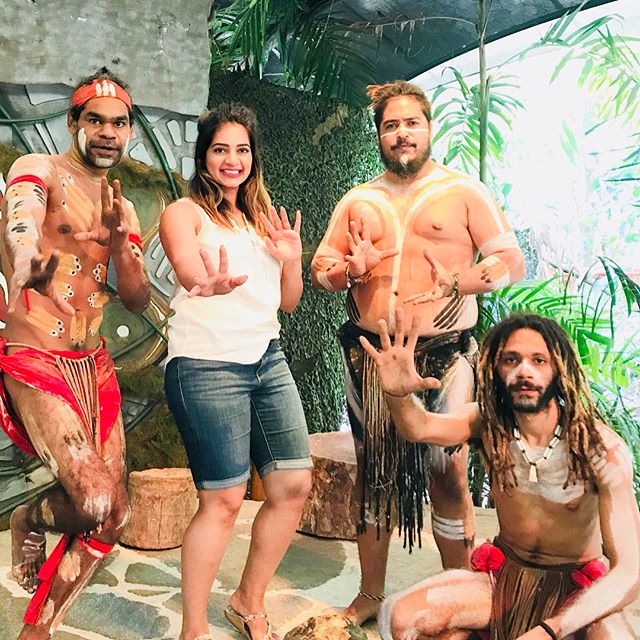 Instagram @rimmel.kaur
Visit the Markets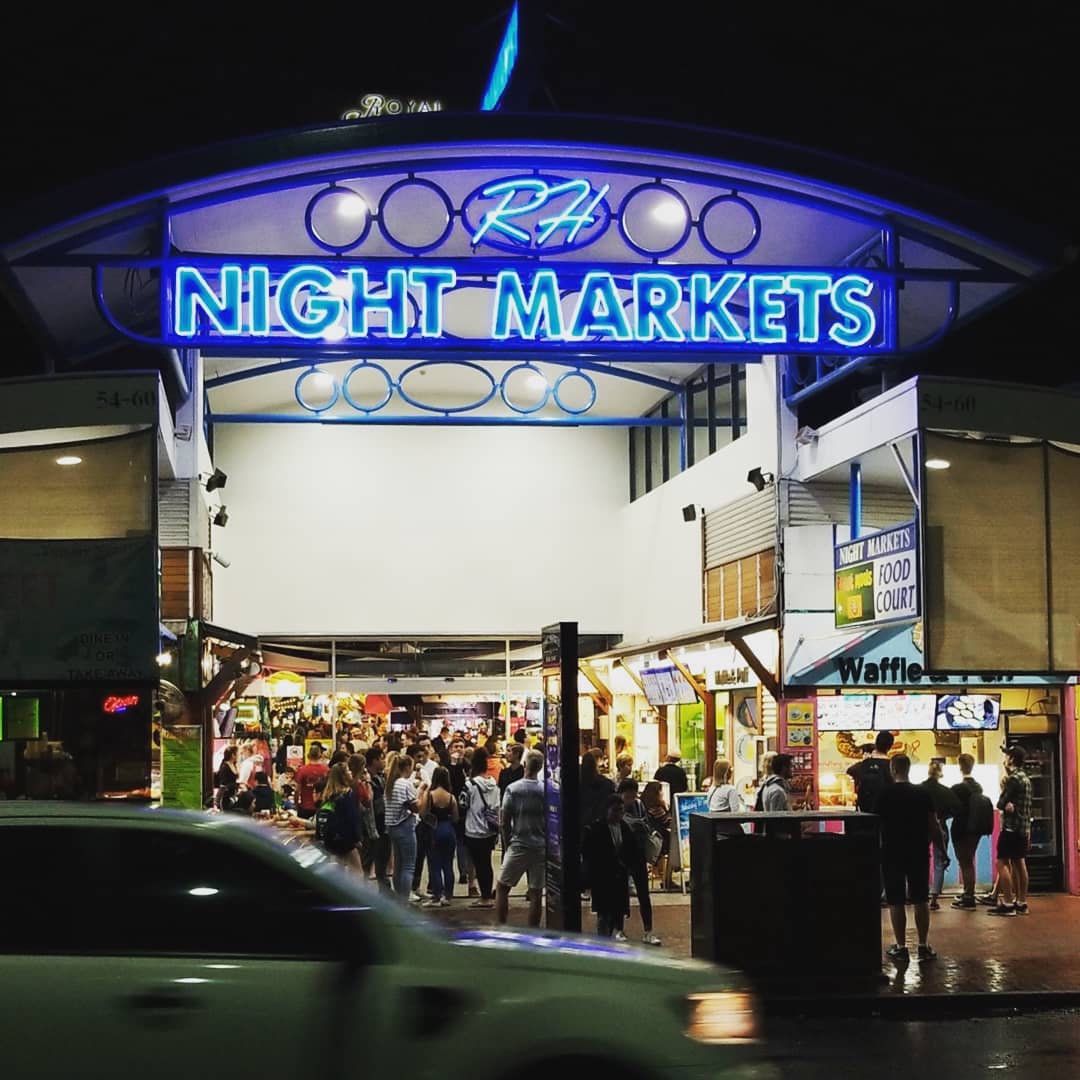 Like many towns in Australia, there are some great markets in Cairns. So instead of wasting all of your money on beer why not buy a few reasonably priced souvenirs for yourself or your family back home. In the market, you can choose your own oyster for them to open up and see what kind of pearl is inside. You can also find some very tasty and cheap food at the night markets! For cheap fruit and veg make sure you visit Rusty's Markets. It's cheap, smells amazing and there are enough fruit samples to easily provide a healthy and free breakfast!
Experience Café Culture and Foodie Fixes
Cairns has an established coffee shop scene, and those seeking a caffeine hit will find many trendy cafes on Grafton Street and Spence Street. Not only will you get a strong cup of freshly-ground coffee, but you'll also be spoilt with the breakfast and brunch options dotted across the city. For a memorable evening of good food and fine wines, take advantage of Cairns' balmy weather and dine alfresco on The Esplanade, with rustic Greek dishes from Yaya's Hellenic Kitchen and modern Asian fusion from The Raw Prawn, among others.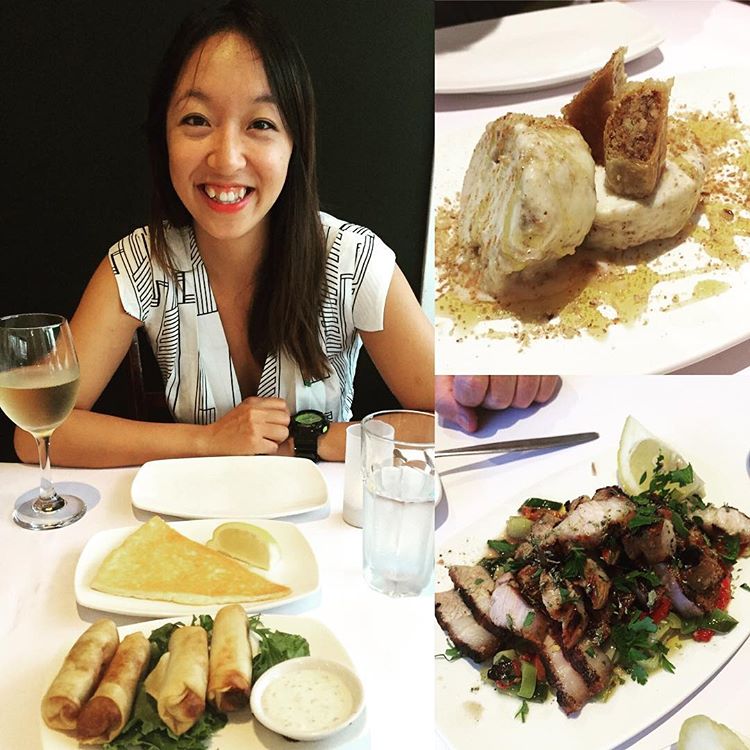 Swimming in The Lagoon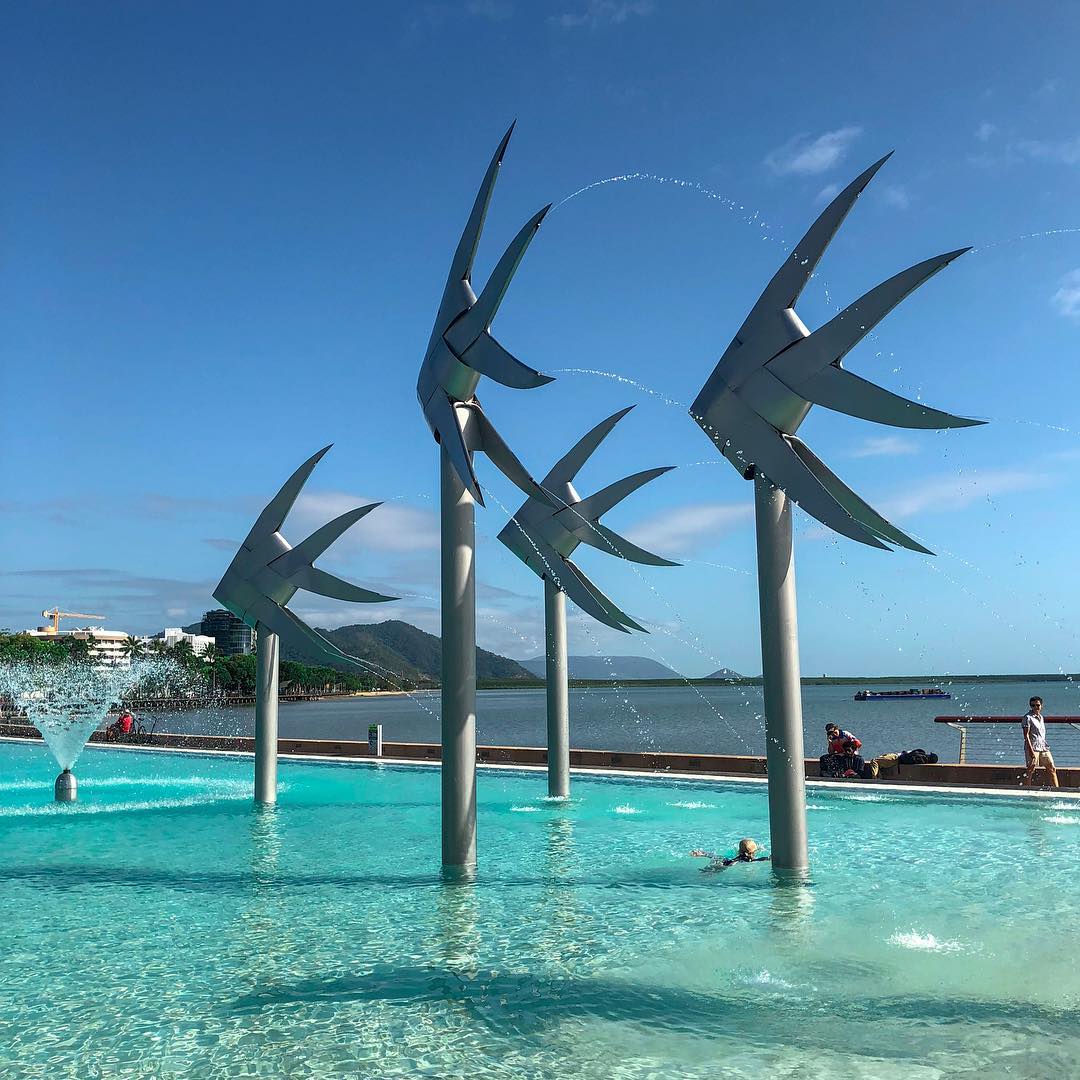 The Lagoon really is a nice place to relax; Instagram: @sianmunson
The heat in Cairns can sometimes become unbearable so what better way to cool off than in a huge, well-maintained outdoor swimming pool? Located on The Esplanade in central Cairns is 'The Lagoon', truly a great place to relax. Most Sundays the Lagoon also plays host to live and local music on a pop-up stage. A perfect way to overcome an inevitable Woolshed hangover. If the tropical heat hasn't knocked you out completely, you can also enjoy a scenic stroll along the Esplanade boardwalk that begins at the Lagoon. This has to be the most popular out of all of the free things to do in Cairns.
Explore the Waterfalls around Cairns
Get a bunch of friends together and hire a car for the day! Fortunately, there are some beautiful waterfalls very close by. Crystal Cascades is a local hot spot near Cairns and is just a short 20-minute drive from town; you could actually ride a bike there if you are fit! There are loads of natural swimming holes nestled within the Rainforest, a perfect way to escape the heat! The Stoney Creek Falls are also a popular local hot spot. The Falls are located around 8km from Cairns (just beyond the airport) and there are loads of rock jumping spots and freshwater swimming holes. A drive to Atherton Tablelands to see Millaa Millaa Falls is also a must.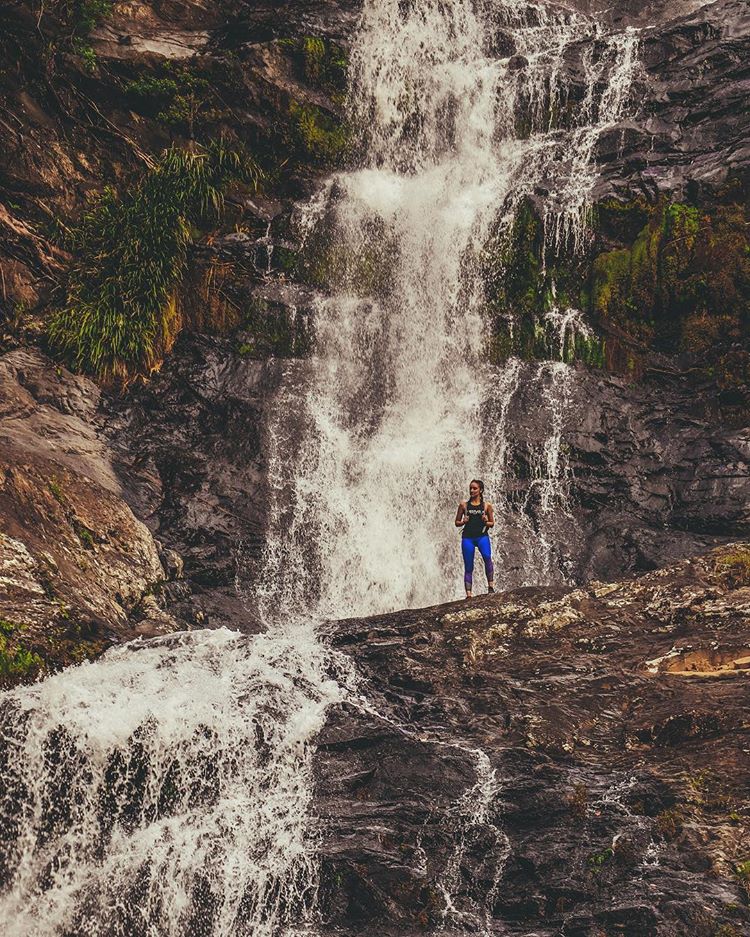 Have a trek at Daintree Rainforest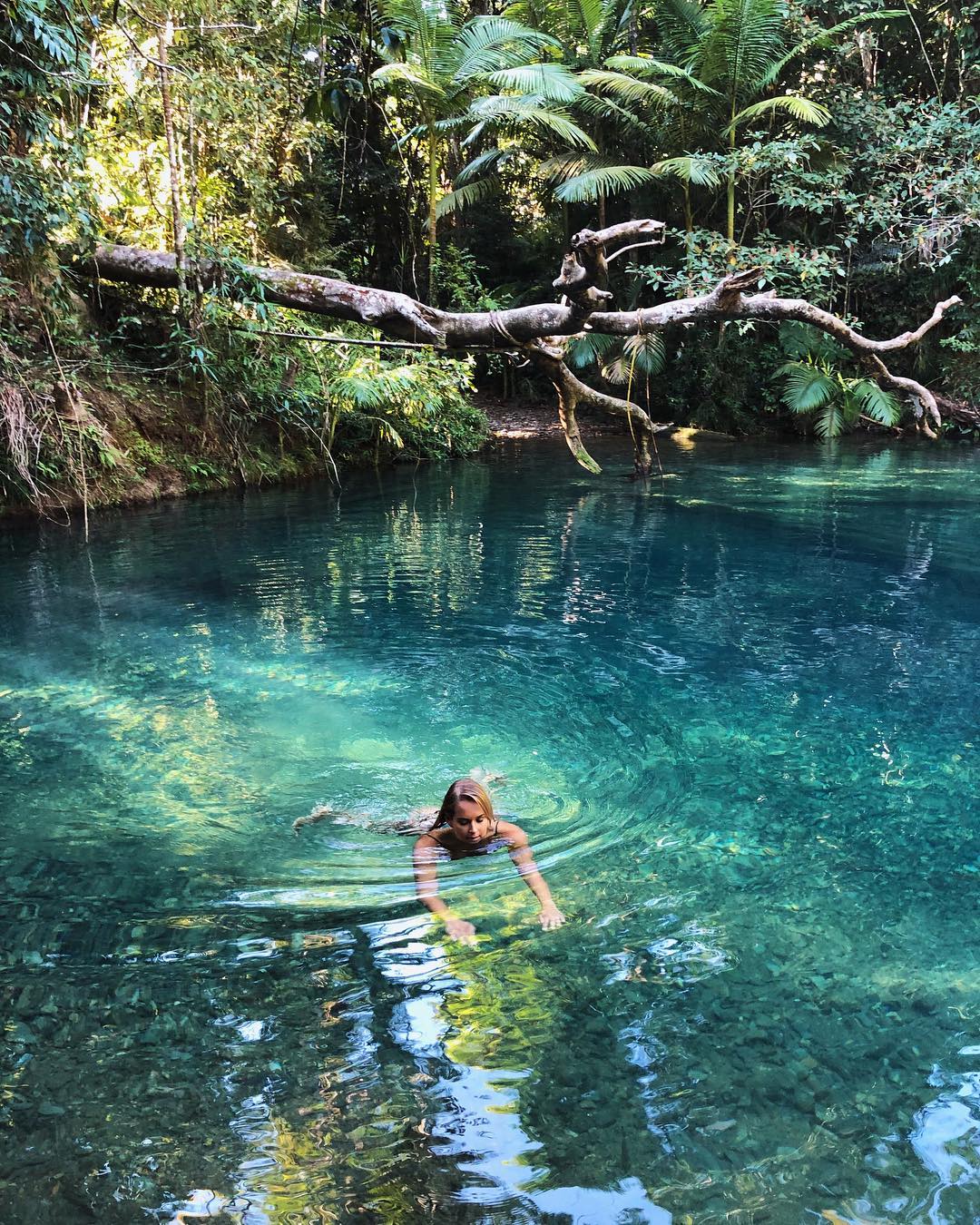 The Daintree Rainforest is one of Australia's most picturesque sites, with stunning scenery and an abundance of flora and fauna. In particular, you'll be able to find the vast majority of Australia's bat and butterfly species here. As well as being a delight for nature-lovers, it's also a fascinating spot for scientists: Australian flora and fauna have evolved largely in isolation, and the Daintree tells the story behind this incredible site. It's simply amazing just to enjoy the breathtaking walking trails, waterfalls, and forest and coastal views.
Dolphin and whale-watching
Cairns is known for its abundant marine life, and if you enjoy dolphin and whale watching, you've come to the right place. Various tour companies operate cruise tours, and you'll find a wide range of species here depending on the time of your visit. The Great Barrier Reef forms a breeding sanctuary for cetaceans (whales and dolphins), with 35% of the world's total living whale and dolphin species calling the Reef home. In particular, there's a period between July and September in which 2,000 humpback whales migrate to Cairns to give birth to and nurse their calves, making a 10,000km round trip all the way from Antarctic waters.
Visit the Tablelands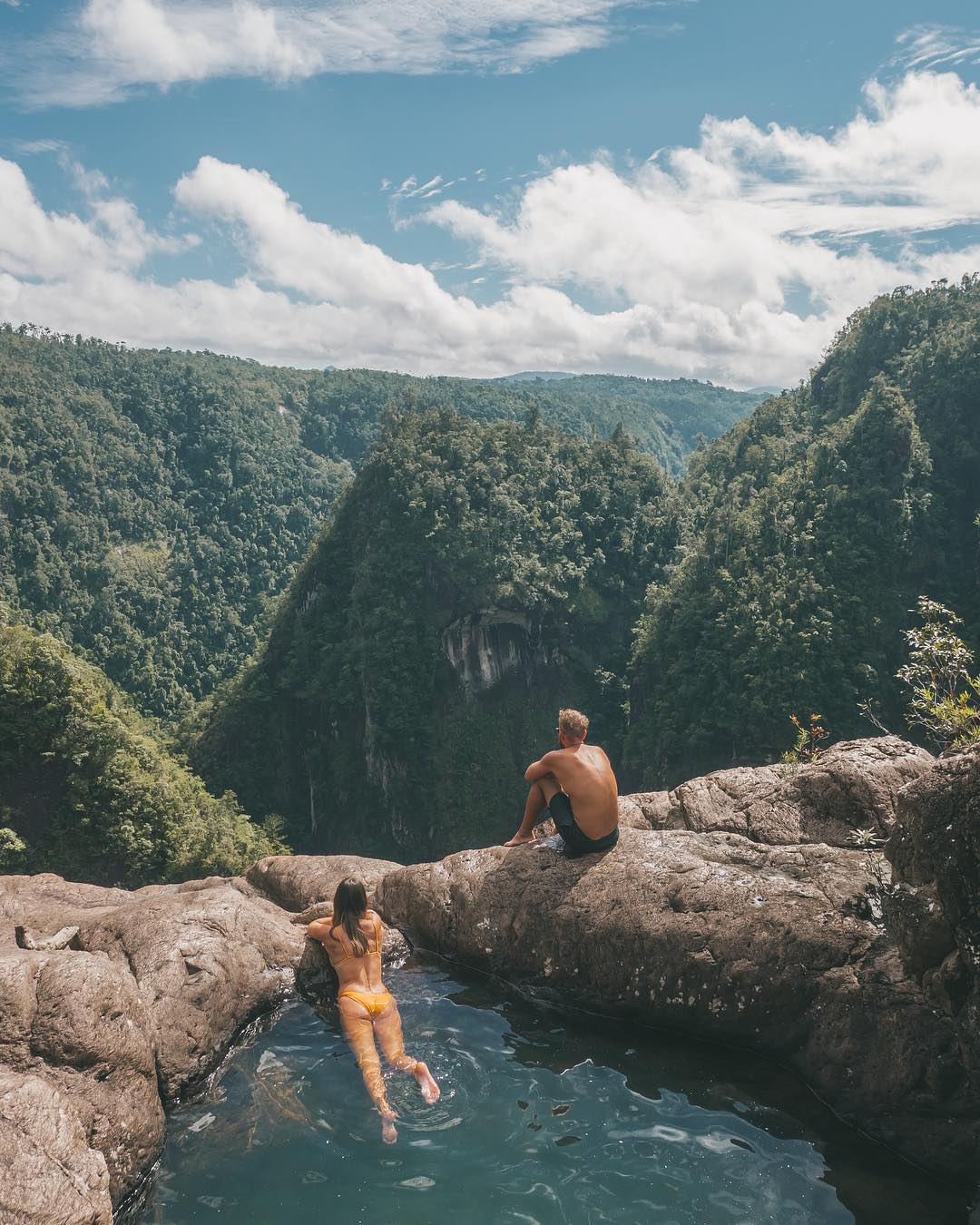 The Atherton Tablelands is a highland region half an hour out of Cairns, and they're a lovely way to spend a few days. They're not as heavily touristed as Cairns, which can be a refreshing change if you're looking for somewhere truly peaceful, picturesque, relaxing and unspoilt. The higher altitude of the Tablelands means that they are more temperate than Cairns, and with less humidity, making it a very comfortable getaway in the height of summer; like Cairns, the winters are mild. Many sweet little towns dot the Tablelands, and despite being quieter than Cairns, there's still plenty for visitors to do: the Tableland Express steam journey, Hou Wang Miau Chinese Temple, the Gallo Dairyland dairy farm, the Coffee Works boutique roastery, the Lake Barrine tea house, and the fascinating Tyrconnell Historic Gold Mine.
Go Water Rafting in Cairns
This is yet another exciting activity you can do in the rainforests of Cairns. This time, you can go white water rafting across its wild rivers and streams, with two different rivers you can choose from. The Barron River provides grade 2 and 3 rapids and is a great way to get acquainted with this activity. Or you can try the Tully River if you're looking for more of a challenge. This river features grade 3 and 4 rapids. No matter which river you choose, no prior experience is required. Depending on the tour you choose, you can also enjoy an Australian barbecue beside the banks of the river. Either way, this is a great way to reconnect with nature and have a lot of fun while you're doing it.
Relax at Mission Beach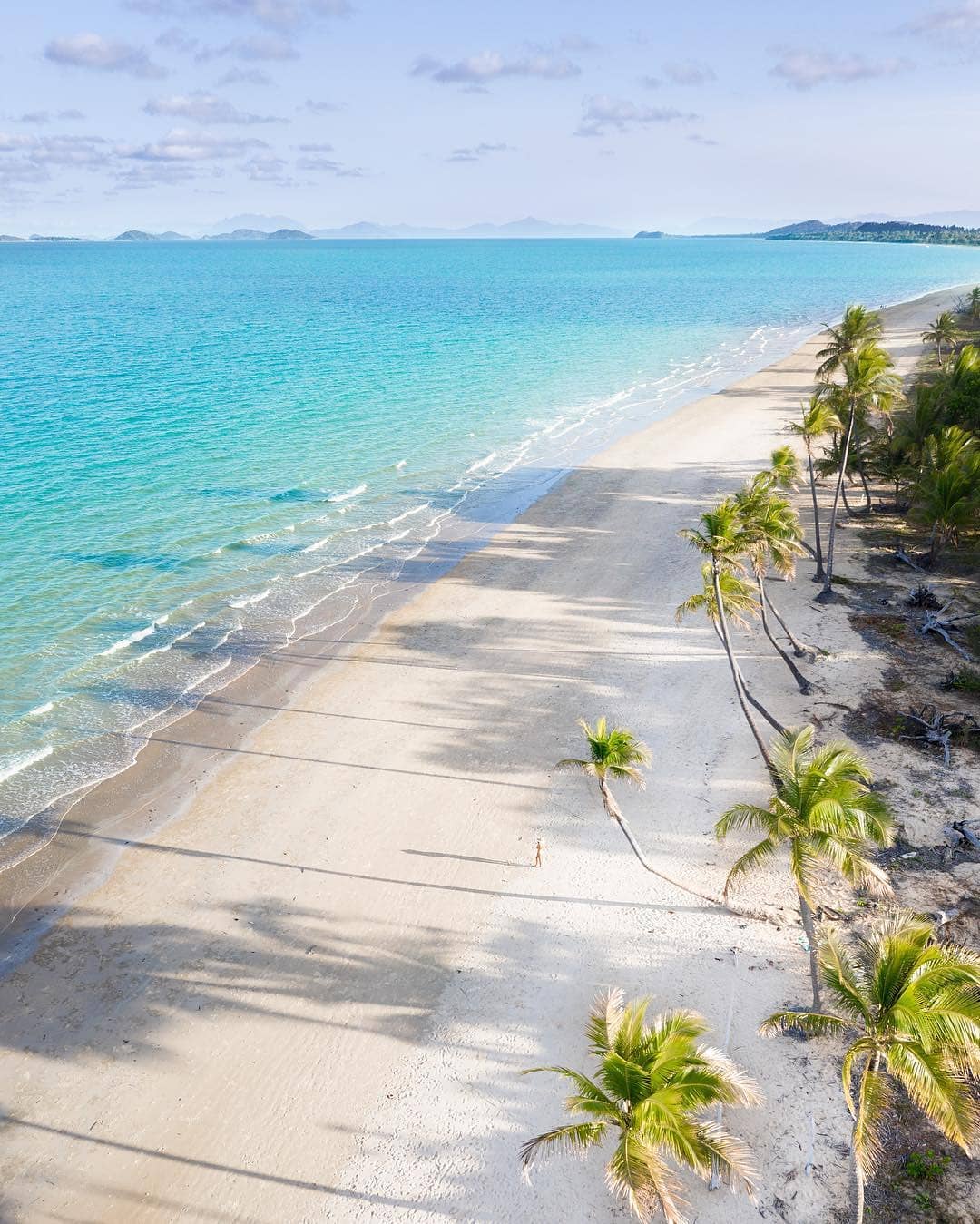 Halfway between Townsville and Cairns is the stunning Mission Beach. Four beach villages are linked together by 14 kilometers of golden sands. This coastline is a sunrise special, facing directly to the east and lined with palm trees. Wake up early and watch as the sun slowly rises over the ocean and finally breaks through some low cloud cover. Once the sunrise is in full swing, the palm trees shine along the coast. There are plenty of things to do in Cairns or in the surrounding towns like Mission Beach, which is only a short drive away.
Visit the rainforest in style with the Skyrail Rainforest Cableway
The Skyrail Rainforest Cableway is a 7.5km cableway running above the stunning, UNESCO World Heritage-listed verdant rainforest in the Barron Gorge National Park. The views from the Skyrail are extraordinarily beautiful, and it's a very relaxing way to travel through the rainforest in style. Various cableway gondolas are available, including glass-bottom gondolas where you can see the rainforest underneath your feet. There's also a fascinating Rainforest Interpretation Centre where you can learn all about what you're seeing, and Aboriginal cultural walking tours are available from the Skyrail Rainforest Cableway Barron Falls Station.
Take A Trip To The Village Of Kuranda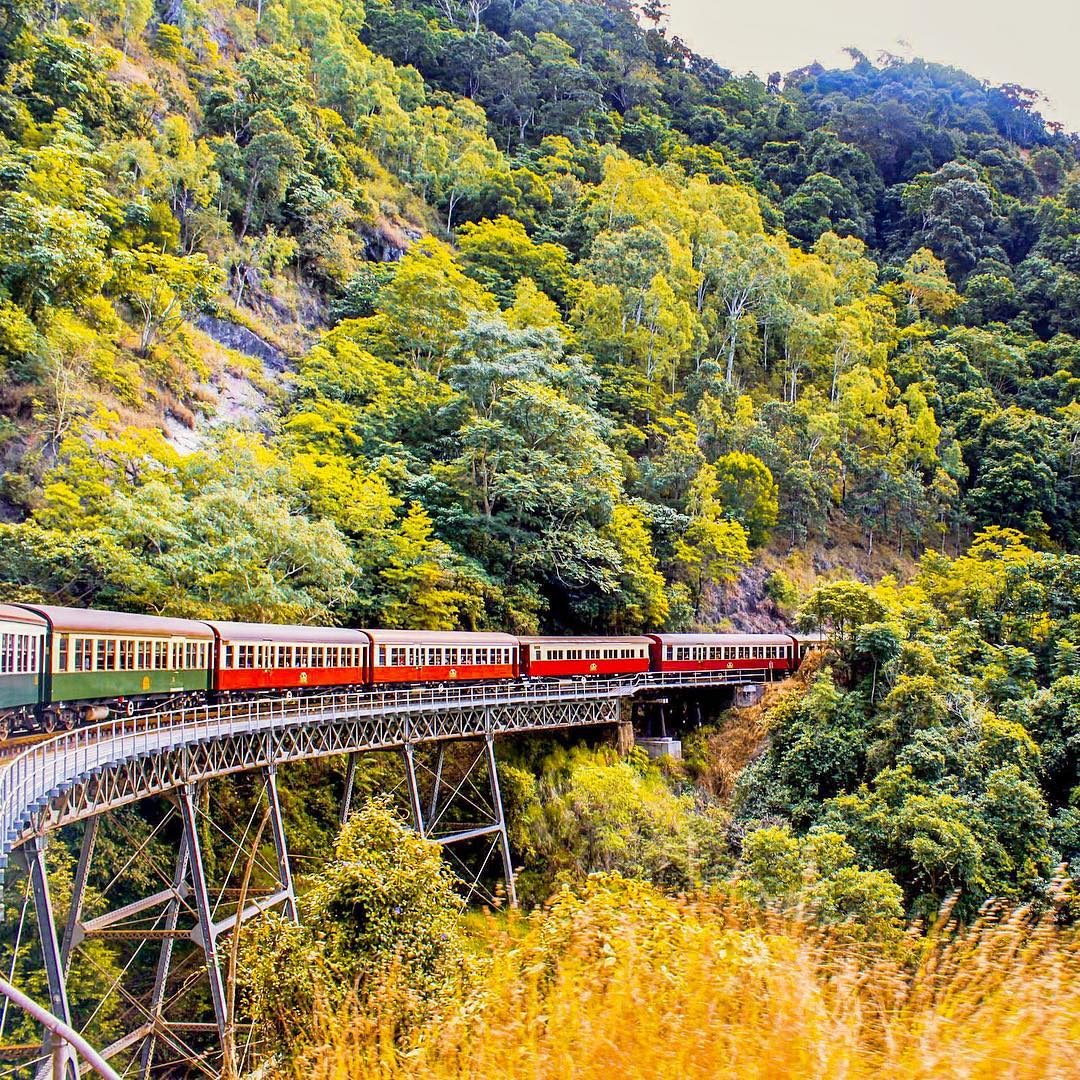 Kuranda is a nearby village that is surrounded by rainforest and is one of the most fascinating places to visit in Cairns. It contains many amazing attractions such as a bird aviary, a wildlife park, and the Tjapukai Aboriginal Cultural Park. Along with being one of the best things to do in Cairns, there are also a number of fun ways to get there and back. One of these is by riding the Kuranda Scenic Railway. This is a comfortable steam train ride that provides many scenic views of the surrounding rainforest. Or you can get a bird's eye view of the rainforest by riding in a gondola. You can enjoy both of these experiences in the same day by taking the train to Kuranda and the gondola back to Cairns.
Enjoy a taste of paradise at Port Douglas
Port Douglas is a seaside town just north of Cairns, with a lovely atmosphere. It can be on the expensive side, but if you've got cash to burn, you'll love the boutique shops and restaurants in town. It's much closer to the Daintree Rainforest than Cairns is, and it's also a great spot to base yourself when visiting the Great Barrier Reef; the town itself is a lovely place for a romantic holiday, some beachside fun at Four Mile Beach, or just wo wander around the town take in the atmosphere and learn about its fascinating history. From Four Mile Beach, you can take a very scenic walk past the Port Douglas Lighthouse and up to the top of Flagstaff Hill for a stunning view.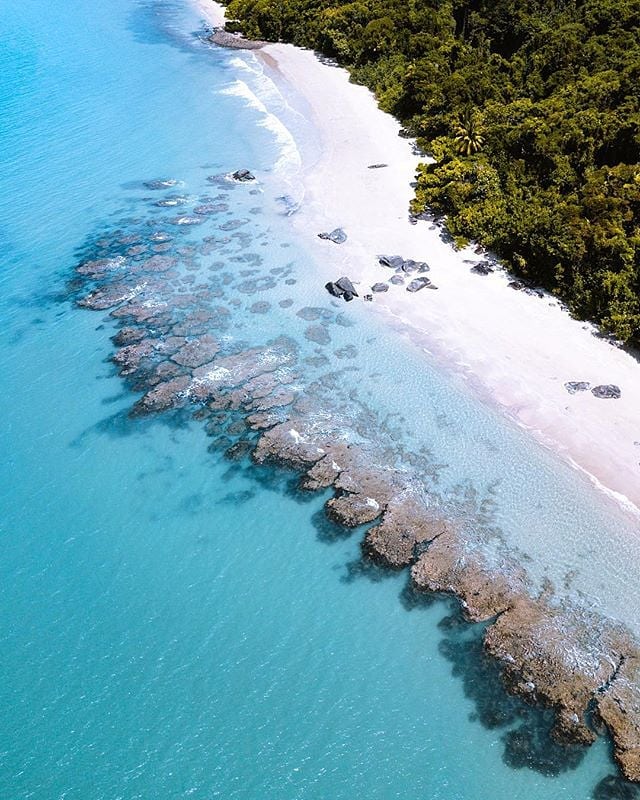 Go to Green Island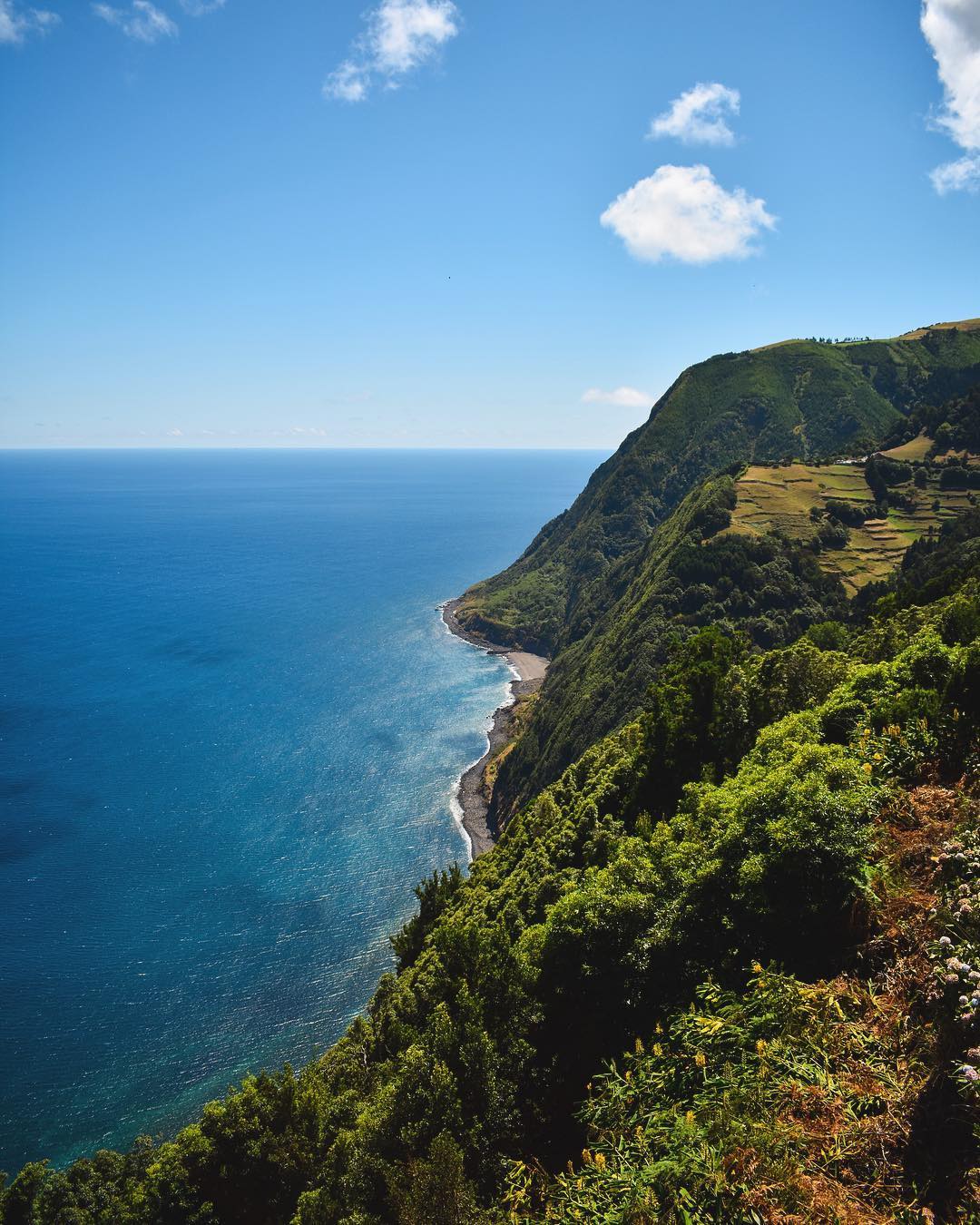 1-day tour to Green Island from Cairns
Book now!
Green Island is one of Cairns' most loved tourist attractions: a coral cay 27km offshore from Cairns, within the Great Barrier Reef Marine Park World Heritage Area, only 300 meters wide and 650 meters long. The pristine white-sand beaches, verdant rainforest, and crystal blue waters make it a perfect spot for relaxing and enjoying Australian beach life. Cruises are available to the Island, and there's the option to stay overnight at the Green Island Resort, considered one of the world's most eco-sensitive resorts.
See lava up close and personal
Usually, being able to see lava up close and personal would not be one's ideas of entertainment, but don't worry, this attraction is perfectly safe! At the Undara Volcanic National Park, guided tours will take you into an extinct volcano so that you can view the extraordinary Undara Lava Tubes. There are only 23 countries with lava tubes, and the tubes at Undara are believed to be the longest in the world. There's plenty of other fun to be had at Undara: you can stay overnight at a swag tent village or a pioneer hut, enjoy the Wildlife at Sunset tour, or check out exciting events such as Opera in the Outback.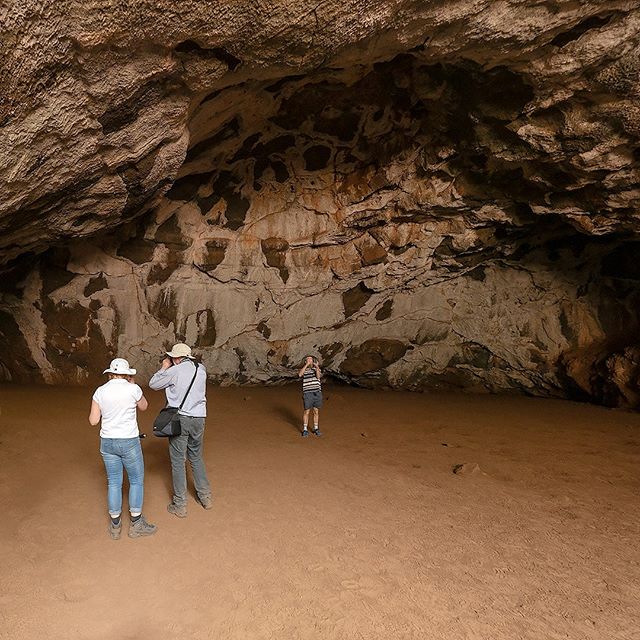 Check out our detailed guide to Undara national park to plan your best trip!
Explore The Chillagoe Caves
If you're interested in exploring the vast underground world near Cairns, then this is the activity for you. Chillagoe is a former mining town that's about two and a half hours from Cairns. It's famous for its system of limestone caves. It has almost a thousand caves in all, and there are multiple tours available that will allow you to see them. You'll find many brilliant stalagmite and stalactite formations here. They also contain Aboriginal art and the fossils of extinct animals. While you're in Chillagoe, you can also visit its local museum to learn more about the town's mining history. This is something that any history lover is sure to appreciate. Chillagoe is also located right on the Australian outback, and you can expect to see many different animal and bird species while you're there.
Take A Ride In A Hot Air Balloon
It might surprise you to learn that Tropical North Queensland happens to be the ballooning capital of the world. It's another incredible way to see the beautiful country of Australia from the sky. With this activity, you'll drive to Tropical North Queensland to take a ride in a hot air balloon. This happens early in the morning as the sun is rising. As such, you'll get breathtaking views of the Atherton Tablelands, along with much of the area's beautiful farmlands and rivers. This ride can take either thirty minutes or an hour, depending on which tour you choose. During the ride, your pilot will be able to show you various points of interest in the area. You also have the opportunity to learn something new during this trip. If you're looking for a real immersive experience, you can even help inflate the balloon for your ride and then help pack it up afterward.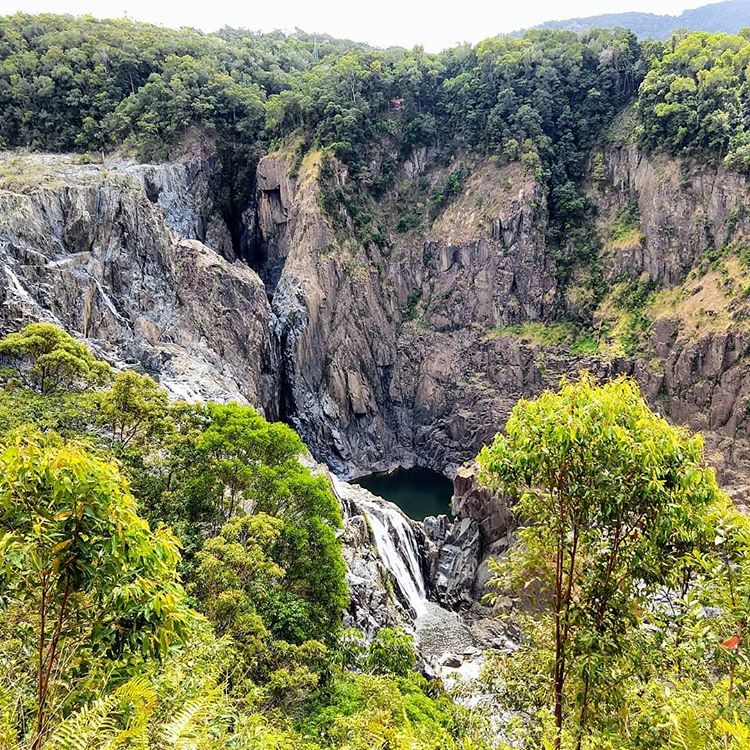 Visit Cairns Art Galleries
Cairns has a surprising number of art galleries. The Art Galleries are free to get in because they want you to buy something. You'll see some spectacular images of Cairns, The Great Barrier Reef and also images of some of the places you'll have visited during your time in Australia. One of the most popular is the Cairns Regional Gallery in the town center.
Go to Platypus Park
Don't miss the Tarzali Lakes platypus park and the 800-year-old Curtain Fig Tree. The Park and its natural surroundings are a place of interest for families and groups wanting to participate in activities such as platypus viewing and dining at the Smokehouse Cafe. If you are touring the region, please consider The Australian Platypus Park and the Smokehouse Cafe as a worthy stopover that will provide something of interest and enjoyment for everyone. Enjoy our licensed Smokehouse Cafe with a range of good value meals, wine, beer, and soft drinks.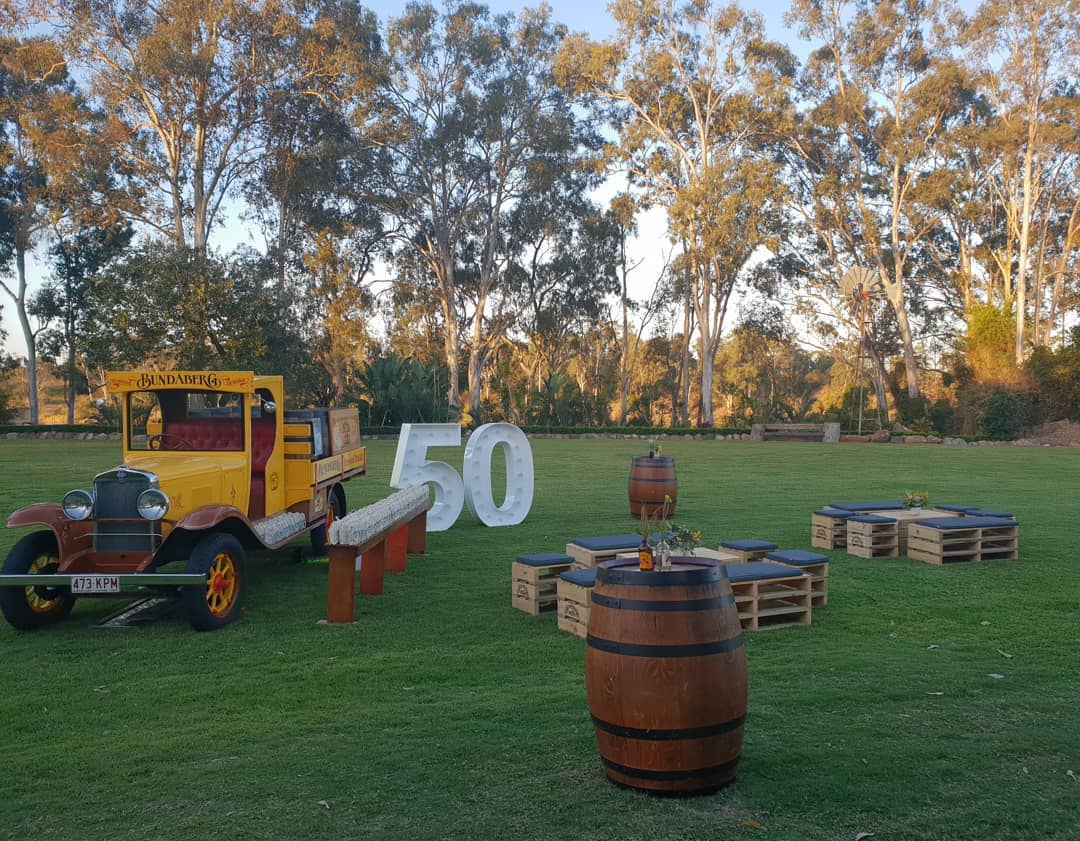 Visit The Botanical Gardens
The Botanical Gardens are considered to have one of Australia's best exhibitions of tropical plants, and the plant life here is strikingly different from what you may have seen in botanical gardens at cooler climates. There's also lots of native animals and bird life to spot in the grounds, walking tracks to explore, and informative tours to learn about the species you'll find in the  Gardens.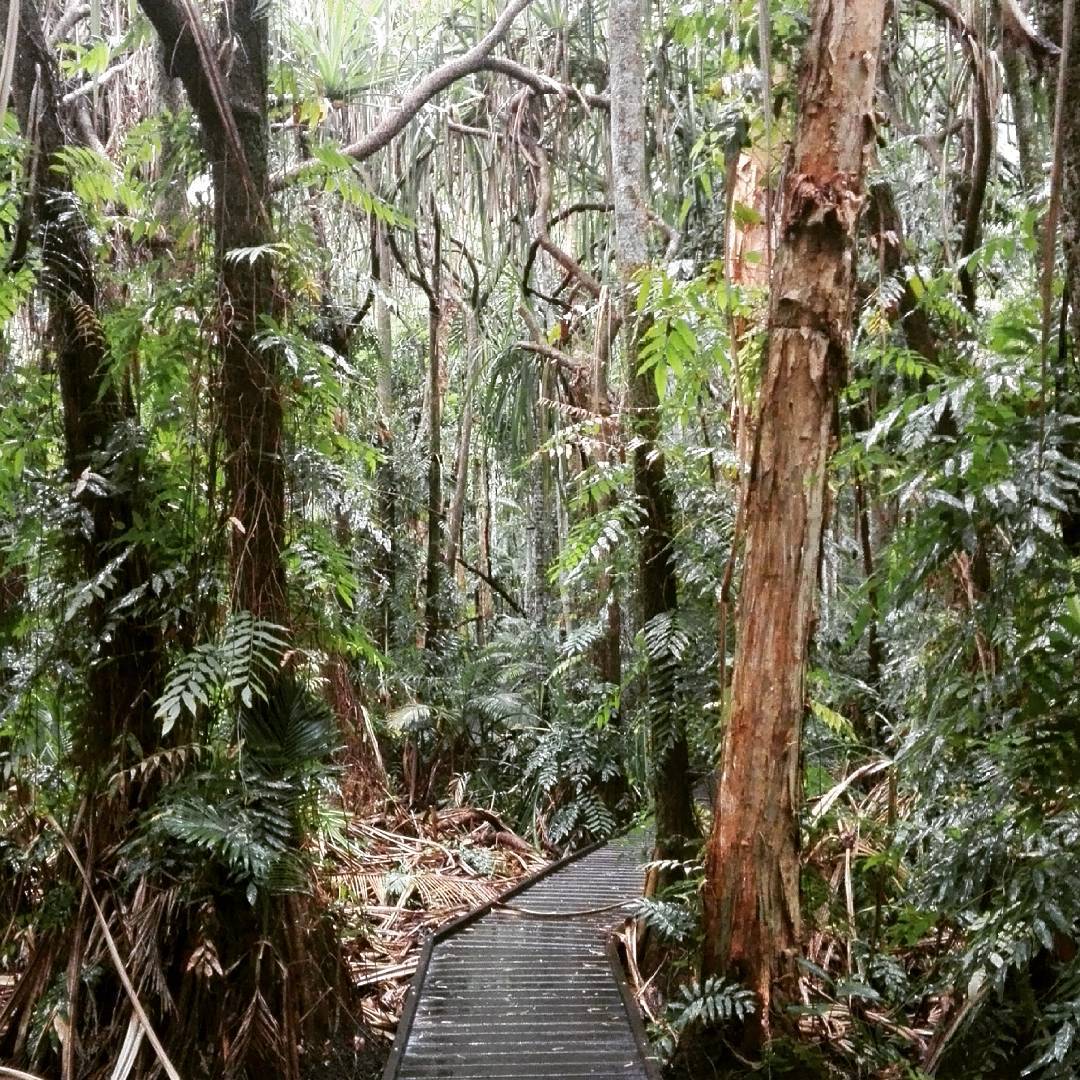 Learn about the indigenous culture at the Tjapukai Aboriginal Cultural Park
This award-winning cultural park is operated by the original custodians of the land and tells their myth of creation using a combination of actors and hi-tech holograms. You can also ride a canoe, take part in a fireside corroboree, and much more. It's a very educational and entertaining experience.
Check out the Australian Butterfly Sanctuary
While you're in Kuranda, stop in at the Australian Butterfly Sanctuary. This place is really lovely, there's an enclosed area bursting with lush green foliage and beautiful butterflies flapping around everywhere. The longer you stand there and stare at them, the more amazing they become. There's also a cool space where you can see the caterpillars and cocoons. It's an ideal place for families.
Palm Cove
Palm Cove is a charming seaside village and the home of a beach that's considered to be Cairns' best. The village is named for the paperback palms that line the Esplanade to gorgeous effect. It's a great spot for a relaxing day of sun, sand, and surf, and it's also popular for kayaking, snorkeling, and scuba. If you're a golfer, there's also a 9-hole golf course only a 1km walk from the beach.
Hit the clubs at Lyquid Nightlife
Cairns is hugely popular with young tourists from around the world, and a great nightlife scene has popped up to cater to them; of the various great venues around, Lyquid is considered the best nightclub in town. It's very luxe inside, with a gorgeous water swirl-themed entrance, and it's a great way to meet and mingle with energetic visitors from all over the world.