15 essential things to know before arriving at Da Nang Airport
Da Nang has been listed in one of the most worth-living cities in the world because of the magnificent beaches and the city's modernity. Da Nang Airport has two terminals that give you full access to the catering services, restaurant and coffee shops, current exchange spots, duty-free and souvenir shops, a VIP lounge, free WiFi connection & mobile charging. If it's your first time, you should know 15 Essential Things Before Arriving At Da Nang Airport below.
Da Nang Airport has two terminals that give you full access to the catering services, restaurant and coffee shops, current exchange spots, duty-free and souvenir shops, VIP lounge, free WiFi connection & mobile charging. If it's your first time, you should know 15 Essential Things Before Arriving At Da Nang Airport below.
1.  Arrival & Departure
When you arrive at the T2 Terminal at the airport, you will go through a process before heading to your destination. It includes a quarantine and immigration check first. Next, you will get your luggage and take a customs inspection.
If you leave Vietnam at Da Nang Airport, make sure your document has the Vietnamese stamp because you will show your ticket and document in the security area.
2. You Need A Visa
In the customs inspection step, you may be asked for a visa. You can register online via the government official website. The e-Visa costs $25, takes 3 working days, and is valid for 30 days. After 3 days, you could print the visa and keep it for departure. If you want to extend the visa for more than 30 days, ensure to find a trusted agency to support you because once you arrive in Vietnam, you couldn't do that.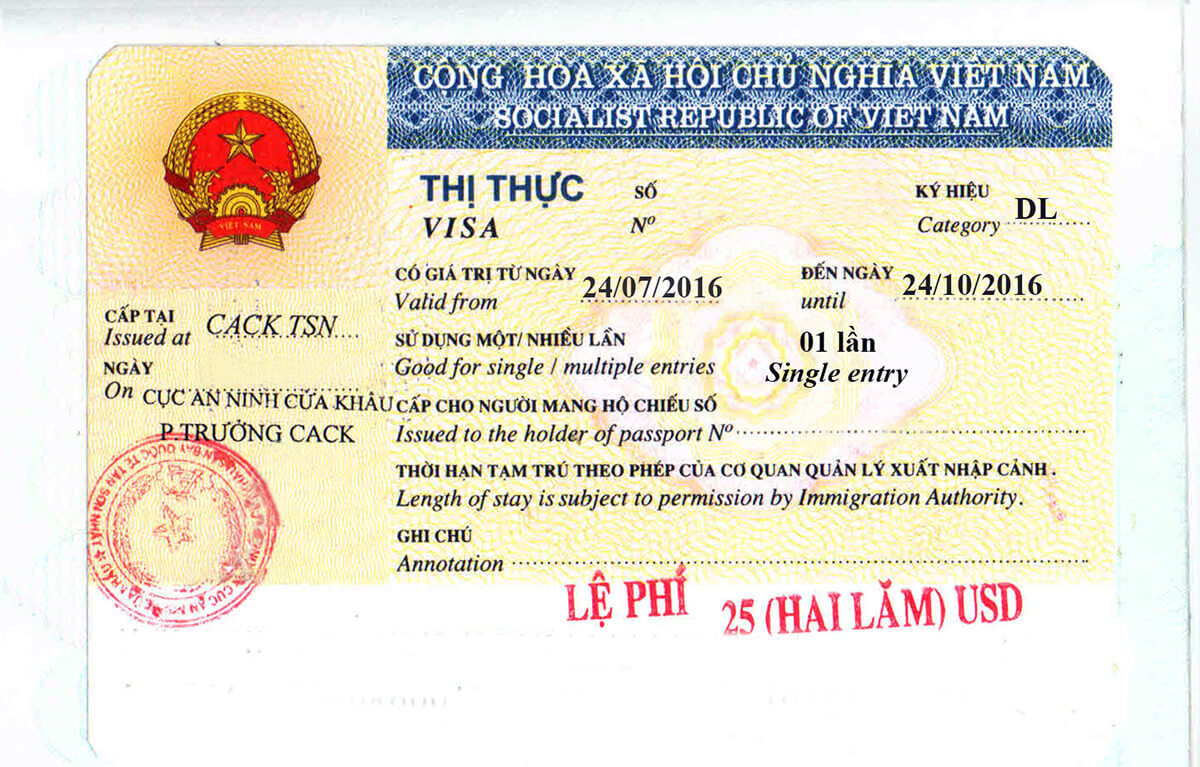 The e-Visa will require:
Your 6-month valid passport
A photo of your passport information
A 4x6 portrait photo with a white background and no glasses
Your debit or credit card (Still valid)
Your email and stay address in Vietnam
Entry and leave dates and entry and leave airports
3. Fast Track Service
While you're worrying about the time-wasted visa process at Da Nang airport, their fast track service will please you a lot. The fast track service makes your process faster and easier without wasting your time.
To get the fast track service, you have to request for an approval letter on the Internet first. When you get an approval email, you can feel relieved that there will be staff waiting for you at the airport when you arrive. If you can't find them, just make a call. When they see you, they will take you through a quick and simple Visa checking step.
4. A VIP Lounge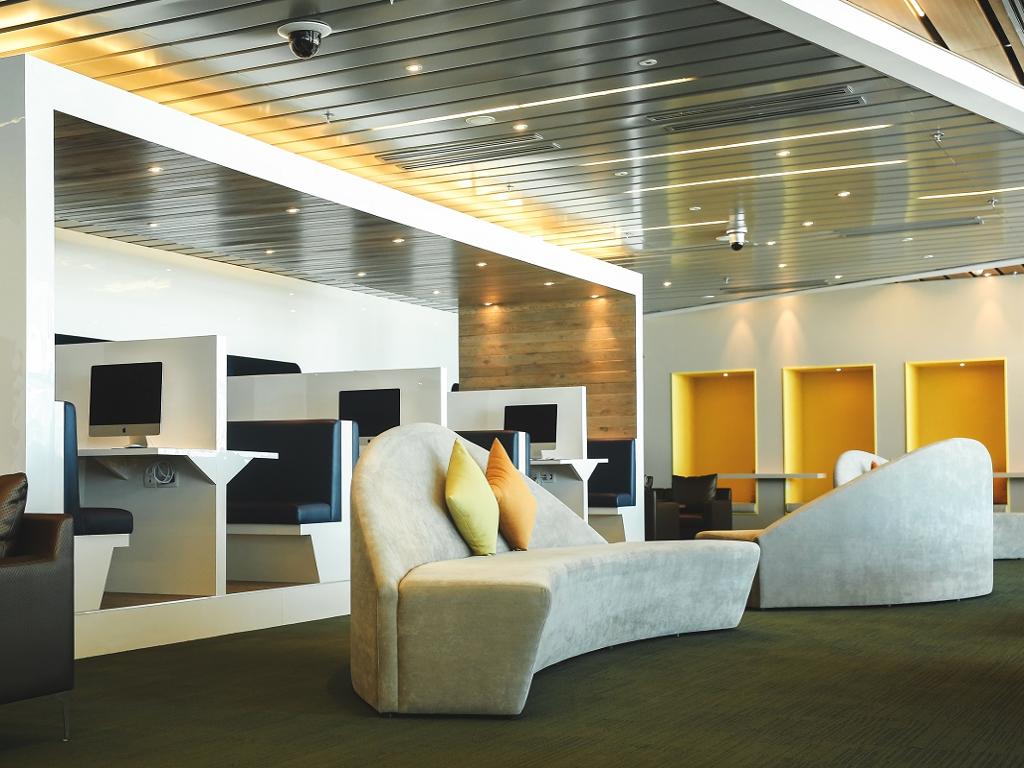 If you want to rest in a comfortable place to enjoy your favorite drink or to keep track of the work via your laptop, you can stop by their VIP Orchid Lounge. The VIP lounge has lots of comfy sofas, a working area, massage chairs, and also nap boxes with TVs inside. The luxury lounge serves a buffet that is ideal if you want to eat delicious food before boarding. The only con here is they have limit options for the vegans.
If you fly with an economic ticket, you can pay $11 for children and $25 for adults to access the VIP lounge.
5. Restaurant & Cafe
You can surely buy food or drinks at the airport but it's option-limited and overpriced. You can find some brands such as Burger King, Crystal Jade Kitchen, Airport Restaurant, Air Cafe MASCO, Urban Market. So if you want to save your budget or enjoy the yummy local food, I recommend these options close to the airport.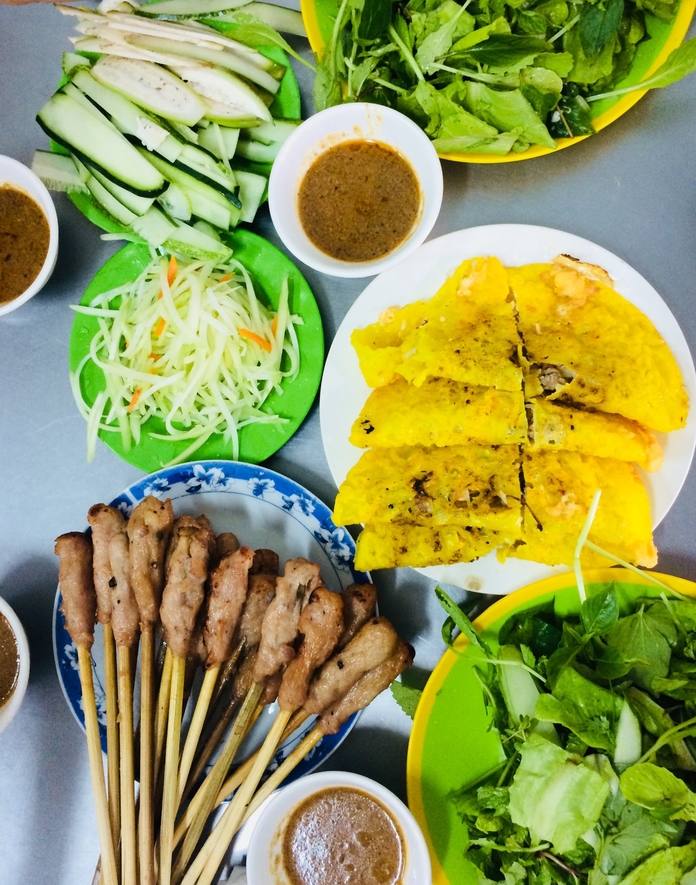 Quan Pho Trang An: 72 Tran Quoc Toan, Hai Chau Ward
Must-try dish: Pho
Nu Do Kitchen: 11/1 Luu Quang Thuan
Must-try dish: My Quang, Spring roll
Banh Xeo Ba Duong: K280/23 Hoang Dieu
Must-try dish: Banh Xeo, grilled pork
43 Factory Coffee Roaster: Lot 422 Ngo Thi Si, My An, Ngu Hanh Son
Must-try dish: Coffee
6. Duty-free & Souvenir Shops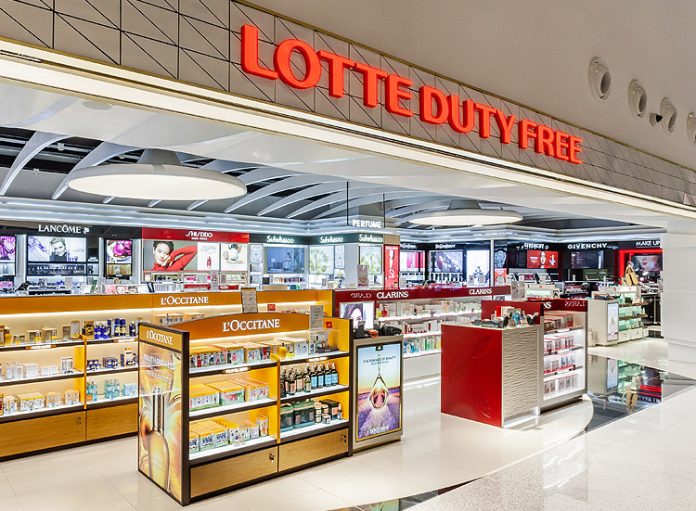 Duty-free stores are one of the top things that people love about the airport. There's no better chance to buy your favorite perfume, cosmetic, Korean products or any stuff at a more affordable price at Lotte and Jalux duty-free store. If you plan to grab something for you or your relatives, you can arrive 1 hour earlier.
The airport has a few souvenir shops that sell traditional little stuff to buy as a gift for friends or families. The point is the price here is more expensive than the local stores outside. So if you have time, heading to the local market could save your budget and offer a wider range of unique stuff.
7. There's Also A Spa Here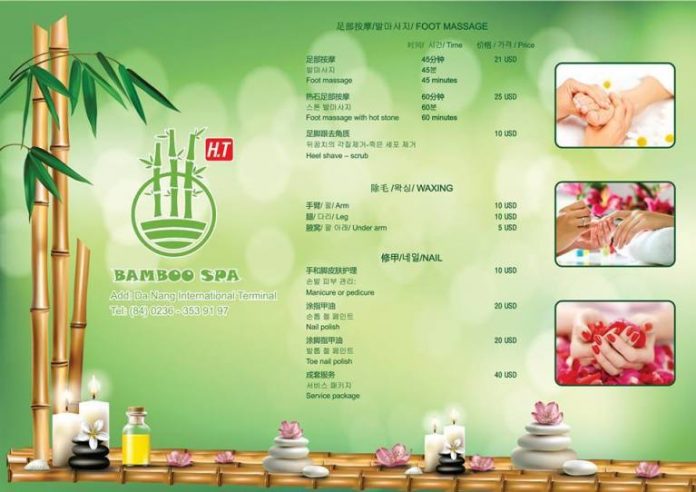 If you've just gone through some tiring never-ending working days on your business trip, you can take advantage to get yourself a rest. Bamboo Spa gives you a serene space to have a relaxed time with the foot massage service. Besides, they also offer nail polish, manicure/pedicure, and waxing services.
Bamboo Spa has a tipping policy that costs up to 30%. You can check the price before using their services if you don't want to pay extra money.
8. Easily Get To Hoi An & Hue (Under 100km)
The good news is when you're bored with spending several days in Da Nang, you can head to explore Hoi An or Hue. Hoi An has an exceptional ancient town that is famous because of its good preservation in the old architecture. Hue was the national capital and had the royal palace of the emperors in the 17th century. Hue also impresses tourists by its tasty local dishes of Vietnam's central.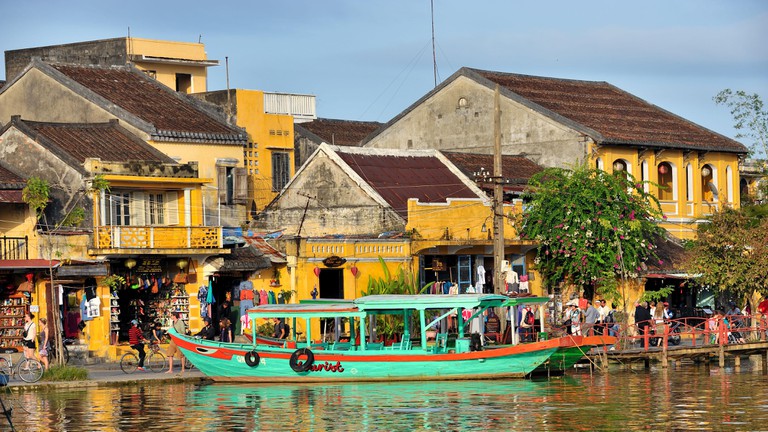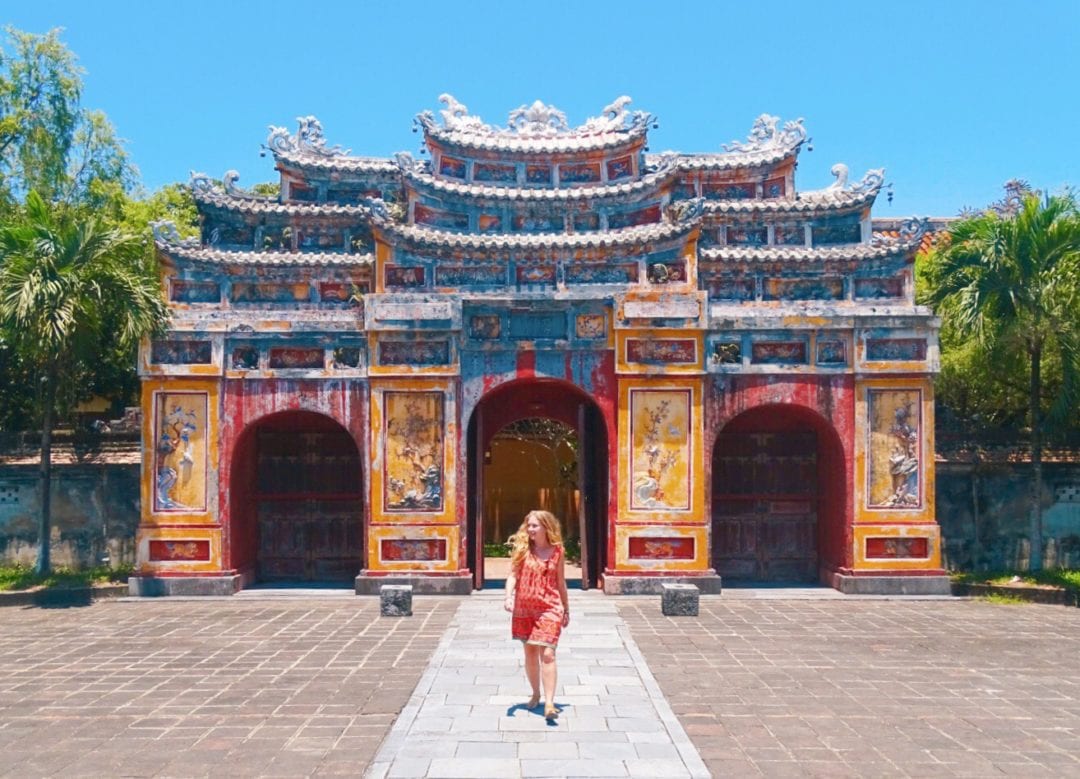 From Da Nang to Hoi An (35km):
The cheapest way to go to Hoi An from Da Nang is to take a bus. The local bus costs only 25,000VNĐ and takes around 80 minutes. The only drawback is some buses have low quality with no air-con and too many passengers.
Taxi and Grab will be a more convenient and comfy choice that takes you 45 minutes to arrive Hoi An. But it's a waste of money if you travel alone because the price is very expensive, 350,000 – 450,000VNĐ. You can combine other travelers for a shared ride to save up the money.
From Da Nang to Hue (100km):
It will take 2 hours to 3 hours and 30 minutes to get to Hue with various choices of transportation.
Bus & car: 90,000 – 180,000VNĐ
It's easy to find a reasonable car ride when it's the most popular transportation here. If you don't have any experience before, you may choose a low-quality car. However, you can choose a Limousine which costs you a maximum of 180,000VNĐ but brings a premium quality. You can enjoy spacious spaces, comfy seats, and they will come directly to your place to pick you up.
Train: 70,000 – 120,000VNĐ
The best thing about taking a train to Hue is the amazing and magnificent landscape of Hai Van mountain pass. You can take a seat and enjoy the beauty of nature through the window.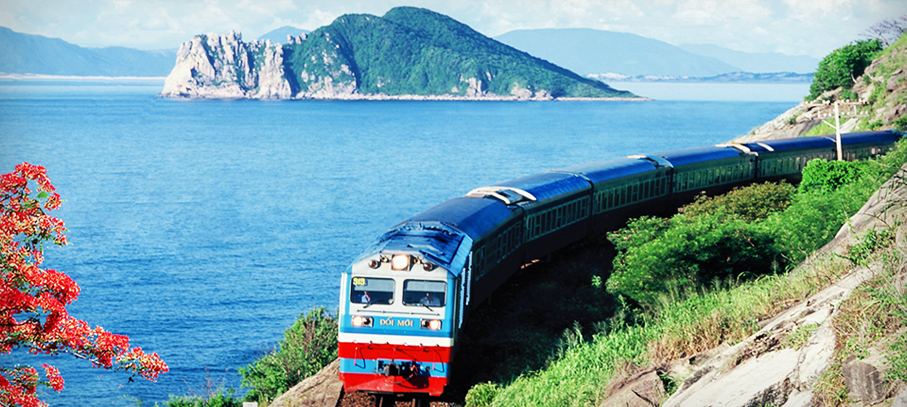 Taxi: 1,300,000 (4 seats) – 1,600,000VNĐ (16 seats)
If you want a private choice with flexible time for your children or older parents, you can book a taxi. Mai Linh and Vinasun are the most credible brands that you can use.
9. Many International Flights
Da Nang is a travel hotspot of the region so you can take many international flights at the airport. The airport has an easy and fast check-in with affordable fees so you can take advantage to travel more while saving your budget.
Some popular international destinations from Da Nang Airport are Seoul, Jeju, Daegu, Bangkok, Singapore, Hong Kong, Taipei. Besides, Qatar Airways has opened a direct flight from Doha to Da Nang with the exclusive service quality.
10. Keep Your Luggage Ticket
Do not throw away your luggage ticket to be checked for additional security. The staff at the airport will read your ticket to match the information so you better keep it to avoid any trouble.
11. Currency Exchange
You can exchange the currency in the banks that are founded in both terminals T1 & T2. Besides, there are many ATMs at the airport for you to withdraw cash if needed.
12. Transportation From The Airport To The City
If you booked a room in a resort or a 5-star hotel, they may send a car to pick you up. If not, you can rent a car from Müvv Airport Transfers – a service of trusted travel platform Christina's. You can also book a private car from car service companies to have a ride on time. It's the idealist choice for a group of travelers or a family.
Using Grab is a cheaper way especially when you have the promotion code. However, it could be hard to book a ride in the peak hour. Motorbike taxis are an interesting choice if you're a solo traveler with light baggage. It's a much cheaper unique transportation in Vietnam to try one time.
13. Hard To Sleep Overnight At The Airport
Da Nang Airport opens at 4 am and closes at 11 pm so it's hard to come at night to take a nap before your flight in the early morning. The solution for you is to stop by the airport hotels and hostels near the airport to rest. Some airport hotels also have convenient shuttles to pick you up and get you to their hotels.
14. Hotels Near The Airport
If you will have an early flight the next morning, the best way is to sleep at a nearby hotel so you won't be late. Luckily, you have various places to choose from.
Christina's ($40 - $52)
Christina is a trusted travel company that offers high-quality homestays with full equipment and nice decoration. You can take a 5km ride from Christina Da Nang to the airport. The rooms are close to My Khe beach with a beautiful view. The staff with excellent customer care will make you feel enjoyable while staying here.
Address: 197 Le Quang Dang, Ngu Hanh Son
Da Nang Jungle Breath in 90s House (375,000VNĐ)
This homestay is near the airport and has a unique vibe from the 90s. You can rent a night here at an affordable price with full amenities, including a light breakfast.
Address: Hai Chau, Da Nang
Grand Mercure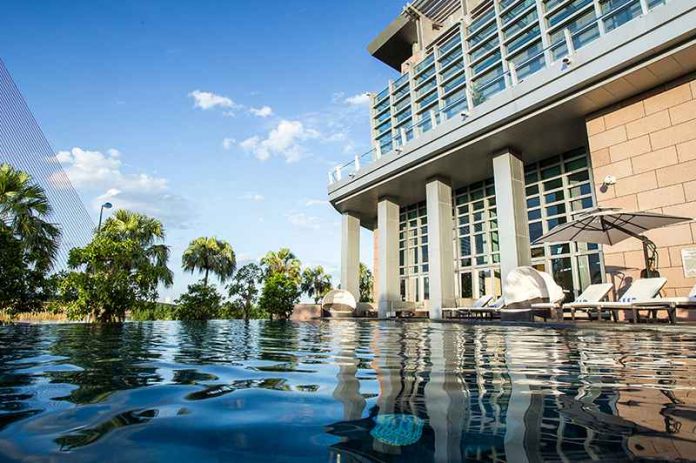 Grand Mecure is a 5-star hotel that takes you only 5 minutes to arrive at the airport. The hotel owns the splendid and gorgeous view of Han River and Ba Na Hill. By offering the exclusive quality, you can enjoy all amenities and services such as flat-screen TV, minibar, spa, and 24/7 room service.
Address: Lot A1 Zone Of The Villas Of Green Island, Hai Chau
15. Other Services & Facilities
Baby Care: If you travel with your babies, you can use the baby care rooms with hot dispensers.
Luggage Carts: The luggage carts will help to carry your heavy stuff with no effort.
Information counter: To search and ask for any question, you can come to the information desk to get the answer.
Medical service: They have a medical center in the departure hall, second floor at the airport. You can find medical support if you don't feel well.
Free WiFi connection and mobile charging: You can lean on these conveniences to keep track of your work or for entertainment.