15 Essential Things to Know about Nha Trang (Cam Ranh) Airport
Located in the south central coast of Vietnam, Nha Trang is one of the top favorite cities for both domestic and abroad tourists. The charming coastal city is listed as one of the top beautiful beaches in the world. To get to the city from Ho Chi Minh City or Hanoi, you can choose from a variety of transportation such as buses or trains. Besides, the fastest way is by plane. However, there's no airport in Nha Trang city.
Seated 35 km away from central Nha Trang, Nha Trang airport, also usually called Cam Ranh airport is the nearest airport. Therefore, for first-time travelers to Nha Trang, we offer you 15 essential things you should know before making a trip to this famous seaside resort-town.
1. About Nha Trang airport
Nha Trang airport (airport code: CXR), also known as Cam Ranh airport is located at Cam Ranh town, which is about 1-hour of driving from the city center of Nha Trang. The airport resides at an elevation of 12 meters above the mean sea level and covers a total area of 50,500 sqm.
Since 2004, Cam Ranh has become the only airport to connect Nha Trang with domestic cities. Also, the airport was upgraded to an international airport in 2007.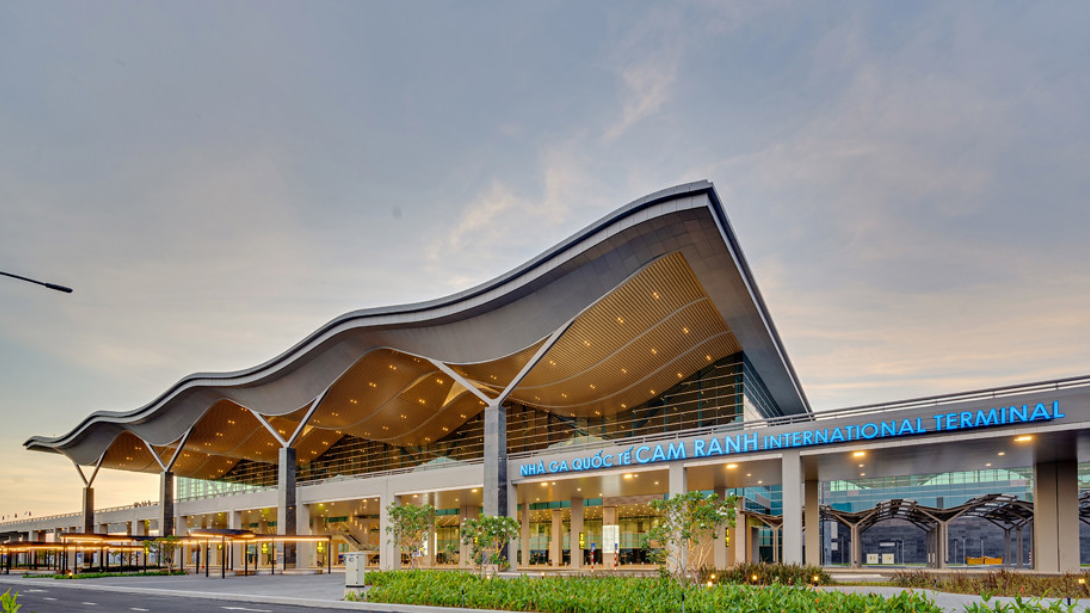 2. Bird-nest shape
As one of the busiest airports in Vietnam, Nha Trang airport keeps growing in scale to welcome more passengers every year. In 2018, the new terminal was designed and built with a unique architecture. Inspiration for the design and architecture of the new terminal was taken from Salanganes' nest, a popular bird's nest seen in Khanh Hoa Province. The swallow bird nest is considered to have high nutritive value and sold as signature food in Nha Trang as well as across Vietnam.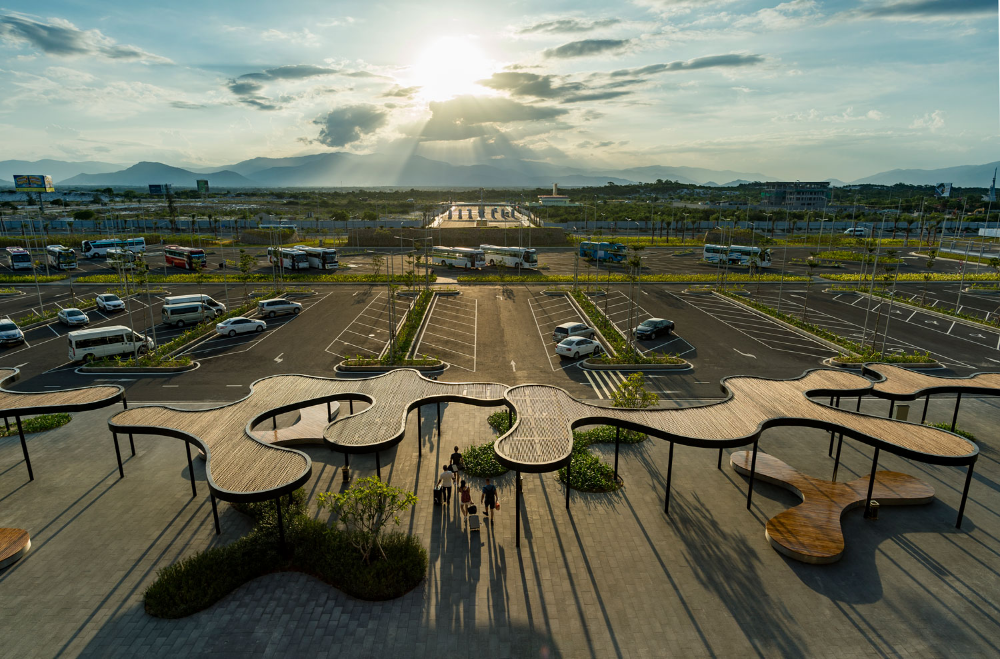 3. Fourth busiest airport in Vietnam
Being the airport of the top tourist attraction in Vietnam, Nha Trang airport welcomed over 10 million passengers in 2019 and the number is still phenomenally growing. The newly built international terminal serves  more than 8 flights per day at peak season, processing up to 14,500 passengers on a given busy day. As a result, Nha Trang airport makes its way to fourth place in the list of the busiest airports in Vietnam, following Tan Son Nhat airport at Ho Chi Minh city, Noi Bai airport in Hanoi and Danang airport.
4. Flights to Nha Trang airport
The international flights to Nha Trang airport are only available for Asian countries such as: Republic of Korea, China, Russia, Japan, Singapore, Thailand, etc. While there's no direct flight from Europe or North America, you can find many connecting flights from Taipei, Hong Kong, Shanghai, Bangkok, Tokyo, etc.
On the other hand, you can choose to fly to Vietnam's big cities such as Hanoi, Ho Chi Minh and Danang and then take a local flight from there to Nha Trang. Also, it takes you around 1-2 hours of flying from Ho Chi Minh and Hanoi to Nha Trang and get ready for the tropical getaway. Besides, here is our ultimate guideline for the best travelling experience.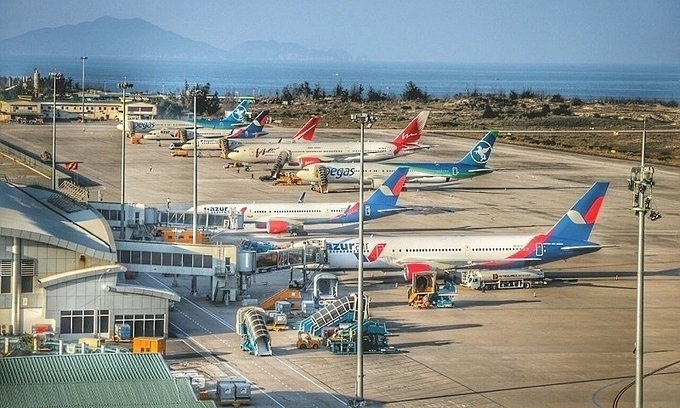 5. Terminal
Nha Trang airport has two terminals for domestic passengers (T1) and international passengers (T2). Two terminals located right next to each other and only take you about 2-min of walking to each. Both terminals have 2 floors including first floor for arrival passengers and second floor for departure passengers. Those are fully filled with international standards facilities and services such as food courts, duty-free shopping kiosk, transportation to the city center, free wife, lounge & sleepover services.
For flying on time and avoid any unexpected convenience when travelling, make sure you note down the time of processing:
Domestic flights: Check-in kiosks will open 2 hours and close 30 minutes before boarding
International flights: Check-in kiosks will open 3 hours and close 40 minutes before boarding
6. Arrival process
For international passengers flying to Vietnam, you will have to go through 4-step process:
Quarantine and immigration check
Baggage claim
Customs inspection
Arrival hall
Vietnam is luckily not so complicated when it comes to visa policies. However, confusion can always arise. Therefore, make sure you read through this before planning your trip to Nha Trang. For the visa application process before immigration, you can choose from: tourist, transit and business visa depending on your visit purpose. You can apply for online visa with ease by visiting the government site. Vietnam also offers visa on arrival, however, this process has not been applied to Nha Trang airport yet. Thus, make sure you're holding a visa when arriving at Nha Trang airport.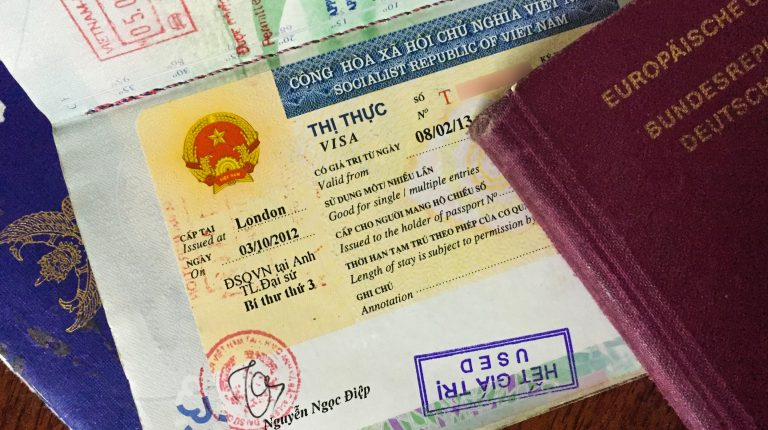 7. Information desks
For more information on flight schedules, immigration procedures, etc. at Nha Trang airport, you can contact via phone and website:
Website: http://camranhairport.vn/
Orange airport telephone number: 058.3989918
Fax: 058.3989908
Executive Committee: 058.3989956
Air Security Department: 058.3989932
Bay Navigation Office: 058.3989909
Besides, you can seek onsite support at Nha Trang airport information desk which is located on the 1st floor, Center of Passengers terminal.
8. Nha Trang airport food
When waiting for your flight, you can choose from a wide range of local and international cuisine restaurants and food courts to have a meal. Also, you can enjoy signature Pho or Bun Bo before leaving Vietnam or grab a fast food international deal with well-known brands. Besides, a cup of coffee from shops can keep you awake all the time. Plus, don't get yourself too full before arriving the city. Here is our suggestion for top mouth-watering dishes.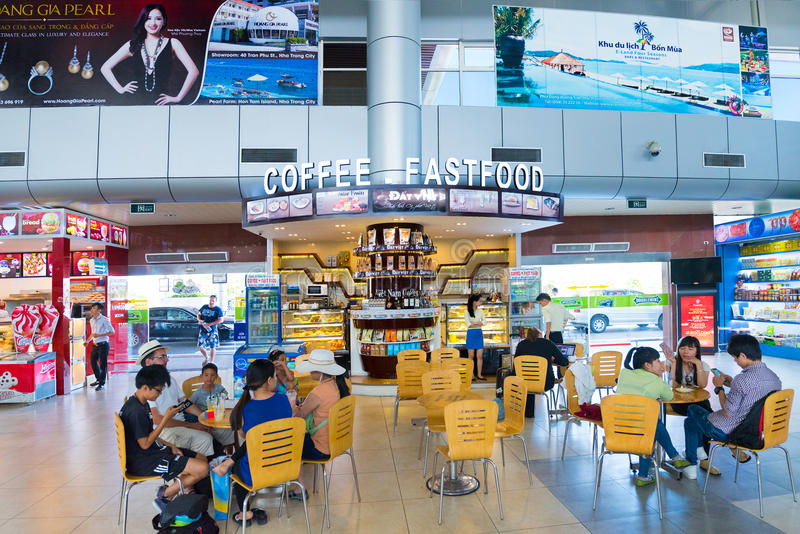 9.  Nha Trang airport sleepover
In case you're planning for your layover or overnight sleepover at Nha Trang airport, you have some options to consider. You can enter by paying at the door, purchasing a lounge pass or with a membership program. There are 3 lounges available at Nha Trang airport. You are recommended to visit each site for more detail, regardless of what class of service you are flying. List of lounges and location:
The Champ Lounge: T1, domestic departure, near gate 8.
Sun Coast Lounge: T2, opposite gate 1-3, shower available.  
Vietnam Airlines Lotus Lounge: T2, opposite gate 8-10, shower available.
10. Banking services
Beside the currency exchange you can easily find on the arrival hall, Nha Trang airport is also well equipped with ATMs from some popular Vietnam banks for your instant cash withdrawal. Moreover, fees may apply, so make sure you check on your bank's fee. The ATMs can be found at both arrival and departure hall at T1 and T2.
11. Shopping
When you have to wait for your flight or have some time to kill before your departure, you can go shopping at duty-free shops. There's plenty of goods you can expect such as cosmetics, perfume, fashion items, accessories, food, liquor, tobacco, etc. Besides, you can buy your last-minute gifts for your friends and families. There're many choices for a souvenir such as fine art products, handcrafts, textile with local touch.
12. SIM Card
Despite the SIM card in Vietnam is cheap, you can use the 3G/4G data packages with high speed. At Nha Trang airport, you can easily find SIM card stalls at the arrival hall. The top three popular networks in Vietnam are Mobifone, Vinaphone and Viettel. The SIM card usually costs about 5-10 USD so it's a good idea to buy them right at the airport.
13. Free services at Nha Trang airport
Beside paid-per-use service, Nha Trang airport also offers you free services such as wifi, water, chargers. For wifi, you need to look for the available network with the same name to Nha Trang/ Cam Ranh airport. Then, follow the instructions to get connected. For water, you can drink directly or fill your bottle with drinking fountains at departure halls. Also, you can find chargers with both lightning, micro-USB and USB-C connectors. Outlets are also available for laptop chargers.
14. Travel to the city
Nha Trang airport is about 35 km away to the south from central Nha Trang. It takes you nearly 1-hour of driving. You can choose to travel to the city with various options for transportation: buses, taxi, booking car services, hotel shuttle, etc.
Buses
You can choose to travel with public buses which is one the cheapest ways or shuttle buses of airline companies.
For public buses, Dat Moi bus is one of the best options thanks to reasonable price and good service. The buses operate 24 round trips per day from 5.30am to 21.50pm. The bus type is 30-seat with comfortable seats and air-conditioning. Also, you will have to pay $2-$3 per person.  
For airline buses, you can choose from popular airlines in Vietnam such as Jetstar, Vietjet, etc. The ticket is sold online or on the flight. Thus, you can ask cabin crew for support.
Taxi
The taxi service at arrival hall is now under Airport Taxi which costs you about $13-$15 per trip. Meanwhile, you can walk to the gate and go with other taxi services at the cost of $9-$11 per trip.
Phone number of some popular taxi services:
| | |
| --- | --- |
| Taxi service | Phone number |
| Taxi Mai Linh | 058 3811 811 |
| Taxi Nha Trang | 058 3818181 |
| Khanh Hoa Taxi | 058 3810810 |
| Emasco Taxi | 058 3515151 |
| Taxi Quoc Te Nha Trang | 058 3525252 |
| Taxi V20 | 058 382020 |
Booking car service
Like Uber or Lyft, there are some popular booking car platforms such as Grab, Bee, etc. The cost is usually at the rate of $9-$11, cheaper than taking a taxi. Furthermore, you can avoid taxi scam with price and route displayed on the app. Plus, you will need some internet connection to install the application before making the booking. However, the service booking cars are not allowed to enter the airport's arrival hall. Thus, you need to walk outside to meet your driver.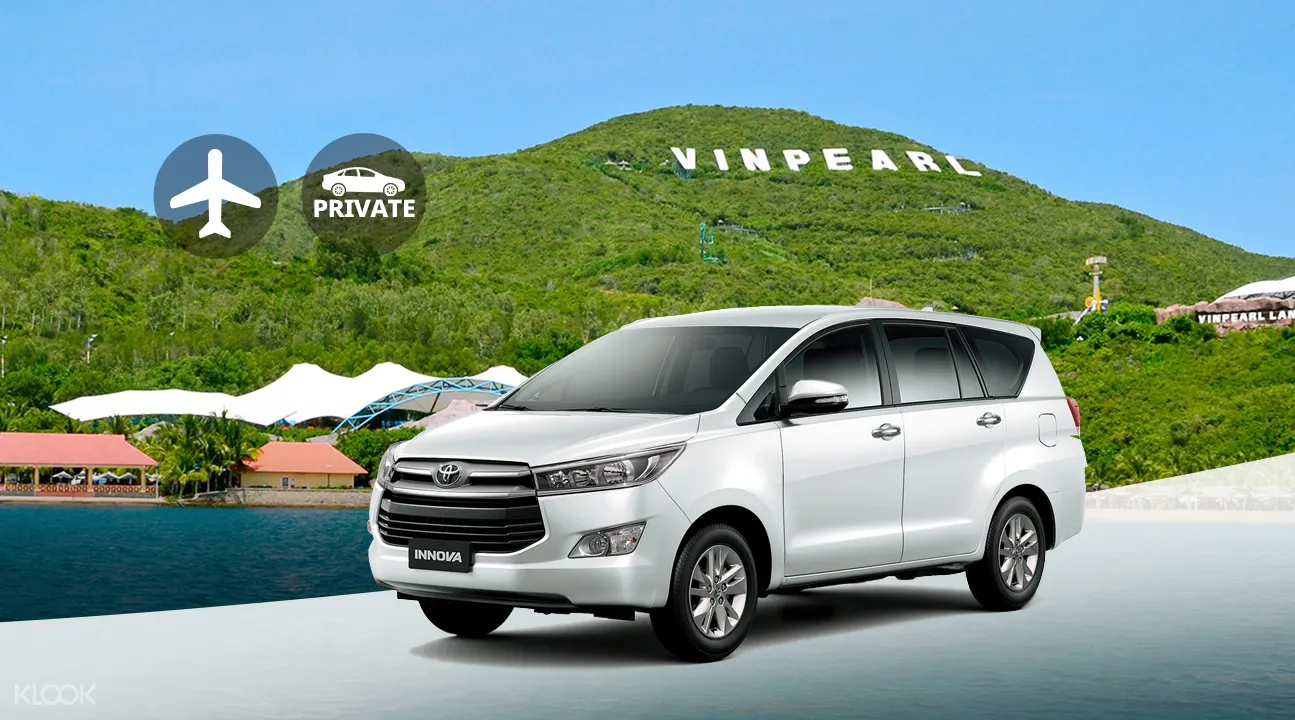 Hotel shuttle bus
Beside above listed transportation, you can contact your hotel in advance to book the shuttle bus service. Some hotels will include the service at room rate but mostly you will have to pay an extra fee.
15. Nearby hotels
In case you want to live somewhere near the Nha trang airport, you can choose from a list of various hotels in the area:
Vinpearl Resort & Spa Long Beach Nha Trang
Distance to the airport: 10.3 km
Address: Nguyen Tat Thanh, Cam Lam, Khanh Hoa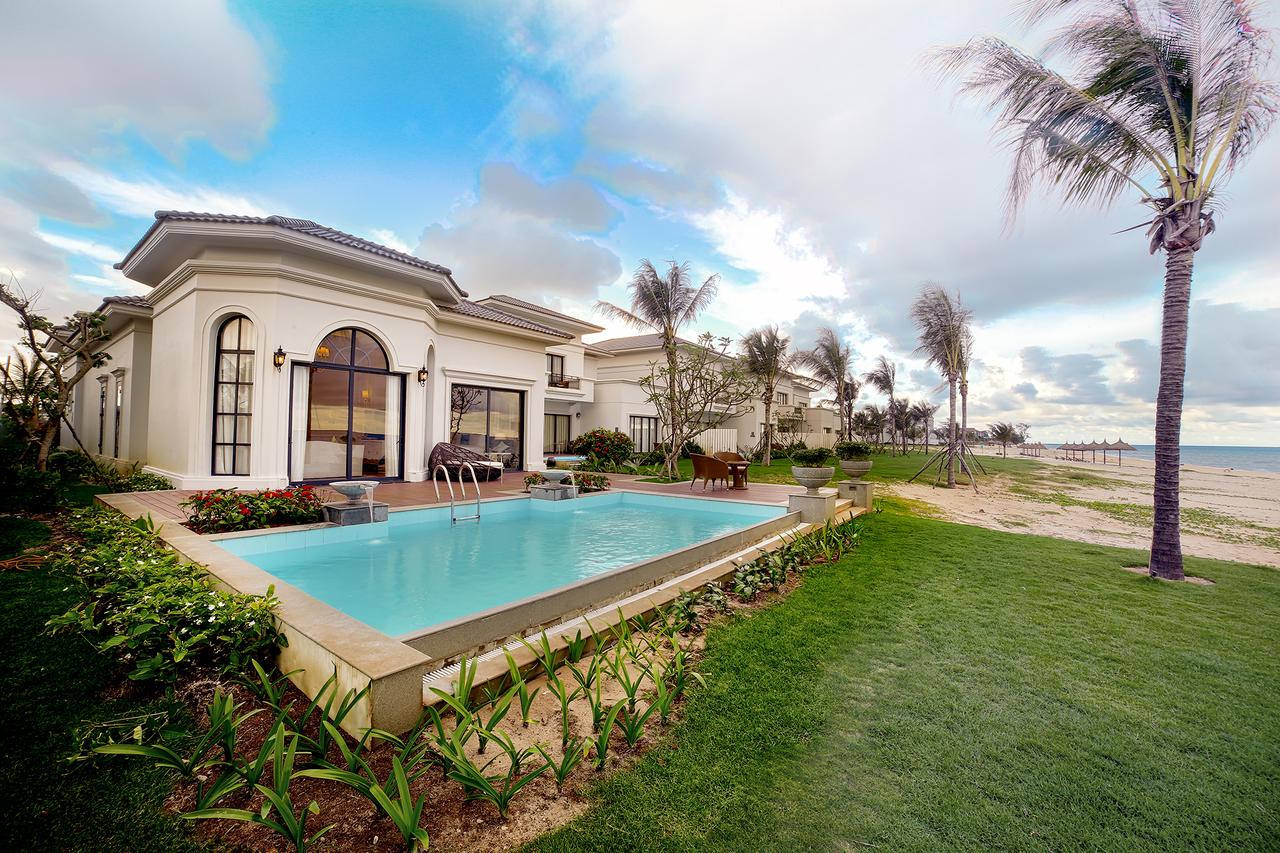 Fusion Resort Cam Ranh
Distance to the airport: 5.4 km
Address: Nguyen Tat Thanh, Cam Lam, Khanh Hoa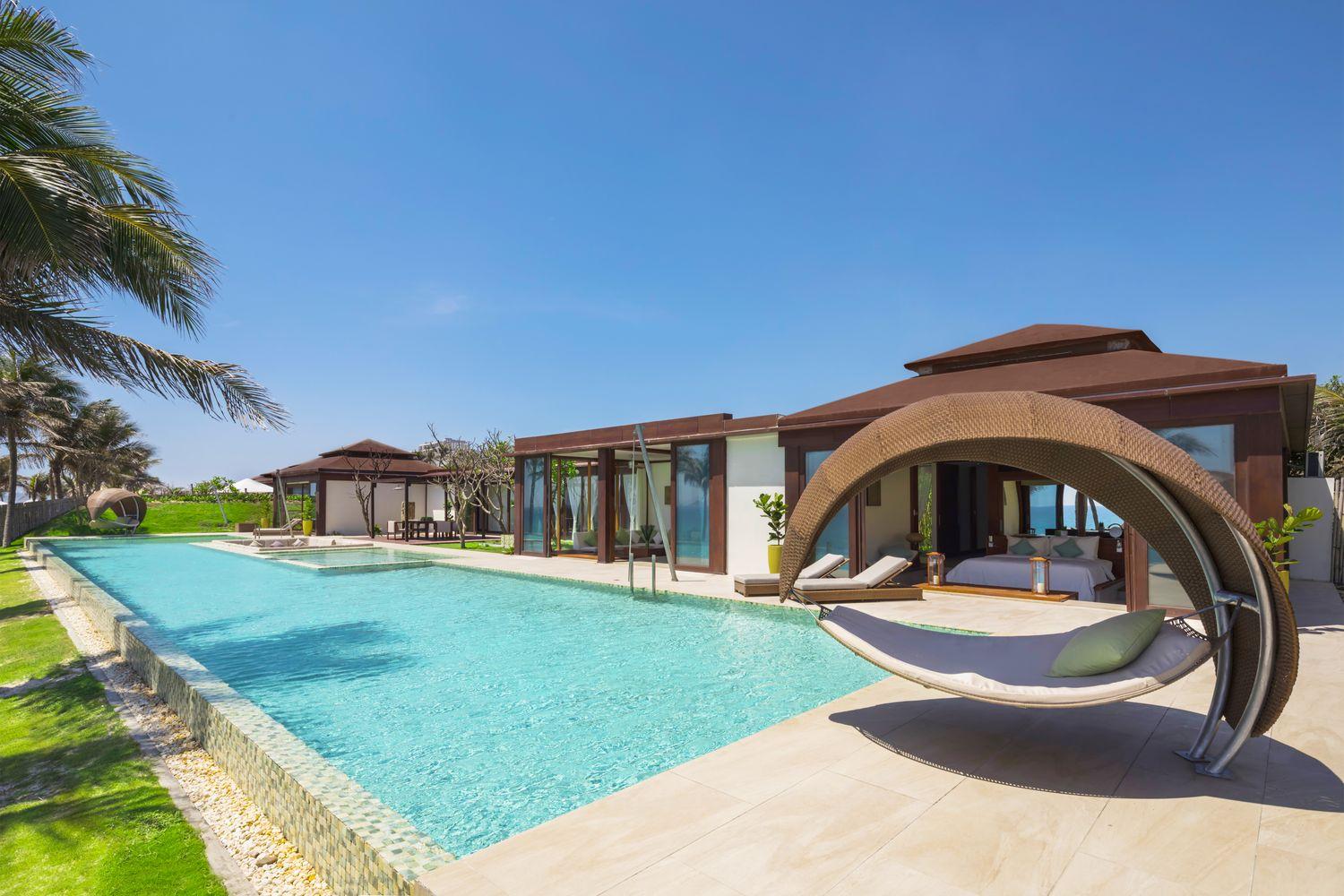 Navy Cam Ranh Hotel
Distance to the airport: 7.2 km
Address: 2A Nguyen Chi Thanh, Cam Nghia, Cam Ranh, Khanh Hoa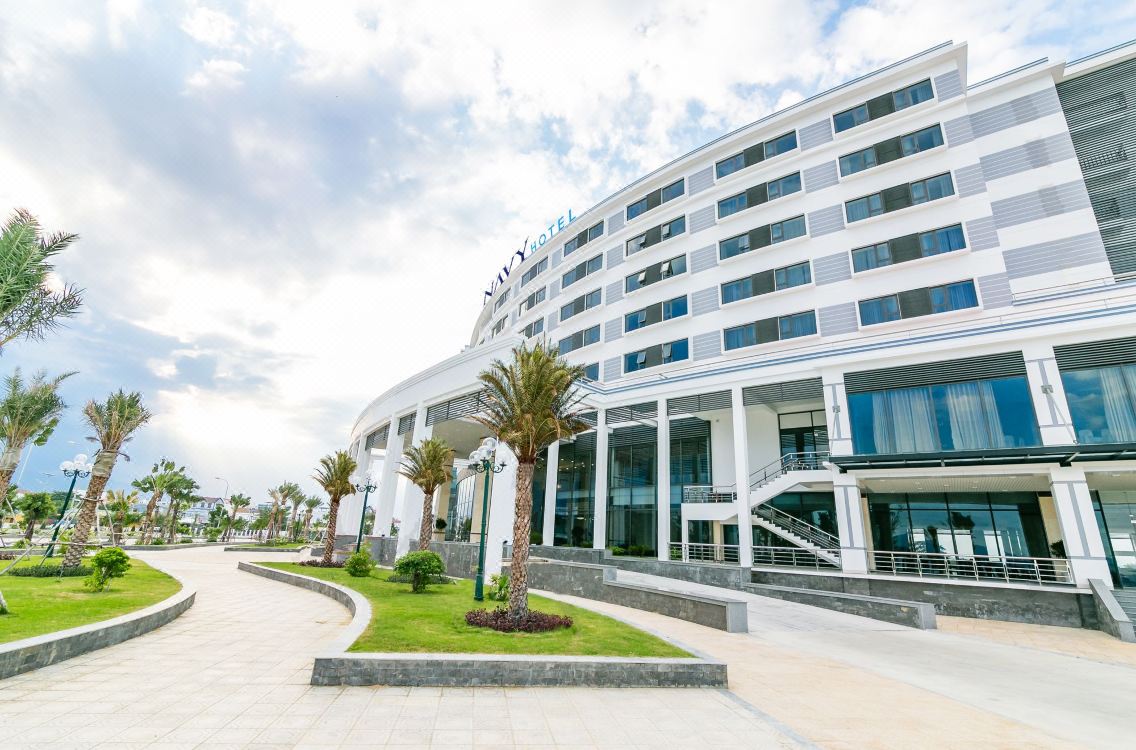 Swandor Cam Ranh Hotel
Distance to the airport: 4.0 km
Address: Nguyen Tat Thanh, Cam Hai Dong, Cam Lam, Khanh Hoa
Golden Peak Resort & Spa
Distance to the airport: 3.5 km
Address: Nguyen Tat Thanh, Cam Hai Dong, Cam Lam, Khanh Hoa