15 Best Luxury Halong Bay Cruises
Well-known as one of the most beautiful bays in the world with a unique nature setup of thousands of small islands, Halong Bay is best experienced by a cruise. However, you don't need to spend a fortune to board with a luxury with high quality service when travelling to Halong Bay. Here are our top 15 of the best luxury Halong Bay cruises.
About Halong Bay
Located over 140km away from Hanoi and can be easily accessed by bus, coach or plane from Hanoi, Halong is a beautiful coastal city in the Gulf of Tonkin. This city becomes a popular travel hotspot thanks to its over 1,600 islands and islets which form breaktaking views. Also, Halong Bay is listed a UNESCO World Heritage site thanks to its precious nature. You can read more here.
Halong means "descending dragon" which is named after its legend. To show gratitude to the Jade Emperor who helped Vietnamese to defend the country, the name Halon was given to the city.
Today, this city of "descending dragon" welcomes more than 6 million travelers each year, mostly on cruises. Also, find out when is the best time for traveling to Halong to plan for your next trip.
1. Halong Silversea Cruise
Being decorated in red-brown and white, Halong Silversea Cruise offers luxury staying and leisure experience. Each air-conditioned and spacious room is well furnished with elegant interiors and fitted with a shower, toiletries, towels and a hair-dryer.
Besides, there are a lot of activities for guests to enjoy on board such as swimming, karaoke, Tai Chi lessons and movie nights or guests can choose to sunbathe on terraces, chill at the bar, have meals at the on-board restaurant. Also, free wifi is available. Complimentary round-trip transfer is provided from their office at Hanoi's Old Quarter Area.
Rating: 5.0/5 (TripAdvisor)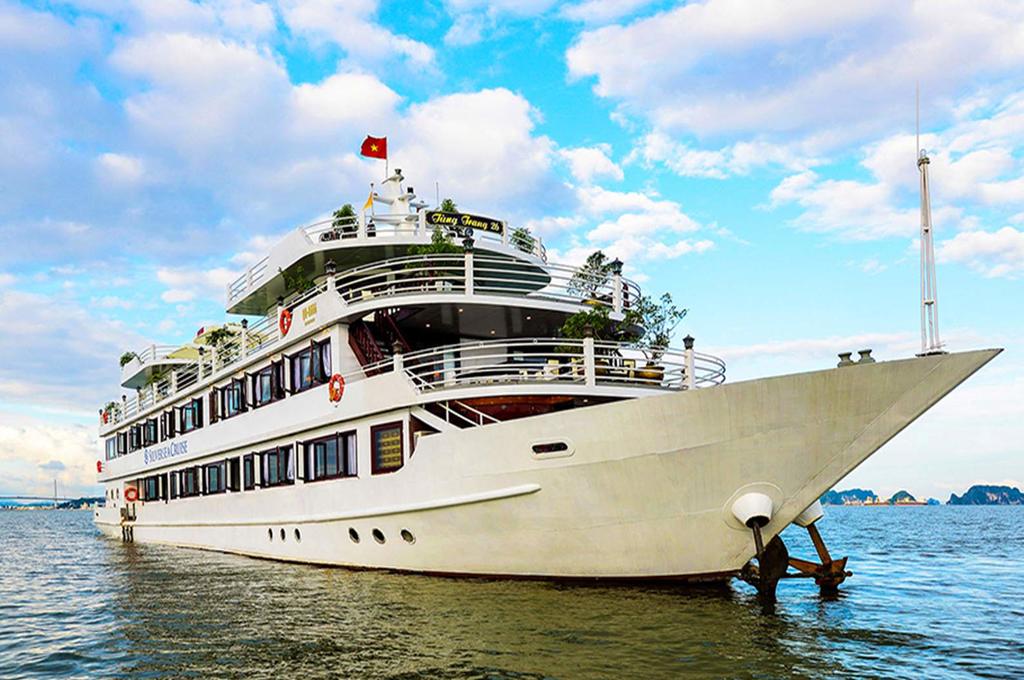 2. Syrena Cruise
Sailing on board of Syrena Cruise in the emerald blue water of the Gulf of Tonkin is one of the best experiences when traveling to Halong. This Halong Bay cruise provides guests with luxury accommodation. Cabins are air-conditioned and offer a balcony with sea views. En suite bathroom in each cabin is fitted with shower facilities, a hairdryer and free toiletries.
Besides, on-board Lotus Restaurant serves various choices of Vietnamese and international dishes. Meanwhile, the Sunset Bar offers you with snacks and alcoholic drinks and magnificent ocean views. Also, swimming and kayaking are available as water sports. Morning Tai Chi classes and movie nights are organized on board.
Rating: 4.5/5 (TripAdvisor)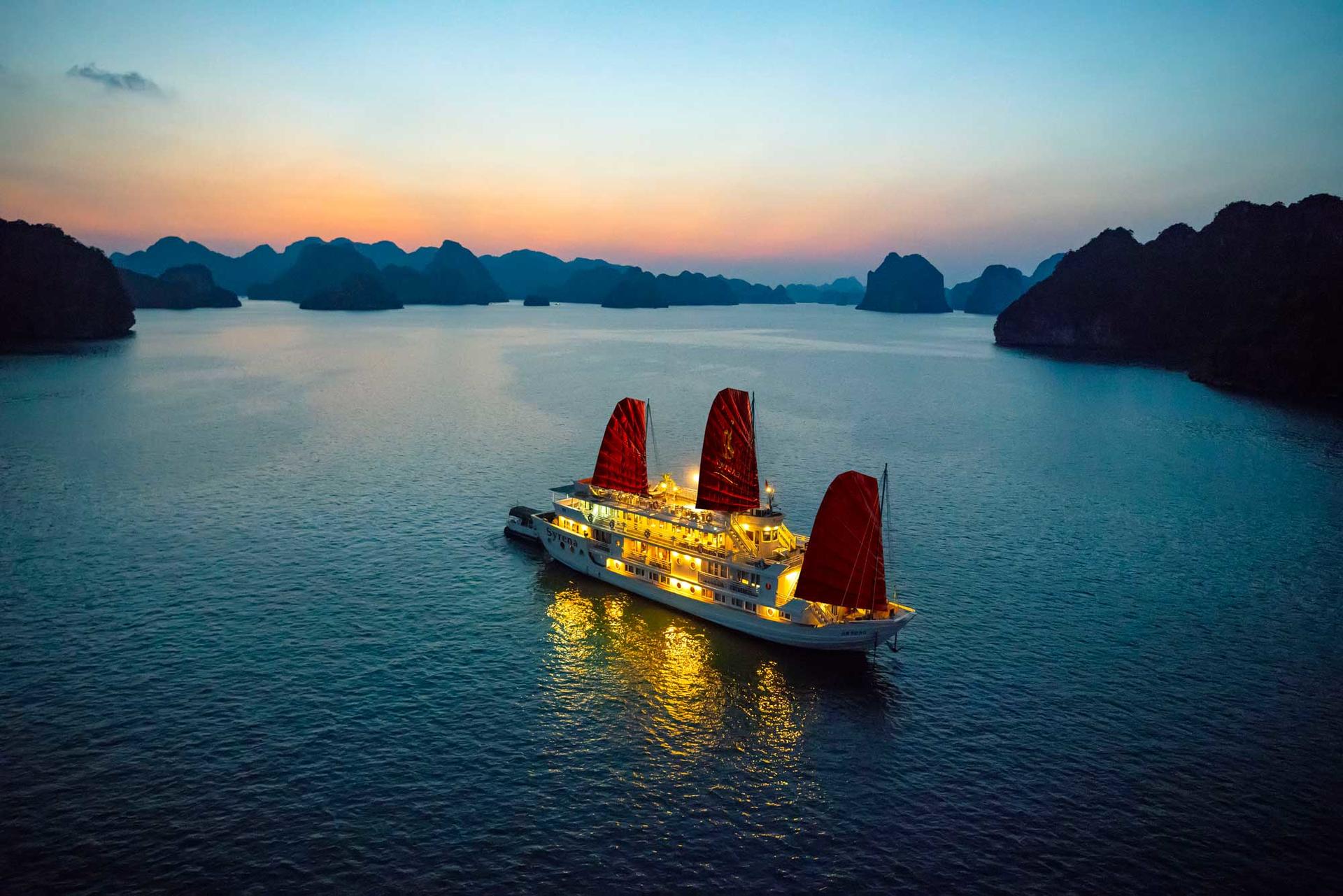 3. Bhaya Classic
Featuring oriental-style luxury Halong Bay cruise, Bhaya Classic offers air-conditioned cabin rooms and a restaurant. Also, a plenty of onboard activities are available such as Vietnamese cooking classes, relaxing massage, Tai Chi lessons. Water sports include swimming, snorkelling and kayaking.
Rooms are well furnished with private bathroom, shower facilities and other high class necessary amenities. A big window each room provides natural light and views of the sea and islands as the ship sails around the bay. Vietnamese and international set menus are served at the property. Cocktails can be enjoyed at a cruise bar while enjoying the sea breeze or watching the sunset.
Rating: 5.0/5 (TripAdvisor)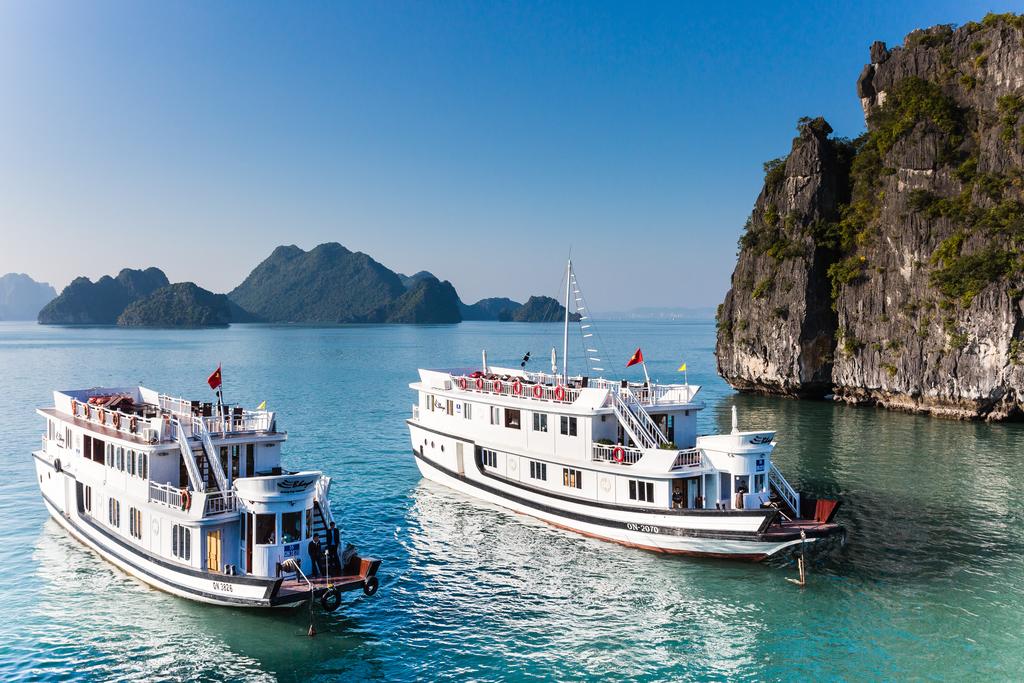 4. The Au Co Cruises
Sailing down the emerald waters of Halong Bay, Auco Cruiser offers world class air-conditioned cabins with free wifi and a balcony with spectacular ocean views. On-site activities include Vietnamese cooking lessons and snorkelling. All meals are included in the room rate.
Auco Cruise sets sail from Tuan Chau Port in Halong, and travels through Cat Ba Island, Lan Ha Bay and Bai Tu Long Bay. Round-trip transfers from Hanoi, a more-than-3-hour drive away, can be arranged at an extra charge.
In the mornings, guests can take part in the daily Tai-chi sessions on the sun deck of this Halong Bay cruise. Pampering massage and a hot tub are available at the spa. Foreign currency exchange and water sports equipment rental are also provided.
Rating: 5.0/5 (TripAdvisor)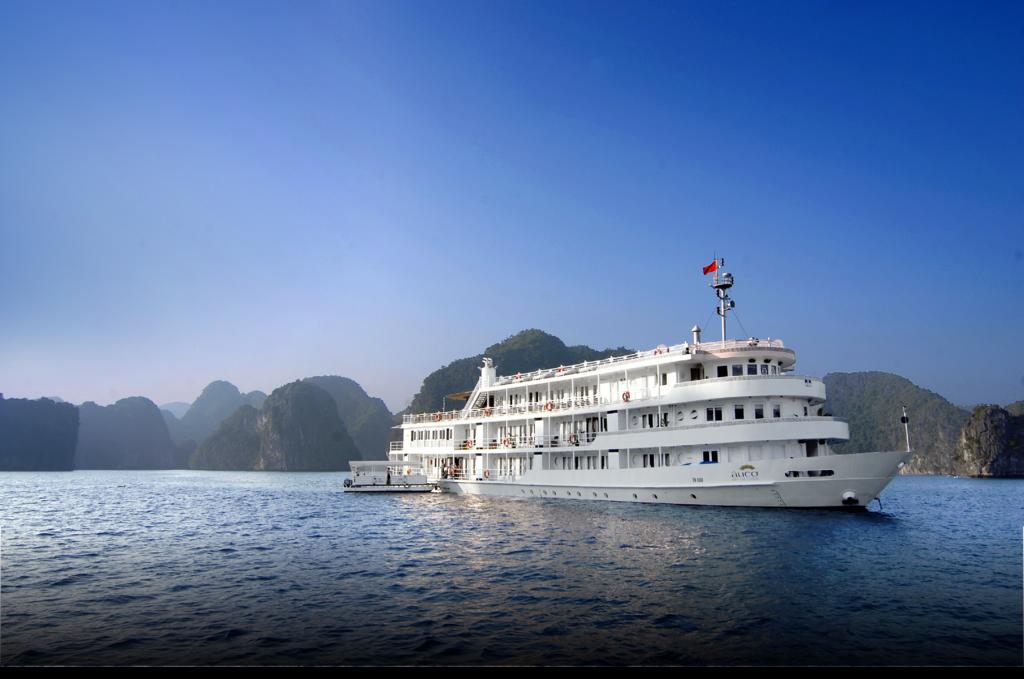 5. Alica Cruise
All rooms and suites are well decorated with a private balcony overlooking the blue water of the Gulf of Tonkin. Certain units include a seating area, flat-screen TV and minibar for your convenience. A bath or shower, hair dryer and free toiletries are provided in the en suite bathroom.
Guests can access all-day dining at the Luxury Alisa Restaurant on the second floor which features Western and Vietnamese dishes. Guests can enjoy drinks at the modern Alisa Sky Bar on the 3rd floor of this Halong bay cruise while admiring the magnificent sunset views.
Airport transfers and shuttle services are optional with an extra fee. You will find a 24-hour reception at the property. Guests can engage in various activities, such as fishing and canoeing.
Rating: 5.0/5 (TripAdvisor)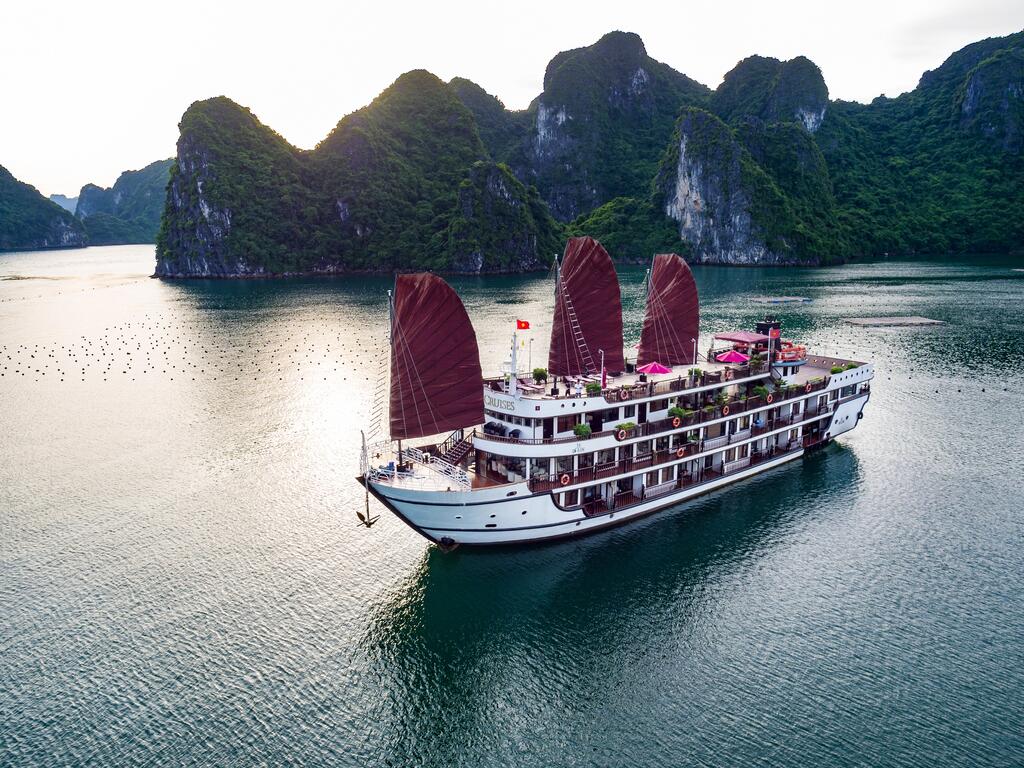 6. Belezza Cruise
Bellezza Boutique Cruises provides air-conditioned rooms and suites with a private bathroom. Free kayaking and fishing equipment are served on this Halong Bay cruise and all meals are also served on board. Bellezza Boutique Cruises departs from Hai Phong to Tuan Chau pier. Each room and suite are well decorated with wooden flooring and a wardrobe.
Excursions to caves and grottoes are included for those love adventures. Guests can also enjoy movies and games or watch a cooking demonstration during their journey. Massage services are available at an extra charge. Breakfast, lunch and dinner consisting of set menus are served. An in-house bar serves a variety of fresh juices, cocktails and wines.
Rating: 5.0/5 (TripAdvisor)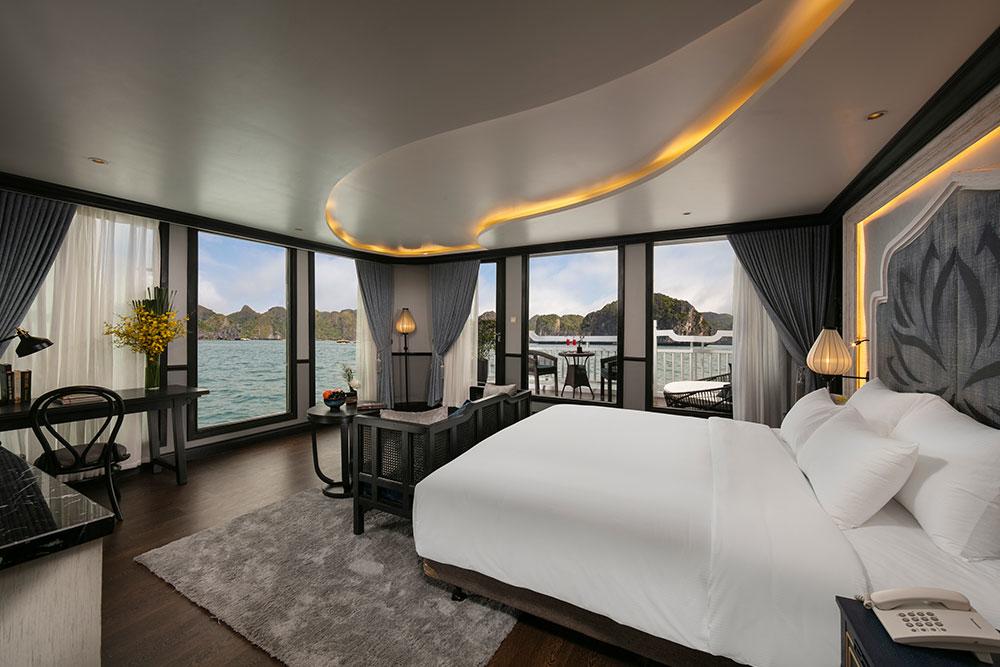 7. Paradise Luxury Cruise
Inspired by the traditional Vietnamese junk boat, Paradise Luxury Cruise offers a dining area and spacious sun deck with sun beds and lounge beds offering views of Halong Bay. Free WiFi is available on this Halong Bay Cruise.
Featuring classic wooden interiors accompanied by sweeping sea views, the air-conditioned cabin in Paradise Luxury Cruise is well furnished with necessary amenities to bring the best experience for all guests.
A traditional menu featuring Vietnamese cuisine or international dishes from the a la carte menu can be enjoyed onboard. Minibar is available until midnight. Also, a private lounge, banquets, butler services and daily maintenance are offered. Guests can also enjoy dressing up in a Bao Dai-style for the six-course Paradise Royal Dinner.
Rating: 5.0/5 (TripAdvisor)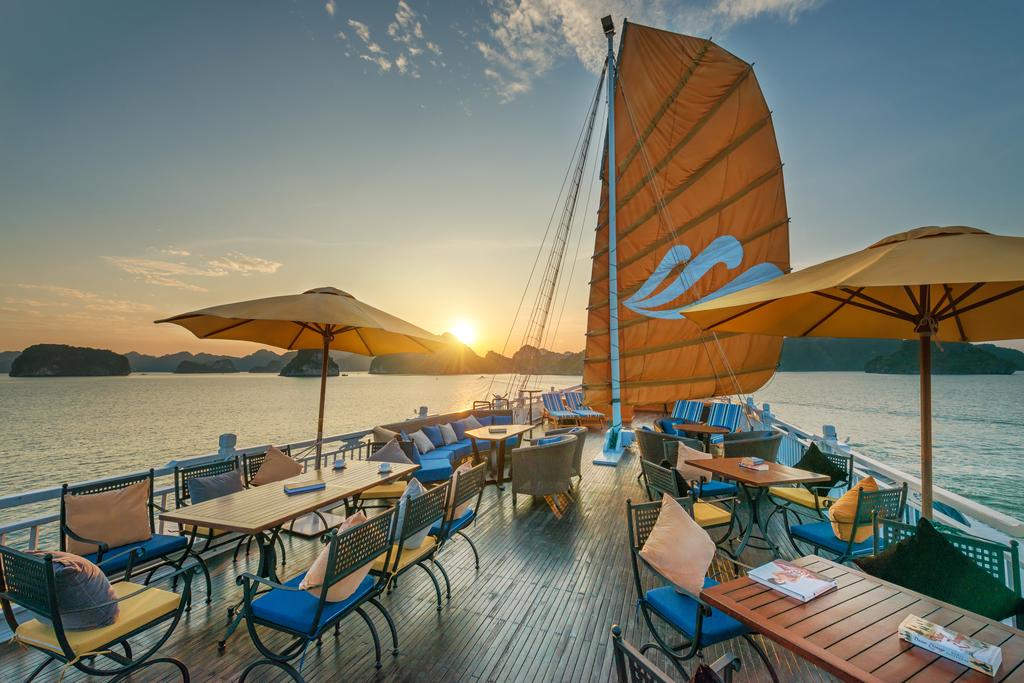 8. Royal Palace Cruise
Well-positioned in Tuan Chau Island, Royal Palace Cruise is the ideal Halong Bay cruise for your excursions in one of UNESCO World Heritage Sites. With its strategic location, the hotel offers easy access to the city's must-see destinations.
At Royal Palace Cruise, the excellent service and superior facilities make for an unforgettable stay. While lodging at this wonderful property, guests can enjoy 24-hour room service, daily housekeeping, 24-hour front desk, express check-in/check-out, luggage storage.
Rating: 4.5/5 (TripAdvisor)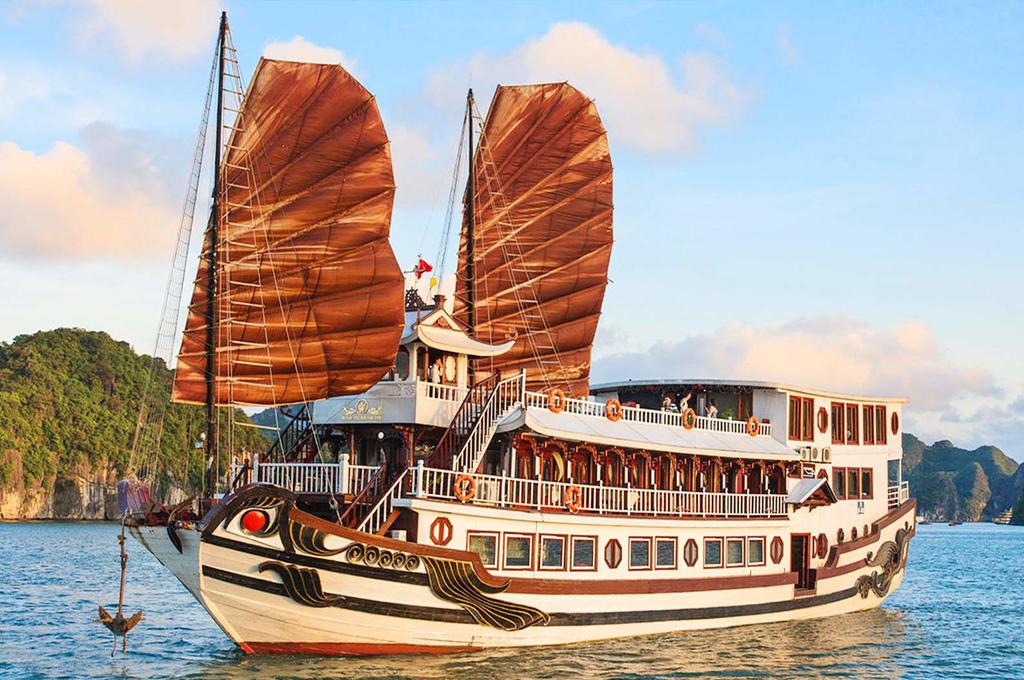 9. Emeraude Classic Cruises
Sailing through the beautiful bay on a classic luxury Halong Bay cruise, Emeraude Classic Cruises offers English-guided tours through Sung Sot Grotto and Pearl Farm. Free Wi-Fi is available to keep you always connected.
The non-smoking cabins at Emeraude come with air-conditioning, an umbrella and free bottled water. Hot-water showers, a hairdryer and bathrobes are available at en suite bathrooms. Also, certain cabins come with a private sun deck.
All-day meals are available in-house dining room. Vietnamese and international buffets are also offered. Meanwhile, you can have a variety of alcoholic drinks such as beers, cocktails, wine and other beverages while you are watching the sunset views.
Rating: 4.5/5 (TripAdvisor)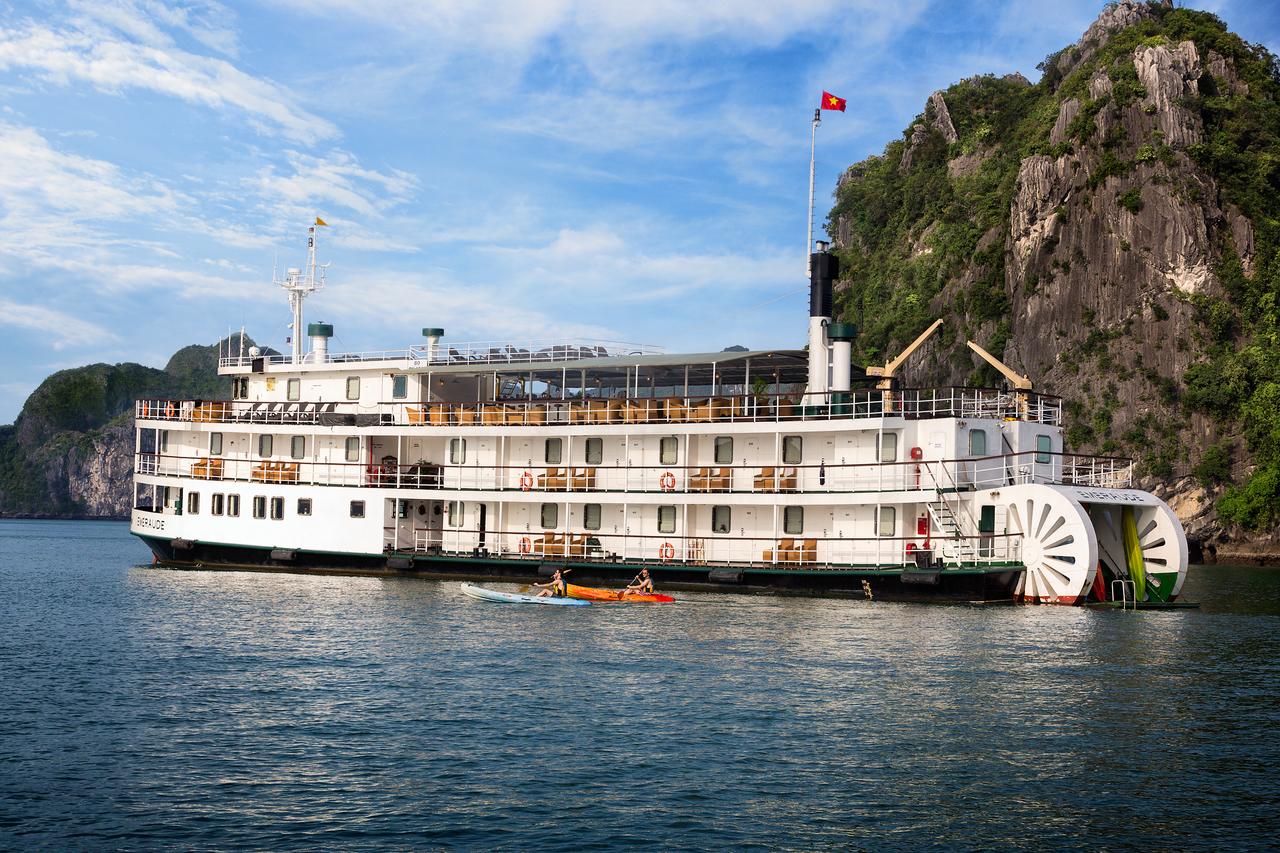 10. Imperial Classic Cruise
Imperial Classic Cruise is home of 12 luxury cabin rooms with a tasteful decoration. All units are well furnished and provided with necessary amenities as well as cleaning products, clothes rack, free welcome drink, mirror, slippers. The complete list of recreational facilities is available at the hotel, including boats, fishing, massage, karaoke. Discover an engaging blend of professional service and a wide array of features at this Halong Bay cruise.
With high quality and romance accommodation, Imperial Classic Cruise is a popular choice for both business and leisure travelers. For the comfort and convenience of guests, the hotel offers 24-hour room service, ticket service, 24-hour front desk, express check-in/check-out, luggage storage.
Rating: 4.0/5 (TripAdvisor)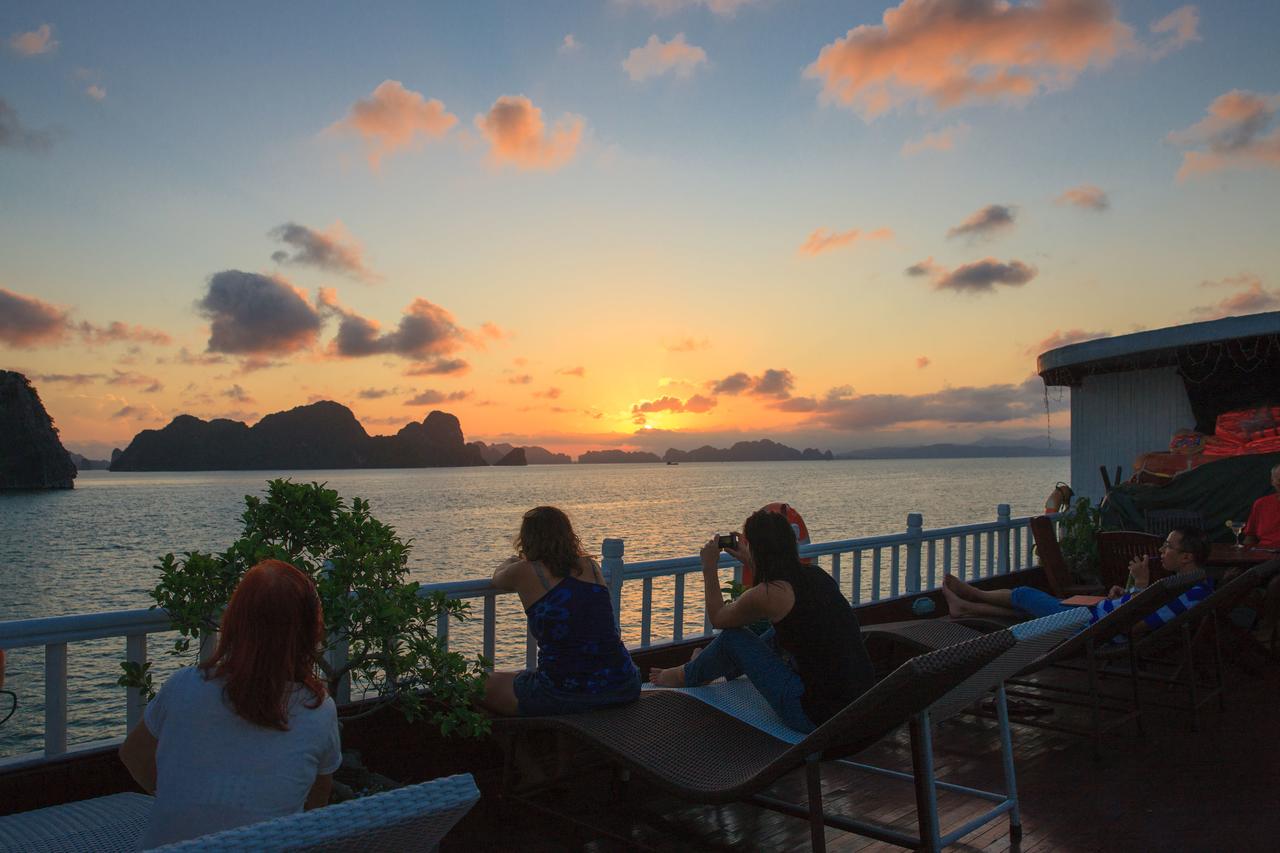 11. Aphrodite Cruises Halong
Aphrodite Cruise cruises around the UNESCO World Heritage-listed Halong Bay. Offering rooms with sea views, it also features free Tai Chi lessons, free movies and use of board games, and chargeable activities such as kayaking.
Located either on the upper or lower deck, rooms and suites offer an en suite bathroom with hot shower facilities and toiletries. Select room types come with a spa bath and a terrace.
The well-equipped on-site dining restaurant is open from 06:30 to 20:30. Guests can have Vietnamese cuisine while enjoying the tranquil views of Ha Long Bay. Various beverage choices are also offered at the bar.
Rating: 5.0/5 (TripAdvisor)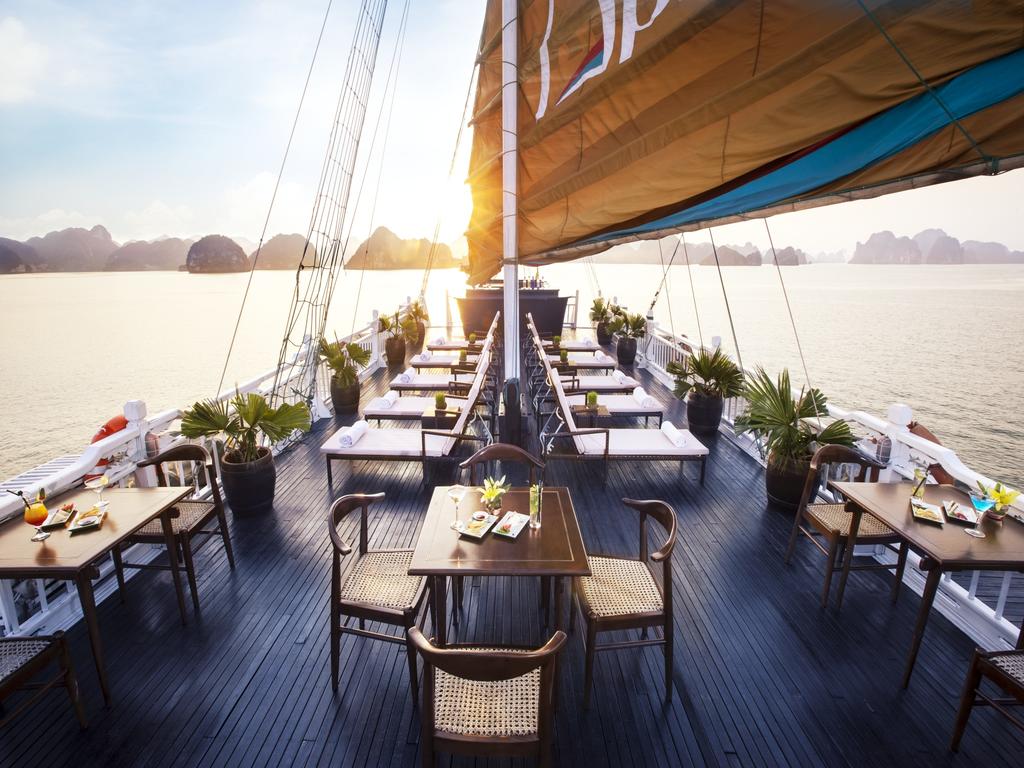 12. Pelican Halong Cruise
Featuring plenty of activities like tai chi classes on the sundeck, fishing excursions and cooking classes, the Pelican Halong Cruise provides a fun-filled and relaxing stay on board of its ship. It also provides massage services.
All rooms and suites on this Halong Bay cruise have private bathrooms, a minibar and air conditioning. They are fitted with dark wood furnishings and offer great views of the sea. The suites are spacious and equipped with a bathtub.
The all-day dining restaurant serves a Western and Vietnamese menu for lunch and dinner. An international buffet breakfast is available daily and included in room rate. Guests can also enjoy refreshing drinks on the sundeck.
Rating: 4.5/5 (TripAdvisor)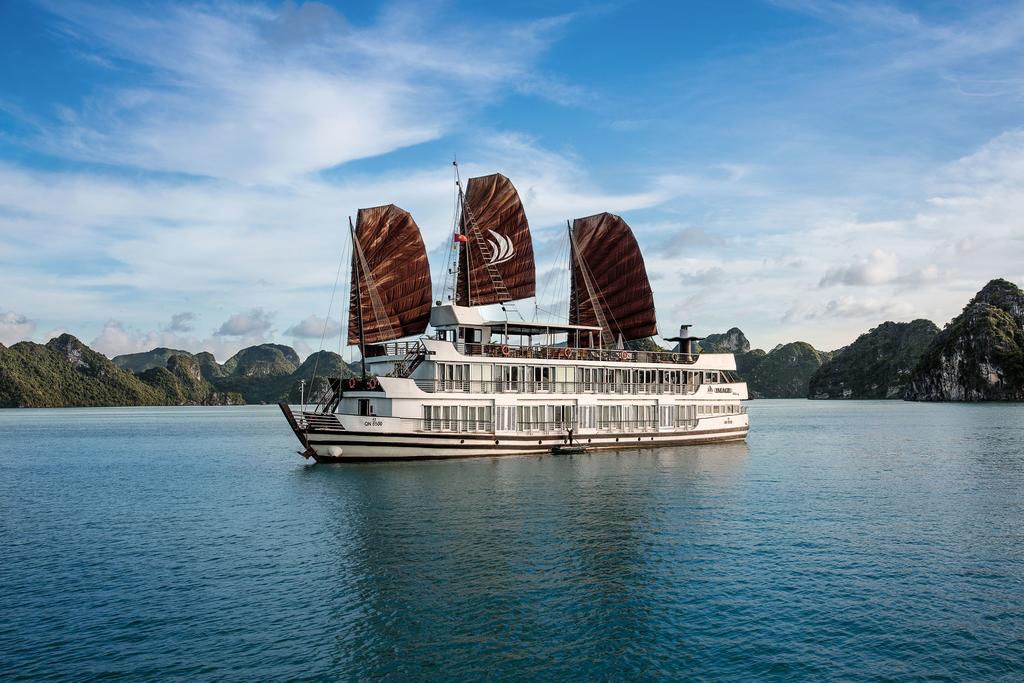 13. Halong Annam Junk
Set in Ha Long, Annam Junk offers beachfront accommodation 500 meters from Tuan Chau Harbour and offers various facilities, such as a restaurant, a bar and a shared lounge. Featuring family rooms, this property also provides guests with a terrace. A 24-hour front desk, airport transfers, room service and free WiFi are available on board. At this Halong Bay cruise, all rooms are fitted with air conditioning, a private bathroom and also fitted with a kettle. In-house guests can enjoy a à la carte breakfast.
Ha Long Queen Cable Car is 13 km from Annam Junk, while Vincom Plaza Ha Long is 19 km from the property. The nearest airport is Cat Bi International Airport, 67 km from the cruise.
Rating: 4.0/5 (TripAdvisor)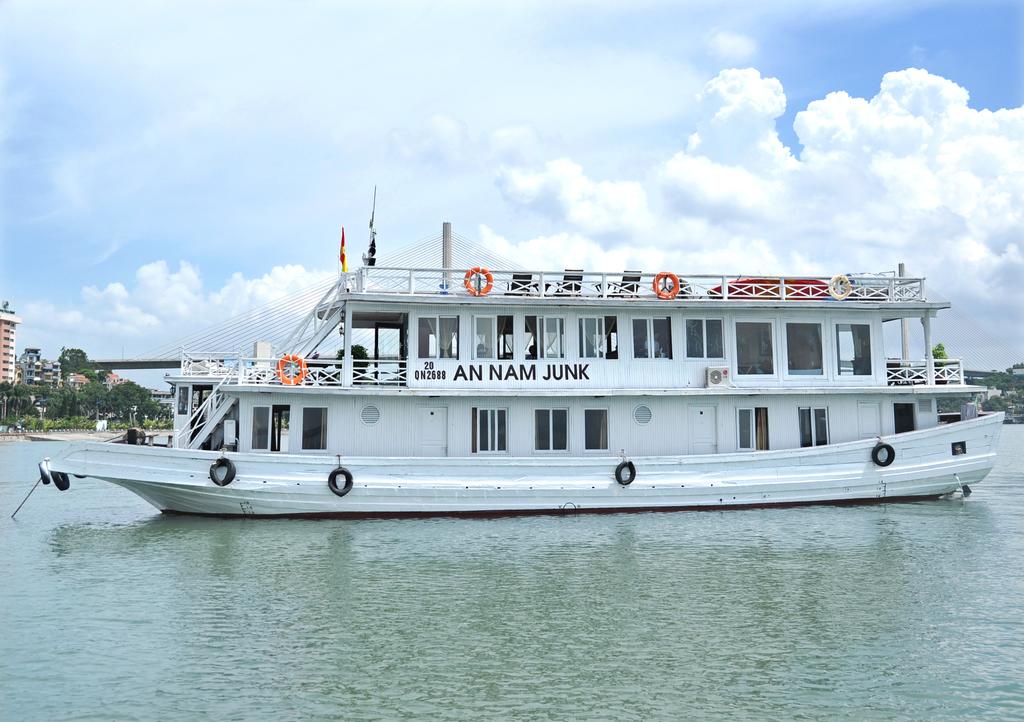 14. Viola Cruise Halong Bay
Sailing through the UNESCO World Heritage site Halong Bay, Viola Cruise features luxury and comfortable accommodation with free WiFi access. Providing an English-speaking guide, all guests can find it easy to get support and order service with staff. This Halong Bay cruise has an on-board restaurant and provides free kayaking activities.
Air-conditioned rooms come with hardwood flooring, a clothes rack, a wardrobe and seating area. Bathrooms with shower facilities, hairdryers, slippers and free toiletries are also attached in your cabin rooms.
On board Viola Cruise, guests may relax at the game room or bar. The public lounge area or rooftop sun deck for sunbathing are available. Meanwhile, the friendly staff can assist with luggage storage, massage and concierge services.
Rating: 4.5/5 (TripAdvisor)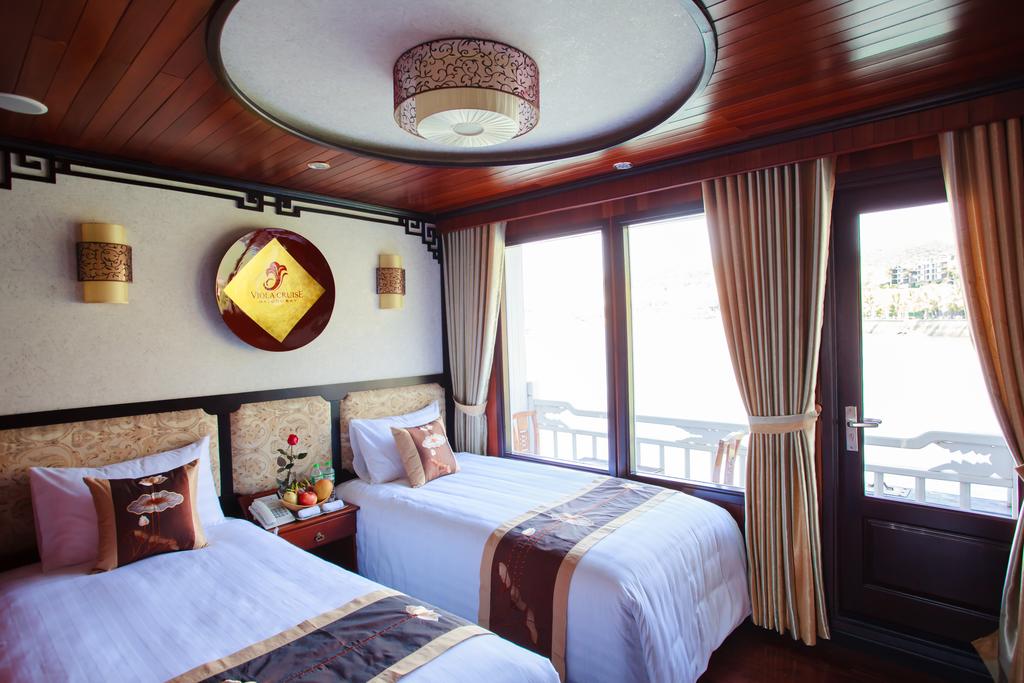 15. Signature Royal Cruise
Signature Royal Cruise offers luxurious and elegant accommodation overlooking the stunning views of the UNESCO World Heritage Site, Halong Bay and the beautiful Lanha Bay. A 24-hour front desk and an on-board restaurant are available.
With spectacular views of the sea, air-conditioned rooms on this Halong Bay cruise come with parquet flooring, a wardrobe, in-room safe, a flat-screen TV and minibar. The en suite bathroom includes shower facility, hairdryer and free toiletries. Bathrobes and slippers are also provided.
At Signature Royal Cruise, guests can relax at the rooftop sun terrace or enjoy drinks at the bar. Fluently-conversed in Vietnamese and English, friendly staff can assist with luggage storage and ironing services.
Rating: 5.0/5 (TripAdvisor)
Besides sailing on cruises, there are many other activities you can experience at Halong. Here is our detail itinerary for a 2-day trip in Halong. In case you want to discuss more on this topic or want to share with us your valuable reviews and experience on Halong Bay cruises, the comment section is open for your input.