15 amazing things to do on Han River Seoul and how to get there
Year-round, visitors can find so many fun things to do from skateboard parks, outdoor concert venues, and museums aside from biking, walking, running, picnicking, or just enjoying the view.
Han River (known as the Hangang in Korean) is the symbol of Seoul, which flows through the heart of the city. This iconic river has witnessed the history of the Korean people for over five thousand years, through good and bad times.
If you have not got any plans for exploring this tourist attraction, let our guide be your beacon. Here are 15 amazing things to do on Han River Seoul providing you with the most fun, local experience.
1. Dynamic water sports
The Hangang River is a popular getaway spot in the heart of the city for not just waterfront leisure, but also water recreation during summer. Many visit Hangang Park during hot summers to enjoy various water sports from windsurfing to water skiing, Kayaking, wakeboarding, etc.
Windsurfing
In order to prepare for your first windsurfing experience, you need to take a windsurfing class for beginners that lasts anywhere from 2-3 days. After finishing the preparation and mastering the skills necessary, you are able to surf on your own.
Kayaking
This tour takes a shorter time to complete than windsurfing. During the 6-hour tour, you will learn about the theory of this sport to educate yourself, get some basic pointers from the instructor, and enjoy your adventure.
If you do not have enough time for a kayaking tour, you can consider other choices including the banana boat, peanut boat, viper, or speedboat.
Boating
Along the Han River, it's easy to rent a boat for a sightseeing trip on the river. If you choose a swan paddle boat, you can enjoy the romantic, peaceful scenery while chatting with your friends.
Waterskiing and wakeboarding
If you are looking for fun and thrilling watersports, these two are your perfect choice. Whether you're a first-timer or a seasoned enthusiast, fear not. A skilled instructor will guide you through the preparations, ensuring a seamless and safe experience. Following a thorough training session, dive into two heart-pounding 15-minute rides, with a rejuvenating 30-minute break between them. Brace yourself for a riveting journey that spans approximately 2 hours—an escapade that promises excitement and memories to last a lifetime.
Flyboarding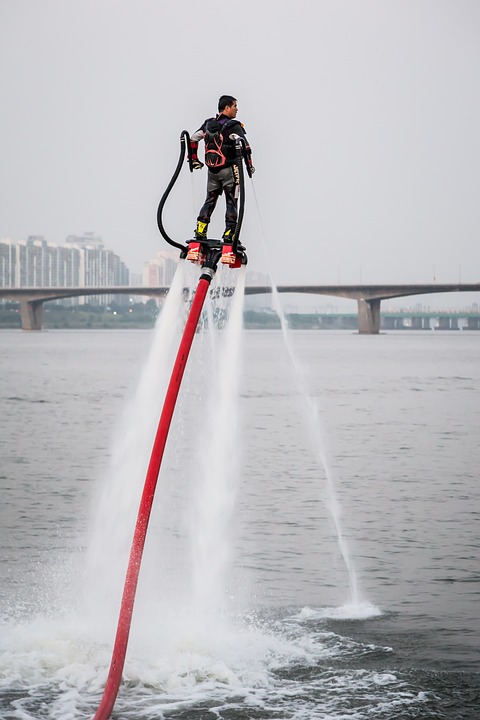 This water sport tops the charts among the various water activities available on the Han River. Strap into a flyboard and soar through the air like Iron Man, immersing yourself in the thrill of flight. Picture yourself surrounded by breathtaking scenery—mountains in the distance, the river below, and the expansive sky above. It stands out as the most exhilarating activity among the options on the Han River.
2. Bike Riding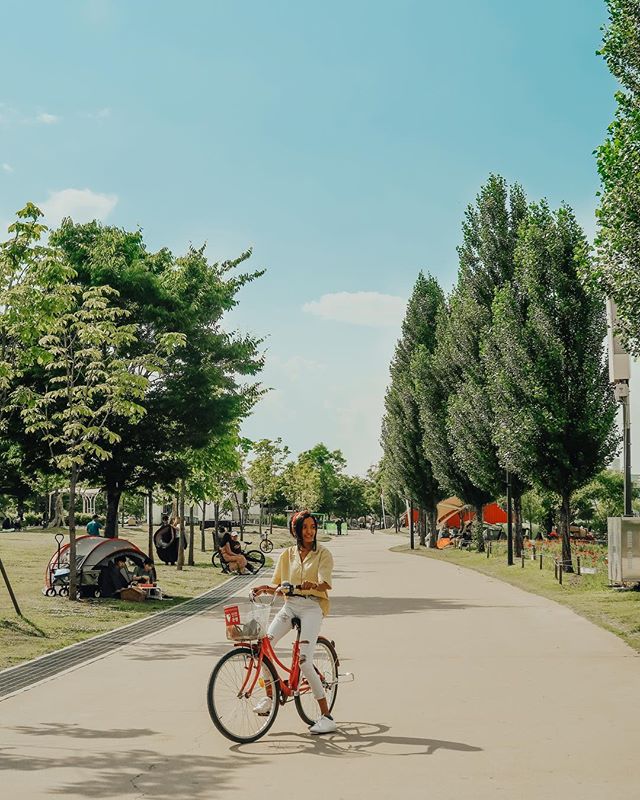 If water sports don't pique your interest and you're more inclined toward a local experience, biking along the riverside is just the ticket. While the thought of touring the Korea DMZ & JSA might be daunting for the faint-hearted, meandering along the Han River allows visitors to immerse themselves in lush nature and unwind. The cost of renting a bike hovers around 3000 won (3$) per hour for a single bike and twice that for a tandem bike perfect for couples. Riding a bike offers the chance to explore charming nooks along the river at your own pace, giving you the freedom to pause, relax, and enjoy the scenery whenever you please.
3. Camping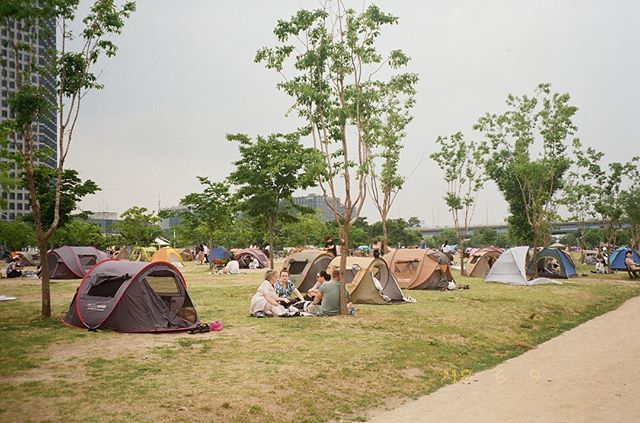 Renowned as one of South Korea's premier destinations, the Han River beckons visitors with a plethora of captivating activities, notably the unique experience of camping South Korean style. The exclusive spot to partake in this riverside camping escapade is The Nanji Campground, nestled on the fringes of the Han River near World Cup Stadium in Nanji Hangang Park.
This campsite is fully equipped with all the essentials for a memorable camping excursion, offering tents, 24-hour shower facilities, BBQ grills, and a selection of food and drinks. Spending a night under the stars, camping with friends, and relishing a BBQ party ensures an indelible and unforgettable experience.
4. Picnic
If sports aren't your cup of tea, and you prefer a leisurely pastime of watching others in action, a picnic is tailor-made for you. The expansive riverbank offers ample greenery for your picnic delight. Unpack your own packed goodies, engage in lively conversations with friends, and revel in the spectacle of others engaged in play. If food preparation isn't your thing, opt for a hassle-free experience by having delicious treats delivered to your picnic spot.
5. Enjoying the fresh air at riverside parks
Lining the banks of the Hangang River are 11 distinct parks, serving as delightful havens for Seoul's residents. Each park boasts an array of entertaining activities, detailed in the upcoming list. We strongly advise opting for parks along the southern bank, not only for their stunning views but also for the abundance of entertainment options they present. Ttukseom Hangang Park, Yeouido Hangang Park, and Jamwon Hangang Park stand out among the trio, offering thrilling water sports featured in the aforementioned list.
6. River Cruises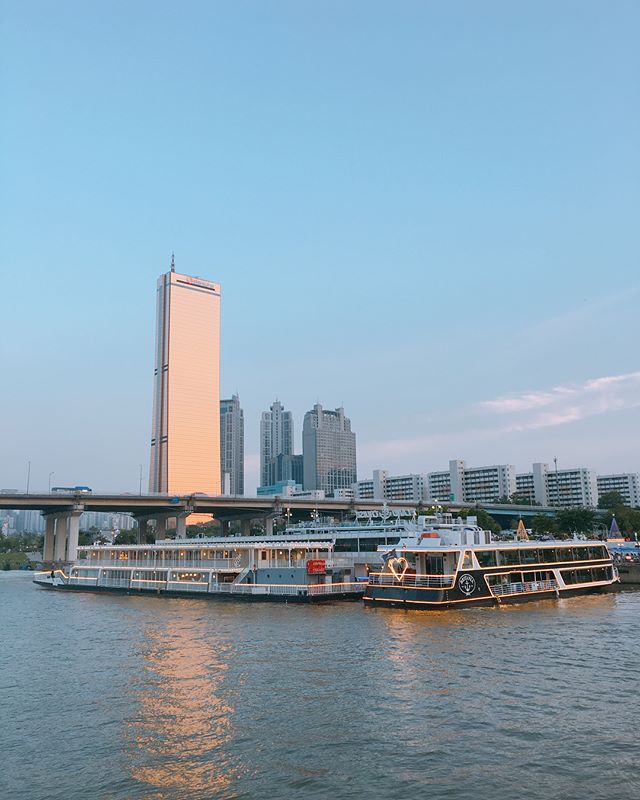 Among the myriad attractions in Seoul, River Cruises stands out as the ultimate way to savor the beauty of the Hangang River. These cruises are adorned with diverse themes tailored to cater to tourists' interests. For the little ones, expect vibrant, pirate-themed adventures, while Hallyu enthusiasts can indulge in K-pop-themed cruises. As you luxuriate on the cruise, revel in the harmonious blend of music, relish delectable Korean cuisine, and soak in the picturesque scenery. This tour is bound to craft an unforgettable experience for you, whether you're with family, friends, or a special someone.
7. Trying Ramyeon
Korean instant noodles, known as Ramyeon, are readily available at convenience stores along the Han River. Packaged in convenient disposable foil bowls, Ramyeon allows you to customize your noodles by adding your favorite spices and ingredients, like sausage, egg, or cheese. Simply assemble them in the bowl and let it boil for a quick 1-2 minutes. Voila! You'll have a steaming bowl of delicious noodles ready to savor. If you're unsure which brand to pick, Shin Ramyun, a timeless favorite since 1986, is a safe and flavorful choice.
8. Visiting Apgujeong Graffiti Tunnel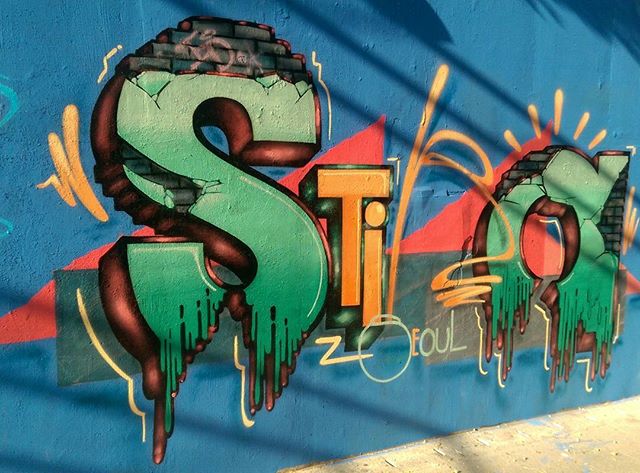 This is a tunnel connecting the Apgujeong and Hangang Rivers with graffiti on the wall. If you are interested in artwork and photography, the colorful creative spray paints here will definitely attract you. This tunnel will not take a lot of time to see. It is a short way to go to Hangang River if you want to stay away from the crowd, especially on the weekend.
9. Banpo Rainbow Fountain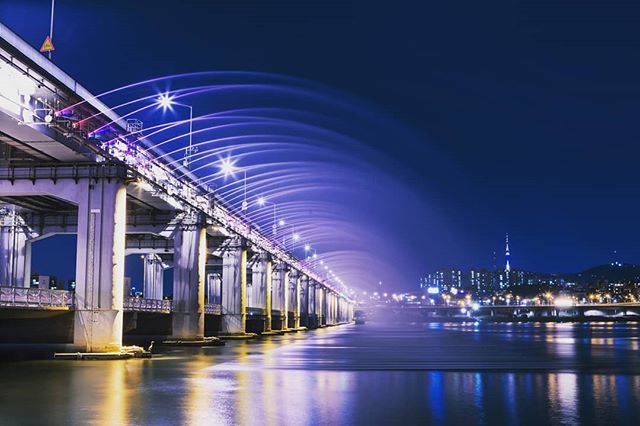 Ranked as the world's lengthiest fountain, the Banpo Rainbow Fountain graces the Banpodaegyo bridge with over 10,000 lights adorning both sides. Sprouting water from the Hangang River, the fountain transforms into a mesmerizing spectacle through the fusion of vibrant lights and harmonious music. In daylight, the performance unfolds with the water mimicking the graceful shapes of willow branches and leaves, sans the embellished lights. As night falls, the rainbow-colored lights come alive, gracefully dancing in sync with the rhythm of the accompanying music.
10. Fishing
There are few locations for fishing along the Han River inhabited by catfish and carp. In these fishing locations, you can find many fishers spending hours fishing while talking to each other. These places are very easy to access so if you want to get a different experience, find a rod and go fishing along the Han River.
11. Lighting the firework
Along the Han River, lighting fireworks is allowed so feel free to light fireworks on your own. You can buy fireworks from the Daiso shop and shoot them in the water for a sparkling view and a lot of fun. Be careful and follow the instructions to keep you safe. If you have not lit fireworks before, ask for help from local people.
12. Enjoying the Han River Firework Festival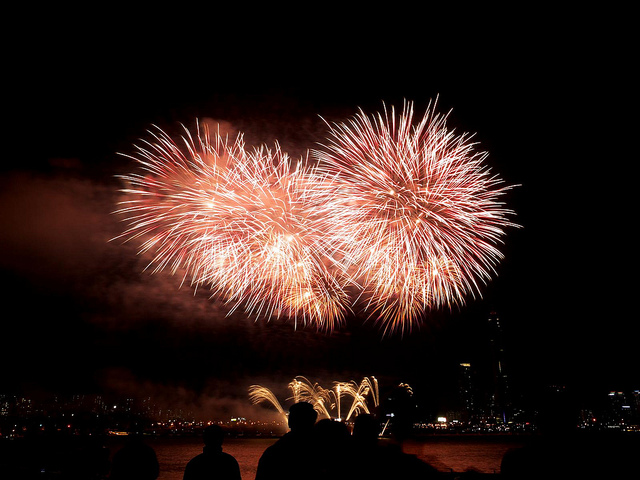 Seoul International Fireworks Festival is an annual event organized by the Hanhwa company attracting different countries to participate every year. Every year, many firework companies are invited to this festival to show their firework performance and light up the night of the city. The fireworks displayed to the resonance of music and lasers will bring you unforgettable memories. This festival attracts millions of viewers each year. Besides participating in the fireworks festival, do not miss other events following it.
13. Swimming
Although swimming in the Han River is not allowed, you can still enjoy the invigorating waters at different swimming pools along the Hangang River provided by specific companies. Each pool features a distinct style and a variety of services to accommodate various preferences. Moreover, these pools provide a scenic view of the river's surroundings. Nonetheless, it's recommended to steer clear of busy days, as these swimming pools can become quite crowded.
14. Tubester riding in the evening
While numerous activities along the riverside are enjoyable, Tubester provides a unique opportunity to engage directly with the river itself. If riverbank picnics don't quite capture your interest, consider taking your picnic out on the water. Each tube boat accommodates up to 6 people, equipped with a sizable parasol to shield you from the sun. Indulging in a picnic amidst the enchanting scenery is an exceptionally romantic and tranquil experience, particularly in the evening.
15. Drinking with your friends
To fully embrace Korean culture, indulging in their traditional alcoholic beverages is a must. You might already be acquainted with Soju, a globally popular Korean rice wine. Enjoying Soju is a delightful way to have a good time with friends, whether you're on a picnic or camping adventure.
What to Consider Before Your Visit Getting Around
How to get there:
Navigating the Han River parks in Seoul is a breeze with public transportation. Make sure to grab a T-Money card and load it up before your journey. Once you arrive, you can easily rent a bike to explore the area.
Hop on the Bus: The bus stops lining the river near the parks are your gateway to exploration. First things first, pick your park destination. Each park has its own bus route, so choose wisely. If you're staying in Seoul, opt for the blue buses (405, 740) for a seamless journey.
Subway Sprint: Need speed without the hassle of changing routes? The subway is your go-to solution. Zip through Ttukseom district (Seoul Subway Line 7), Gwangnaru district (Seoul Subway Line 5 & 8), Yeouido District (Seoul Subway Line 5), or Yanghwa district (Seoul Subway Line 2) for a quick and direct route.
Taxi Tales: If crowds irk you, hail a taxi for a hassle-free adventure. English might not be every taxi driver's forte, so pack a map to showcase your desired destination. Enjoy the freedom of your own space without the hustle and bustle.
Bike Bliss: For a picturesque journey, rent a bike from your hotel and cruise to the river. Follow the cycling trail signs and equip yourself with a bike map—it's the epitome of convenience on two wheels.
Food and Drinks:
Most parks now feature periodic convenience stores stocked with drinks and a variety of fast food and snack options. If you're craving something specific, feel free to bring your own supplies or embrace the Korean tradition of checking out menus handed out by vendors. You can even order and have your food delivered right to your tent or picnic blanket.
Restroom:
Restrooms are typically situated near convenience stores or in close proximity.
While in Seoul, don't miss out on these amazing experiences.
Others also ask
Why is the Han River so famous?
The Han River holds significant historical, economic, and cultural importance for South Korea, especially Seoul. Historically, it has been a central point for trade and transportation, aiding in the city's economic growth. Culturally, the river represents the spirit of Seoul, blending seamlessly with the city's urban advancements while still preserving pockets of serenity and nature. The river's parks, bridges, and promenades are frequently featured in Korean movies, dramas, and songs, further cementing its place in popular culture. Many events and festivals held at the Han River attract both locals and tourists, making it a hub of activity and camaraderie. Its iconic status, combined with its multi-faceted appeal ranging from recreational to aesthetic, has made the Han River a symbol of Seoul's past, present, and future.
What's the best time of year to visit?
While the Han River is beautiful throughout the year, spring (April to June) and autumn (September to November) offer especially scenic views due to the blossoming flowers and autumn foliage, respectively. Summer can be warm and crowded, while winter brings a serene snowy landscape.
What dining options are available?
You'll find everything from local snacks at convenience stores to food delivery services, as well as some cafes and restaurants overlooking the river. Be sure to try "Hangang Ramyeon" - instant noodles enjoyed by the river have their own charm!
Are there any safety concerns?
The Han River is generally safe, but like any major city attraction, it's wise to be aware of your surroundings. If you plan to indulge in water sports, always wear the necessary safety gear.
Do I need to pay an entrance fee?
The Han River Park is open to the public and free of charge. However, certain activities or attractions within the park might have fees.
Are pets allowed?
Yes, pets are welcome but must be on a leash. There are also some pet-friendly zones and cafes where your furry friends can roam more freely.