13 essential things to know before arriving at Noi Bai (Ha Noi) Airport
Ha Noi airport or also called Noi Bai airport is the second biggest airport in Vietnam. Located in Soc Son district, Ha Noi airport is 27 km away from the city center and usually takes you about 1 hour of driving. With the gigantic area of 139,216 sqm and up to 15 million passengers per annum, Ha Noi airport can be confusing to first time travellers.
1. About Ha Noi airport
Ha Noi airport was officially put into operation in 2001 for both domestic and international flights. Then, the airport continued to grow in 2006 with a new runway and a new terminal was introduced in 2016. As a result, Ha Noi airport is now the largest airport in Vietnam in terms of total capacity. Also, its record number of passengers in a year is 28 millions in 2018.
Ha Noi airport offers direct flights to 60 destinations in 24 countries worldwide. Among all offering routes, the one connecting Ha Noi and Ho Chi Minh is the busiest route in Southeast Asia and takes the sixth place in the world. This serves about 6.8 millions guests yearly. The longest non-stop flights from Ha Noi airport is to London Heathrow airport. Also, the flight takes you nearly 13 hours on plane to fly 9,237 km (5,740 miles). Meanwhile, the shortest international route is Ha Noi - Nanning, China which is only 300 km (180 miles) and takes 1 hour of flying.
Ha Noi airport is set at 86th place in the annual ranking of top best airports in the world by Skytrax. The airport is certificated with 3.0/5 star thanks to the fast immigration process, modern facilities, diversity options on food and shopping and terminal comfort and cleanliness. Also, in the mid-2010s, Ha Noi airport also became a SkyTeam hub which helps enhance the service and facilities quality.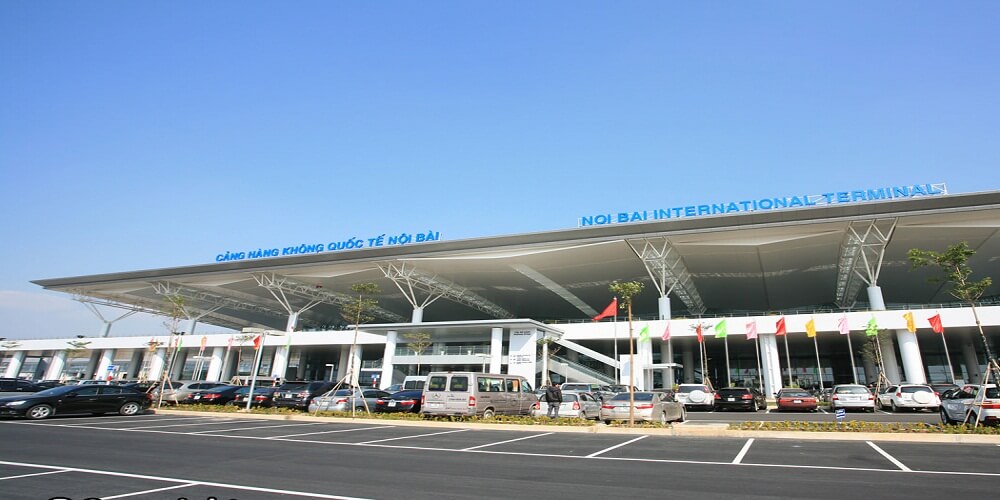 2. Terminal
Ha Noi airport is a huge transfer hub of 650 hectares, combined by four floors with two terminals for separate domestic and international passengers. Both terminals share the same design: the first floor for arrival, second one for departure, offices at third one and professional services such as restaurants, duty-free shops, lounges, etc. on the highest floor. Also, the distance between them is 850 meters. Thus, you should make sure you get to the correct terminal and needn't to take another minute running across the Ha Noi airport.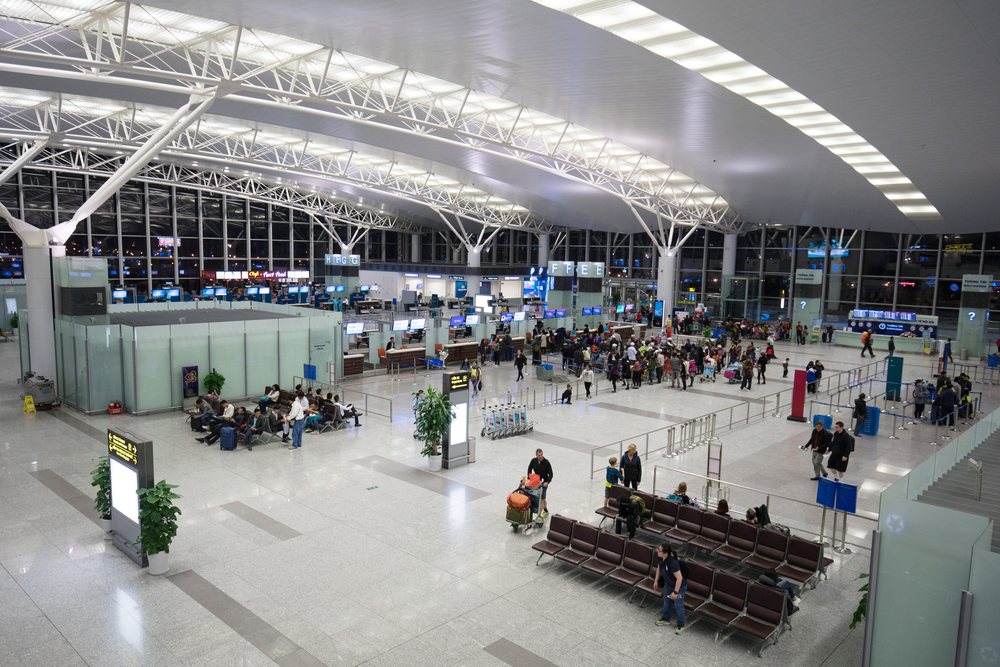 Domestic terminal T1
Opened in 2001, terminal T1 is used for domestic flights. This is where you can find check-in counters of well-known local airlines such as Vietnam Airlines, Vietjet, Jetstar or Bamboo Airways. To handle thousands of guests daily, Ha Noi airport has more than 100 check-in counters with three hall A, B, E. You can find counters number from 1-30 at hall A, 31-60 at hall B and 101-138 at hall E.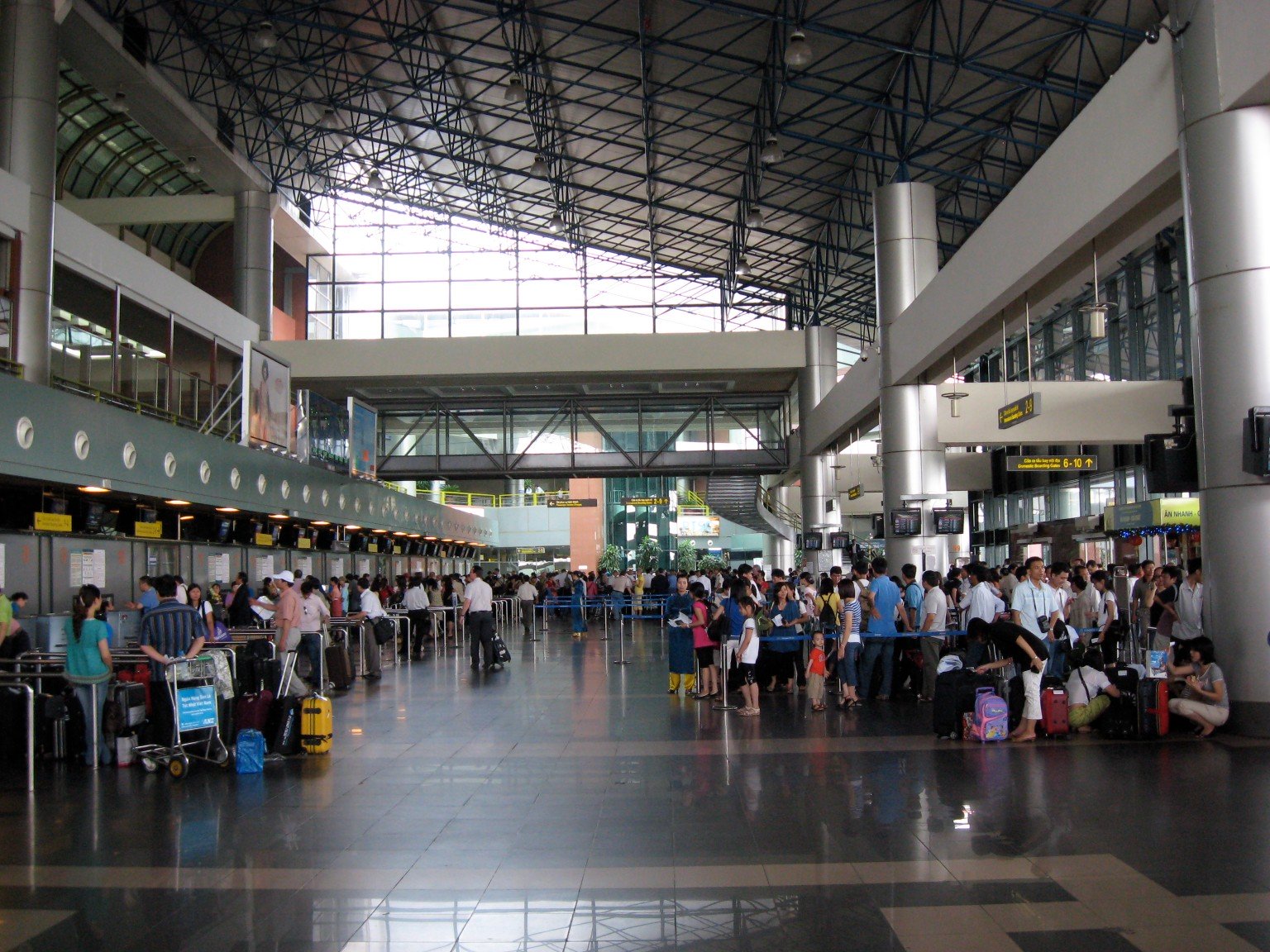 International terminal T2
Terminal T2 to the left of Ha Noi airport is for international flights. At the presence, there are over 20 international airlines operating at the airport, namely AirAsia, Hong Kong Airlines, Vietnam Airlines, Cathay Pacific, Thai Airways, etc. Also, there are over 100 check-in counters to maintain the high speed of passengers flow. Vietnam Airlines passengers can check in at island E/F, G/H. Meanwhile, other airlines' guests can check in at island A/B, C/D. In addition, T2 provides exclusive high-quality service to ensure the best experience for all passengers.
If you want to seek a more comfortable zone for rest or work before boarding, head to the fourth floor of T2 to find the VIP lounge. You can enjoy diversity cuisine while reading newspapers or magazines in your wait time. Also, computer systems with internet connection are available along with a separate smoking room.
In case you want to leave your luggage and enjoy shopping or dining at Ha Noi airport, you can find a locker room on the east side of T2. In addition, a children playground is available near gate 33 for your kids to play. The area is well-equipped with various amenities such as swing, slide, seesaw, etc. Besides, the baby care room is located on the west side of the third floor at T2.
3. Arrival process at Ha Noi airport
Like other international airports, for foreign travelers, the immigration procedures at Ha Noi airport include 4 steps:
Quarantine and immigration check
Baggage claim
Customs inspection
Arrival hall
For the Vietnam visa, it's not so complicated to apply for one. You can apply for a Vietnam visa before your trip or apply for an online visa and get a visa on arrival.
4. Information desks
Should you have any concerns or questions about flight schedule, immigration process or need support onsite, you can get help from information desks at Ha Noi airport.
T1: There are 2 information counters. One is on the first floor of the public hall. Meanwhile, the other one can be found at the connection bridge on the second floor of hall A and E. Also, you can call (+844) 35843004.
T2: Two help desks are available in the public hall on the first and the third floor. They are reachable at (+844) 35876611.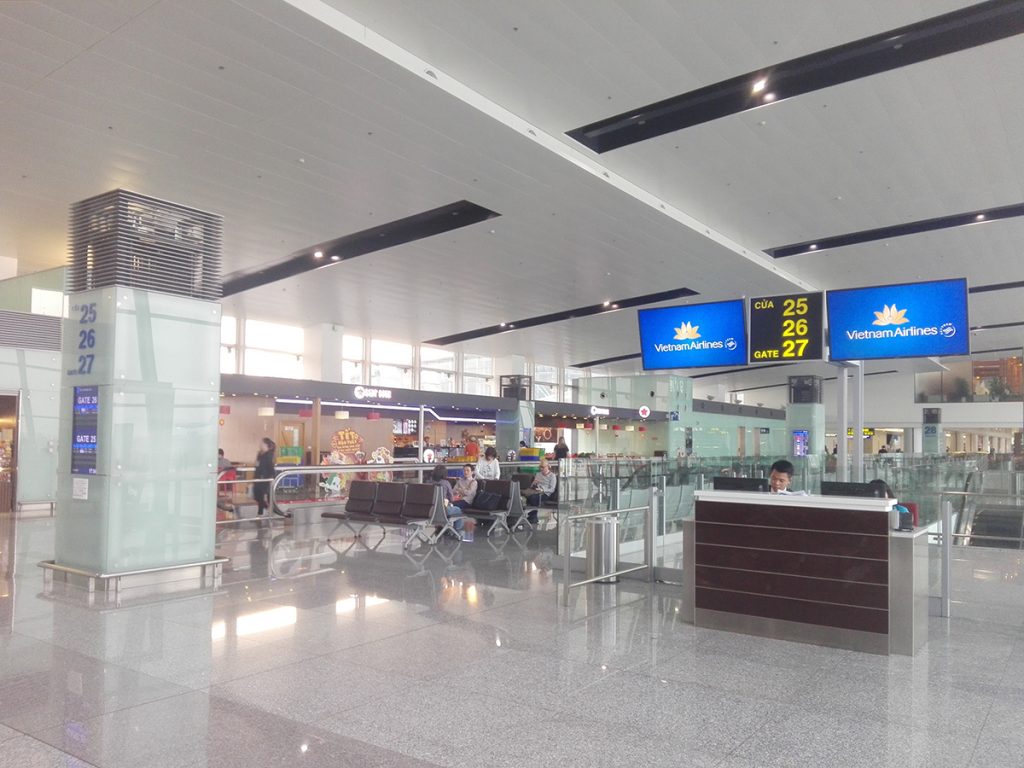 5. Ha Noi airport food
Dining is always a good idea for you to kill the waiting time. Grabbing some food at Ha Noi airport while waiting for departure flights can help you not only fill your stomach but also cheer you up. You can choose to enjoy either Vietnamese cuisine signature or some international fast food one. All places are available 24/7, free wifi and outlets for devices charging.
6. Banking services
Ha Noi airport offers a good currency exchange rate so you can get some local cash right at the airport. Besides, ATMs are also available with some popular Vietnamese and international banks.
East side:
- Currency exchange stalls: Vietinbank, Techcombank
- ATMs: Vietinbank, Techcombank, Agribank
West side:
- Currency exchange stalls: BIDV, Maritime Bank
- ATMs: BIDV, Maritime Bank, VP Bank
Public area at T1:
- Currency exchange stalls: Vietcombank, ACB
- ATMs: Citibank, ANZ, HSBC, Vietinbank, Techcombank, ACB, VIB, Sacombank, Agribank
- Kiosk banking: Vietinbank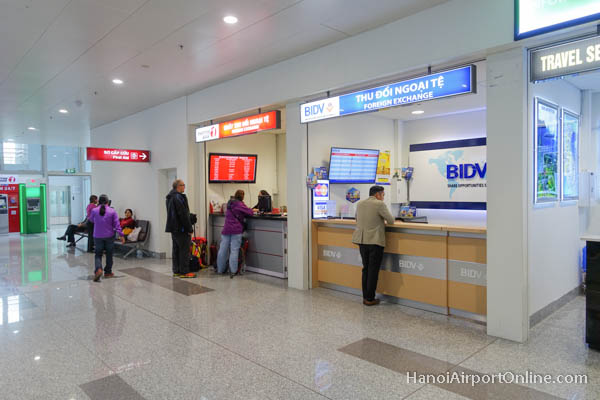 7. Shopping
With duty-free goods, shopping at the airport is considered as a great deal for you. Ha Noi airport brings you plenty of options. In case you aren't into shopping, it's good to get yourself wandering a bit before a long flight then lazily sit and wait for a long time.
Two duty-free shops are available at each terminal in Ha Noi airport. You can make a purchase of goods from many luxury brands such as Chanel, Dior, Blvgari, DKNY, Kenzo, Lancome Moschino, and more. Additionally, you can also find Cognac, Whisky, Vodka, Gin, Rum, and Wine with European and American origin.
Besides, in case you want to purchase gifts for a loved ones, there are stored for last-minute shopping.  Fine art products, handcrafts from Vietnam, textile products, and fashion products are popular souvenirs sold at Ha Noi airport.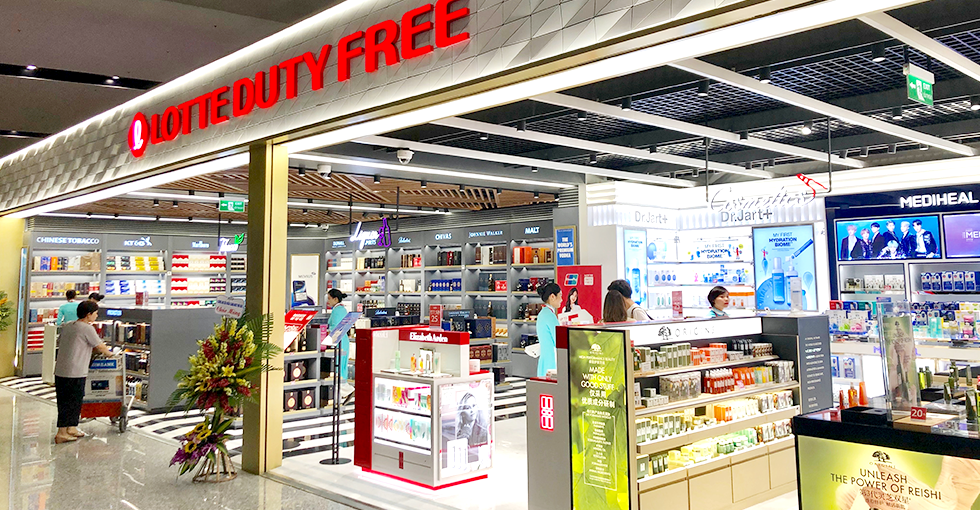 8. SIM Card
For SIM cards at Ha Noi airport, it doesn't cost you a fortune to own a cheap SIM card with high speed network connection. With 3G/4G connection, you can quickly connect with the internet, check your email or book a cab. Mobifone, Viettel and Vinaphone are the top popular network providers in Vietnam. Standard price for a SIM card is  about $2.2 - $5 each.
You can visit Zone A1, A2 at arrival hall T2 or Zone A218 at public hall T1 to buy a SIM card. Note that you will need your passport to make the purchase.
9. Free service at Ha Noi airport
Besides paid service, Ha Noi airport also provides guests with free service. Free wifi is available across the airport. However, it's not too fast but usable. To connect, firstly, you need to find the network named "NoiBai Airport Free Wifi". Then, follow the instructions to register and get access to the internet.
Also, drinking fountains are available at Ha Noi airport. At T1, you can go to departure hall A, B, E on the second floor. Or you can find those near gate 21, 25, 32, 35 at T2 for drinking for filling your water bottles.
Don't worry if your phone, tab or laptop is running out of battery. Each terminal is equipped with chargers for both iOS and Android devices as well as some outlets for those who use laptops. Chargers are available at departure gate 21, 22, 23, 28, 31, 32, 33, 34, 35 at T2. Else, you can go to Hall A, B, E at T1 for charging your mobile devices.
10. First-aid
There are three 24/7 first aid rooms at Noi Bai airport in case of emergency. Those are well equipped with necessary facilities and medicines. Doctors and nurses are also available if you request for onsite support.
To request for first aid service, you can:
- Airport staff: In case of emergency, you can ask for first aid service by talking to any nearest airport staff. They'll contact for support immediately.  
- Medical emergency team: besides, you can contact the medical emergency team via the airport control center with this phone number: (+844) 35876600 - Ext: 6300.
11. Travel between two terminals
The distance between two terminals is about 85 meters which will take you about 10 minutes of walking. In case you are too tired to walk that far after a long flight, you can choose to travel by the internal shuttle bus. The service is available everyday from 6am to 1am the next day, departing every 10 to 15 minutes. To catch the bus, you can go to column 18 at T2 or Hall A at T1.
12. Travel to the city
To travel to the city, it takes you about an hour of driving or more, depending on the traffic. At Ha Noi airport, there are plenty of transport options for you: booking services, car rental, taxi, bus, etc.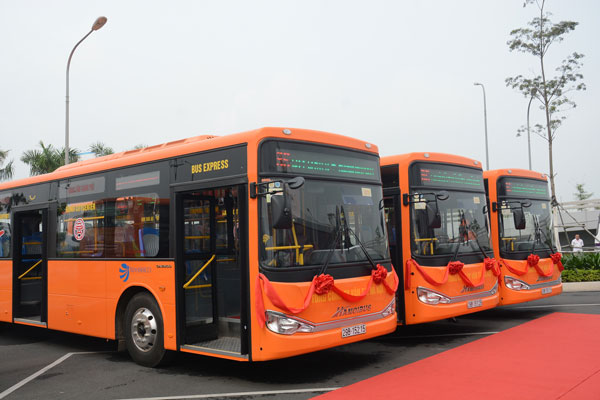 Ride Hailing Apps
Like Uber or Lyft, Grab, Be, etc. are popular booking platforms. To use this, you have to install their app on your phone, take some time to register and then book your car. This is cheaper than getting a taxi. Moreover, you don't need to worry about taxi scam while you can track the route and the fee is shown when you book the cab. The estimated price is about $10 - $15, including airport entrance fee. Also, the fee may vary due to the traffic and demand. Lastly, the Grab or Bee cars are not allowed to drive into the arrival hall, you'll need to walk outside.
Taxi
There are nearly 20 brands of taxi available at Ha Noi airport. You may check here for trust worthy brands. To avoid taxi scams, you can choose to go with Mai Linh taxi (green cars) or Vinasun (white cars). There are the top best taxi brands in Vietnam. The average price to travel from Ha Noi airport to Hanoi Old Quarter varies from $11 - $20.
Not only traveling to the city but getting around by taxi is a bit tricky with taxi scams. Some taxi drivers may take advantage of you to go the longest ways to overcharge as the fee is counted by meter counter clock. You may negotiate the price before going or may go with some trustworthy brands or booking platforms.
The taxi queues are at the Arrival Hall at both terminals: hall C, E at T2 and East wing at T1.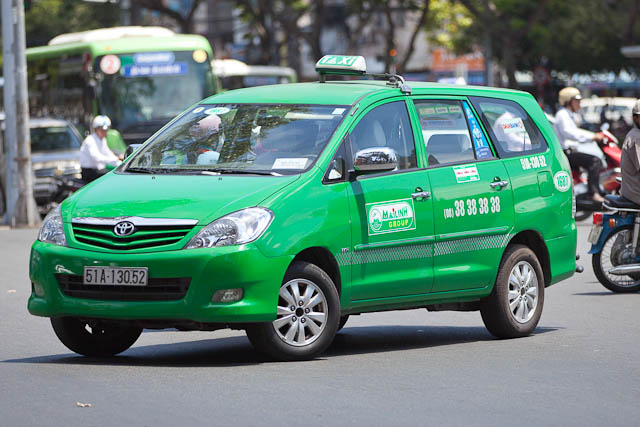 Airport bus
In case you are looking for a cheaper way, the airport bus (or coach) is available at Ha Noi airport. The 16-seater to 45-seater buses depart from the airport to a station on Quang Trung street which is 3km away from Hanoi Old Quarter. Also, you can ask the staff for stop or support to show you the direction. The ticket costs you $2 per person and free of charge for your luggage.
Airlines bus
If you are flying with some Vietnamese airlines such as Jestar or VietJet Air, you can book a transfer bus online in advance. Also, tickets may be sold on the plane, so you should contact cabin crew for support. For Jetstar, the bus goes from the airport to Quang Trung station. Meanwhile, VietJet Air's bus goes from Ha Noi airport to station on Tran Nhan Tong street. To find your bus, you should head to hall C and E in T1 or both side of T2.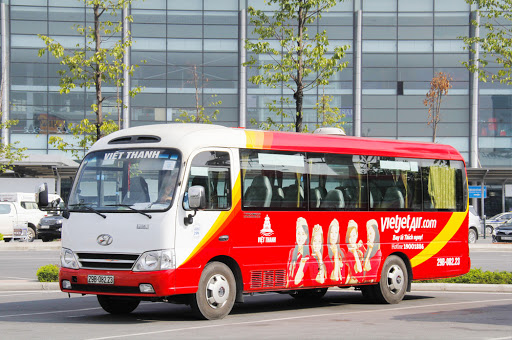 Public bus
Among all means of transportation, public bus is the cheapest option. With the price range only from 40 cents to $5, you can take the bus to the city central. There are 4 bus lines (number 07, 17, 86, 90) with different routes so you can transfer to mostly anywhere in Hanoi. On the contrary, the bus may be full of people, so you may have to stand during the trip and it may take up to 1.5-2 hours to get to the final destination. Moreover, you have to walk 200 meters to the airport gate to catch a bus because they are not allowed to enter the airport.
Also, taking a bus is quite tricky as you should know which station you need to get off. Fortunately, the airport information staff is available for your service. You can show them the hotel address, they can guide you to take the correct bus and get off at the right stop. On the other hand, you can get a SIM card and google the direction by bus from Ha Noi airport to your hotel. The detailed instruction will lead you to the right bus and right station. If your hotel is at the Hanoi Old Quarter, buses number 86 and 90 are recommended as they are new and not so crowded all the time.
Airport transfer service
If you prefer a private drive and are not interested in waiting, you can book an airport transfer service online in advance. This service is provided by third parties which can be booked via their websites or some travel app such as Traveloka, Klook, KKDay, etc. The driver will be present at the airport when you arrive and bring you a smoothly and stress-free transit to Hanoi center.
Hotel shuttle bus
Many hotels in Hanoi offers the airport transfer service. The service usually goes with extra charge but some may be included in the room rate. You should contact the hotel in advance to obtain the service if it's already charged with the room. The driver will pick you up at the airport on time.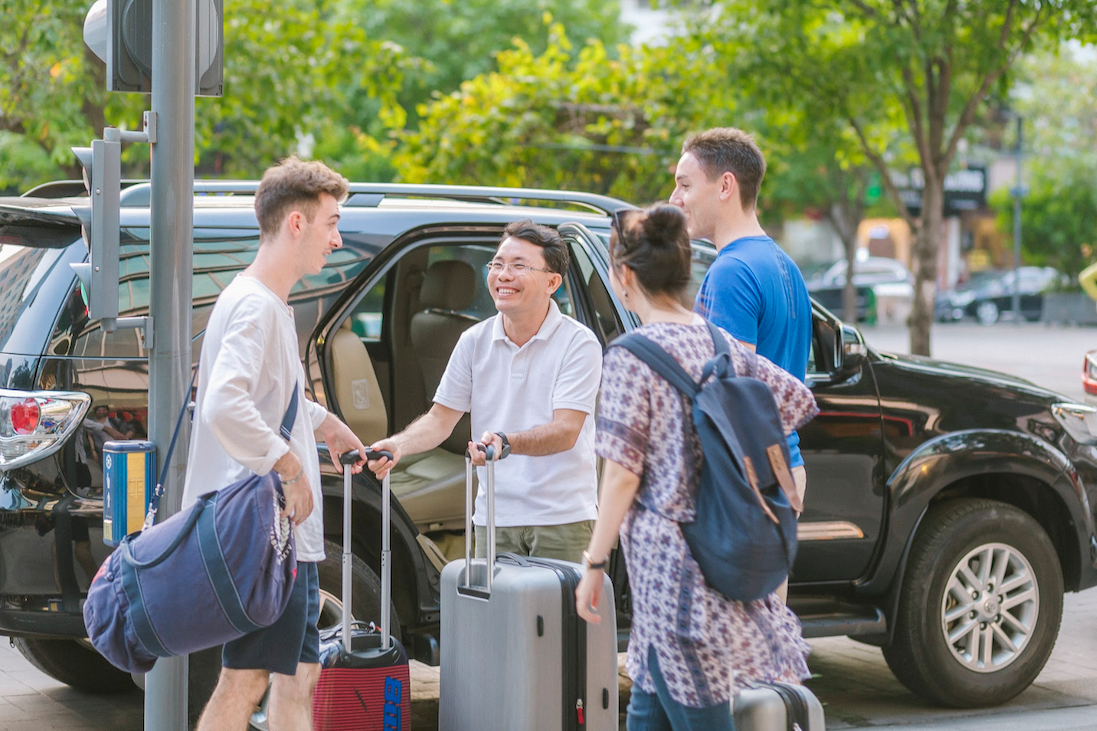 13. Hotels near Ha Noi airport
There are plenty of accommodation options that are near the airport in case you want to stay near the airport or you are waiting for your transit flights. Instead of paying a lot to stay at the airport lounges, you can go to some hotels in the neighboring area or airport sleep pods with affordable prices.
In case you want to stay near the city center in a luxury and comfortable suite and room, here is our list for the top 25 best luxury hotels you can find at Hanoi.
Family Hotel Soc Son
Address: 17 Vo Nguyen Giap street, Soc Son, Ha Noi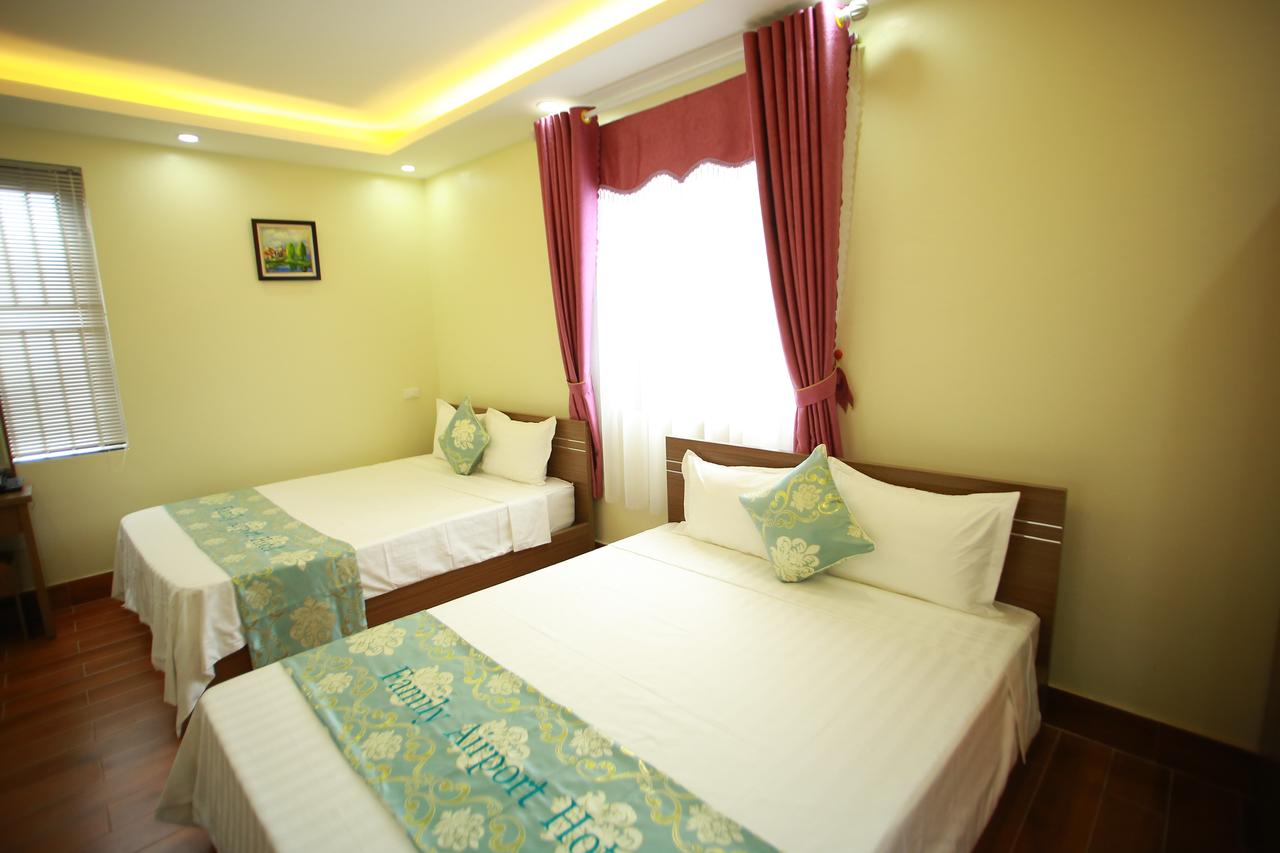 VATC Sleep pod Terminal 1
Address: Floor 3, Terminal 1, Ha Noi Airport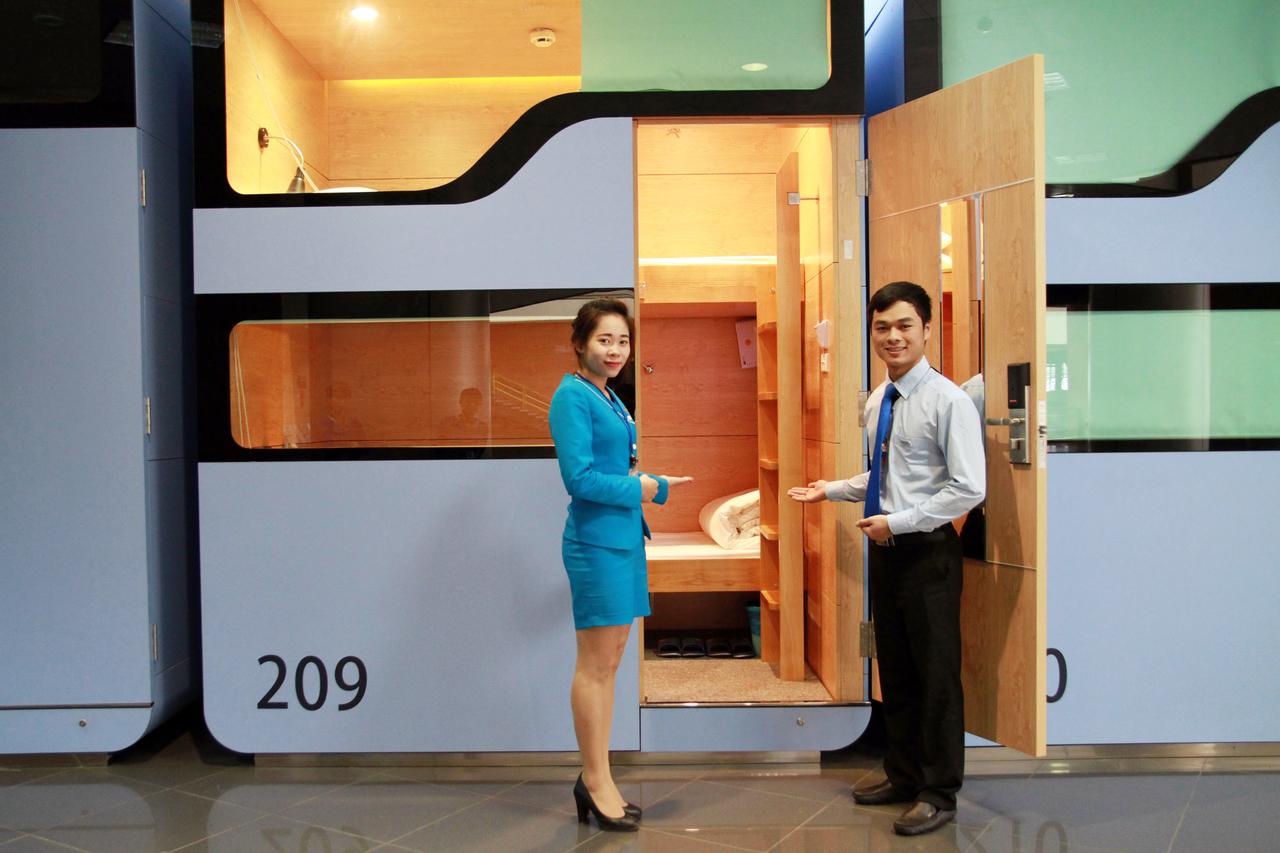 VATC Sleep pod Terminal 2
Address: Floor 2, Terminal 2, Ha Noi Airport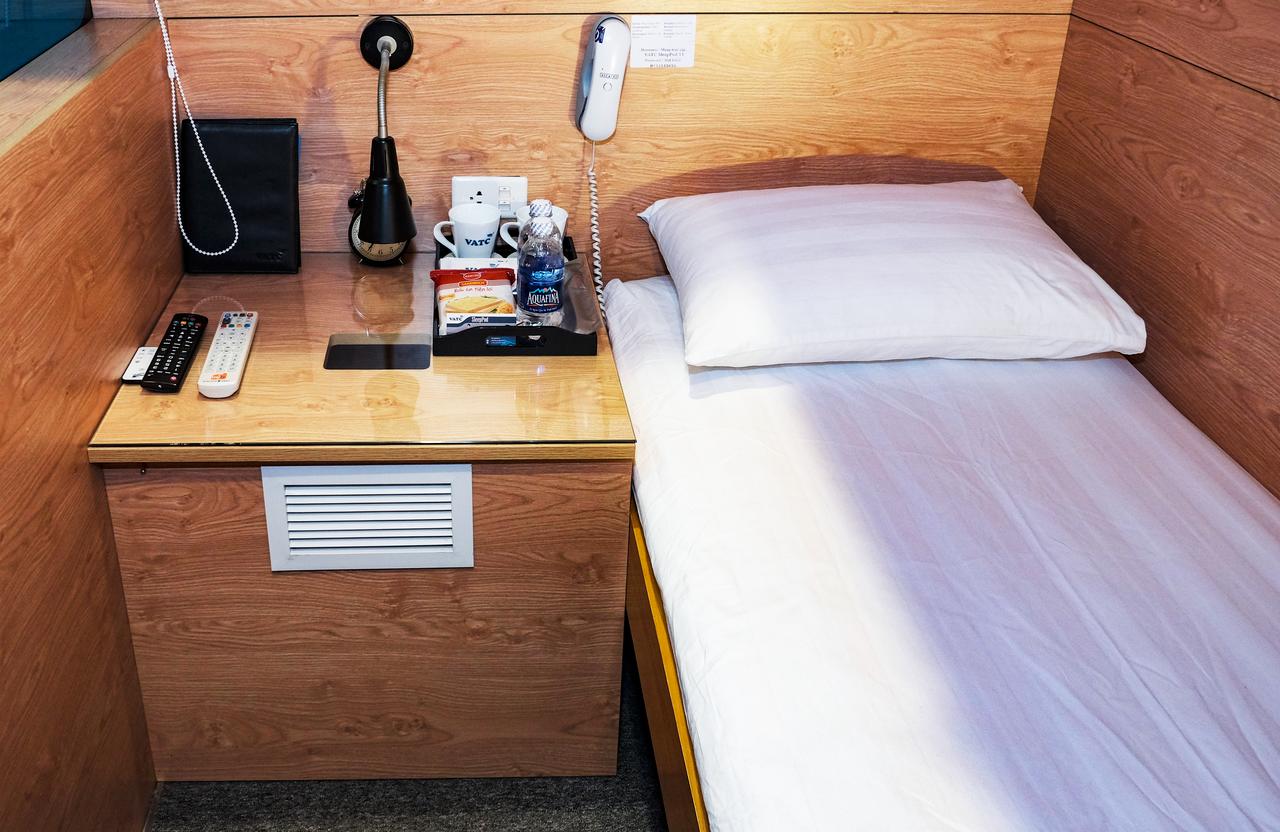 HD House
Address: Vo Nguyen Giap street, Ha Noi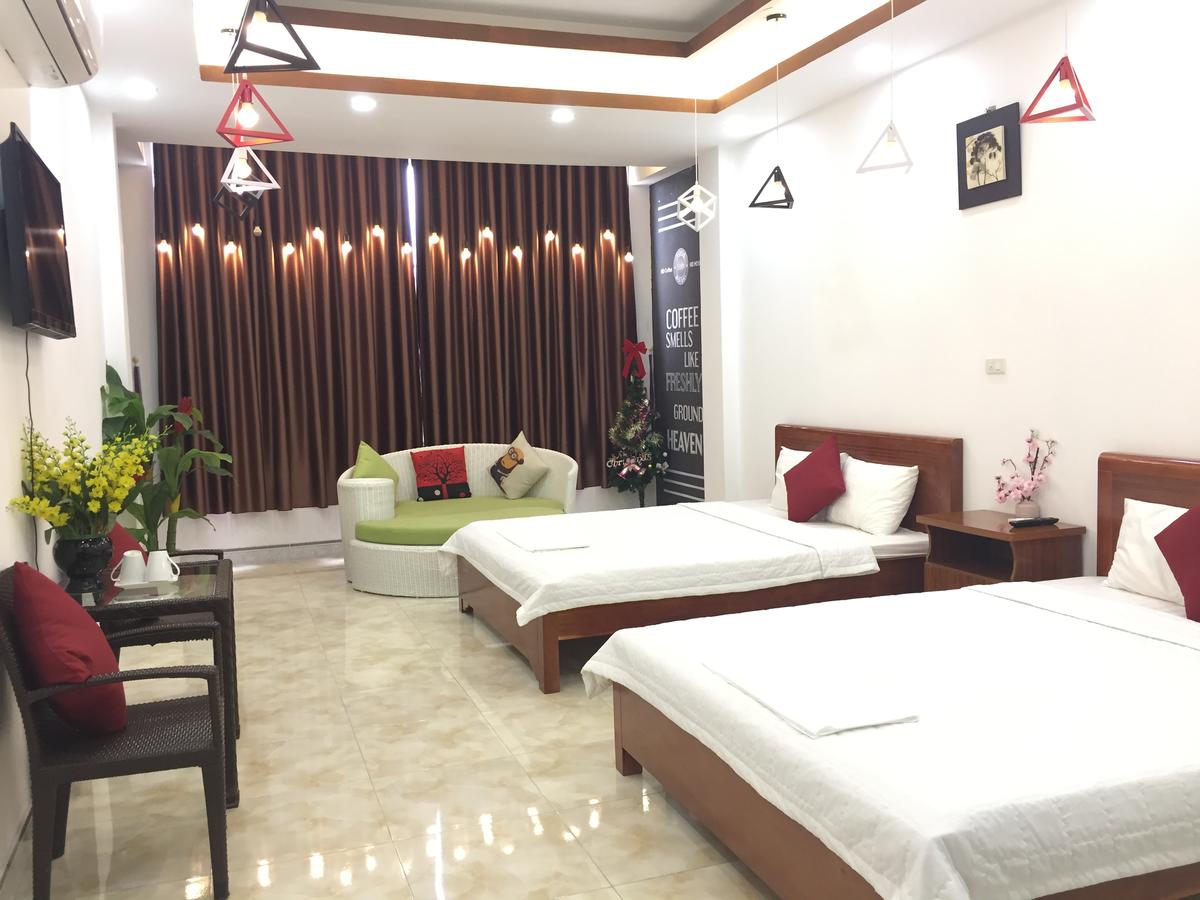 Hanoi Airport Hotel
Address: 8 Vo Nguyen Giap street, Noi Bai, Ha Noi