The 10 Best Traditional Vietnamese Restaurants in Ho Chi Minh City
Like its varied landscape which features terraced mountains, long coastal line, fruitful rice fields, Vietnamese gastronomy is also endowed with a variety of vegetables and fresh ingredients in a diverse collection of recipes. The country boasts one of the most eclectic, delicious, and healthy cuisines in the world.
Let's explore the top 10 traditional Vietnamese restaurants in Ho Chi Minh city that will satisfy your cravings while visiting this beautiful country.
---
1. CỤC GẠCH QUÁN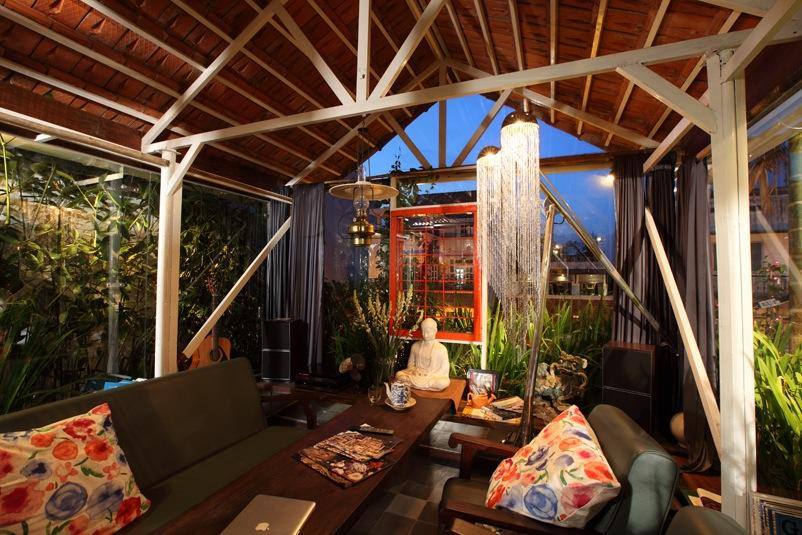 Inspired by childhood traditional family meals from his grandma, Binh Tran, an architect and the restaurant's owner, opened Cục Gạch Quán (in English: "The Brick Restaurant") in 2009. Since then, the unique, artfully designed restaurant has served a large number of diners, both Vietnamese and foreigners.
Every small detail such as tables, chairs, bowls, and flower vases in the eatery are recycled and redesigned from old furniture and recovered materials giving the restaurant a unique rustic atmosphere.
Serving traditional Vietnamese meals, a standard set menu here includes rice, a main dish with meat, a vegetable side dish, and a bowl of hot soup. The food's freshness and authentic flavors, made with no preservatives or MSG, are what make customers come back for more.
Mr. Binh:
"I want to cook and prepare the meals in my way to treat my guests, trying to make them feel at home. By following this concept, we want to promote Vietnamese culture and traditions that show hospitality to foreigners."
Cục Gạch Quán is a must-try restaurant for travelers who want to explore Vietnamese traditional cuisine.
Address: 10 Dang Tat Street, Tan Dinh Ward, District 1, Ho Chi Minh City
Check out more details on Foody
---
2. QUÁN BỤI RESTAURANT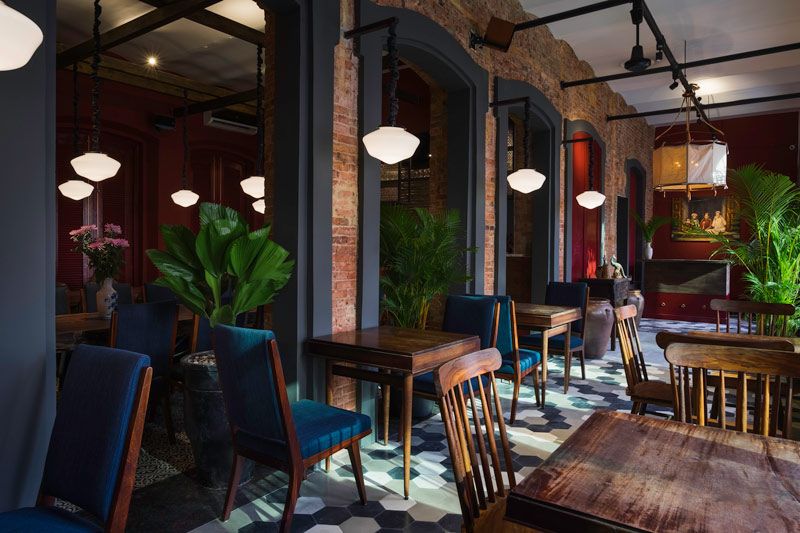 Quán Bụi restaurant is another excellent option for home cooked Vietnamese dishes.
Owner Tran Danh started the first Quán Bụi in 2011 on a small street, at the heart of Saigon. His aim is to recreate the nostalgic family dinner for busy office workers so they can enjoy a meal that feels like home after work.
Since then, Quán Bụi has spread with 5 branches across the city. Each restaurant is dressed with warm lighting, greenery, and Indochine-style design, creating a cozy and modern ambiance.
The restaurant menu is a thoughtful selection of traditional family recipes from Vietnam's three regions: north, center, and south. Every dish is made from fresh ingredients with no MSG and low sugar.
Among the signature dishes are the southern canh chua soup, braised fish in clay pots from the center region, and cha ca grilled fish from the north.
This is the place is where "modern meets culture" as Mr. Tran put it.
Quán Bụi Restaurant branches:
19 Ngo Van Nam Street, Ben Nghe Ward, District 1.
55A - 55B Ngo Quang Huy Street, Thao Dien Ward, District 2.
Estella Place - 2nd Floor, 88 Song Hanh Street, An Phu Ward, District 2.
1st Floor, 39 Ly Tu Trong Street, District 1.
Empire City - Tilia Residences, No. 04, D11 Street, Thu Thiem Ward, Thu Duc City.
Check out more details on Foody
---
3. PHỞ THÌN BY SOL
Phở is definitely the most iconic Vietnamese food that can't be missed on your food adventure.
Phở Thìn by Sol is a new restaurant specializing in a variety of dishes made from phở with a signature northern flavor. The menu here offers from the classic flaming beef phở, fried phở, rolled phở as well a special wine stew beef phở and phở in a hot stone bowl.
The soup flavor is praised for its richness and appetizing aroma and use of spices and herbs. The recipes use only Wagyu and Angus beef.
If you want to taste the signature northern phở of Vietnam, then this is the place to do it.
Phở Thìn by Sol branches:
District 2: 37 Xuan Thuy Street, Thao Dien Ward
District 4: 45 Nguyen Truong To Street, Ward 12
District 7: Canh Vien Apartment, 1 Tieu Nam Street, Tan Phu Ward or 57 Nguyen Duc Canh, Tan Phong Ward.
Check out more details on Foody
---
4. CUỐN VÀ CHẤM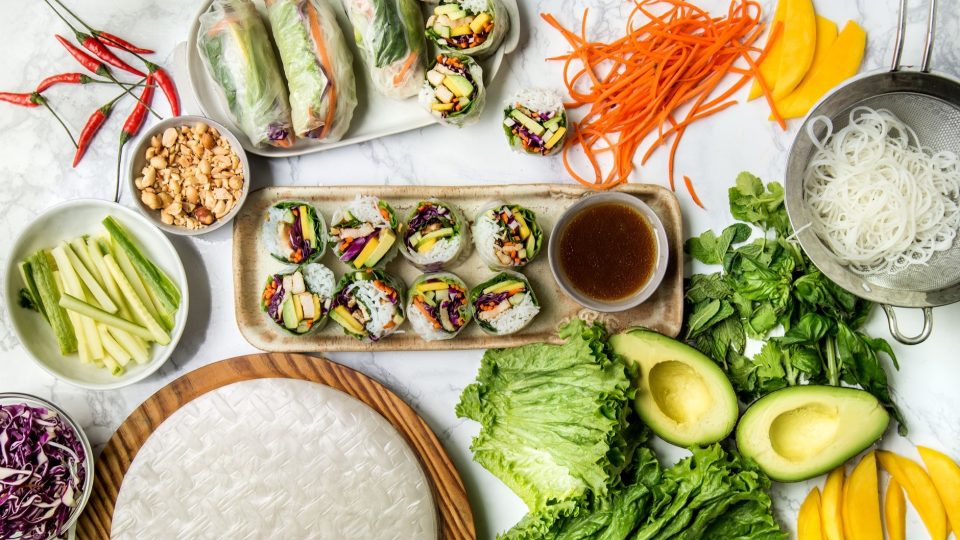 You must have heard of the famous mouth-watering spring rolls, a signature dish of Vietnamese cuisine.
Besides the worldwide popular fried spring rolls with fish sauce, Vietnamese have a variety of rice paper roll dishes with various choices of ingredients and dipping sauces. If you enjoy these colorful rolls loaded with fresh vegetables and different kinds of protein, then Cuốn and Chấm (in English: "Roll and Dip Restaurant") is the place to go.
The signature menu of the restaurant offers different kinds of rolls from vegan to savory ones. There are many unique ingredients combinations you can try like Shrimp and Avocado Roll, Capellini Roll or Beef, and Korean Kimchi Roll together with many dipping sauces for your choices. The sauce menu varies from traditional sweet and sour fish sauce to the unique basil sauce, peanut sauce, tamarind sauce, and vegan sauce.  
Are you ready to take on a mouth-watering exploration with Vietnamese rolls?
Cuốn và Chấm branches:
648 Dien Bien Phu Street, Ward 22, Binh Thanh District.
73 Truong Dinh Street, Ward 6, District 3.
89 Nguyen Du Street, Ben Nghe Ward, District 1.
93bis Nguyen Van Thu Street, Da Kao Ward, District 1.
Check out more details on Foody
---
5. MÓN NGON QUẢNG NGÃI
Fancy a signature Central Vietnam culinary experience?
Món Ngon Quảng Ngãi restaurant is the top place to go. Operated by natives of Quang Ngai in Central Vietnam, this restaurant proudly serves their hometown dishes.
You can find various popular specialties from the Central region such as Bánh Bèo (glutinous rice cake), Mì Quảng (Quang noodles), Hến Xúc Bánh Tráng (stir-fried baby clams served with sesame rice crackers), Ram Bắp (corn fried rolls), and much more.
The region's cuisine set itself apart from the rest with its strong flavor, spicier, and distinguishing red and dark brown recipe colors. The food is usually served in small portions due to the region's influence from Imperial cuisine.
Món Ngon Quảng Ngãi branches:
31 Tran Nao Street, Binh An Ward, District 2.
5 Thong Nhat Street, Binh Tho Ward, District 2.
Check out more details on Foody
---
6. THE HUẾ HOUSE
Speaking of Central Vietnamese cuisine, it is impossible not to mention Hue, the ancient citadel of the Nguyen dynasty. Hue is famous for both its imperial culture and rustic cuisine.
The food at this namesake restaurant is rich in taste and plated in an artful style. The Hue House restaurant design is inspired by the dreamy capital featuring open space and a beautiful outdoor garden.
This restaurant offers a varied menu of Hue food like cơm hến (clam rice), bún bò (beef noodles), bánh canh cá lóc (snakehead fish cake soup), lẩu thả (dipping hotpot). With its unique imperial-inspired decoration, you will be immersed in the feel of royal Hue while enjoying the delicious and sophisticated cuisine.
Address: Rooftop Master Building, 41 – 43 Tran Cao Van Street, Ward 6, District 3.
Check out more details on Foody
---
7. BUFFET GÁNH
Vietnam is the heaven of street food, and what could be a better way to explore them all in a buffet style.
Buffet Gánh is a special buffet-style restaurant that serves Vietnamese popular countryside dishes and Saigonese street food in a boutique hotel.
The restaurant offers more than 60 delicious popular Vietnamese dishes from the 3 regions and street food like gỏi tôm sứa (shrimp and jellyfish salad), súp cua (crab soup), hột vịt lộn (balut), sò huyết rang me (blood cockle with tamarind sauce), bánh xèo (Vietnamese pancake), bánh chuối chiên (banana fried cake), chè (sweet soup).
If you want to try all the most popular Vietnamese foods in a single visit, then Buffet Gánh would be a perfect choice.
Buffet Gánh branches:
Bong Sen Hotel, 117 – 123 Dong Khoi Street, Ben Nghe Ward, District
2. Palace Hotel Saigon, 5th Floor, 56 – 66 Nguyen Hue Street, District 1.
Check out more details on Foody
---
8. LẨU MẮM BÀ DÚ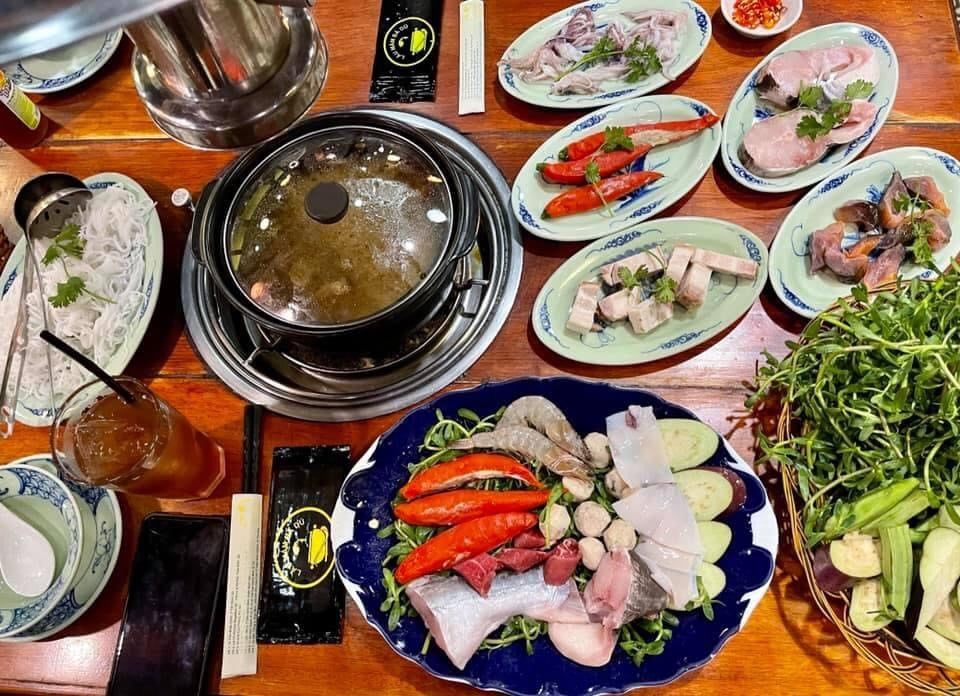 You haven't truly tried Vietnamese food until you've had bún mắm. This special Western Vietnamese noodle soup has incredibly deep and complex broth infused with fermented fish. The dish is typically loaded with a lot of toppings including seafood, crispy pork belly, stuffed chilies, and fresh vegetables.
The robust flavor and unique aroma of the soup will surely excite your tastebuds.
One of the top restaurants that serve the best bún mắm in Ho Chi Minh city in hotpot style is Lẩu Mắm Bà Dú (in English: "Ba Du Vietnamese Fermented Fish Hotpot").
This restaurant offers various choices as well as fresh vegetables for your hotpot. Aside from lẩu mắm, you can try other signature Western Vietnamese dishes like lẩu cua đồng (water crab hotpot).
Lẩu Mắm Bà Dú branches:
322 – 324 Cao Thang Street, Ward 12, District 10.
19 Chan Khac Chan Street, Tan Dinh Ward, District 1.
4th Floor, Vincom Mega Mall – 159 Xa Lo Ha Noi Street, Thao Dien Ward, District 2.
6th Floor, Van Hanh Mall – 11 Su Van Hanh Street, Ward 12, District 10.
4th Floor, Giga Mall – 240 – 242 Pham Van Dong Street, Hiep Binh Chanh Ward, Thu Duc City.
Check out more details on Foody
---
9. BÁNH KHỌT CÔ BA VŨNG TÀU
You shouldn't miss out on the two popular Southern Vietnamese street foods, bánh xèo (the famed sizzling pancake) and its sister bánh khọt (mini pancakes).
These crispy pancakes are filled with thin slices of pork belly, shrimp, mung beans, and bean sprouts. The batter is made of rice flour, corn starch, turmeric powder and fried in a hot pan to create the signature crispy texture.
Bánh xèo is bigger with thinner crust while bánh khọt is thicker and served in bite-sized form. Both come with a plate full of leafy greens, herbs, and a bowl of sweet and sour fish sauce.
You can try both signature dishes at Bánh Khọt Cô Ba Vũng Tàu restaurant (in English: "Co Ba Vung Tau Mini Pancake Restaurant").
This restaurant offers a warm and peaceful atmosphere with greenery staffed by helpful restaurant workers in the signature bà ba shirt, a traditional Southern Vietnamese loose-fitting blouse.
Bánh Khọt Cô Ba Vũng Tàu branches:
40B Tran Cao Van Street, District 3
216 Pham Thai Buong Street, Tan Phong Ward, District 7
Check out more details on Foody
---
10. ĐẬU HOMEMADE
Hanoi food is definitely a must-try cuisine when traveling to Vietnam. Fortunately, you can enjoy the unique authentic Hanoi dishes right in Ho Chi Minh city.
Đậu Homemade Restaurant is among the most popular eateries specializing in serving Hanoi food. This place is known for their signature dish: bún đậu mắm tôm (noodle and tofu with shrimp paste), a famous dish that can be found almost everywhere on the streets of Hanoi.
Besides bún đậu, the menu has a wide choice of popular Hanoi dishes like steam stuffed snail, fried crab spring rolls, fried clam worm pie, stewed snail with rice noodles.
The restaurant decoration presents the signature Hanoi vibes with wooden chairs, yellow walls and hand-painted graphics. Yet above all, the authentic flavor of Northern Vietnamese food is what makes Đậu Homemade among the top go-to places when craving for the taste of Hanoi.
Đậu Homemade branches:
1 Nguyen Van Trang Street, Ben Thanh Ward, District 1
45A Hoa Lan Street, Ward 2, Phu Nhuan District.
6 Hong Ha Street, Ward 2, Tan Binh District.
104 Hoang Dieu, Ward 12, District 4.
303 Ngo Gia Tu Street, ard 3, District 10.
Check out more details on Foody