10 Amazing things to do in Blue Mountains Sydney
Australia, a country with a very friendly atmosphere and access to beautiful natural landscapes. If you are looking for a trip offering you a close-to-nature, fresh and tranquil experience just within a day in close proximity to Sydney, Blue Mountains is the best recommended spot for you to experience for yourself Australia's rugged beauty. It only takes about 50 minutes from Sydney to reach Blue Mountains, and there you'll have a panoramic view of mountainous ranges, sandstone cliffs, vertiginous valleys, epic wildlife from this National Park of New South Wales, Australia. Here are our pocket tips for 10 amazing things to do in Blue Mountains, the World Heritage site.
1. Kings Tableland: back to history is one of awesome things to do in the Blue Mountains
For those who want to understand more about the indigenous history of Australia and wild animals, Kings Table Land fulfill that desire. You'll start at an area for camping, and meet some of the Aboriginal Gandangara people. Kings Tableland impresses visitors with its sandstone rock platform that contain grinding and grooves, a decoration of ancient rock art. Kings Tableland is the oldest Aboriginal Gandangara site and is home to many wild species. Kangaroos and cockatoos are also spread among the path, offering opportunities to hand-feed them; a chance you likely wouldn't find on other longer tours.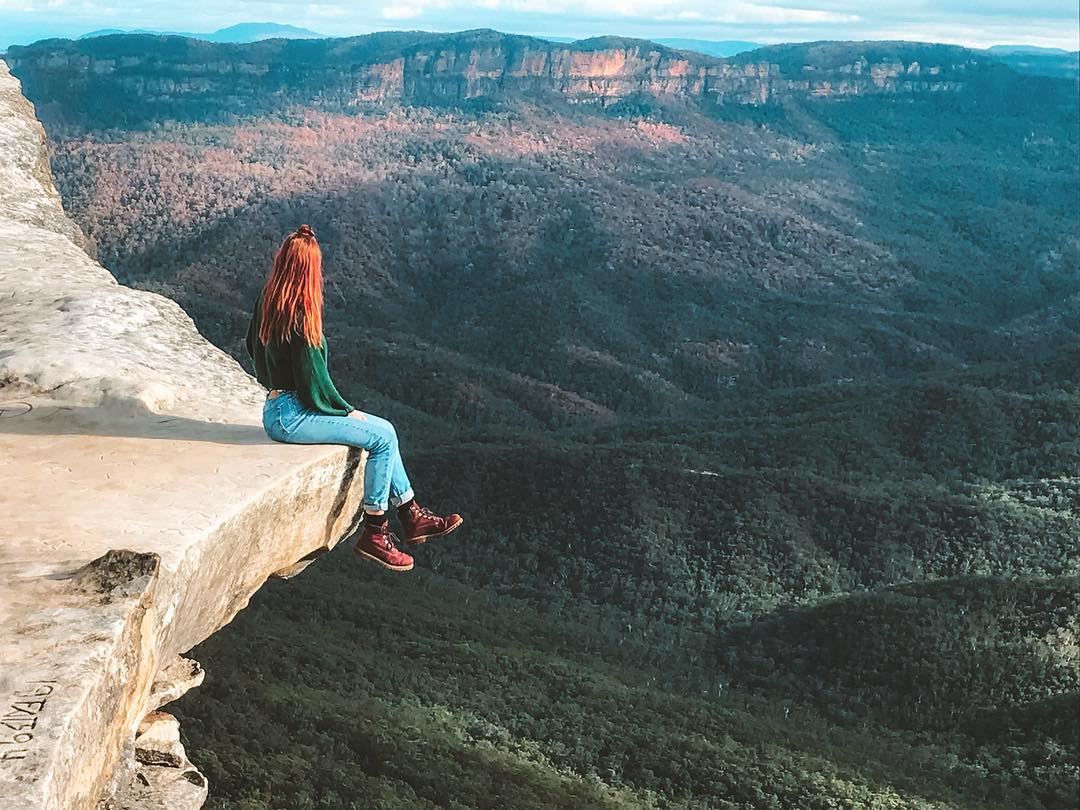 2. Evan lookout: never miss this view
Evan lookout provides a great scenic view from the Blue Mountains. From here you can see a panoramic view of the Grose River Valley. Standing from this spot. Inhale fresh mountain air and look out sandstone cliffs! This is also the place for those who want to get access to the valley below or hike to the nearby town of Blackhealth.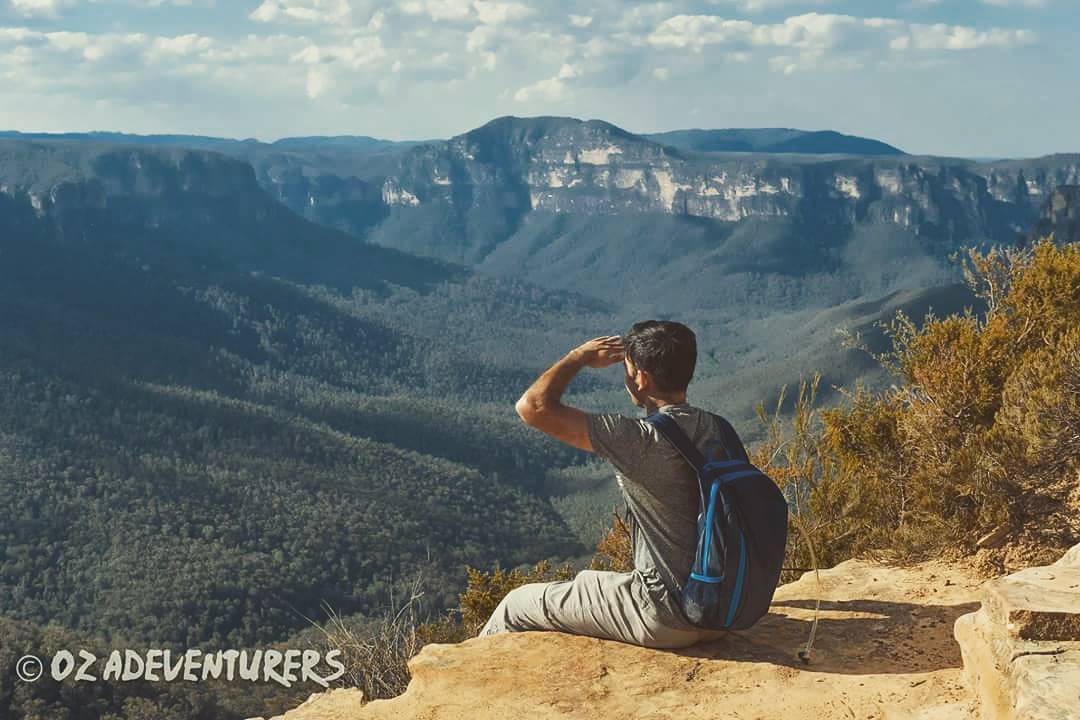 3. Three Sisters Rock: one of the best views you should not miss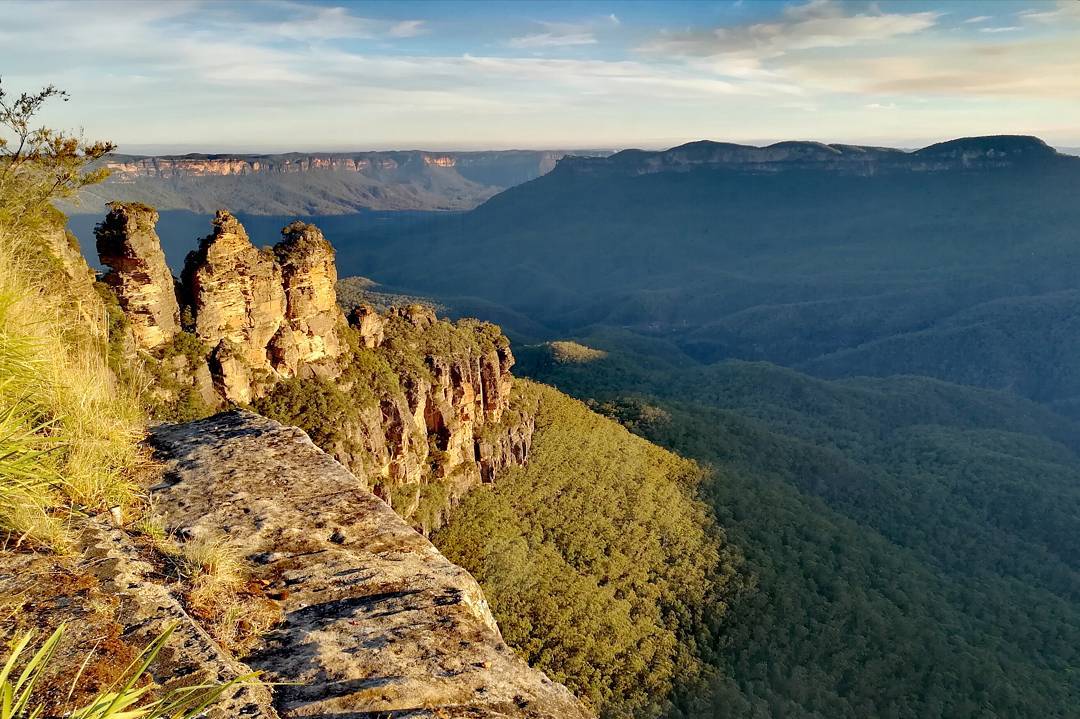 From The Echo Point, you could easily head to the marvelous Three Sisters Rock natural formation on the north escarpment of Jamison Valley with sandstone cliffs pointing up to the blue sky. Especially at sunset or sunrise, Three Sisters Rock certainly provides such an amazing view that everyone should enjoy at least once in a lifetime. When you are in here, you have the chance to unveil the legend of indigenous Australian dreamtime. There are many myths and stories about this area. Stand here above the eucalyptus, breathe in the fresh air and find out the mysterious tale of Three Sisters "Meehni", "Wimlah" and "Gunnedoo". If you want to walk up to Three Sisters Rock, there is "Giant Stairway", featuring 800-stone-and-steel steps from Echo Point.
4. Wentworth Falls: one of challenges you can experience in the Blue Mountains
So you've gotten a whole view of Blue Mountains and its history by passing some spots and listening to intriguing stories. Now this is the time for you to challenge yourself by hiking up Wentworth Falls. Wentworth Falls is the place of many tracking routes and waterfalls, giving you many stops on the way up to stop and take pictures while enjoying Blue Mountains sightseeing from different perspectives.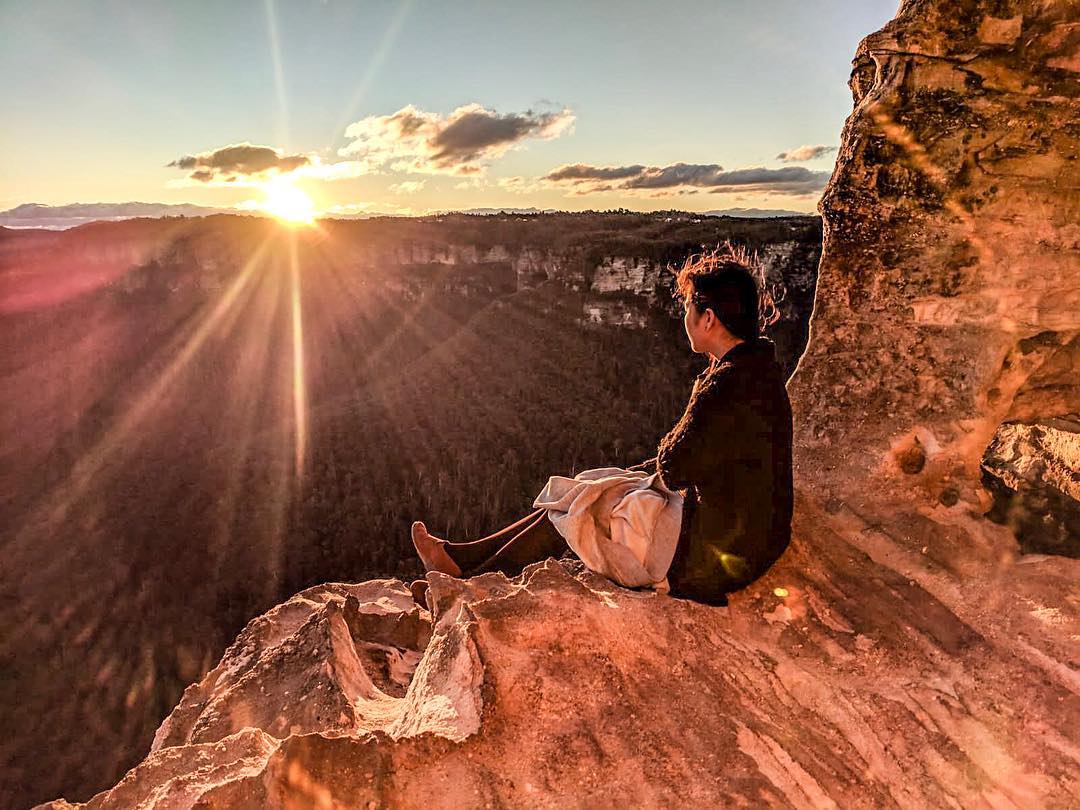 5. Jamison Valley: getting close to Australia nature
After hiking up through routes of Wentworth Falls, it is the time for you to bushwalk through the dense forest of Jamison Valley, the subject of many Aboriginal Gundungurra people's stories. Go back in time and see for yourself the Jamison Valley that used to be home to these mysterious indigenous people.  Going around places here like Kings Table or Wentworth Falls is one of the best activities of tourists. Why wouldn't you immerse yourself right away in this beautiful nature area of the Blue Mountains and refresh your mind with its green scenery?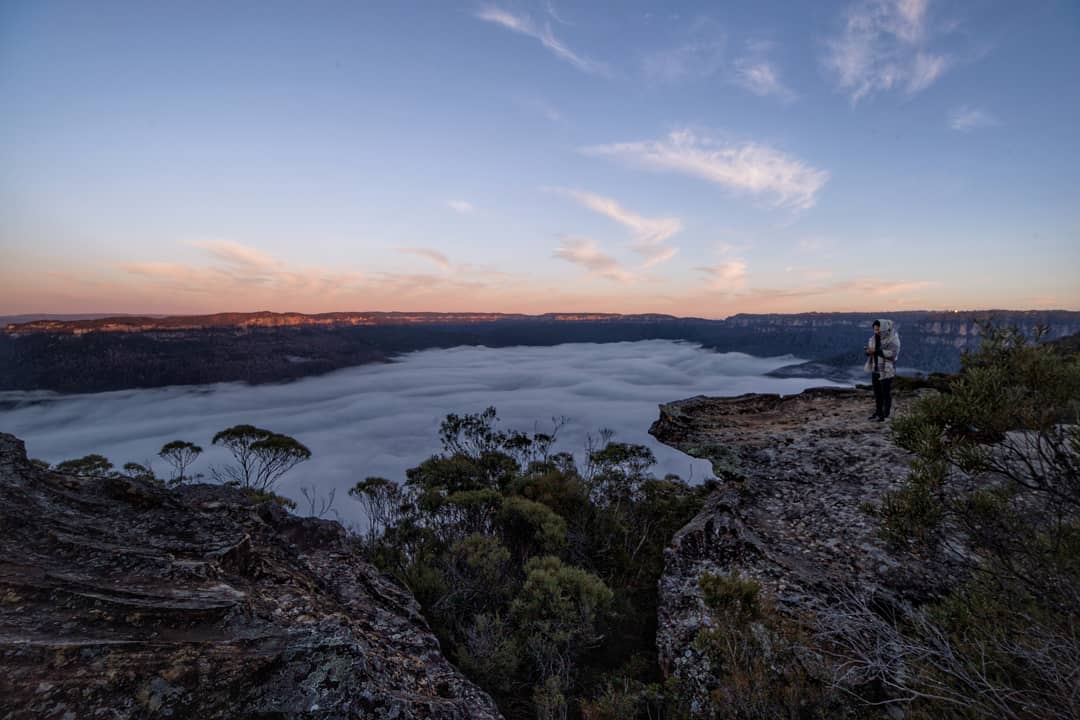 6. Laura: Comfort yourself with yummy foods
After a long journey in the morning, make a stop at restaurant in Laura for a delicious lunch. What an amazing chance to sit in the center of green scenery! Taste unique Australian recipes and wander around for gifts by gifts shops. There are lots of art souvenirs that you can bring home, to the delight of your family, friends, and colleagues.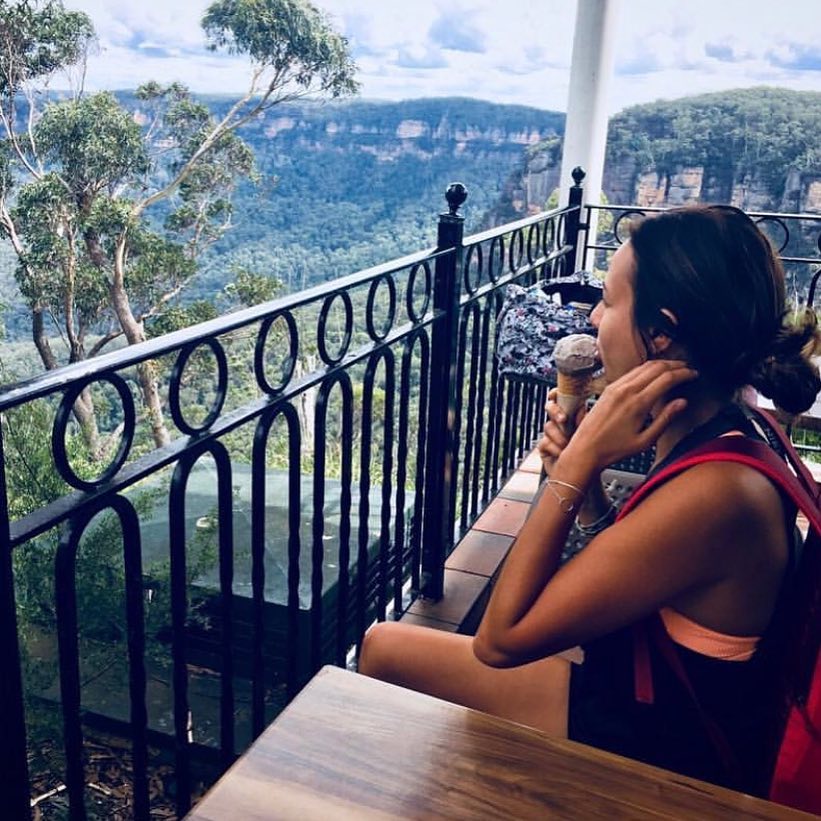 7. Katoomba Falls: enjoying prettiest waterfall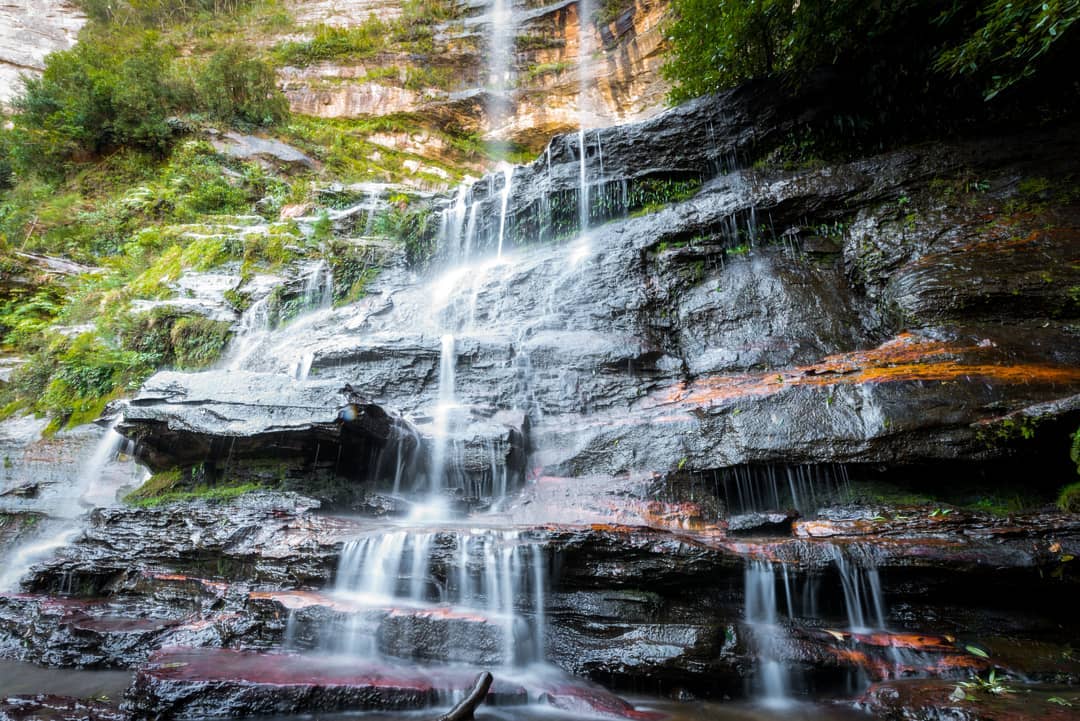 Now it is time to away from shopping center to reach the most photographed spot in Blue Mountains, across Jamison Valley, through rainforest, you walk up to Katomba Falls with breathtaking view. Your route first starts at Scenic World. Katomba Falls is located between Echo Point and Scenic World. As part of Kedumba River, Katoomba Falls cascade down to Jamison Valley. You now have magnificent lookouts when walking along the streams at Katoomba Falls.
8. Scenic World Rides: once-in-a-lifetime experience
If you want to float up in the sky and look down at panoramic view of sandstones, valleys and forest, the different kinds of exploring entertainment at Scenic World, like the Scenic railway, skyway, cableway are things you can't miss!Scenic railway: a very steep descending 310-meter railway down into forest. Just 20 minutes makes for a quick, exciting tour. Scenic skyway: If you want to have whole view of Blue Mountain from 270 meter high, you can take the Scenic skyway. The glass carriage takes you to a park, from which, you can see Three Sisters, Jamison Valley and Katoomba Falls.Scenic cableway: taking the steepest cableway, you get a beautiful view of Orphan Rock, Three Sisters, Katoomba Falls.One of the best experiences here is listening to stories of coal mines that started in 1872.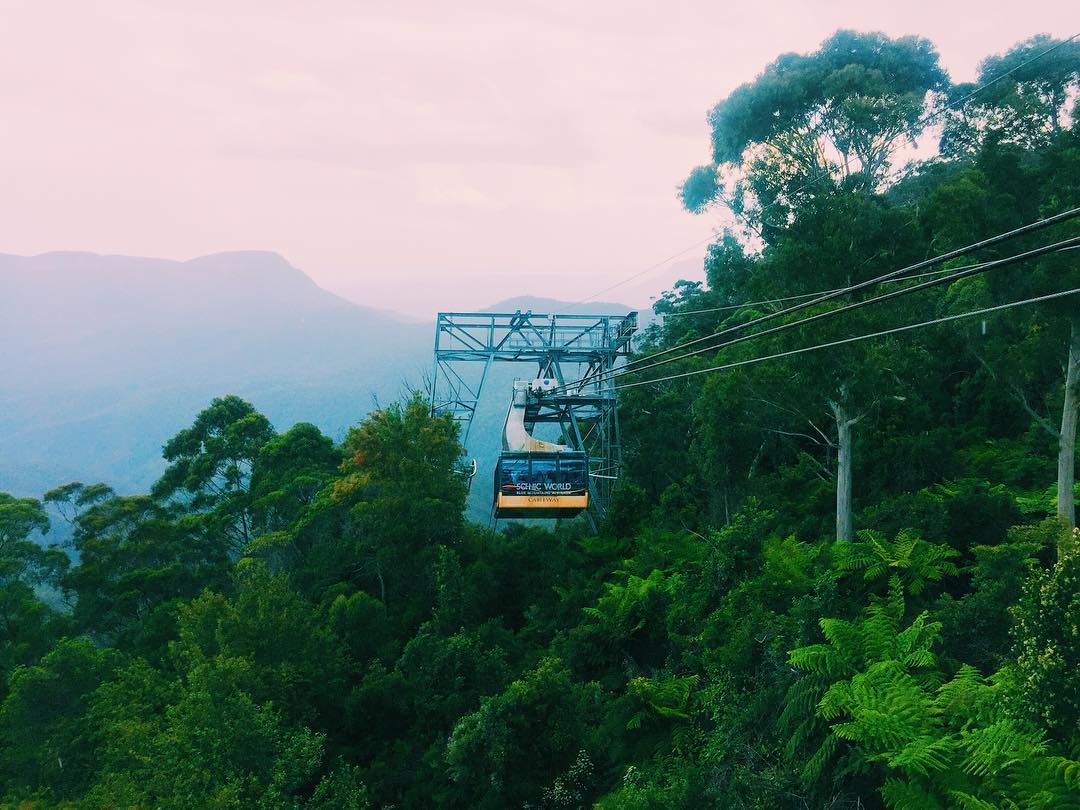 9. The Olympic Park: visiting cultural and historical spot
On the way back to Sydney center, you will pass by one of the best entertainment and sport complexes of Australia, about 16 miles West from Sydney. When you reach The Olympic Park, you'll learn more about its construction, events, and its cultural influences through your tour guide's stories. The location is especially famous for certain activities, including The Sydney Royal Easter Show, Rugby Union, Australian Football League, Big Day Out, Games at ANZ Stadium, and particularly, the 2000 Olympic Games at Homebush Bay.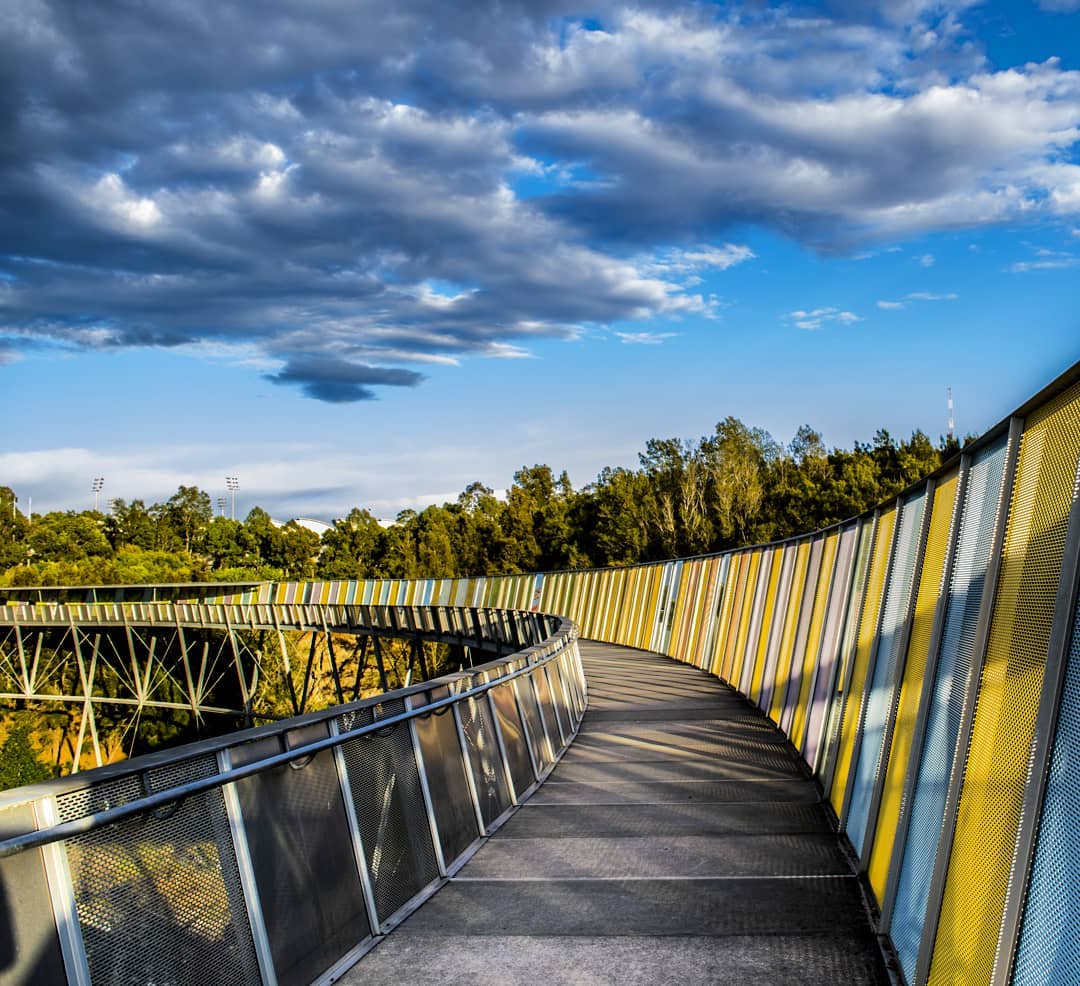 10. Cruise along Parramatta River: best rewarding after a long day of things to do in Blue Mountain
You feel fulfilled, energy releasing and sweaty after a day trip. Now, you seat on the cruise to look sunset fading behind Sydney Harbour Bridge. This is epic! One of the remarkable feelings of this trip! Sydney Harbor Bridge is an iconic symbol of Australia you should never miss! It is also the largest steel arch bridge in the world. On this special cruise on the way back to Circular Quay City center, you will have chance to listen to traditional Aussie Fork Music. Read more: Top Amazing Attractions in Sydney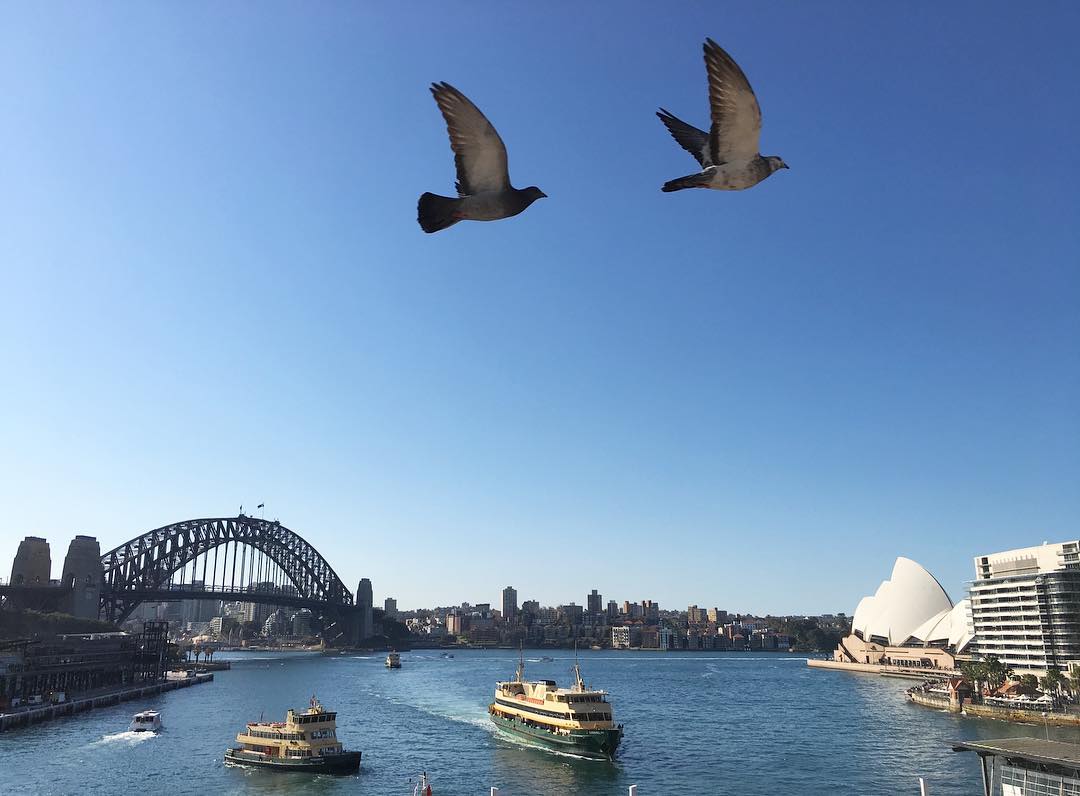 Many tourists said that they feel like true Aussie after this amazing time. Visiting Blue Mountains is not merely a travelling, but a refresh therapy. The more you stay close to nature, the more you understand inner self. After all, what you get as the souvenirs of things to do in Blue Mountains are not only gifts but also knowledge and unforgettable memories about the land you did trace and put your steps on.